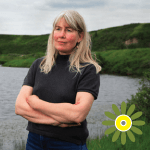 I've read in some research papers that the virus seems to like high blood sugar (who/what doesn't?), perhaps thus why diabetics at high risk (other people at risk to, with impaired breathing/immune system, heart conditions, etc). Best that we do not shop like Piglet and Pooh (see their list below).
And, as comforting as alcohol may be to drink in these scary times, best to avoid (or limit to wee nips) alcoholic drinks and treats because of the high sugar content, even in wine. Some young healthy people getting very sick from the virus, and or dying were drinking alcohol. This is not medical advice, I am not a doctor.
Eating chocolate is how I survive life. These days, I am avoiding all sweets (except from time to time, real honey in green tea), breads, pastas, potatoes (I'm part Dutch, I love potatoes!); eating less fruit (more veggies) and only after a substantial meal with protein; walking as much as I can; staying home and practicing social distancing when meeting others out walking.
Healing our oil and gas and frac industry polluted lungs and blood is vital.

An excellent informative positive **fun** chat between geneticist and author, Dr. David Sinclair, and Dr. Peter Diamandis, engineer, physician, entrepeneur, March 22, 2020, 57:52 Min:
"We're going to science the shit out of this virus!"

Which is NOT what Alberta is doing! Shame on Kenney et al, greedy filthy buggers stealing from public health and education to give to polluting, law violating oil and gas companies and oil billionaires!

IN THE TIME OF PANDEMIC by Kitty O'Meara, March 16, 2020, The Daily Round
And the people stayed home. And they read books, and listened, and rested, and exercised, and made art, and played games, and learned new ways of being, and were still. And they listened more deeply. Some meditated, some prayed, some danced. Some met their shadows. And the people began to think differently.
And the people healed. And, in the absence of people living in ignorant, dangerous, mindless, and heartless ways, the earth began to heal.
And when the danger passed, and the people joined together again, they grieved their losses, and made new choices, and dreamed new images, and created new ways to live, and they healed the earth fully, as they had been healed.
One of the comments:
David Fàbregues i Rey, March 20, 2020
Dear Kitty,
as some people posted, I reached your writing through italian media. Now realised that you wrote it in those days, congratulations for those heart touching words. If you don't mind, I translate your words to my language, catalan (just one doubt, I wrote Terra – earth- in capitals, as our planet. Is that right?) and posted on Facebbok with a link to this page.
Thank you!!!!
I la gent es va quedar a casa
i llegia llibres i escoltava
i descansava i feia exercici
i feia art i jugava
i va aprendre noves maneres de ser
i es va aturar
i escoltava més profundament
algú meditava
algú resava
algú ballava
algú va conèixer la seva ombra
i la gent va començar a pensar diferent
i la gent va guarir
i a falta de gent que visqués de manera ignorant,
perillosa, sense sentit i sense cor,
fins i tot la Terra es va començar a guarir
i quan va acabar el perill
i la gent es va retrobar
va compartir el dol per les persones mortes
i van prendre noves opcions
i van somiar amb noves visions
i van crear noves maneres de viure
i van guarir completament la Terra
de la mateixa manera que es van guarir a ells mateixos.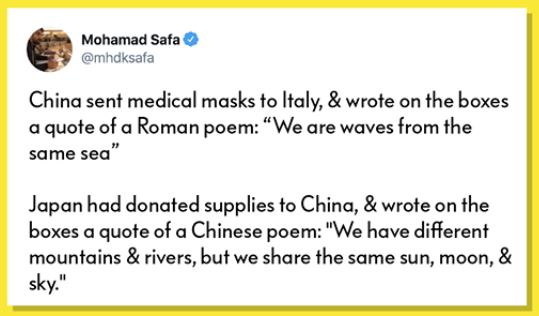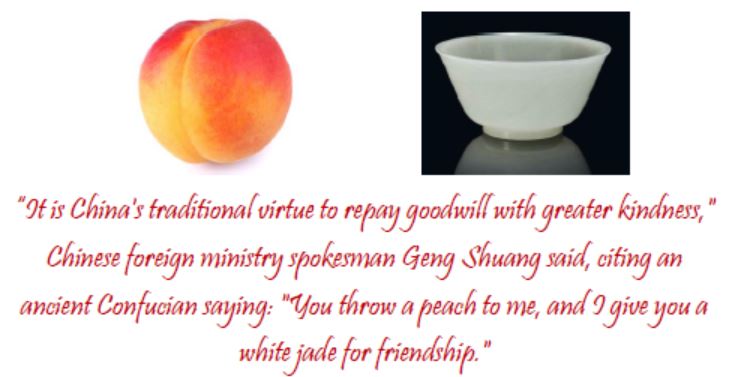 Above image by Bob Donnan in Pennsylvania, quote from: China, on virus PR offensive, sends masks and experts abroad by Ken Moritsugu, Associated Press, March 20, 2020
As the fight against a new virus shifts to Europe and beyond, China is supplying millions of masks and other desperately needed items to struggling governments, hoping to build political ties and defuse criticism that it allowed the disease to spread early on.
Serbia's president plans to be at the airport this weekend to welcome a shipment of medical supplies from his "brother and friend," Chinese leader Xi Jinping. Xi's government has flown gloves and protective clothing to Liberia. It is sending 100,000 test kits to the Philippines. More than 10 flights carrying millions of masks and other supplies are bound for the Czech Republic this week. China, said Czech Interior Minister Jan Hamacek, is "the only country capable of supplying Europe with such amounts."
… At one level, China is reciprocating assistance it received. Nearly 80 countries sent supplies to China, some on charter flights they sent to evacuate their citizens from Wuhan. …
The Coronavirus Explained & What You Should Do by Kurzgesagt – In a Nutshell, March 19, 2020. Show your children, friends, family and Elders, notably those who poo poo this virus as just another flu.
Comment in today from loved ones in Newfoundland:
We (the 4 of us) watched this excellent and simple video. Thanks for sending. The dogs have gone to the washroom to wash their paws, as prescribed.
****
An excellent succinct read, also easy to understand:
Why the Coronavirus Has Been So Successful, We've known about SARS-CoV-2 for only three months, but scientists can make some educated guesses about where it came from and why it's behaving in such an extreme way by Ed Yong, Mar 20, 2020, The Atlantic
… To be clear, SARS-CoV-2 is not the flu. It causes a disease with different symptoms, spreads and kills more readily, and belongs to a completely different family of viruses. …
****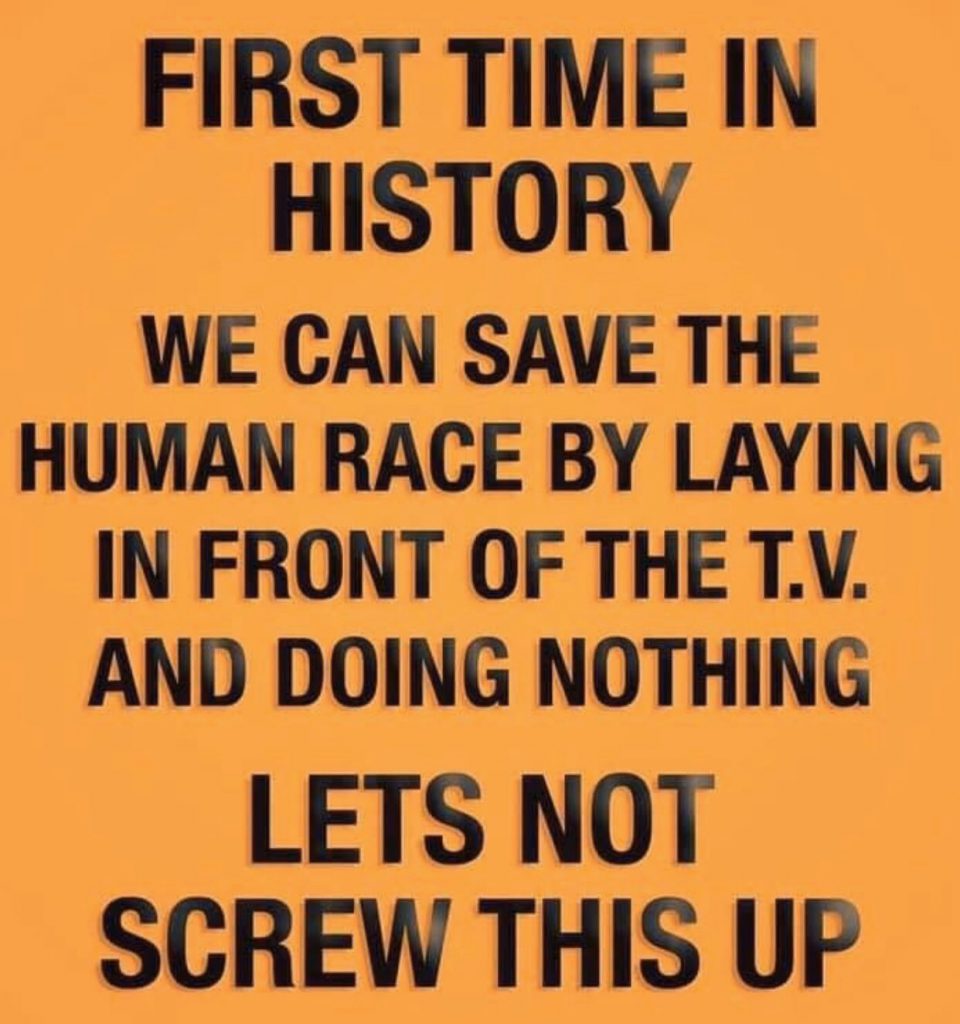 Newfoundland has a new tourism stragegy!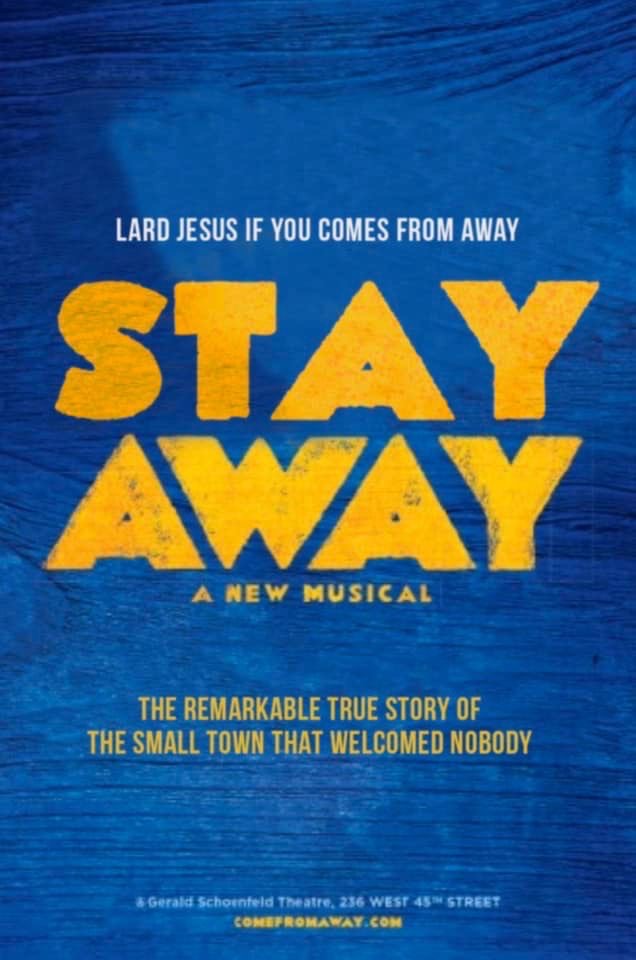 ****

Humour is how I endure being raped as a child, living frac'd for 16 years and Canada's "rule-of-law-when-it-suits-them" legal/judicial industry going on 13 years.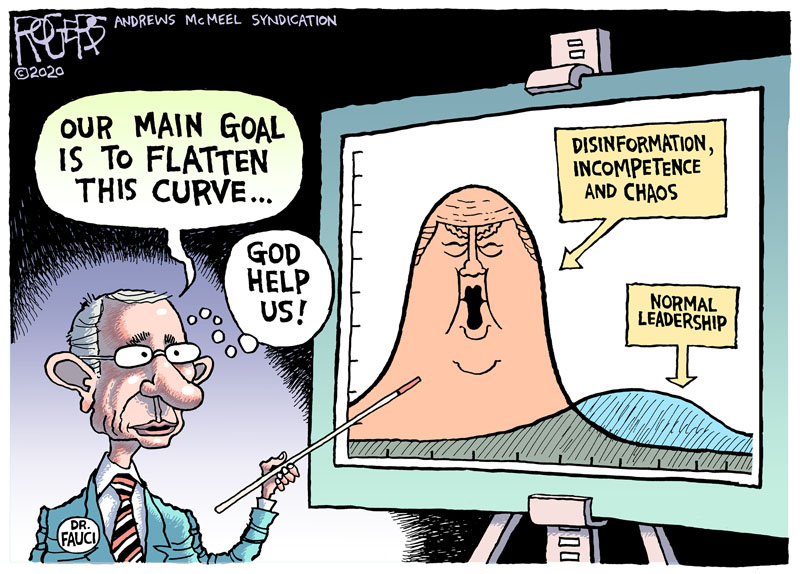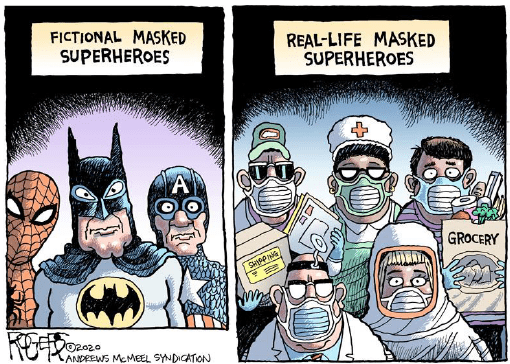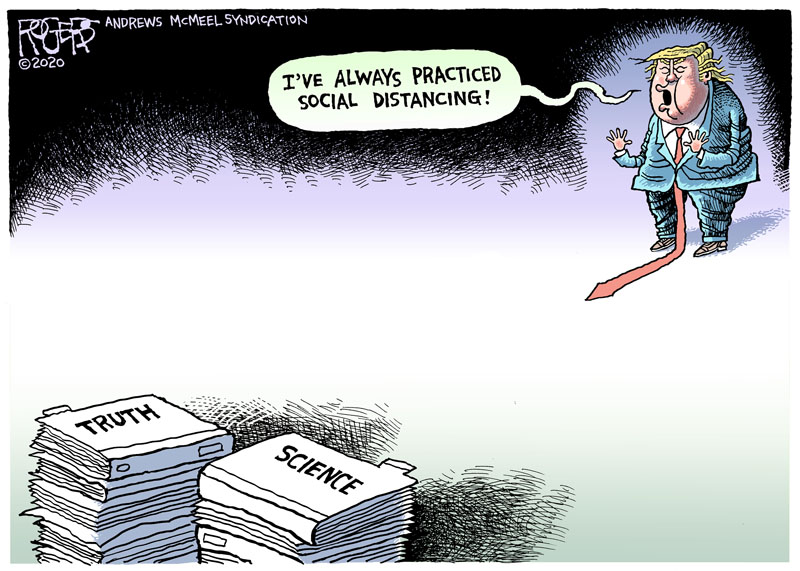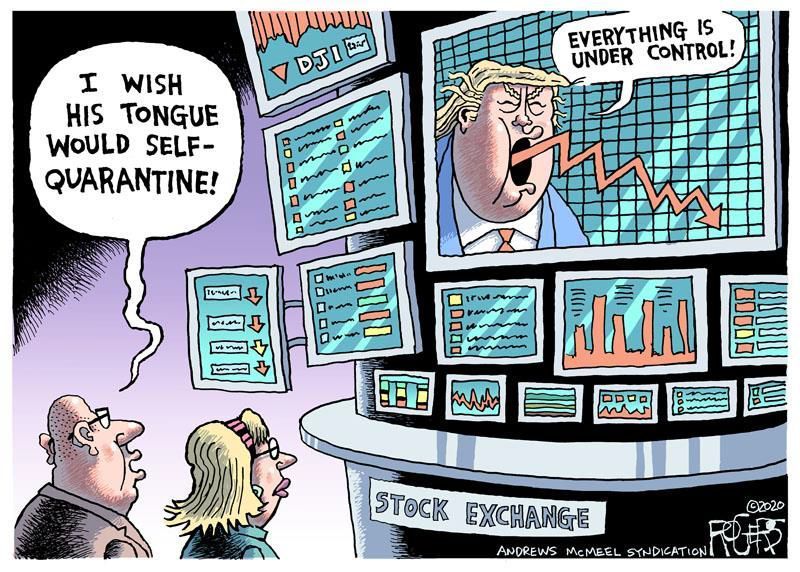 ****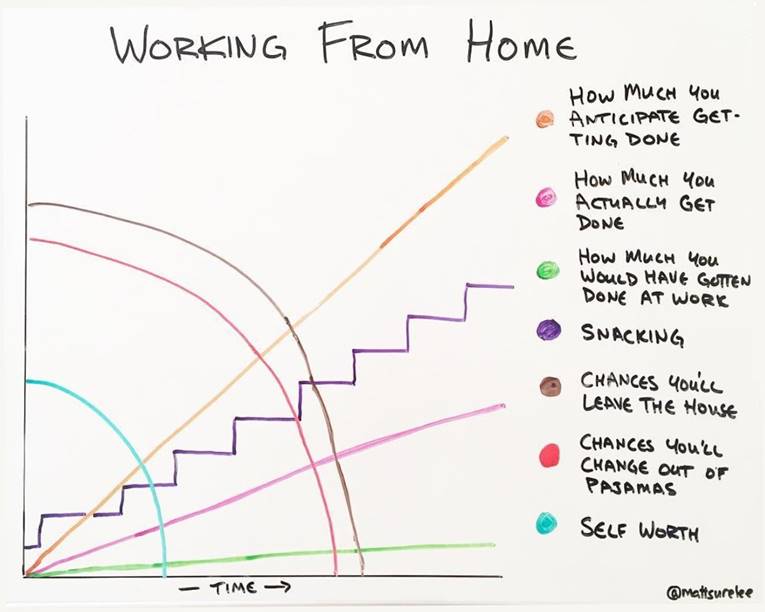 ****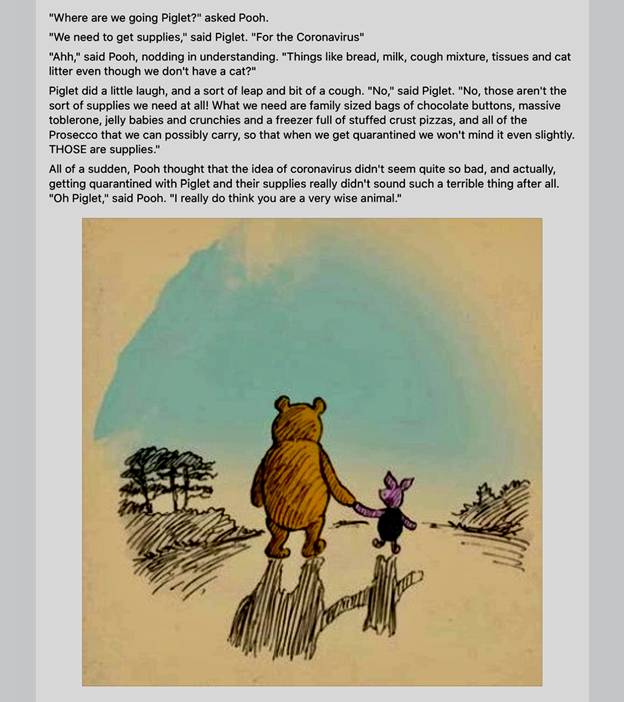 ****
2020 03 20: Nikiforuk: Young Adults and Children Are Not Safe from This Pandemic, Risk to 65-plus population is still highest, but younger people face real danger, research shows. MUST READ, NOT FUNNY.
… Public health workers are struggling to respond to the pandemic with uncertain and often incomplete information.
Nobody has a handle on real death rates because no jurisdiction actually knows how many people are getting infected.
And existing fatality rates, which range from 3.4 per cent to eight per cent, do not show the full picture because only people with severe symptoms are being tested.
But as the experiences of Iran, Italy and Spain show, the virus targets a significant portion of every society: the vulnerable, the unwell and the elderly.
It can also overwhelm hospitals faster than a terrorist attack. …
A new study in Science warns that the explosion of COVID-19 cases in China "was largely driven by individuals with mild, limited, or no symptoms who went undetected." …
Nikiforuk: On the Sudden Allure of Toilet Paper, ARTIFACT: Rumours of a bum wad apocalypse are false, so why the run on TP? FUNNY!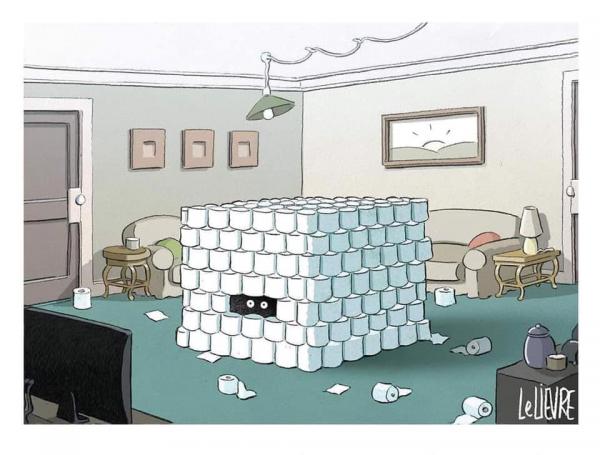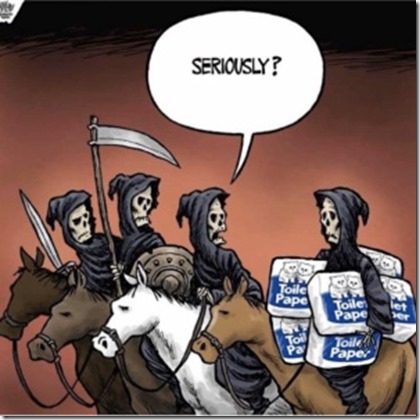 2020 03 17: Bidet sales soar as toilet paper sells out amid coronavirus fears
As cases of the coronavirus continue to climb, nothing feels more surreal than the irrational stockpiling of toilet paper, even though experts tell us it isn't necessary and manufacturers say there is no shortage.
Today, bidets are being manufactured for more than just high-end consumers as interest in sustainable products and water conservation has grown. (According to Tushy, Americans use more than 34 million rolls of toilet paper every day, which translates to about 54 million trees).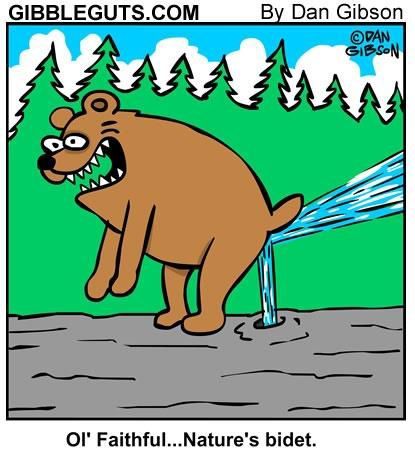 Inexpensive entry-level styles of the Toto washlet bidet seat can be found at big box stores like Home Depot, Wayfair and Lowes for as low as $250.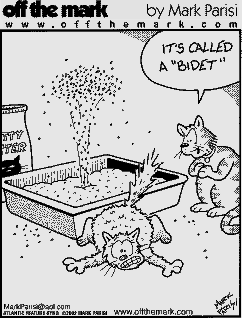 And new affordable alternatives, like the Tushy bidet, allow you to clip on a bidet attachment without plumbing (it draws water from the toilet's supply line) and electricity for the cost of toilet paper on EBay right now — $79 for a classic bidet and $109 for the warm water spa version.

If you are one of the many that live frac'd with flammable water like I do, you can flame yourself clean.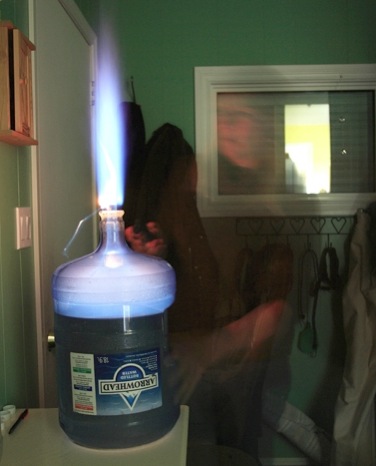 Above is a 2006 photo (by Colin Smith) of my frac'd water, thanks to law-violating AER, Alberta Environment and Encana-Ovintiv (that still refuses to disclose what chemicals the company injected into my community's drinking water aquifers with our "regulators" refusing to make Encana, now Ovintiv, cough the sordid details up, pun intended). My water, after the company's illegal aquifer fracs, now causes severe caustic burns to skin. A rotation of icing, and ointment with bandages, would be needed after flame cleaning a la run away Ovintiv.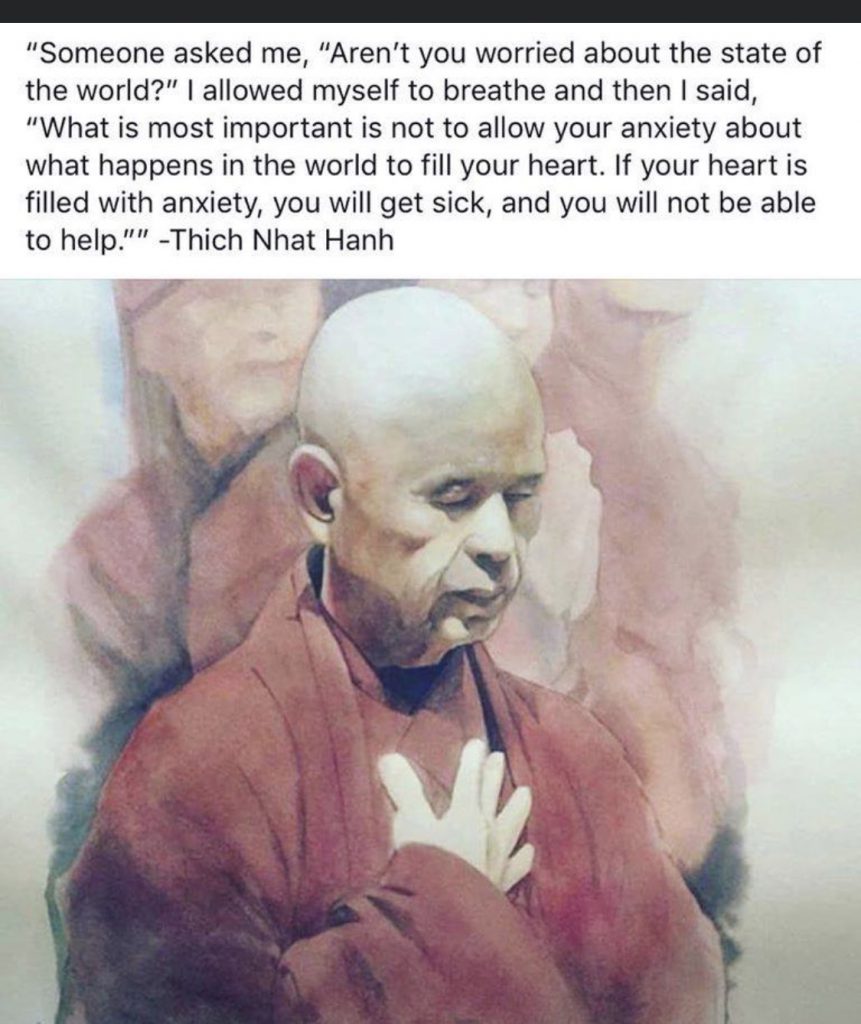 I've been out walking a lot. I love the earth, always have. This song, "Nature's Way" (1971) by Spirit (written by Randy California) keeps racing through my head as I walk. I bought the album in the 70's when I was in college in Montreal. I listened to it every day, sometimes many times a day. Greatest song I've ever heard, notably the lyrics. It helps me cope with humanity's exponentially increasing pollution, greed, selfishness and ego, and abuse of earth (and each other). Note the coughing at the end.
This song is unusual in that every line begins with the phrase "It's nature's way."
Suzie was my best friend when I was in college. She was studying at McGill. We both loved this song, and listened to it often together. Suzie, I think of you every day and every time I listen to or think of this brilliant beautiful song.
A 1990 live performance by Spirit in New York (just now being hit ferociously hard by the virus), long after I graduated and moved west:
My heart bursts every hour, for the many grieving lost loved ones and our selflessly suffering medical workers.
I keep thinking: "How can we best help?"
The only answer that comes, is, stay home (!!!), stay positive and love love love love.

PS. If you must go out, read and heed this:
A Toronto doctor describes what it's like to watch his father-in-law die from COVID-19 in 'seven days'
Dear Friends,
Yesterday my father-in-law passed away. He had COVID-19. He is one of the first people (maybe the third?) to pass away from this disease in Ontario.
Up until just over a week ago, he was healthy. Despite his age of 77, he had no other health conditions. Still drove. Still dropped off food for seniors and took them to their shared place of worship every week. He was even still working at the same grocery in Little India that he's been operating for almost 40 years, since he first came to Canada as a refugee from Uganda in the 70's.
But he died in the ICU at our hospital despite the amazing care he received from the exceptional nurses and doctors who looked after him. Despite being on a ventilator. COVID-19 took just seven days to take him away.
My wife and I are frontline health-care workers, which makes this time especially challenging. The night he was admitted, I had spent the day in meetings at our hospital to create a triage zone for COVID-19 patients. I spent the next three nights working overnight in the emergency department, screening dozens of patients for COVID while also providing care to our usual sick and wounded, meticulously applying and removing protective equipment again and again to help prevent the spread of infection.
We applied that same protection when we went to see my father-in-law too. Every time. No touching, no sitting in the room to comfort him, no long visits to talk and reminisce. The risk of infecting ourselves, our families and our patients was too high.
Shortly after my last overnight shift, he got worse. We drove back to the hospital to talk about his wishes for end-of-life care, and he was moved to the ICU. The next day he was placed on a ventilator because it was becoming impossible for him to breathe on his own. Yesterday he expired.
Seven days.
He leaves behind a long legacy of love, faith, and selflessness. This post is not an attempt to summarize any of the rich details that define his time on this earth.
But part of me wants the legacy of how he died to be to help inform and educate others as to the real-life risk and the real-life toll that COVID-19 has on our friends, our families, and our communities at large.
Please, take all this information that you are receiving regarding COVID-19 seriously. I plead this with you not only as a front line emergency worker, but as a family member who has experienced first-hand a great loss from COVID-19.
1. Practice social distancing.
2. Wash your hands, and don't touch your face.
3. Help advocate for adequate supplies and protective equipment for health-care workers.
4. Speak with your loved ones regarding their wishes for end-of-life care, now, while they are healthy and well enough to make informed and rational decisions.
And remember that the story of my father-in-law's passing will not be unique. Yes, he was elderly. But already in my hospital and across the GTA we are seeing critically ill patients across many decades of life. And some of them are younger than I am.
Thanks for reading. We appreciate your support, both as professionals and as a family.
Feel free to share with those you care about.
Love,
R
KEEPING QUIET
by Pablo Neruda
Now we will count to twelve
and we will all keep still.
For once on the face of the earth,
let's not speak in any language;
let's stop for one second,
and not move our arms so much.
It would be an exotic moment
without rush, without engines;
we would all be together
in a sudden strangeness.
Fisherman in the cold sea
would not harm whales
and the man gathering salt
would look at his hurt hands.
Those who prepare green wars,
with gas, wars with fire,
victories with no survivors,
would put on clean clothes
and walk about with their brothers
in the shade, doing nothing.
What I want should not be confused
with total inactivity.
Life is what it is about;
I want no truck with death.
If we were not so single-minded
about keeping our lives moving,
and for once could do nothing,
perhaps a huge silence
might interrupt this sadness
of never understanding ourselves
and of threatening ourselves with death.
Perhaps the earth can teach us
as when everything seems dead
and later proves to be alive.
Now I'll count up to twelve
and you keep quiet and I will go.

Quiet is one of my most cherished experiences on earth after love. Encana, now Ovintiv, destroyed my quiet frac'ing my community with endless compressors, violating AER rules. When I sent documented evidence of Encana's fraudulent noise studies, and violating the rules with invasive noise levels, AER worked to deregulate the noise control directive, and of course, punished me, instead of Encana/Ovintiv.