Comment by a frac'd Canadian:
Encana IS at the very top of the Asshole List. Their tentacles reach into many places.
Pennsylvania Attorney General Josh Shapiro said he is expending significant investigative resources in pursuit of more than a dozen criminal cases involving the shale gas industry.
In a phone interview Tuesday afternoon, Mr. Shapiro cited the protections for clean air and pure water in the state Constitution as justifications for pursuing the criminal cases.
"I can confirm that my office has more than a dozen ongoing criminal investigations into fracking and pipeline companies," Mr. Shapiro said.
"You can expect some will result in criminal charges in the near future."
He said Pennsylvania is one of two states to have protections for environmental values in its Constitution, and he takes enforcement of those values seriously.
As an example he noted the criminal charges filed in November against Inflection Energy, a Denver gas drilling company, and Double D Construction of Montoursville, Lycoming County, for the 2017 discharge of 63,000 gallons of treated brine water into a tributary of Loyalsock Creek.
"We are putting enormous resources of the attorney general's office into these investigations," he said. "I am deeply concerned with protecting our constitutional rights to clean air and pure water, and anything that harms that gets our attention."
David Spigelmyer, president of the Marcellus Shale Coalition, a Robinson-based trade organization representing the shale gas industry, said he couldn't comment on the "broad, ongoing investigations," but added that "protecting and enhancing public health, safety and our shared environment comes first."

Pffft, bullshit! If that were true, Mr. Shapiro would not be investigating so many frac crimes!

Mr. Shapiro's investigative focus on the shale gas industry and its operations in the Marcellus Shale fields of Pennsylvania comes at a time when climate change, fracking and the nation's natural gas-fueled energy independence has become an issue in the presidential campaign issue.
Mr. Shapiro declined to talk about or even confirm the existence of a criminal grand jury focused on environmental crimes that the attorney general's office has operated. However the Pittsburgh Post-Gazette reported in January 2019 that based on information from multiple independent sources a state investigative grand jury was taking testimony in Pittsburgh.
Two Washington County residents, June Chappel of Hopewell, and Stephanie Hallowich, a one-time vocal critic of the shale gas drilling around her then home in Mount Pleasant, testified at the grand jury early in 2019.
Also in January, the newspaper reported that in August 2018 the attorney general's office had contacted attorneys in a Washington County civil case involving alleged problems at a shale gas operation that it had "assumed jurisdiction over several criminal investigations involving environmental crimes in Washington County," and one of those investigations "involves your respective clients."
In that civil case, Stacey Haney and her neighbors in Amwell claimed toxic spills, leaks and air pollutants at Range Resources Appalachia LLC's Yeager shale gas well had damaged their health, and that the state Department of Environmental Protection faked and reported incomplete air test results that under-reported pollution levels at the well site and nearby homes.
Range Resources and 10 other companies that worked on the Yeager well settled the case in August 2018, paying Ms. Haney and her neighbors $3 million.
But, in an unusual move, the attorney general's office asked attorneys representing both sides to preserve the case's documents and physical evidence or face penalties.

Just wow. Might restore for a few citizens a tiny bit of faith in the legal industry.

Scott Perry, DEP deputy secretary for the Office of Oil and Gas Management, confirmed in November 2019 that he had appeared before the grand jury in Pittsburgh and that a "couple dozen" other DEP employees had testified there before he did.
Mr. Perry did not provide any details of his testimony and Elizabeth Rementer, a DEP spokeswoman, declined comment.
The DEP did confirm in November that it had hired four law firms to represent it and its employees in the criminal investigation by the attorney general's office.

Roaring laughter! Four law firms! What a filthy bunch of data changing frac hoodlums, as bad as AER, Alberta Environment, Alberta Research Council and then Deputy Minister Alberta Environment Peter Watson (now Chair CER, prev NEB) and then Assistant Deputy Minister Bev Yee (now Chair AER).

Representing employees are Dilworth Paxson, with offices in Harrisburg and Philadelphia, as well as Delaware, New Jersey and New York; Schnader Harrison Segal & Lewis, with offices in Pittsburgh and Philadelphia, New Jersey, Delaware, New York and California; and Ballard Spahr, headquartered in Philadelphia and with offices in a dozen states and the District of Columbia.
The DEP has also hired the law firm of Pietragallo Gordon Alfano Bosick & Raspanti to represent it in the wide-ranging probe. That firm has offices in Pittsburgh, Philadelphia and Sharon and in Ohio and West Virginia.
Don Hopey: email hidden; JavaScript is required or 412-263-1983. Twitter: @donhopey. David Templeton: dtempleton @post-gazette.com or 412-263-1578. Twitter: @templetoons.
Refer also to:
America's Radioactive Secret: Oil & gas wells produce nearly a trillion gallons of toxic waste a year in America. It could be making workers sick and contaminating communities (in Canada too). "Us bringing this stuff to the surface is like letting out the devil … It is just madness."
Pennsylvania Attorney General Shapiro: Residents "have a state constitutional right to clean air and pure water." Frac'd residents with flaming methane contaminated water too?
Pennsylvania's criminal investigation of frac harm cover-upper DEP: AG Josh Shapiro seeking investigative grand jurors from seven counties. How does one get criminal investigation into Encana illegally frac'ing a community's drinking water aquifers with AER & Alberta govt covering it up, and bullying and shaming the harmed families?
Frac-Harmed Pennsylvania gets "criminal investigations" into the regulatory fraud, corruption and cover-up (eg turning post-pollution water test data into "baseline"). Frac-Harmed Alberta gets oil patch led Witch Snitch & Kenney's Kopy Kat War Room, both with boasted intent to harm those concerned with life-threatening pollution, even though AER, Alberta Environment, Alberta Research Council (now Alberta Innovates) and Alberta politicians also engaged in fraud, corruption and cover-up.
Pennsylvania conducting criminal investigation into shale gas
2016: MUST WATCH absolutely amazing presentation! Public Herald's Melissa Troutman & Josh Pribanic Presentation on PA DEP & US EPA Cover-up of Drinking Water Contaminated by Frac'ing; Call for criminal investigation at federal & state level
The DEP allowed drinking water supplies to be contaminated with permits from their office, then, when made aware of that contamination, allowed the pollution, poisons and toxic water to be kept off the books is no less criminal than the acts perpetuated by officials now facing criminal charges for the water crisis in Flint Michigan. For eight years, DEP has knowingly suppressed, withheld and covered-up hundreds of water contamination cases in Pennsylvania – that we know of.
In this room, sit industry officials who've happily sat back to have families sign non-disclosure agreement after non-disclosure agreement while DEP shrouds the public from this data. … These companies are afforded some of the best economic protections in America, where they are allowed to contaminate aquifer after aquifer, and still be granted new permits only months after these violations

Just like in Alberta, where the regulator's outside legal counsel Glenn Solomon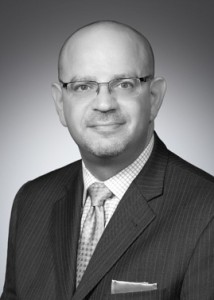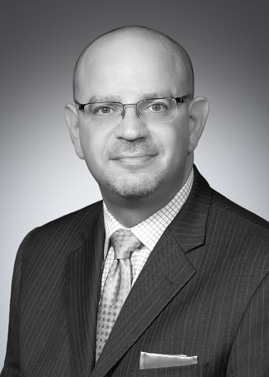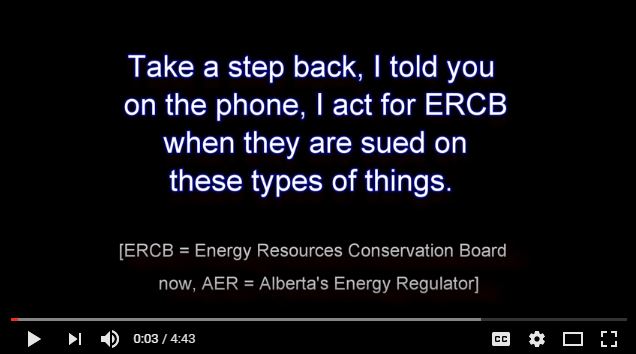 admitted on tape how water contamination cases caused by frac companies are settled and "shut up" to keep the regulator off their back and issuing more permits to the polluting companies so they "get to do it again down the street."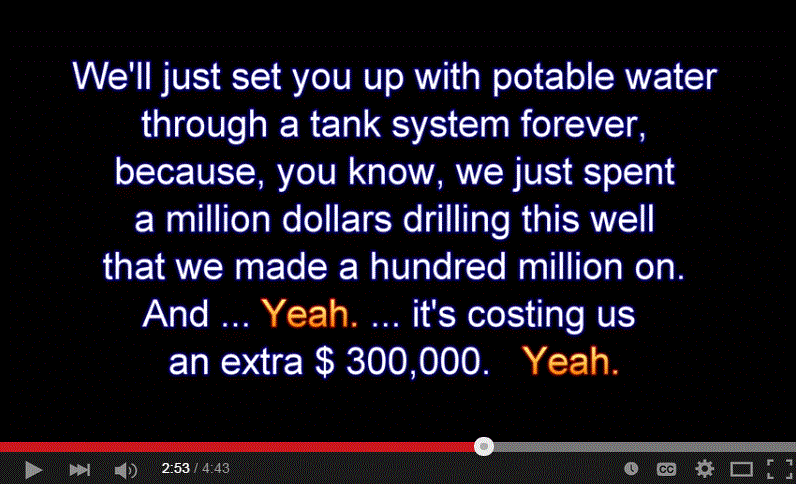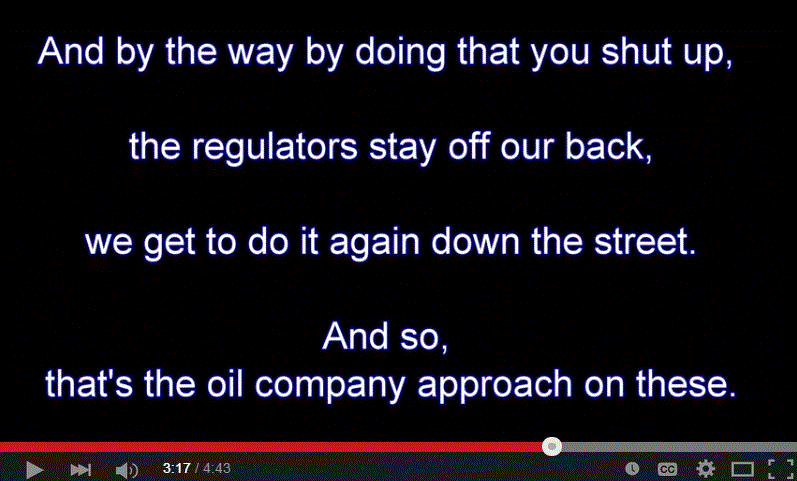 No wonder the Supreme Court of Canada judges intentionally published lies and smeared me in their ruling in Ernst vs AER, and let AER get away with breaking the law. AER's own counsel proved my case!
I will never forgive the supremely cowardly judges their betrayal of Canadians, pissing on our Charter of Rights and Freedoms and in our drinking water.
End AER enabling frac crimes in Alberta.

And this doesn't mean EPA is off the hook. Just as in Flint, both state and federal agencies are wading in evidence without acting on it. How many Dimock cases does the EPA think there are in 2,309 water contamination complaints. And how many does there need to be for EPA to act, where the declare the state regulatory agency incapable of performing its duties?
How many cases need to be in these records for the federal government to open a criminal investigation of Pennsylvania Department of Environmental Protection? …
Watch the complete presentation
***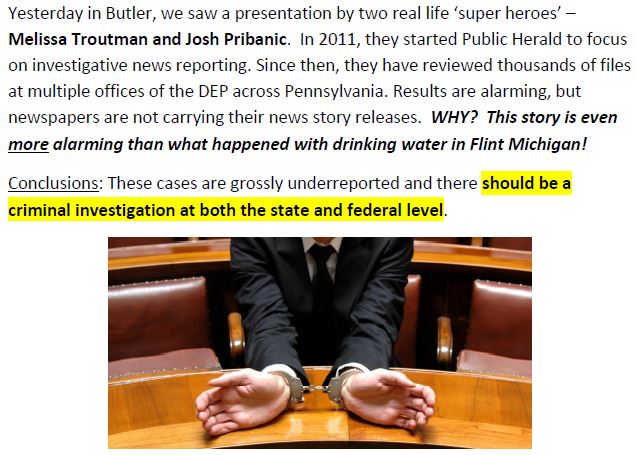 Summary by Bob Donnan