Amy Coney Barrett is a Shell of a Justice:
Amy Coney Barrett was among the justices who presided over a dispute Tuesday that pitted the city of Baltimore against some of the fossil fuel industry's biggest players, despite her father's longstanding ties to Shell Oil Company, one of the defendants in the case.
Barrett participated in the case even though as a lower court judge she recused herself from hearing cases involving Shell, her father's former employer, in an apparent effort to avoid a possible conflict of interest.
Although the case heard Tuesday turned on the narrow question of whether the dispute properly belongs in state or federal court, how that issue is resolved could have an enormous bearing on potential corporate liability for environmental degradation.
The substance of the case involves allegations by Baltimore that multiple companies' production and misleading marketing of fossil fuels has exacerbated climate change. Given the potentially high stakes for the industry where Barrett's father spent most of his career, some say the justice should have recused herself.
"Justice Amy Coney Barrett is set to hear a case against Shell, her father's employer for 29 years," the government watchdog group Citizens for Responsibility and Ethics in Washington tweeted last week. "We need stronger ethics rules for judges."

Are you kidding? Dirty judges just piss on laws and rules when it suits them to serve the mega rich and or public health harming corporations that get them appointed. Stronger rules will just lead to stronger and longer pee streams. The entire dirty system needs to be fixed, in USA and Canada, more rules fix nothing.

The case is one of several lawsuits brought by states and cities against oil companies over climate change after reporting from InsideClimate News and the Los Angeles Times said Exxon Mobil Corporation had long known the effects of fossil fuel emissions.
The dispute before the court Tuesday arose after Baltimore sued the fossil fuel companies in 2018 for alleged violations of Maryland statutes prohibiting fraud, deception and related misconduct. In response, Shell and the other defendants — including British Petroleum, Exxon Mobil and Chevron — sought to move Baltimore's lawsuit from a Maryland state court to federal court.
Critics say that such maneuvering, sometimes referred to as "forum shopping," is a common practice by well-heeled corporate clients who believe they stand a better shot at winning in federal court, rather than state court.
The fossil fuel companies, however, say the case belongs in federal court for two independent and legitimate reasons, one procedural and the other substantive. Their substantive claim is that a climate change lawsuit like Baltimore's can only be resolved by federal law because the impact of carbon emissions is national in scope.
Kannon Shanmugam, an attorney for the fossil fuel companies, told the justices they could send the case back down to the lower courts for additional proceedings. Or, he said, the justices could use the case to declare that disputes over nationwide carbon emissions should be exclusively left up to federal judges to decide.
Barrett did not clearly signal a preference for either party. But she did appear to push back against granting the fossil fuel companies the full relief they're seeking, indicating that it would seem "fairly aggressive" to grant them a win on both procedural grounds as well as on their substantive claim.
The fossil fuel defendants urged the justices to resolve the federal law question in their favor in part because the issue is also being litigated in 19 other climate change lawsuits across the country.
Barrett's decision not to recuse herself from the case, despite her father having spent much of his career as a lawyer for Shell, marked a shift in her approach as a lower court judge. Supreme Court justices, who have more leeway than lower court judges, are generally permitted to decide for themselves whether recusal is appropriate in a given case.
During her confirmation hearing, Barrett was asked by Sen. Dianne Feinstein (D-Calif.), about why she had put four Shell entities on her list of lower-court recusals. In response, Barrett wrote, "My father worked at Shell Oil Company for many years, and while on the Seventh Circuit, in an abundance of caution, I have recused myself from cases involving those Shell entities with which he was involved."
Gabe Roth, the executive director of the judiciary transparency group Fix the Court, said Barrett's shifting approach to disputes involving Shell highlighted some of the inconsistencies in how judicial ethics are applied.

As judges keep proving to the citizenry, over and over, "rule of law" – but only when it suits them.

"To me, today's recusal question is less about whether Justice Barrett is biased in the case and more about how she decided that Shell went from being a conflict in September to not a conflict today," he said, adding that nominees' "anodyne" answers during confirmation proceedings often provide little insight into their true views on disqualification.
The justice also said during her confirmation hearing that she did not hold "firm views" on climate change and called the subject a "contentious matter of public debate" even though the vast majority of the scientific community believes climate change is happening.
Another justice, Samuel Alito, did recuse himself from the case. Alito holds stock in ConocoPhillips and Phillips 66, both of which were also defendants, according to a 2019 financial disclosure report.
The Supreme Court heard a case on climate change on Tuesday that could help shape the fate of dozens of similar lawsuits across the country.
The oral argument in BP P.L.C. v. Mayor and City Council of Baltimore, No. 19-1189, was not about whether climate change is real or caused by greenhouse gases generated by humans. The hearing was not even about whether fossil fuel companies should pay Baltimore for the costs of climate change, which is the point of the underlying lawsuit.
Instead, the justices decided to hear the case on a single, highly technical legal question: What happens when a federal court sends a case to be heard in state courts? That is what has occurred in the Baltimore case, which began its life in state court, and which the fossil fuel companies are trying to move to federal court, where they expect a more favorable outcome. The question before the Supreme Court is whether, in hearing the appeal of a decision to send a case back to state court, a federal appeals court must limit its review to the two very specific and narrow reasons that the law allows, or whether it can look more broadly at the lower court's decision.
About 20 climate cases like Baltimore's have been filed by cities, counties and states nationwide since 2017 — first in California, then spreading across the country to include Colorado, Minnesota and Rhode Island, as well as Hoboken, N.J.
What concerns some environmental law experts is that by allowing a broader review of the lower court's decision, the justices might scuttle similar cases, or send a strong signal that the lower courts should do so. Sean B. Hecht, a co-executive director of the Emmett Institute on Climate Change and the Environment at the University of California, Los Angeles, School of Law, said that while the issue presented before the court was "hyper-technical," the fossil fuel companies were "trying to make the court look at a much bigger question" as to whether the case should be governed by state or federal law. "It's a pretty audacious ask" that essentially says, "While we're here, it would save everybody time if you just help us get rid of this case now," he said.
That's why Patrick A. Parenteau, a law professor and an expert on environmental law at Vermont Law School, said that the case "could be anything from a nothing burger to a blockbuster."
During Tuesday's oral argument, Kannon K. Shanmugam, a lawyer for the companies, told the justices that lawsuits about a global problem should be resolved in federal court under federal law, making uniform rulings more likely. "This court's precedents dictate the common-sense conclusion that federal law governs claims alleging injury caused by worldwide greenhouse gas emissions," he said.
He added that there was "a risk of local prejudice" in state courts. "There is something profoundly counterintuitive about the notion that these cases, which seek relief for injuries caused by worldwide greenhouse gas emissions, should be litigated in state courts under the laws of different states."
The companies argued that once any ground for appeal existed, the appeals court was obligated to consider all of them.
Several justices noted concerns about litigation gamesmanship, saying companies could use a weak claim within the permissible avenues of appeal to smuggle claims that otherwise could not be reviewed into appeals courts. Victor M. Sher, a lawyer for Baltimore, echoed the point, saying that "you cannot use an appealable issue as a ticket for multi-issue appeals that are not allowed."
Mr. Sher added that the tactic could be used in a "range of cases, including environmental regulation, opioids, subprime lending in financial institutions and others."
Baltimore's suit, initially filed in July 2018, argues that the companies' "production, promotion and marketing of fossil fuel products, simultaneous concealment of the known hazards of those products, and their championing of anti-science campaigns" harmed the city. The lawsuit notes that the city is "is particularly vulnerable to sea level rise and flooding," and that it has spent "significant funds" to plan for and to deal with global warming. It also cites the cost of health-related issues associated with climate change, including increased rates of hospitalization in summer.
Michael Martin, the pastor of the Stillmeadow Community Fellowship, a church in Southwest Baltimore, said that the effects of climate change on the city were increasingly clear. "We're on a trajectory to more flooding, and worse flooding," he said. The church served as a community hub after ruinous flooding in May 2018 buckled roads and put seven feet of water in the streets. And the floods keep coming.
As for Baltimore's case, he said, "I think it's bold, and I think it's useful." But he suggested that focusing on fossil fuel companies alone was shortsighted, because other factors like development were major contributors to flooding as well.
Justice Samuel A. Alito Jr. disqualified himself from the case, presumably because of a financial conflict.
Environmental groups said Justice Amy Coney Barrett, whose father had worked for Shell Oil Co., one of the defendants, should also have recused herself, but she participated in Tuesday's argument.

Dirty is, as dirty does.

Erwin Chemerinsky, the dean of the law school at the University of California, Berkeley, said that he doubted the industry's tactic to pry open a broader appeal would work. "The justices are very scrupulous about staying to the questions presented," he said.
Professor Hecht of U.C.L.A. said he agreed that it was unlikely the justices would reach beyond the technical legal question directly before them. But, he added, "you never really know what the justices will do."
Adam Liptak contributed reporting. Correction: Jan. 19, 2021
An earlier version of this article misstated the affiliation of Patrick A. Parenteau. He is a law professor at Vermont Law School, not the University of Vermont's law school.

Also on Trump's supreme court: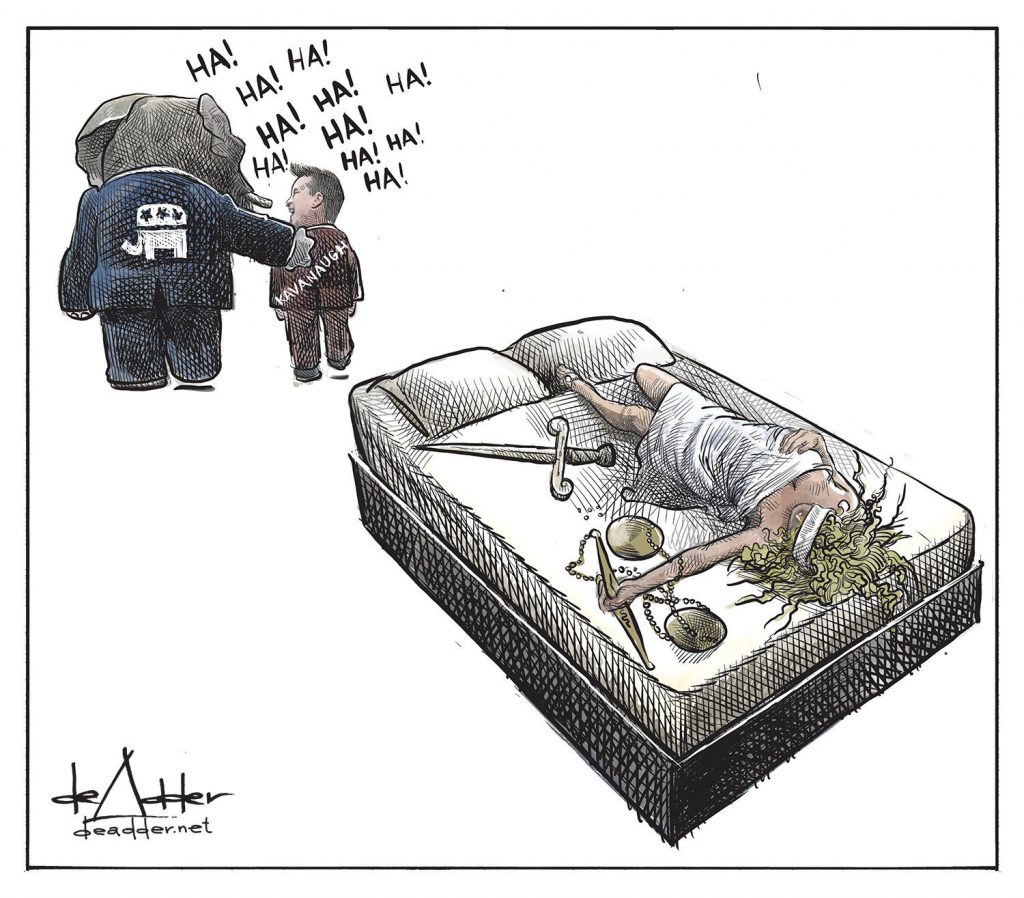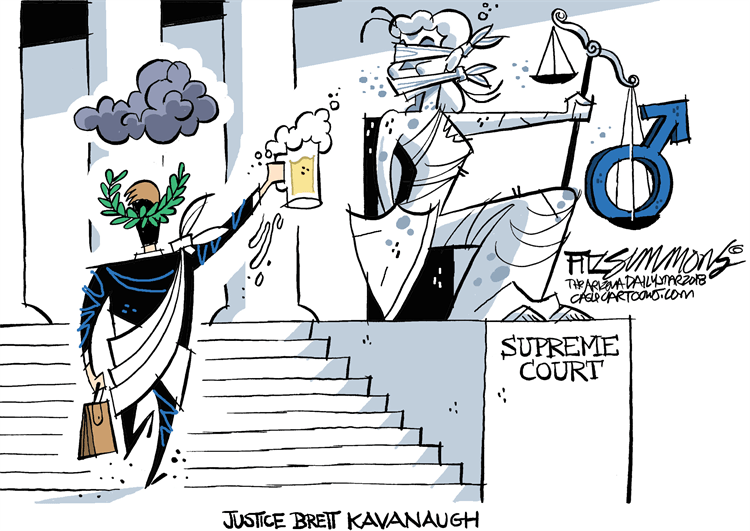 No wonder polluting oil and gas companies want cases against them out of state judicial jurisdiction!
2019: Pennsylvania Attorney General Shapiro: Residents "have a state constitutional right to clean air and pure water." Frac'd residents with flaming methane contaminated water too?
2018: Judicial Tragedy: U.S. District *Federal* Judge William Alsup wanted to "stick to the science" and avoid politics, presided over standing room only tutorial on climate change, but let big oil off using politics. Science is on humanity's side, the law is not
2013: Pennsylvania Supreme Court Says It's Unconstitutional For Gas Companies To Frack Wherever They Want; Act 13, Gas Industry Takeover Law thrown out by State's Highest Court
"By any responsible account," Chief Justice Castille wrote, "the exploitation of the Marcellus Shale Formation will produce a detrimental effect on the environment, on the people, their children, and the future generations, and potentially on the public purse, perhaps rivaling the environmental effects of coal extraction."
Refer also to:
2019: Rhode Island vs 21 Oil & Gas Companies: Judge William Smith characterized operations "leading to all kinds of displacement, death (extinctions, even), and destruction….Defendants understood the consequences of their activity decades ago…. But instead of sounding the alarm, Defendants went out of their way to becloud the emerging scientific consensus and further delay changes – however existentially necessary – that would in any way interfere with their multi-billion-dollar profits."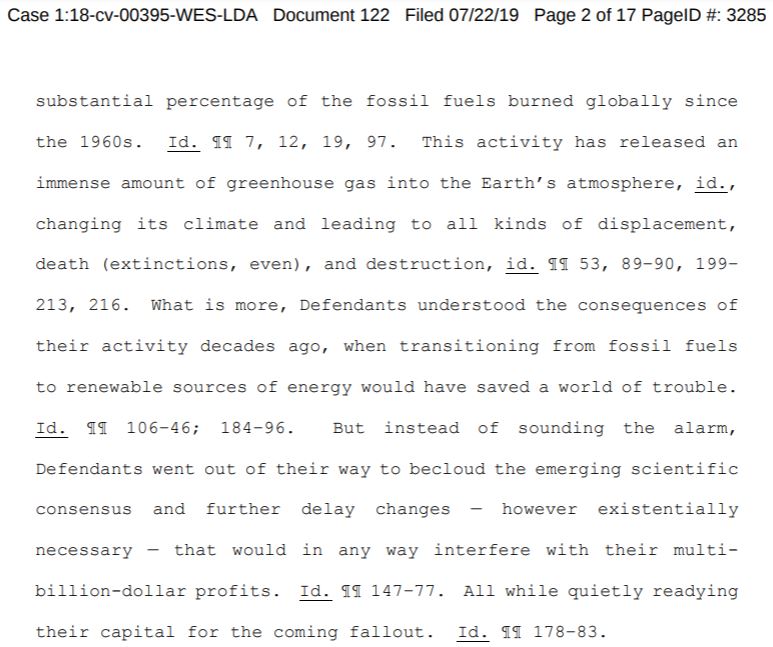 Save Shell's Day with anti-science "corporate bootlicker" justice. Jan 19, 2021: Trump's new Supreme Court justice, Amy Coney Barrett, set to hear case against Shell, her Dad's employer for 29 Years, has not recused herself
Judicial Hanky Panky Supreme: "these robed sages are in fact mere grubby politicians…." Amy Coney Barrett's dad was lawyer at Shell (for decades) that has massive climate case before US supreme court. "And just like Republican politicians, the conservative judges are dedicated to preserving the right's minority rule."
Best presentation I've seen: Sen. Sheldon Whitehouse on "dark money" influencing USA Supreme Court appointments