Oil drilling issue to resurface? by Dave Mabell, May 28, 2015, Lethbridge Herald
West Lethbridge residents may be facing another oil-drilling proposal.
Bids were being accepted Wednesday for a lease covering more than 1,150 hectares of land, with rights to drill for oil or natural gas.
A map on an Alberta Energy website site shows the drill site would be near the Sunset Acres residential development — and to the Oldman River, source of the city's drinking water.
The location is not far from an earlier scheme by Goldenkey Oil from Calgary, which would have seen several exploratory wells drilled near the Copperwood neighbourhood and the city's two westside high schools.
Faced with strong opposition from Lethbridge citizens and city council, Goldenkey backed away last year from plans to drill inside city limits. Newly elected Lethbridge MLAs Shannon Phillips and Maria Fitzpatrick were among thousands of residents who stood opposed, signing petitions or attending rallies calling for Goldenkey to abandon its plans.
Phillips, now the province's minister responsible for environmental protection, was not available for comment Wednesday. Her officials in Edmonton said she was busy at a cabinet meeting in Calgary.
A request for comment from Marg McCuaig-Boyd, the new minister responsible for Alberta Energy, was also unsuccessful Wednesday. But a department official said more information will be available soon.
Last year, the city's new MLAs were not the only political leaders to speak up. Mayor Chris Spearman and incumbent MLAs Bridget Pastoor and Greg Weadick also voiced their support for Lethbridge residents' demands.
In addition to safety concerns voiced by local residents, the city cited the costs of alienated, undevelopable land and the need for more evacuation routes in the case of an oilfield emergency.
The new proposal is outside city limits, however, and no longer an "urban drilling" issue.
[Reality check:
Alberta Energy and Environment Regulators Play Catch 22: Fracking and ill health
…
Bob Willard, Senior advisor at the Alberta Energy Regulator, agreed to speak about current regulations.
David Kattenburg: Why aren't these things being monitored for in the gases that are coming out from flaring and incineration stacks?
Bob: The long list that you've identified would be the responsibility for monitoring of not only the Alberta Energy Regulator, but the Environment department themselves, and I would direct you once again to ESRD for them to identify what their plans are relative to updating those guidelines.
David: I have actually, I've tried valiantly I'd say to try to get them to explain to me why they have these guidelines that say all industry MUST conform to these guidelines, and then I said well why does directive 60 of the Alberta Energy Regulator only establish monitoring requirements for sulfur dioxide and he said: "speak to the Alberta Energy Regulator." 
Bob: Um, it is important, and this is something the Energy Regulator does lead, is capturing the metrics of the volumes of material, so we do have good metrics as to the volumetrics.
David: But essentially nothing about the composition of those gases, other than sulfur dioxide.
Bob: A totally accurate composition, I would certainly volunteer that no, we do not have a totally accurate comprehensive information on the flare composition rather, we have it for the uh volumes, but not necessarily for the compositions. 
Thank Fracking: Business licence for Fox Creek hotel goes up 133,233 per cent
Encana well blowout after fracking leaves oily mess of spewing natural gas, propane, butane, benzene and toluene, forces 2 dozen families from their homes in Karnes County, Evacuees anxious to see the damage to their homes
Alberta NDP promises to ban gas but not oil drilling in urban areas. Will Goldenkey or another foreign company return to frac Lethbridge?
Why Did New York State Ban Fracking? Massive study finds health, safety and environmental uncertainties regarding fracking's dangers have 'grown worse over time'
Alberta Views Feature: Landowner Rights, How Big Oil Trumps Private and Public Good; "Some of us will be unlucky enough to be in the way…and will be called on to sacrifice"
Secondhand Smoke: "Pollution from our fracking wells in Pennsylvania may be drifting down to Maryland, raising ethane levels in the state to unhealthy levels"
Fracing's long reach: New Study says Fracking Wells Could Pollute The Air Hundreds Of Miles Away ]
More recently, New Democrat leader MLA Rachel Notley included a ban on urban drilling for natural gas in her party's election promises. She was also elected on a promise to review the royalty rates paid to Albertans by regional and international companies draining the province's energy reserves.
Closer to home, the No Drilling Lethbridge group went "on hiatus" after Goldenkey announced it was not proceeding. But its Facebook page indicates residents are concerned about the energy officials' latest sale of development rights.
Responding to concerns voiced by Albertans in Lethbridge and beyond, the long-running Conservative government several years ago promised a new policy would be developed — hopefully balancing the values of city residents with the economics of the energy industry. But no new approach was announced before its defeat in the May 5 election. [Is this offer a sneak in before the new government brings in an urban drilling policy? Emphasis added]
Energy Lease Offer Accepted For Area West of Lethbridge by 94.1 CJOC, May 28th 2015
The accepted public offering involves an area near the Sunset Acres development, that's also in close proximity to the Oldman river. According to the province, an Alberta company's offer for a petroleum and natural gas lease has been accepted for a stretch of land just west of Lethbridge. This weeks public offering involves an area near the Sunset Acres development, that's also in close proximity to the Oldman river. The accepted offer for the 11 hundred hectare space comes from Long Fortune Petroleum. At this point it is just a lease for the rights and not an application to drill. – Tom Roulston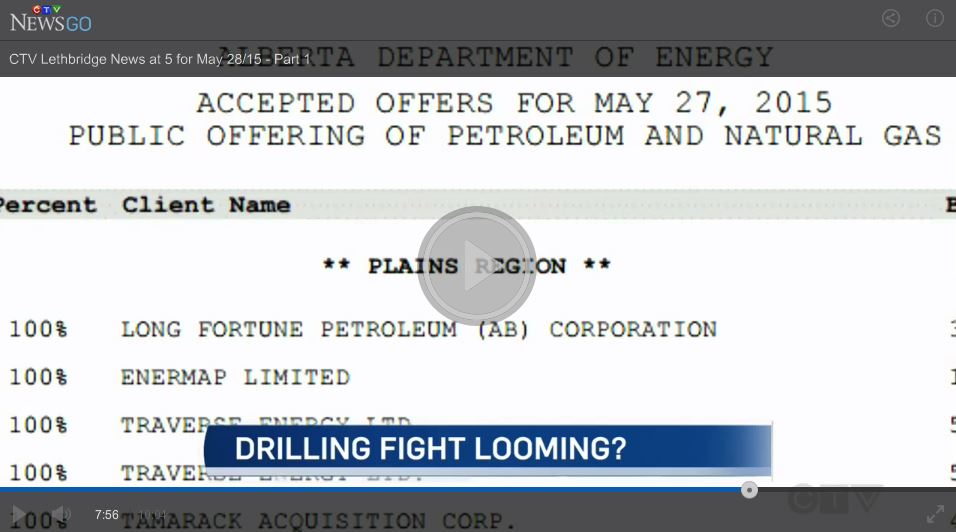 For more information: No Drilling Lethbridge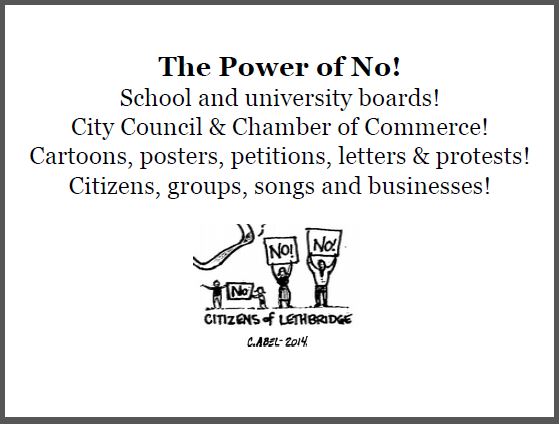 Slide from 2014 03 Ernst presentation in Lethbridge
2014 05 04: The Power of NO! HUGE VICTORY BY THE PEOPLE, BUSINESSES, COMMUNITY AND CITY OF LETHBRIDGE: Goldenkey withdraws from Penny Project
Astounding! Another 2,070 anti-drilling Lethbridge signatures sent to Alberta MLA Greg Weadick, on top of the more than 11,000 signatures already submitted
March 31, 2014 Devastation Day for Alberta's Water: The Oil and Gas Industry takes over total control of Alberta's Fresh Water as "No Duty of Care" Spying AER now a single regulator, 100% funded by industry, takes over Environmental Protection and Enhancement Act and Water Act
New York State to ban fracking because of red flags to public health. Health Commissioner Howard Zucker: "Would I let my child play in a school field nearby? After looking at the plethora of reports, my answer would be no."
Alberta Energy Consultation: KEEP OUT! Lethbridge Community and Groups Excluded from Urban Drilling Meeting
Lethbridge residents and council fight proposed sour oil drilling and fracing by Goldenkey Oil. Inc. in city limits and near school
100% industry funded Alberta Energy Regulator (AER) denies Albertans their right to speak, just as the 67% industry funded ERCB denied directly and adversely affected landowners their right to speak and violated Charter rights
FOIP results: 'Red flags' with urban drilling in Lethbridge?
Opposing fracking in Lethbridge needs support of our MLAs; What about financial impact? Property values could drop 4 to 16%
Drilling grilling, Dissent was the key message heard by Goldenkey Oil Inc.
Lobby group PSAC and 11 fracking companies try, with dishonesty, to calm public fears with new voluntary code of conduct, that isn't really new
Promises promises promises, Alberta PC government "hopes" to finally have long promised environmental monitoring panel running by early 2014
West side landowner Jenny Skinner and Sheila Rogers, Chair Lethbridge branch Council Canadians protests oil drilling by Goldenkey Oil in Lethbridge
Alberta Energy Regulator given immunity in frac suit, OK for regulator to violate constitutional rights of Canadians
2013: Alberta PCs to complete review on urban oil drilling, Planned well in Calgary suburb sparks controversy
2013: CEO of Gastem says ecology activists are fascists and states that 'nobody' in Alberta complains about drilling wells