Fracking companies try to calm public fears with new code of conduct by Amanda Stephenson, October 30, 2013, Calgary Herald
Eleven companies that perform hydraulic fracturing in Canada have signed onto a new code of conduct aimed at alleviating public fears about the practice. The code — which outlines standard practices for technical and environmental performance, as well as [voluntary] guidelines companies should follow when dealing with community groups and other stakeholders — was unveiled Wednesday in Calgary by the Petroleum Services Association of Canada.
…
PSAC president and CEO Mark Salkeld said there has never been a documented case of drinking water contamination resulting from a hydraulic fracturing operation in Canada. … "Hydraulic fracturing is a safe and effective practice that has been in use in Canada since 1950," Salkeld said. … In an effort to build public trust [trust is earned, over time, by telling the truth and companies being held accountable for the contamination they cause], PSAC spent the last six months meeting with community and environmental groups, local governments and landowners in four provinces. Consultation sessions were held in Dawson Creek, B.C.; Drayton Valley, Lethbridge, Grande Prairie, and Red Deer, Alberta; Carlyle, Saskatchewan; and Brandon, Manitoba.
Based on the concerns heard at those sessions, PSAC drafted the new code of conduct. Among other things, the code commits companies to developing technologies for reduced water consumption, disclosing the fluid types used in the fracturing process, responding quickly to community concerns, and establishing clear and effective health and safety policies.
Brad Fedora, president and CEO of Canyon Services Group, said most of the guidelines in the document are already standard industry [voluntary] practice. And many of them, such as rules around fracking fluid disclosure [Refer below for fracfocus filing by this company and statement to the Campbells, ranchers with water contaminated with thermogenic natural gas] and health and safety, are already enforced through the regulatory system. He said many Canadians don't understand that the rules governing fracking operations in this country are stricter than most other jurisdictions.
"From a Canadian perspective, it's a very regulated industry. What may be reported in the media in parts of the U.S. may not apply here," Fedora said. "So what we're trying to do is provide the public with fact based information so they can make an informed decision." [Emphasis added]
SYNERGY ATTACK: Mountain View County Sundre Petroleum Operators Group (SPOG) by Stewart Shields, October 30, 2013
I would like to remind all that SPOG is the collection of oil developers in the Sundre area, sneaky and wisely offered as a public advocate, by our provincial government and the industry developers, and supported by the industry regulator!! SPOG have replaced the regulator in the Sundre Caroline area, to the point that the EUB covered-up the facts resulting in Shells H2S release of March 12th 2003!! This was the spill that resulted in children under the age of 5 years old being picked up at their gates where conditions were perfect, and taken into the the H2S plume area of Caroline school, simply because the Shell telephone system failed and nether the county or school board could be warned of the pending danger to school and kindergarten children!! This total disasterous release had me post my small ranch for sale on March 13th, 2003!! It became known as the "Caroline Cover-Up" after FOIP information I received indicated the EUB wished Shell to indicate in their investigation that the school children were allowed into Caroline while it was under a evacuation notice on purpose—a complete lie!! Much of my FOIP information will make one gasp on this horridly Handled SPOG operation!!
There is a class 3-4 super sour gas well licensed to Shell Canada within the legal setback of 1500 meters of the Alberta Government's Raven Brood Trout Station, and Camping Areas. Ask our energy regulators how that well received it's licence without the naming of all residents and businesses within 1500 meters of the center of the wellhead?? The well is Shell 5-32-35-5 w5th, and inquire why our county allowed that well to be licensed without an intervention??? Ask our government and county to review just how that license was secured from our Alberta regulator by Shell Canada—the leader of SPOG!!!!
Fracking protests not expected to hit county by Patricia Riley, October 29, 2013, Mountain View Gazette
Fracking protests are not expected in the Mountain View County area, with area companies working to keep the community informed about activities and projects in the region, according to Tracey McCrimmon, executive director of Sundre Petroleum Operators Group (SPOG). [One of Alberta's Synergy Groups] "We knew that there were concerns and most of those concerns were due to a lack of information and lack of education," said McCrimmon. SPOG is a collection of oil and gas companies operating in the Sundre area. It also includes non-voting associate members such as Mountain View County. It promotes awareness of oil and gas issues through workshops, newsletters and community dialogue, she said. SPOG officials performed a proactive engagement process that took a year and a half and was completed in June, she said. "It took us a year and a half to get through it and we addressed all the issues," she said. "At the end of the day, the things that we thought were the biggest issues all came back to issues that is not necessarily fracking – it's communication."
There are currently protests against proposed fracking happening in New Brunswick that have gained international news coverage. McCrimmon said she believes that if companies in New Brunswick followed the same regulations as are in place in Alberta, there would be no problems. … SPOG member companies perform three common fracks, including a gelled frack, a surfactant gelled (foam) frack and a slick water frack. A gelled water frack uses 420 car washes' worth of water, a surfactant gelled (foam) frack uses 440 showers' worth of water and a slick water frack uses one Olympic-size swimming pool's worth of water. Member companies of SPOG try to use recycled water whenever possible, such as runoff and flood water, she said. [runoff and flood water is not recycled water]
…
Fracking has been used in Alberta since the 1950s and there has never been a documented case of hydraulic fracturing activities contaminating groundwater in Alberta, she said. [Emphasis added]
[Refer also to:
Artisan (uses Canyon to frac) employee to the Campbells, when they expressed concerns about their water: "If we ruin your water, there's nothing I can do about it anyway." 
Source: FrackingCanada Who Votes for This?
Canyon frac trucks line up across the road from the Campbells: FrackingCanada The Regulator's Conclusion
May 28, 2013 Frac by Canyon in Alberta, filed on fracfocus.ca: 49% of their fluid not disclosed
September 22, 2011: Hydraulic fracturing with gelled propane by Gasfrac/Crew Energy Inc./Caltex Energy Inc. contaminated groundwater near Grande Prairie: ERCB Investigative Report and groundwater monitoring by Alberta Environment This is drinking water contamination.
Drillers Silence Fracking Claims With Sealed Settlements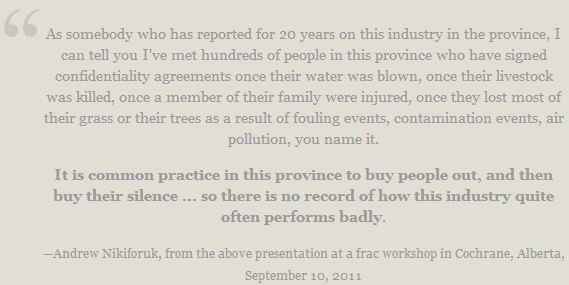 Source: FrackingCanada The Science is Deafening: Industry's Gas Migration
October 28, 2013: Water-quality study underway in Hudson's Hope, BC, to provide data on effects of fracking; numerous water wells have gone bad after frac'ing in the community
Harper's Gag Orders Sweep While Canadians Sleep
New Alberta Energy Regulator AER now Regulates Fresh Water with 100% Oil and Gas Industry Control
Alberta to consider testing water near fracking sites, Energy companies are not required to test water quality even though the ERCB knew a decade ago that hydraulic fracturing in Alberta was causing serious damages
How Alberta Will Fight Fracking Folk Hero Jessica Ernst, In famous flaming water case, regulator to argue 'no duty of care' to landowners or groundwater
January 2013: Deregulate industry, spy on families and communities: RCMP and CSIS watching citizens concerned about hydraulic fracturing very closely
Fracking blamed in Innisfail well blowout, ERCB assigns fault to Midway Energy but no enforcement ordered because no rules in place at the time
Harper launches major First Nations Termination Plan: As negotiating tables legitimize Canada's Colonialism
ERCB Bulletin 2012-02: Hydraulic Fracturing: Interwellbore Communication between Energy Wells
More Deregulation: ERCB Bulletin 2011-35: Surface Casing Vent Requirements for Wells
Deregulation, Alberta Energy Regulator removes all limits: ERCB Bulletin 2011-29: Changes to the Province-Wide Framework for Well Spacing for Unconventional Oil and Gas Reservoirs
2011: B.C. Re-writing Water Law As Fracturing Use Rises
2006: Technologies May Ease Frac-Related Water Concerns
EUB [changed to ERCB, now AER] Bulletin 2005-33: Shallow Fracturing Operations: New Requirements, Restricted Operations, and Technical Review Committee ]