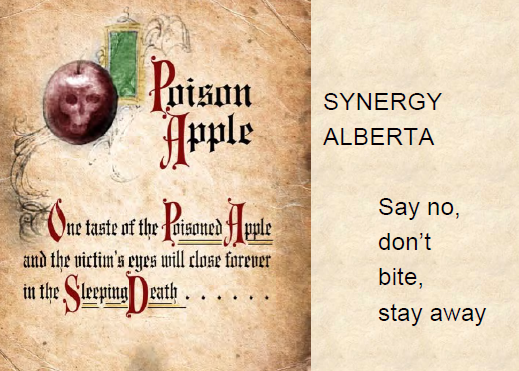 Trident's demise has far-reaching ramifications, Meeting at Red Ranch School addresses concerns by Lea Smaldon, July 2, 2019, Mountain View Gazette
The downturned state of the oil and gas industry [Or intentional walking from responsibility and contracts by companies, nicely helped along by 100% industry-funded AER? Oil and gas companies have been doing this in Canada for decades and ERCB, then EUB, then ERCB, now "No Duty of Care" AER happily enables it.] and its far-reaching ramifications was on full display in front of a packed school gymnasium in Mountain View County last week.
Top officials from Alberta Energy Regulator (AER), Farmers' Advocate Office, Surface Rights Board and Orphan Well Association addressed concerns about a now-defunct natural gas company with installations in the area at an information session at Reed Ranch School on June 25.
Trident Exploration Corp. is "the biggest insolvency that the AER has had to deal with," said Trevor Gosselin, AER's director of Closure & Liability.
It comes on the heels of several other impactful insolvencies in last two years. Lexin Resources Ltd. had 1,514 well licences when AER forced it into receivership in 2017 and Sequoia Resources which assigned itself into bankruptcy in March 2018, had 2,300 wells and nearly 700 pipeline fragments.
On May 3, Trident announced it had ceased operations, leaving 3,652 wells, 238 facilities and 502 pipeline fragments across the province without anyone looking after them.
Trident estimated its abandonment and reclamation obligations on the assets to be about $329 million.
Assets that can't be sold by the appointed receiver may end up with the Orphan Well Association which says more sites are added to its inventory every year, putting it on a treadmill, said Lars DePauw, the association's executive director.
"To give you a sense of how much our activity has ramped up, in 2012 we had 14 wells left to be decommissioned and we're at (about) 3,000 now," said Depauw.
The Farmers' Advocate Office, tasked with ensuring rural Albertans know their rights, has increased communications with stakeholders on everything from rental recovery advice to implications of insolvencies.
Before Trident hit, the Surface Rights Board was already dealing with thousands of applications from landowners seeking payment for what oil and gas companies failed to pay them for surface leases.
The board went from one person working on applications in 2014 to 10 now in an office of 40, said Susan McRory, chair of the Surface Rights Board.
"Gives you an idea of the exponential growth in these applications that we're facing," said McRory.
The impact on landowners with defunct company assets on their properties is also evident, said many of the speakers.
"Surface rents have not been paid and it's not usually not just one year but it's happened multiple times. You're dealing with garbage issues, other conditions of the site, lots and lots of issues like weeds. We know people have been impacted," said the executive director of the Orphan Well Association.
The AER is changing the way it assesses a company's viability "because asset over liability is a poor predictor" these days, said Gosselin.
The vast majority of the 750 companies licensed to operate in Alberta "are doing just fine", he noted..
"And I know this one is ugly. Lexin was the same issue, Sequoia is another one but it's a handful of companies that get into trouble," he said.
Gas producers are dealing with several problems right now including lifting and transportation cost issues, he said.
"They've got challenges with running their companies with surface leases and municipal taxes," he said. "And I'm not saying I agree with the companies' position I'm telling you what I hear. So the main culprit in all of this though is the darn commodity commodity price. And those gas producers don't have a whole lot of control of that. That's the market."
Trident's downfall happened quickly
Gosselin described Trident's exit from the marketplace as happening "very, very quickly."
In September of 2018, the AER approved the sale of a large number of Husky assets to Trident.
"The data we had at the time and what we were allowed to consider in transfer decisions indicated that Trident was able to take on that liability in that set of assets," said Gosselin.
"I realize sitting here tonight that you can look back on that and say that was a horrible call. How could you have made that?"
At the time he made the decision to approve the transfer, Gosselin said he looked at more than just the licensee liability rating.
"I was convinced that Trident would be successful. The Trident situation back in September of last year didn't look unlike or dislike a whole series of other companies," he said.
Gosselin said AER knew in March that Trident was "in a bit of trouble."
In April, Trident officials approached AER saying they wanted to enter into the Company Creditors Arrangements Act (CCAA), said Gosselin.
"So you have to go into a sheltered position so you can re-arrange your affairs and you can come out the other side of that and see if you can make a go of that company," he said.
Within days of that, Gosselin said one of its creditors issued a notice of default calling in its loan.
"Six days later on (April) 29th, I issued an order to Trident. They had made it clear that they wanted to cease operations that they wanted to negotiate with the AER and I took the position on behalf of the organization to say you have three options," he said.
The company could transfer its wells to another responsible party, it could pay security or it could convince AER that it was not a going concern and it would not be in breech of the order.
Gosselin said he wanted Trident to go into CCAA, work with its lenders and hopefully make a go of the company.
"And it was pretty clear to me, based on the conversations we had with the executives that they didn't want any part of that. And the next day they indicated to us that they were ceasing operations. So it all happened in a matter of hours."
Receivership
In what it calls an unprecedented step, on May 3 the Orphan Well Association asked the court to appoint a receiver to ensure Trident's assets were managed and maintained safely for the benefit of the public, and where possible, placed in the hands of responsible operators.
PricewaterhouseCoopers was appointed receiver by the Court of Queen's Bench on the same day and now looks after the assets and liabilities of the estate as well as marketing and selling of the assets.
The receiver has engaged the oil and gas consulting firm of Veracity Energy Services to look after the day-to-day operations of the assets while they're in the receivership.
That includes looking after emergency response and shutting-in the assets so they are unable to produce as much or anything at all as they await sale, said Gosselin.
As of last Tuesday, he said all but 30 of Trident's licensed wells had been shut-in.
According to a receiver report, Trident's assets sat at about $89.6 million as of March 31. Combined, secured and unsecured creditors as of the same date are seeking $80 million.
But because of a recent Supreme Court of Canada decision, first priority for payment will go to end of life costs for the assets and not creditors, said Kaitlin Szacki, AER manager of insolvency management.
That means work done to shut assets in or maintain them while in receivership or other activities related to eventual reclamation, will be paid for first.
"What we're finding in insolvencies, proceeds in the estate are quite limited so what we find is we're arguing over pennies in the end," said Szacki.
Because some of Trident's assets have other parties involved, AER directs those companies to do the work and they are compensated for the defunct company's share.
These so-called working interest participants can buy out the full asset under receivership as can any one else AER approves.
"Ideally we'd like to see every single well, facility, pipeline – the whole kit and kaboodle – go to another responsible operator. That may not be the case," said Gosselin.
If the receivership process is concluded, the assets don't sell and there is no legally or financially responsible party that can be held accountable, AER can order the assets be orphaned.
Decommissioning of the assets and final reclamation of the land then becomes the responsibility of the industry-funded Orphan Well Association.
Landowner resources
Landowners who have a Trident asset on their land can call the AER to find out whether Veracity or a working interest participant is looking after the asset now.
If the asset is eventually orphaned, Depauw said the orphan Well Association will contact the landowners once it is aware of who that is.
Landowners must still allow access to the asset, regardless of if there are outstanding lease payments due from the now-defunct company, said Michele Delcolle, an energy, utilities , and polices specialist with the Farmers' Advocate Office.
If lease payment money is owed past the due date, landowners can apply to recoup that money by applying to the Surface Rights Board. The board's chair stresses that applicants will need to provide evidence that money is owed so the quasi-judicial board can consider whether or not payment should be awarded.
"I think the most fundamental misunderstanding of what we do, I think there's an expectation we're like a government agency giving out a grant," McRory said.
Not so, she says, the money comes directly from the provincial government's treasury department out of the government's general revenue. And as such, taxpayer's money is on the line.
Straightforward applications have a turnaround of about 90 days, she said. Delays could come from a complicated application, like one involving a receivership, she said.
"So this is why you may say 'well my neighbour got it in likety-split time. I'm waiting six months. I'm waiting two years.' It may be a reflection of the complexity of the file," she said.
The Farmers' Advocate office works as a resource for farmers and ranches who are affected by energy and utility development. The government office provides information and advice on legislation, policy and process and landowners' rights and responsibilities.
"We started hearing about a year and a half ago that Trident was trying to reduce annual rentals. We started to issue advisories, putting it out, letting landowners know what are their rights, what happens if a company wants to reduce your rentals by 50 per cent, if they're asking you to take a reduction," said Delcolle.
"One of the things is the company is required to make the full payment and as per the surface lease agreement that they had signed with you. If the company sends you a partial payment you can't accept that partial payment as a down payment towards the full annual rental and then make the application to the surface rights board for the balance," she added.
The Farmers' Advocate Office also started getting calls when builders liens were being put on title for landowners.
"So as soon as companies weren't getting paid by Trident, builders liens were going on (land titles). So we had to do a little bit of research to find out, making sure it was registered on the energy interest and not on fee simple titles."
Central Mountainview Action Group is another contact. It is the locally-based group that organized the meeting at Reed Ranch School. It was created in the early 2000s when companies like Trident and Husky began drilling for coalbed methane in the area.
Comments to the article:
Emmanuel LogosWhat landowners need to understand is that the AER is so far behind on the Section 36 Rent Recovery applications, that they are currently working on the 2016 applications. Sad thing is the AER brags about it's ability to get a new well approval done in 5 days, yet rent recovery applications lanquish in limbo because the AER refuses to do what they're supposed to do under the law. And that would be for the Crown to take control of the wells and become the responsible license holder. Currently many of the recently orphaned wells are not in control of any qualified operator and are a public safety issue. The Regulator refuses to regulate!
Grant Collies Your information is correct except for the fact that the AER has nothing to do with Section 36 of the "Alberta Surface Rights Act". The Act is administered by the quasi judical Surface Rights Board. You are totally ight about the poor decision making ability of Alberta Energy Regulator, hell they even admitted it at the meeting. Thing need to change it is time for all wells to require security deposits that represent the eventual costs of abandonment, remediation and reclaimation just as is required by many US states and other nations.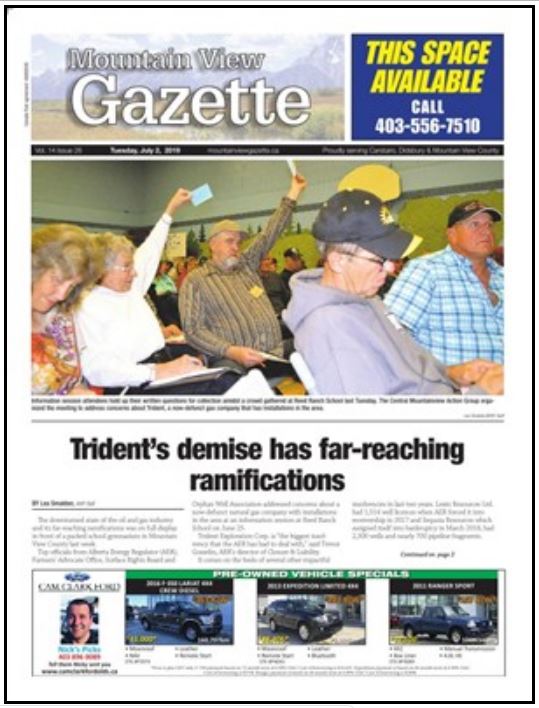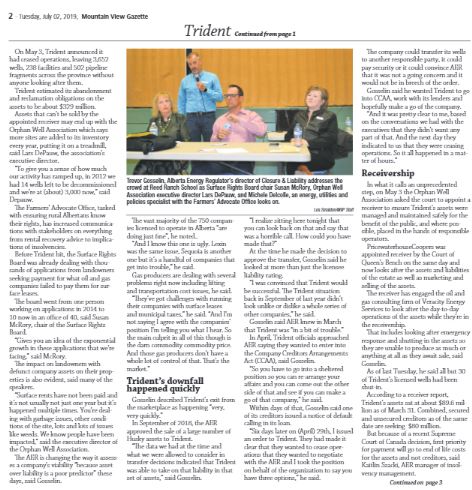 Refer also to:
2019 06 15: Falling for AER/ERCB/EUB (industry)'s scam, decade after decade: AER, Surface Rights Board, Orphan Well Association bamboozling (synergizing) Albertans about Trident Exploration walking from it's environmental and financial obligations in CMAG Synergy meeting, June 25, 2019