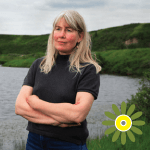 In today's dollars, and adding the financial harm from drinking water contamination and frac'ing causing permanent loss of water from the hydrogeological cycle, I think a complete frac ban is most appropriate. What idiot species intentionally contaminates and permanently removes billions of gallons of drinking water from use by humans and other species? If not a ban, then at minimum, a fair tax would be $500,000.00 a frac'd well, which of course would render frac'ing uneconomical. It's already uneconomical without a tax. It's even uneconomical without billions in freebies and gifts from the public, laying the harms on the public, and hanging investors with massive debts.
This is what happens when frac'ing invades a nation:
2014: 'National disgrace': Alberta First Nations sue Harper government over drinking water; Harper government breaks promise, legislates liability protection for the government if citizens get sick or die from drinking water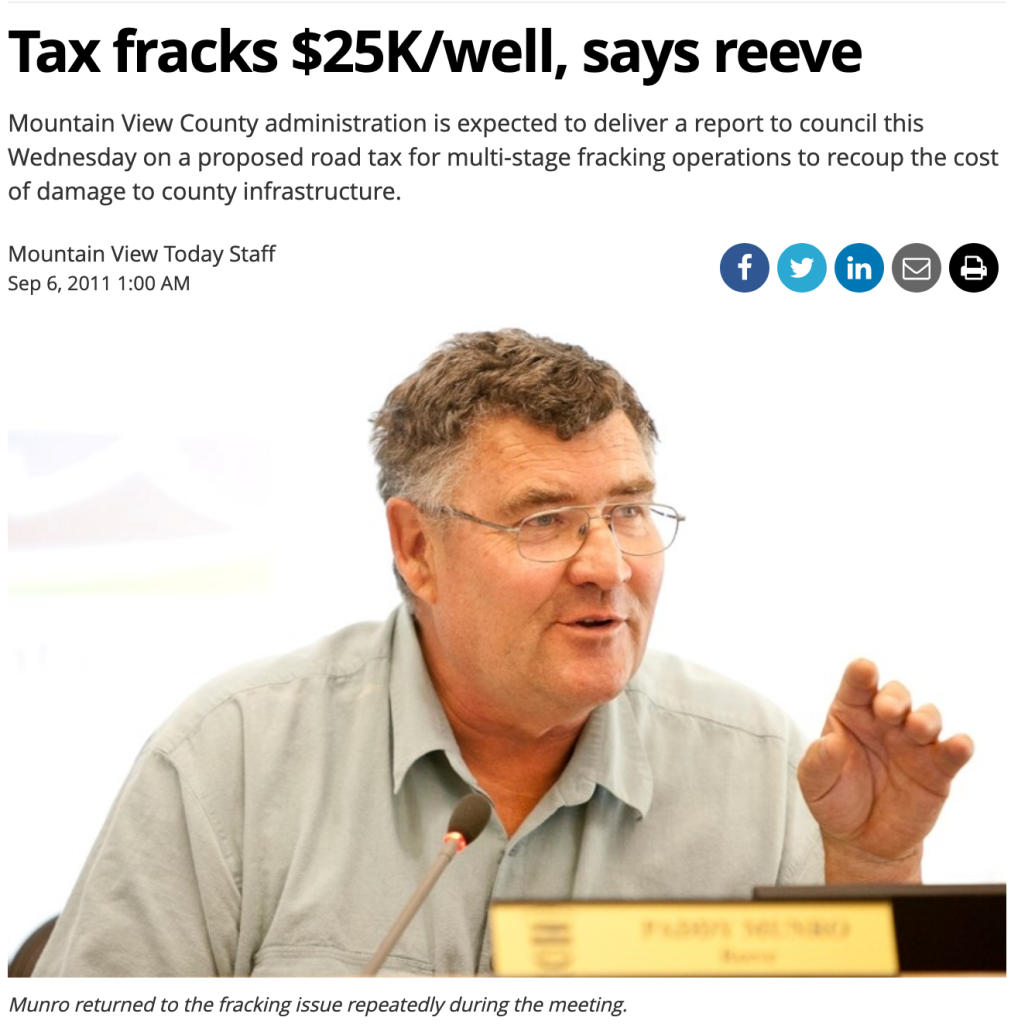 Tax fracks $25K/well, says reeve, Mountain View County administration is expected to deliver a report to council this Wednesday on a proposed road tax for multi-stage fracking operations to recoup the cost of damage to county infrastructure by John Gleeson, Mountain View Today Staff, Sep 6, 2011, Mountain View Gazette
Mountain View County administration is expected to deliver a report to council this Wednesday on a proposed road tax for multi-stage fracking operations to recoup the cost of damage to county infrastructure.
The move came after Reeve Paddy Munro made an impassioned pitch to council's policies and priorities committee on Aug. 24 to take swift action.
"They're beating up the base of our roads," he said.
"We need to whack these guys $25,000 a hole."
The issue was a recurrent theme for Munro during the all-day meeting.
There's a tremendous amount of oil and gas activity that is forecast to happen in the SPOG (Sundre Petroleum Operators Group) region – it's going to look like the Wild West out there," he said at the outset of the meeting, when he requested the item be added to the agenda.
"This is so huge that we need to start moving on this thing."
Munro brought the issue forward when administration was reporting on the process for overweight rig moves, which are jointly coordinated between operational services and county patrol.
"There are some roads we won't let them drive on, but if they have to use it we do a pre- and post-inspection," infrastructure manager Ryan Morrison said. "If there's damages they have to fix them."
Most companies sign letters of credit under their road-use agreements and the county ìalmost never has to use bonds," Morrison said.
"I don't believe the bond is the way to go," Munro said, suggesting a $25,000-per-well tax instead for multi-stage fracking projects.
Fracking – hydraulic fracturing – is a process in which water, sand and chemicals are injected into a well at high pressure to blast loose the rock and release gas or oil.
"We're talking about tens of thousands of loads, all of them heavy, (and) hundreds and hundreds of wells," Munro said. "We need to tax them. They are pounding out our base, using our roads."
The county currently levies a well-drilling tax which is intended to recover some of the infrastructure costs, administration said, and corporate services director Greg Wiens pegged that figure at $500,000 last year.
"The province is getting some pushback from the oil companies, complaining about multiple layers of tax," Wiens said.
"You're talking $500,000. I'm talking $25 million," Munro retorted, adding that "$500,000 is just coffee money."
Munro's attempt to put a motion on the floor directing the CAO to develop the new tax was derailed, however, when deputy reeve Bruce Beattie expressed concern about committing to the move without background information.
"That's why we have a policy for P&P that says we can't spend money," Div. 7 Coun. Al Kemmere said. "The process should be that the CAO brings back a preliminary report. That is the process."
"Then let's go through the process," Munro said. "If they can't then send it to the pros. Twenty-five thousand per hole. Do the math here."
Earlier in the meeting, Munro raised the issue with Gerald Aldridge, executive director of the Red Deer River Watershed Alliance, who was presenting an overview of the group's activities to P&P.
Asked how closely the Watershed Alliance is following multi-stage fracking in the oil industry, Aldridge said it has been identified as a rising issue but "we haven't done research on it."
"The issue and impact is exploding," Munro told him. "No one is comprehending the amount of water being used. We're talking billions of gallons of water that's out of the ecosystem, lost. It's huge."
"My biggest problem," he added, "is there isn't enough of a lobby effort here."
Aldridge explained that the Watershed Alliance is not a lobby or advocacy group, but rather a long-term planning body that identifies emerging issues and develops recommendations for regulatory authorities.
He invited the county ñ as one of the group's "significant funders," at a 50-cent-per-capita annual rate – to state its concerns in a letter and present its position in a meeting with the group.