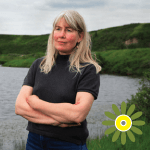 In 2018, my then lead lawyer Murray Klippenstein abruptly quit my lawsuit, blaming me for not having faith in the legal system even though he advised me in 2007 when he took on my case it would cost me more than a million dollars in legal and associated costs with me likely never seeing justice. He warned me that even if I win, I'd likely "walk down the street" with nothing because of how unfair our legal system is for ordinary people.
I proceeded because of how bad frac'ing is, how heinous the law violations by the defendants and how vital safe drinking water is.
Mr. Klippenstein chased Mr. Skelly while stressing me unbearably, failing to serve me and file his official withdrawal of services as he promised in writing (Mr. Klippenstein wrote me in 2019 he was doing so in "fifteen days" but made me wait a year and a half, and then blamed me for his cruel delay and shared that with the defendants) and while failing to send me my case files which he also promised in writing he would do (I've been waiting for those 2.5 years; I'm still waiting) after tossing me, the public interest and my case in the trash (contrary to the rules of his profession), but not quitting other cases he took on years after taking on mine.

2022 09 05: Flash back (connecting evil dots) by David Fisman@DFisman:
From 18 months ago. The aggressive, orchestrated effort to stoke rage that began paying dividends with the Ottawa occupation, and continues to result in economic damage and excess deaths in Canada. Don't ever forget what these guys did.

And to my cumulative horror, Skelly was chased and ego-fed by my ex lead lawyer Murray Klippenstein (while he refused to send me and officially serve his quitting papers after lying to me in writing and quitting my lawsuit over two years earlier). I will never forget the harms Klippenstein caused to me and others, and that his self-regulator, the LSO (with Klippenstein on the board), enabled.

Tweets in response to above flashback:
Kinda forgot about him after his case was thrown out of court.
Easy to do when you have a silver spoon in your mouth as owner of "Adamson" does…
Ma freedumbs!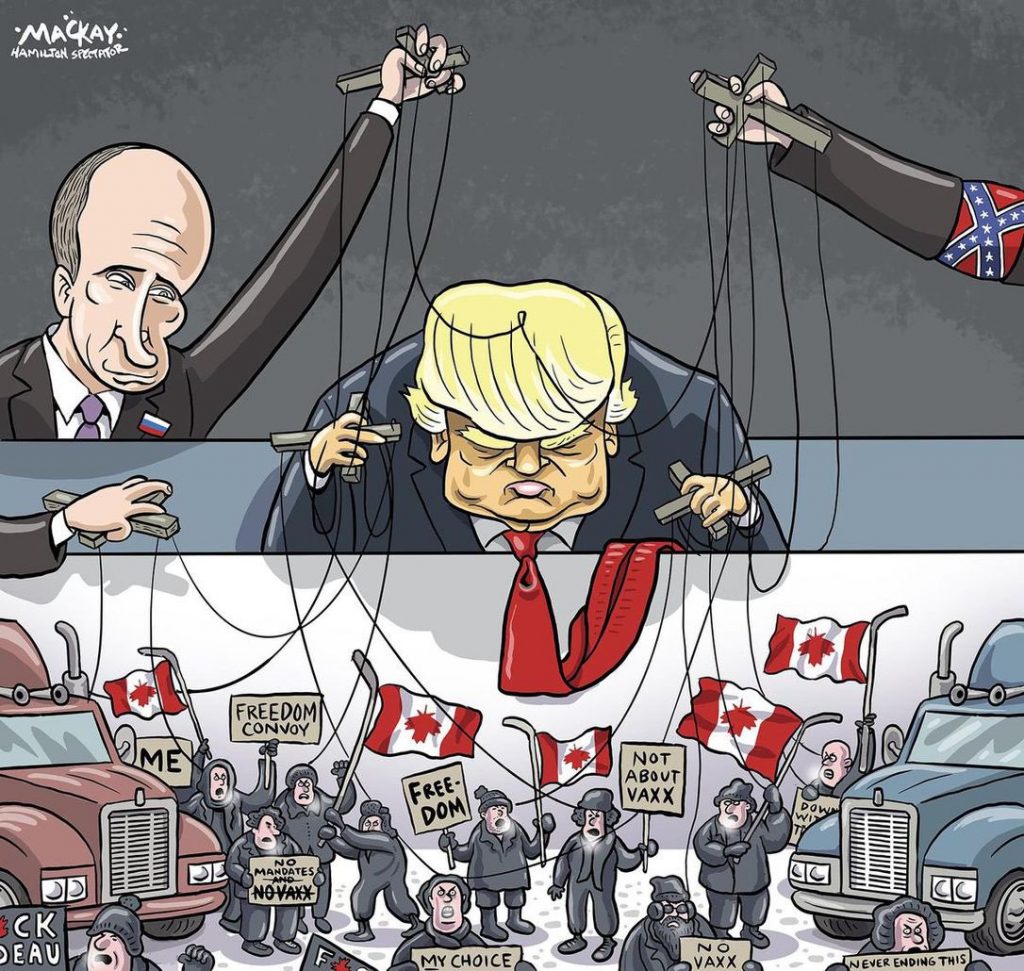 2021 05 08: Flash Forward to callous COVID-deniers with no regard for others, not even their parents, in Alberta
Neeja Bakshi internal medicine doc at RAH, YEG. mom. wife. avid Steelers fan. Cool Runnings is my favorite movie:
14 months in, we are that point where COVID deniers are coming in with severe infection, openly admitting participation in freedom and anti-mask rallies.
Every patient I see is so incredibly unfortunate, and a very common sentiment is "I didn't think this would happen to me."
In a particularly sad case recently, a patient said to me- "I didn't think COVID was anything more than a cold. I laughed at masks. Now I'm here. And my dad is dead. And my mom is in an ICU. This isn't a cold."
The sadness was palpable. The silence was haunting. The realization that it didn't have to be this way was heavy.
The divisiveness of this pandemic is ugly. Brings out the worst in so many.

But at the end of the day, the human suffering is deafeningly unifying.
***
Compare Canada's Covid Denying law-breaking egomaniacs and their enablers, risking the lives of others and perpetually harming our economy with public health and business destroying waves:
Excellent visuals on indoor transmission here or click on tweet below: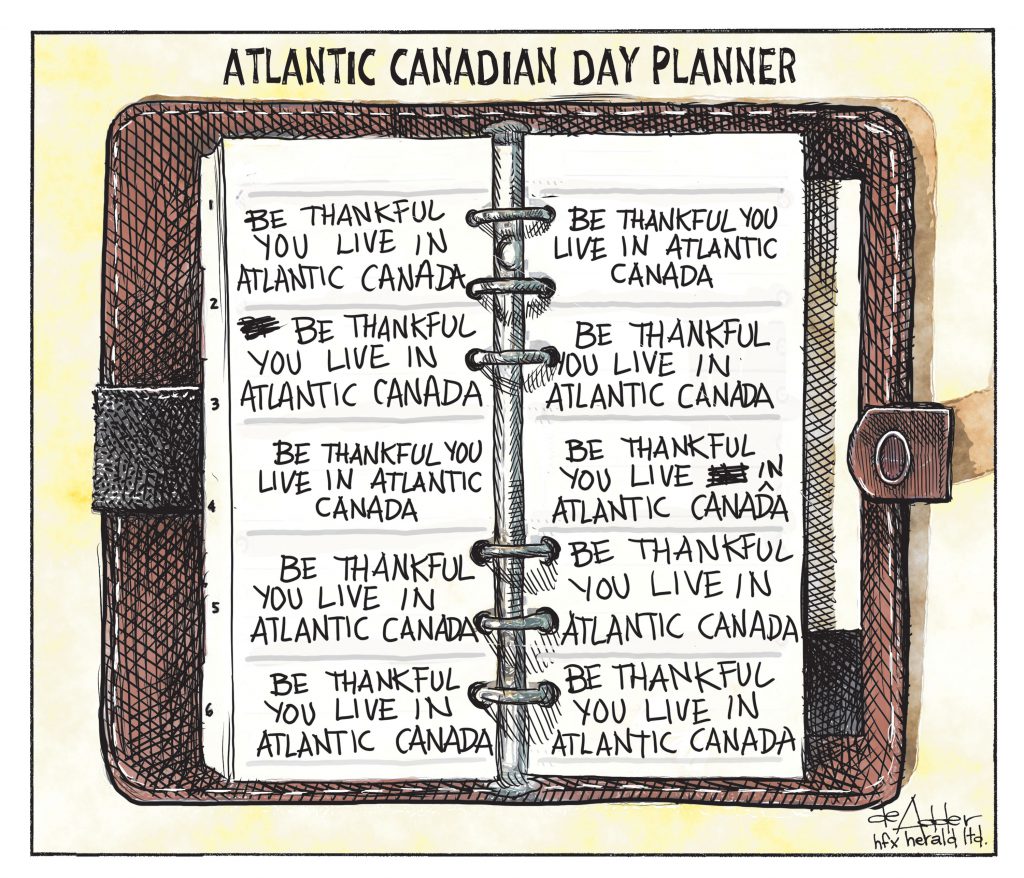 Adam Skelly owns multiple restaurants. He was gifted the building in Leaside from his father. He comes from money. But he's a grifter who knows that if you position yourself as a "culture warrior," the rubes will make you rich and conservative media will make you a hero.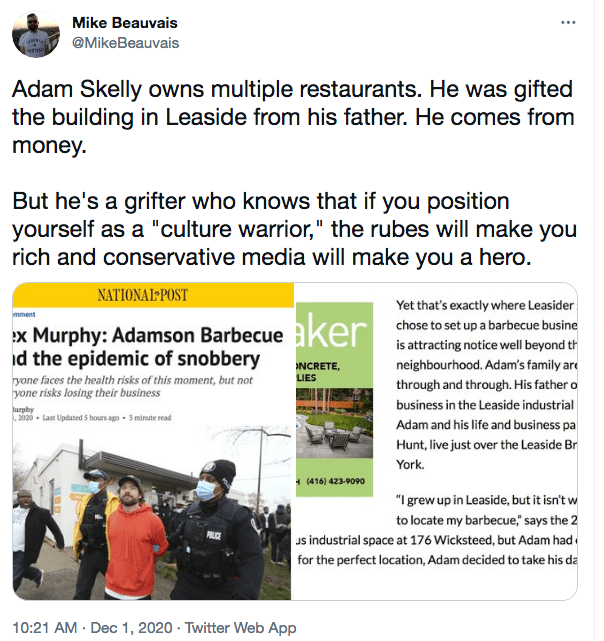 chrissy leavin', the strong clap back girl@MrButterChicken Replying to @MikeBeauvais:
"Working class" barbecue in fucking Leaside was the first clue.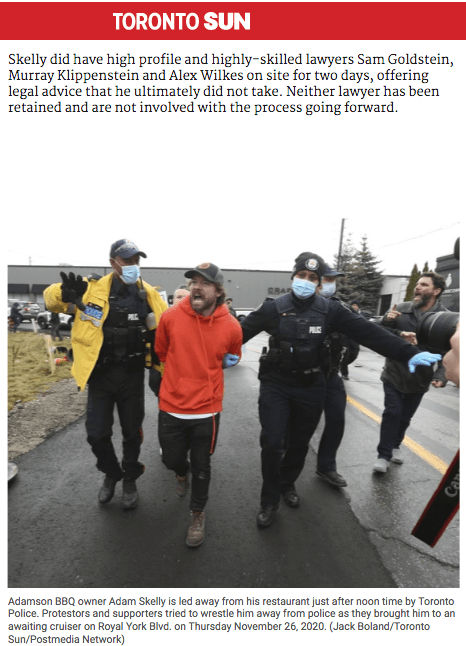 Emmett Macfarlane@EmmMacfarlane, Poli Sci prof. Cdn politics, const'l law:

Adamson BBQ's owner, Adam Skelly has been released on bail.
It seemed many supporters want to help him do that.
A GoFundMe campaign on line boasts at least 3,200 donating over $150,000 (as of Friday afternoon) for the 33-year-old owner of Adamson Barbecue, who was arrested Thursday after defying orders to vacate his Etobicoke restaurant.
"Thank you all for all of your support," wrote organizer Barry McNamar who originally set the goal at $10,000.

Interlude: Financing people to get away with breaking the law?
This Barry McNamar? Alberta Prosperity Fund (APF)
… APF is run by Barry McNamar, who has ties to both the Fraser Institute and the Frontier Center for Public Policy (FCPP). The latter has received over $1 million from Koch foundations, as well as money from ExxonMobil and other conservative causes, while the FCPP's funding is less transparent. Nearly all of the APF's board has deep ties to the energy industry, and includes members who have worked to approve the Northern Gateway Pipeline. [3]
McNamar is also the founding Director of the School of Public Policy (SPP) at University of Calgary a group that has been described as having "heavy" influence from corporations, particularly Imperial Oil. Jack Mintz, head of SPP, is also an Imperial Oil director, and director of the Imperial Oil Foundation. [4]
While U.S. Super PACs have a clear legal definition, making them subject to more controls, in Canada "Outside legally defined election campaigns, there are essentially no controls on the advocacy activities of groups like the APF." [5]

According to their website, the APF plans to "Identify and mobilize grassroots Albertans to enact legislation and elect candidates that support our sponsors' vision" as well as conduct polling and "continuous dialogue" with Alberta voters. [6]

Wildrose leader Brian Jean told the Calgary Herald that "Wildrose is not involved in the 'Alberta Prosperity Fund.'" He said in a statement that "We have had our lawyer send them a letter requesting that they stop telling people they have our endorsement or support." McNamar, who has served as a fundraiser for the Wildrose part in the past, denied that the Fund had ever claimed affiliation with the party. [7]

… As non-profit organization without charitable status, APF is able to operate with virtually no restriction on how it raises its money, and isn't required to reveal its donors to the public. They don't have obligation to report how much money they spend, or where they spend it. [5]

… Key People …

Barry McNamar — DIRECTOR AND PRESIDENT

Barry McNamar is the President of the Alberta Prosperity Fund. He was a founding Director of the School of Public Policy (SPP) at University of Calgary ( and has held leadership positions with the Manning Foundation, Fraser Institute, Canadian Alliance Fund and Reform Fund Canada.

Rabble.ca reports that "corporate influence in the SPP is heavy. The connections to one company in particular – Imperial Oil – are extensive." The school was set up with a $4 million donation from James Palmer, a leading Canadian oil and gas lawyer. Jack Mintz, who headed the SPP, is an Imperial Oil director, and director of the Imperial Oil Foundation. Papers by the SPP have pushed for pipeline growth, worked to discredit green jobs (calling them "illusory"), and downplayed the impacts of energy development. …
End Interlude: Financing people to get away with breaking the law?

"Adam and his family will sleep better tonight because of your generosity. But they face a tough road ahead in battling government. So keep that support coming. This is going to be one hell of a fight."
Monumental.
From Premier Doug Ford to Mayor John Tory, Skelly is up against not just the system that has decided the best way to fight COVID-19 is to lockdown Peel and Toronto, but the city and province's most powerful politicians.
Not only will unprecedented situation be argued in court but needs 2b. Uncharted water stemming from #covid19 #pandemic – hopefully city/province hang on to all correspondence so Canadians can understand decision process and players before judges rule if this was constitutional pic.twitter.com/YI3t26Tosv— Joe Warmington (@joe_warmington) November 27, 2020
His BBQ Revolt odyssey began when he offered in-restaurant dining at his Queen Elizabeth Blvd. restaurant Tuesday and reached maximum attention Thursday with dozen police surrounding the businesses and hundreds of protesters.
It will be interesting to add up the taxpayer's bill for the dozens of police officers on scene and a dozen police horses.
Meanwhile, Skelly spent the night in a jail cell in Toronto Police's 11 Division after being charged with obstructing police, trespassing and other counts related to his decision to enter his restaurant that had its locks changed by order of the city citing health statutes.
Skelly, who has two other locations in the GTA, has been very public in his defiance of the latest 28-day provincial lockdown order to help curb the current spike of COVID-19.
"I didn't think if these lockdowns continued my restaurant would survive the winter and I am hoping I can help encourage other small businesses facing the same fate to stand up as well," he said Thursday.
He has some legal battles on this front ahead. But first, he has to get out of jail and that effort is starting with securing a lawyer for his bail hearing, which is scheduled for 9 a.m., when it is believed he will make his first appearance over video.
Skelly did have high profile and highly-skilled lawyers Sam Goldstein,

lying, quitter

Murray Klippenstein and Alex Wilkes on site for two days, offering legal advice that he ultimately did not take. Neither lawyer has been retained and are not involved with the process going forward.
Sources say Skelly has consulted other counsel and perhaps at his court appearance today, one will be presented as his actual lawyer.
If he doesn't have time to pull together legal representation in time for a bail hearing Friday, in light of the fact so many others charged before the courts are being released because of COVID-19 concerns, it would be appropriate practice for Skelly to not be held for the weekend and reunite him with his family, which includes a three-year-old son named Riley.
But the court will decide.
Skelly is not charged with violence and there will be legal arguments ahead over whether or not he had charter rights to enter his own property or the validity of the emergency order itself.
There could be interesting, ground-breaking legal arguments ahead. One thing he does have is a large fund from donors to help with that cause. The originator of that GoFundMe said it's Skelly alone who will receive the funds.
"After a discussion with Adam's lovely wife tonight, Adam has been listed as the beneficiary on the withdrawal portion of this campaign," said McNamar. "Once he accepts that invitation, he will have complete and exclusive access to the funds and to the full donor list."
That list and the donations are growing by the minute.
A few of the intelligent comments:
Dave Richards:
November 27, 2020
The man who created the Go Fund Me has the same name as a major Conservative fund raiser. Hmmmmm….People are paying for somebody to break the law and to potentially kill others? Now Skelly does make a good bbq but he's looking for attention and he's risking the lives of his patrons. If his CON new BFF has raised $175K or whatever it is for him, then the gov has to fine him the max. $750,000. How much is a life worth? Make an example of this guy. He's doing this on purpose. He's famous all over the world and the new "hero" to those who don't care about their fellow citizens. If people weren't yahoos, as to quote Ford (which I hate doing but….) if people wore a mask for a few weeks and listened to health officials, this virus would be gone. It's as if these people really want to kill people.
Katherine Collins:
the bandwagoners clearly don't get it, such a shame for all the legit small business that are trying creative ways go get through this and this owner gets free money from the bandwagoner deniers. Thank god they are a very very small minority.
they dont get that their behavior is the cause of these lockdowns
Clueless, uneducated bandwagoners and the go fund me donors are included in that group also.
NORMAN PHANN:
I know many that now have caught this crap virus and suffered. They looked like zombies and yes lived. Spent days in the Hospital tying up the system as is that what this, is all about trying to avoid. Leaving this without control, can you imagine how this can have been a disaster killing or suffering people more. You think Hospital care now is terrible lol. … This owner broke the rules/laws…. What he could have done better at least is show responsibility opening not letting people run around inside out with no masks on. Then he has an good case doing things the right way, protecting each other while being open. …
Dave Richards:
Very well said. I know people who had it. A friend of a friend died, the others survived but are still suffering. One has heart problems two have lung problems, another one has brain fog. He says he feels fuzzy and forgets stuff. You were totally correct in your posting. Well said.
Graham Fraser:
Let all of these covidiots open their stupid restaurants and those that want to go there should be allowed BUT collect all of their names and ID's and when they show up at the ER needing treatment for covid send them packing. NO personal responsibility then no healthcare. You DO NOT have the right to jeopardize the lives and health of your fellow citizens because you can't live with a rack of ribs – pathetic lot.
Michael Bond:
Sorry, he broke the law. We have to curtail this virus. GTA is in lockdown, live with it. We've had to in the UK, and it's getting better here. Less people are dying cause they realise, oh shite, this can kill us!
Katherine Collins:
Breaking the law by operating without a business license, that's illegal.
This is different than G20 protests
he was closed down for health violations, not having a license sealed the deal for him, another charge that ensures he wont be able to obtain one now due to the charge.
he's not that smart
He was operating an illegal business, he will take the money and run
Can you say sucker?
… and all his go fund me bandwagoners donated money will be gone on legal fees.
No one wins here.
… Follow the guidelines and you can avoid stupid stunts like this
Its people like this that are actually causing the lockdowns, they havent a clue
Paul Burton:
Agree with you but it is the innocent tax payer who will be sued not Tory or Ford in the long run
Amanda Sigwell:
… The city should go after him for the GoFundMe money to help pay for the cost of having city workers and Police go there daily to deal with this nonsense. Unfortunately the tax payers have to foot the bill while he walks away with the money.
John Jackson:
THis IS ABOUT one guy, who thinks laws do not apply to him. PERIOD. Again if his food was good, he would not have a lost a penny. He could have turned to delivery or curbside pickup and people would have still came. The problem for him, the few customers he has area nut job anti maskers.
If you have been following the news you have most likely heard of this self-righteous bro who owns a bbq joint in Etobicoke that is going against the provincial government's mandates to protect the people. Whether you agree with these mandates or not, he is putting the lives of others at risk and selfishly breaking the law in order to gain fame and attention. This has led to him being arrested and charged, as well as tax payers money being wasted in the fight against his nonsense.
Now a third party (who does not know this man) has gotten involved and set up a GoFundMe to raise money for him so that he can fight the charges against him – which is nearing a quarter of a million dollars!
This is not right and I am asking GoFundMe to reevaluate what it's platform should and should not be used for and to remove this so called "fundraiser" immediately. It's setting a bad precedent for others, and giving money to a "rich kid" instead of to people and small businesses who actually need it.
He has made decisions in which he knew there would be consequences – and he should pay for them himself!
It is important to also note that this guy is not the "small business working-class hero" that he is trying to portray himself as. He is a white privileged anti-masker conspiracy theorist who comes from money

Is that why Mr. Klippenstein chased him?

and is known in Toronto for being an "attention seeker". Earlier this year he was called out by the media after he had a public meltdown on Twitter over the Covid-19 pandemic and repeatedly referred to others as the R word.
Please help by signing this petition to let GoFundMe know that you are not ok with this behaviour and that their platform should suspend this fundraiser immediately.
I'm tired of all your conflict but I know a fucking SWEET 'grift' when I see one.
Adam Skelly, who was arrested this week after a 4 day battle with the City of Toronto over defying the lockdown restrictions at Adamson BBQ in Etobicoke, is a fraud. He's human garbage parading around as a conspiracy theorist and he doesn't give a fuck about human life – that part of Adam Skelly is legit – but he's a fraud through and through.
His go fund me legal defence fund now has 300k in it and he's looking for more! …
Adam Skelly is using a deadly pandemic responsible for the death of thousands of Canadians as a mechanism of personal gain and his Tweets aren't helping. …
The most dangerous thing about this pandemic isn't the pandemic itself. It's snake handlers like Adam Skelly who cares more about a go fund me total over $100k than the life of a 10 year old Manitoba boy who died of this COVID19 'hoax' yesterday.
This morning that beautiful, dead, 10-year-old boy's parents can't get up. His family is crippled with grief.
This morning, Adam Skelly is using the death of this 10 year old boy and thousands of other innocent Canadians to promote a pulled pork sandwich and if you believe in science, you shouldn't be ok with it.
Suck on that when you Tweet me about how great of a fucking guy this little Dick Farmer is.
Also, Adam Skelly is a very wealthy young man. He comes from money and now you're giving him yours. His Dad gave him the land and seed money to start these mid range BBQ joints. …
Breaking Ontario's COVID-19 restrictions can be a costly venture, but it could pay off big time for Adam Skelly.
The owner of Adamson Barbecue, arrested last week for reopening indoor dining at his business, could receive over $290K from a GoFundMe fundraiser.
That is, if thousands of petitioners don't stop the transaction from ever taking place. …
A data breach from Christian crowdfunding site GiveSendGo has revealed that millions of dollars have been raised on the site for far-right causes and groups, many of whom are banned from raising funds on other platforms.
It also identifies previously anonymous high-dollar donors to far-right actors, some of whom enjoy positions of wealth, power or public responsibility.
Some of the biggest beneficiaries have been members of groups such as the Proud Boys, designated as a terrorist group in Canada, many of whose fundraising efforts were directly related to the 6 January attack on the United States Capitol.
The breach, shared with journalists by transparency group Distributed Denial of Secrets, shows the site was used for a wide range of legitimate charitable purposes, such as crowdfunding medical bills, aid projects and religious missions.
But the site's permissive stance towards far-right actors meant groups who had been banned from other fundraising platforms and payment processors following episodes of hate speech and violence have also used the platform.
Across at least 11 crowdfunding campaigns associated with the Proud Boys, members of the group, including some now facing conspiracy charges related to the Capitol attack, raised over $375,000. Some of these fundraisers netted large amounts of money in a short period.
After the Proud Boys chairman, Enrique Tarrio, was arrested on 4 January on charges related to firearms and the vandalism of a black church at a previous rally, a fundraiser billed as a "defense fund" made $113,000 in just four days.
A large proportion of that money came from a number of high-dollar donors who elected to be anonymous on the website, but whose identifying details were nevertheless preserved by GiveSendGo.
The anonymous donations included $1,000 from an email address associated with Gabe Carrera, a Florida-based personal injury lawyer who bills himself as the attorney who rides. Another $1,000 which came to Tarrio was associated with an email address belonging to Paul C Gill, a Honolulu-based Hawaiian Airlines employee and former pilot who has previously made donations to Donald Trump's campaigns and to the Republican party, and who has offered public political commentary in the form of letters to the editor in local newspapers.
Of Tarrio's donors, none immediately responded to requests for comment except for Gerardo G Gonzalez, who anonymously donated $1,000 to Tarrio on 7 January.
Public records show that Florida-based Gonzalez is a former pharmacist who owns at least six properties in Miami Beach and Homestead, Florida. His apartments, apartment buildings and an acreage lot have an assessed value in excess of $2.4m, and in prior decades has sold other properties worth millions more.
In a telephone conversation, Gonzalez said that his support of the Proud Boys was motivated by his belief that "there is no systemic racism in this country", and his opposition to "BLM and Antifa" who he said represented "the real extremism" in the United States. He also used derogatory terms for Latinos and Democrats.
Other Proud Boy fundraisers raised large amounts, and attracted a similar range of high-value anonymous donations.
Following the Capitol riots, a fundraiser in the name of "Medical Assistance to DC Proud Boy victims" made $106,107 on just 6 and 7 January. One anonymous donation for $5,000 was associated with an email address belonging to Ou Yin Lu, a Hacienda Heights, California, resident and businesswoman who had previously donated $14,640 to Trump's campaign funds, the Republican National Committee and a former California state representative Bob Huff during the 2020 campaign funding cycle.
Also, after charges were laid on the Proud Boys organizer Joe Biggs for his alleged role in the Capitol attack, an anonymous donation for $1,000 came from an email address belonging to a New York woman whose social media accounts list her as a state-employed special education teacher. Overall, Biggs raised over $6,000 on the site.
Other Proud Boy-related fundraisers included one for North Carolina Proud Boy, Jeremy Bertino, also known as Noble Beard, who was stabbed at a contentious rally in Washington DC on 12 December. Between 16 and 19 December, the effort netted $61,355.
Several parallel fundraisers sought to finance travel and equipment for Proud Boys who sought to attend the 6 January rally in person.
Two separate fundraisers asked patrons to fund protective gear and communications equipment for regional Proud Boys chapters, raising $4,876 and $12,900 respectively.
Later, fundraisers were mounted in the name of individual activists who are now facing serious charges arising from the events of 6 January.
One that netted $6,475 in just one day was for the benefit of the Washington state Proud Boy and national elder Ethan Nordean also known as Rufio Panman. Another for Nick Ochs, the self-described leader of the Proud Boys' Hawaiian chapter, brought in $19,687 between 8 and 13 January.
Candyce Kelshall, the president of the Canadian Association for Security and Intelligence Studies-Vancouver, who at at Simon Fraser University researches violent transnational social movements, said that far-right crowdfunding on GiveSendGo was just "the tip of the iceberg", and similar efforts were happening across up to 54 other crowdfunding sites that her research had revealed.
She said, however, that GiveSendGo was "particularly insidious" due to its presentation of such crowdfunding in the guise of religion-based charity.
Refer also to:
How prevalent is racism (and misogyny) among Canadian lawyers & judges?