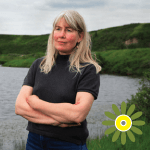 Ordinary non Indigenous, non criminal Canadians don't have Charter rights; corporations do – even when they kill. Canadian judges pick and choose which citizens get their rights protected, which laws to ignore or shit on and which lie to publish in rulings to smear applicants with. Ignorant angry Canadians elect many corrupt (and misogynistic, racist, anti-rights) politicians who appoint dirty judges. It's unwise to count on Canada's charter or trust our judicial industry.
Canadian lawyers in general are not trustworthy either and many do not operate in the public interest as promised by their self-regulating industry, they operate in their own interest, too many with their own crime-enabling agendas, and are reportedly often racist, misogynistic and religious (protecting those endless silently-shuffled pedophiles). They might quit on your case anytime, without warning (and blame you), withhold your trust funds and case files causing you and the public interest immeasurable harm, violating law society rules, and no authority will help you or hold bad lawyers accountable in a timely manner, no matter how many hundreds of thousands of dollars you lost to those lawyers. If by chance something accountable is done, it'll most likely (intentionally?) be too late for you and your case. It's unwise to trust Canada's legal industry.
The legal/judicial industry in Canada is self-regulated (lawyer-filled law societies for lawyers; judge-filled Canada Judicial Council for judges) like the oil and gas industry is. We know what a polluting, public health and public interest harming, law-violating, promise-breaking nightmare the oil and gas industry has proven itself to be.

Emmett Macfarlane, Poli Sci Prof, UWaterloo. Constitutional Law, Public Policy & Cdn Politics:
Law is politics, people. Never forget.
2019: Supreme Court of Canada to consider whether corporations are protected against "cruel and unusual treatment/punishment" under Charter of Rights and Freedoms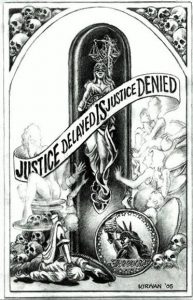 University of Alberta's Centre for Constitutional Studies & Legal Education Society of Alberta haven't yet realized that Canada's Charter of Rights and Freedoms is a mangled, oil-soaked paper airplane flown out of a 26th storey window in downtown Calgary, fueled by Supreme Court of Canada knowingly publishing lies in their rulings.
Encana/Ovintiv illegally frac'd my community's drinking water supply in 2004.
AER violated my charter rights in 2005 trying to scare me silent and to stop me from sending the "regulator" documented evidence of Encana/Ovintiv breaking their rules and the law.
My lawsuit was filed in Alberta Court of Queen's Bench in 2007.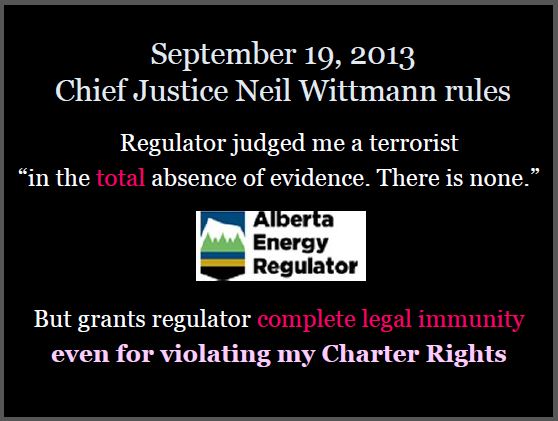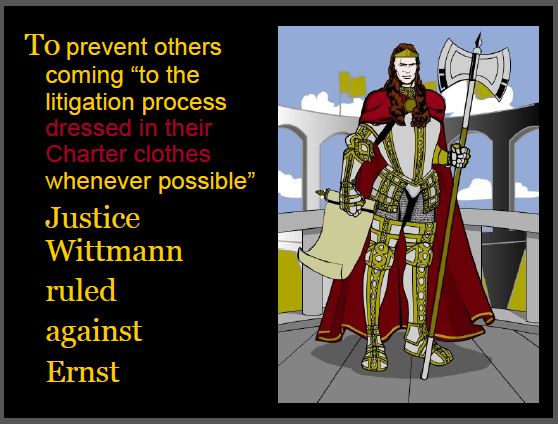 How many anti-charter judges did anti-charter ex PM Steve Harper put on the bench?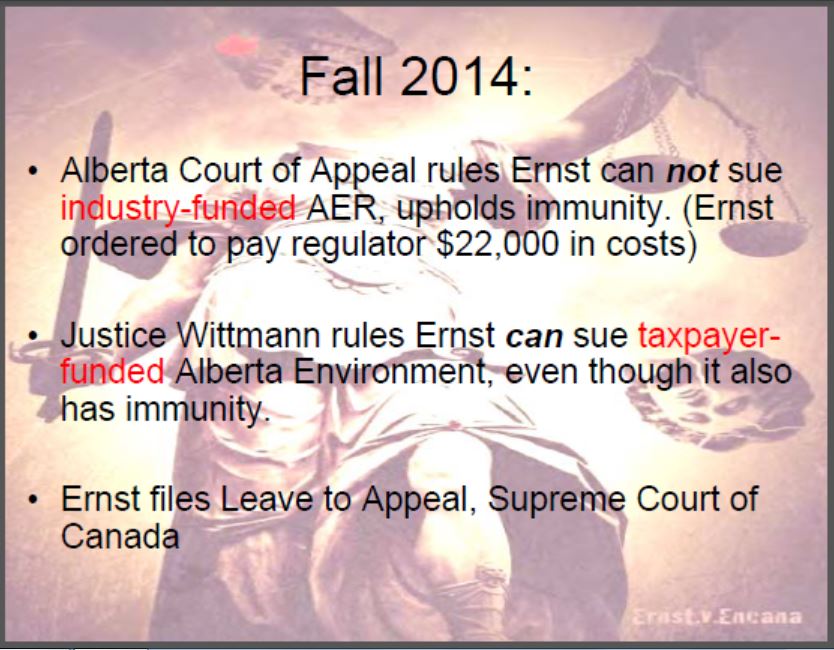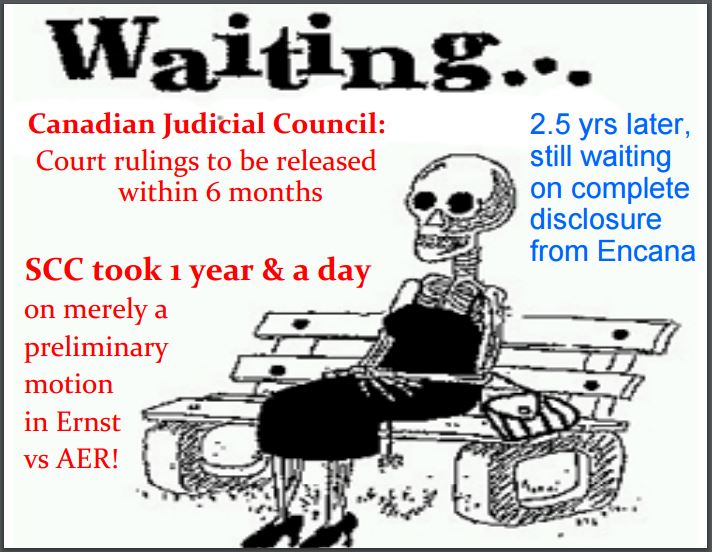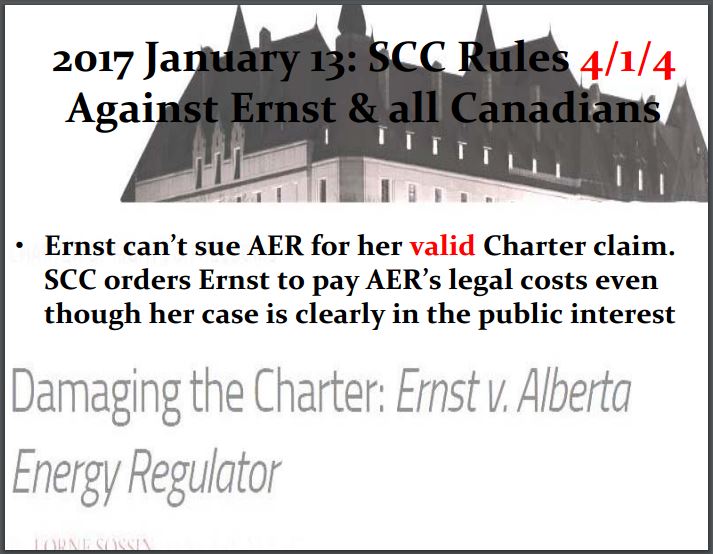 Damaging the Charter: Ernst vs Alberta Energy Regulator by Lorne Sossin, Dean Osgoode Hall Law School, York University. Comment: "It causes one to question how much both the plurality and the dissent were driven by the desired end-state of the judgment, rather than consistency in applying principles of public law."
When Ernst was preparing to present on her case at the United Nations in New York and watched the 2011 federal election results give Steve Harper a majority, she knew her lawsuit was lost because of the inevitable anti-charter judicial appointments to come. Harper gov't appointed 7/9 of the Supreme Court judges that ruled in Ernst vs AER and appointed/shuffled around (eg J Wittmann) lower court judges that ruled against Ernst or delayed her case.
Holy Moly! Supreme Court of Canada protected Ernst Zundel's right to tell false news to the world, but not Jessica Ernst's right to tell the truth and present Encana's documented evidence of Encana breaking the law to the Alberta Energy Regulator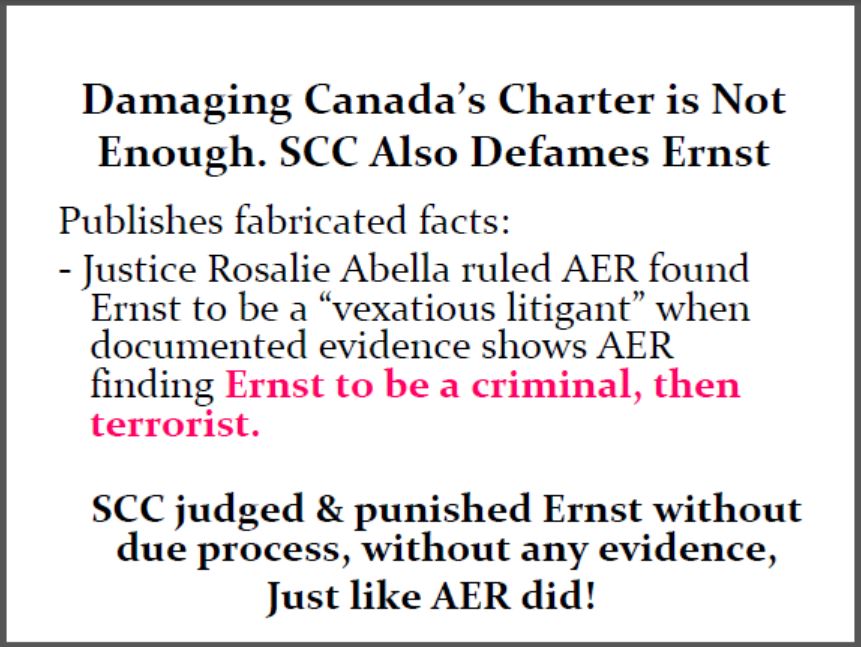 Slides above from Ernst presentations
Alberta's largest public sector union taking government to court over Bill 1, claiming it violates Charter of Rights and Freedoms by Ashley Joannou, June 23, 2020, Calgary Herald
Alberta's largest public sector union is taking the government to court, claiming that legislation passed to keep protesters away from critical infrastructure goes too far and violates the Charter of Rights and Freedoms.
The Alberta Union of Provincial Employees (AUPE) filed the statement of claim in the Court of Queen's Bench Tuesday. It says Bill 1, The Critical Infrastructure Defence Act, which came into force on June 17, breaches freedom of expression, freedom of assembly and freedom of association, all rights protected by the charter. The union wants the court to throw out the legislation.
AUPE president Guy Smith said his union is prepared to fight the case all the way to the Supreme Court of Canada.
"As we know, peaceful protest is a cornerstone of our democracy, keeps our democracy active, and it should be protected," he said. "And here you have those folks being turned into criminals and having their life, liberty and justice or security denied them."
Bill 1 was tabled in February following weeks of cross-country protests supporting Wet'suwet'en hereditary chiefs opposed to the Coastal GasLink pipeline in British Columbia including a west Edmonton protest that blocked railway tracks for 12 hours.
Premier Jason Kenney blamed mining giant Teck's decision to withdraw from its $20-billion Frontier oilsands mine project on "virtual anarchy" and "chaos" stemming from the protests.
The act prohibits individuals from entering, damaging, obstructing, or interfering with "essential infrastructure" and imposes stiff fines or jail time on those who break the rules. The union says what qualifies as essential infrastructure is too broad.
Along with railways, oilsands production sites and other locations, the definition of essential also includes any road, trail or sidewalk.
"So that opens the door to a massive abuse of power," Smith said.
The union's case also alleges that imposing jail time for an offence under Bill 1 violates a person's right to life, liberty and security.
Smith says the legislation, and the ability for the government to add to the definition of essential infrastructure via regulations, means union members could find themselves in trouble for actions like protesting or handing out leaflets in front of their workplace.
In a written statement Tuesday, Jonah Mozeson, press secretary for Justice Minister Doug Schweitzer, said the bill is aimed at those who block key infrastructure such as railways, bridges, pipelines and highways.
"If the union bosses at AUPE are planning on blocking railways, they should let Albertans know," he said.
Appeals all the way to the Supreme Court of Canada will likely take years.

And one hell of a lot of money the Alberta courts and high court will just piss on, laughing their heads of at us Canadians conned into thinking we have rights, while they spew tangled legal jargon and cost us masses of wasted hideously expensive photocopying to make-believe they're in the justice business.

In the meantime, Smith said that while the union is not holding any mass gatherings right now due to the COVID-19 pandemic, they will happen again and the union has a legal fund to help anyone who is arrested and charged.
"The union is there for its members and obviously will protect them if something happens as a result of this piece of legislation," he said.
The union is not the only group to complain about Bill 1. In February the Assembly of First Nations called on Kenney to rescind the bill.
"Allowing the bill to pass will serve to erode individual rights, unfairly target Indigenous Peoples, and has no place in a democratic society, and I urge Premier Kenney to rescind it," said Marlene Poitras, Assembly of First Nations Regional Chief for Alberta, in a statement at the time.
Refer also to:
The Rule of Law: One for the rich and or 'well connected' (nudge, nudge, wink, wink) and another for the average 'Joe'. Edmonton lawyer Shane Stevenson facing drunk driving causing death charges at centre of major lawsuit against him and Dentons Law Firm. Lawyers working drunk is common. How many judges work drunk? What's the relationship between ordering gags (to cover-up crimes by the rich) and addiction?
All Talk, No Action! Canada's civil legal (calling it a "justice" system is a con) system is broken (corrupt more like it)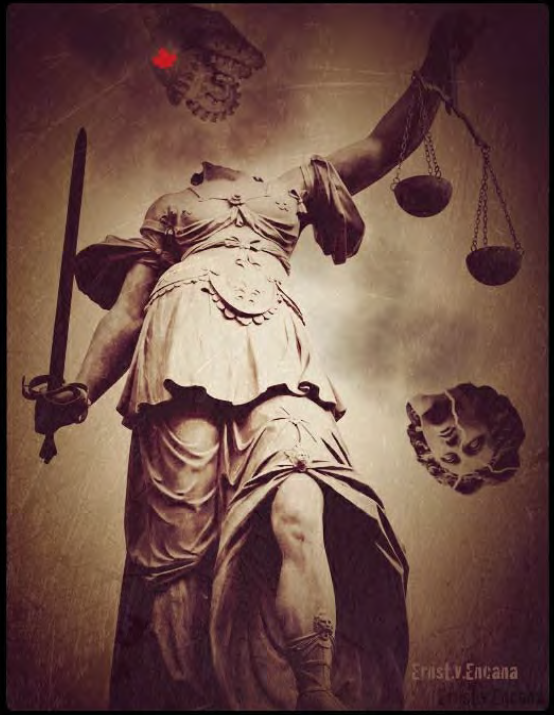 Remember that Steve Harper runs KKKenney.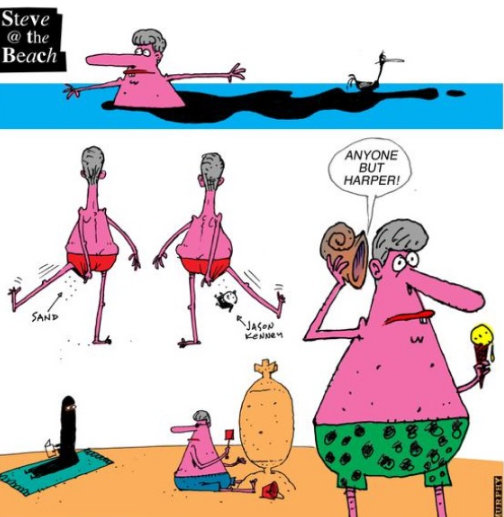 Harper showed us he hates Canada's Charter (his gov't picked like-minded judges); Israel is working to destroy freedom of expression (the better to violate rights of Palestinians and steal their lands and natural resources without others speaking out about it?), and Harper loves Israel with all its atrocities and human rights violations.