| | |
| --- | --- |
| Subject: | Criminalizing Free Expression in Israel |
| Date: | Wed, 15 Mar 2017 08:53:54 -0600 |
| From: | Stewart Shields [email protected] |
| To: | [email protected], [email protected], letters [email protected], Liberal Canada [email protected], [email protected] |
| CC: | [email protected], [email protected], [email protected], Debbie carlson [email protected], [email protected], [email protected], [email protected], [email protected], goodale [email protected], [email protected], [email protected], [email protected], [email protected], Office of the Premier [email protected], [email protected], [email protected], [email protected], [email protected] |
I would take the accusation a step further-and suggest the Jews have tried
to suppress Free Expression the world over!! This may come as a uncomfortable surprise to those tying to support the idea of Israel as a free democracy?? Simple denial or expressing doubts that the Holocaust happened as the "Jews" indicate–can and has lead Canadian's into major problems under hate laws?? I have suggested over and over that if Israel is a democracy–I'm Jesus Christ!! While the first folks standing tall against
hate outside of Israel, they become very proficient and deadly at the art inside Israel!! Anyone watching the news from the Mid-East will quickly realize it is not love or affection that would have Israel mow-down Palestinian children playing on a Gaza beach!! Nor was it anything but pure hate that allowed Jewish forces to murder a CANADIAN military major in cold blood– to prevent charges of war crimes against Jews during their unsuccessful invasion of Lebanon in 2006!! I will no longer hold any feeling of sorrow for Jews who died in the Holocaust, realizing they could have helped save many Canadian lads if they would have lifted their finger in resistance-to those who would also end their lives?? The citizens have moved far and away from their governments in North America stand on Jews,
and more follow the governments of International governments!! Canada should not be allowed a Security Council seat on United Nations until it speaks out independent of the U.S. on the daily hate crimes going down in Palestine. And places Palestine back on world maps!! [Emphasis added]
Stewart Shields
Criminalizing Free Expression in Israel by Stephen Lendman, March 14, 2017, Global Research
In February, Association for Civil Rights in Israel executive director Sharon Abraham-Weiss blasted Netanyahu for "lashing out against the media," saying it's "an almost regular occurrence," a matter "of genuine concern."
He's waging war on free expression and the rule of law. Repressive legislation portrays "(s)ocial and human rights activi(sts) as traitors," wanting them" forcibly eliminate(d) from the Israeli discourse…"
Free expression is the most fundamental of all rights. Without it, all others are threatened.

Israel increasingly compromises media freedoms. They end where alleged national security begins,

notably for Palestinians – targeted by phony accusations of involvement in "incitement" or ties to terrorist organizations, meaning occupation harshness opponents.

…

Weeks earlier, Israel's Facebook bill passed its first reading. If enacted, it'll force Facebook and other social media sites to remove content Israel considers "incitement" – meaning whatever regime officials claim, including legitimate criticism, part of their war on speech, academic and media freedoms.
Israel routinely detains Palestinians for social media and other public comments, charging them with involvement in "terrorism."
Arab Israeli poet Dareen Tatour was imprisoned multiple times for criticizing repressive regime policies, including for her poem titled "Resist, My People, Resist Them" in response to Israel's brutal murder of three Palestinian children.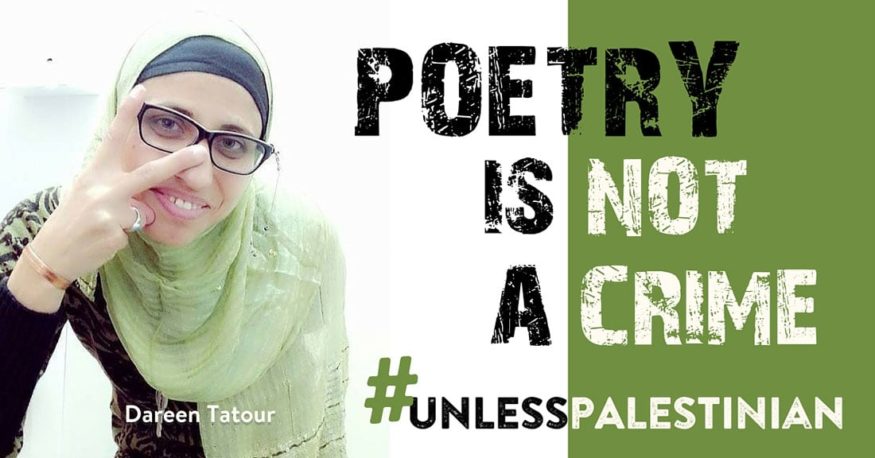 Her poem "A Poet Behind Bars" was translated into more than 10 languages, in part saying she wrote about Israeli injustice, "wishes in ink, a poem I wrote…The charge has worn my body, from my toes to the top of my head, for I am a poet in prison, a poet in the land of art."
"I am accused of words, my pen the instrument. Ink – blood of the heart – bears witness and reads the charges."
Listen, my destiny, my life, to what the judge said: A poem stands accused, my poem morphs into a crime. In the land of freedom, the artist's fate is prison."
Palestinians and Israeli Arab citizens are persecuted for criticizing Zionist ruthlessness, challenging occupation harshness, imprisoned for demanding long denied justice.
On Saturday, Israeli forces arrested and detained Palestinian author Khalida Ghusheh – for her novel titled "The Jackal's Trap," discussing Palestinian collaborators, her book scheduled to be published in October.
On International Women's Day, commemorated every March 8, the Samidoun Palestinian Prisoner Solidarity Network honored Palestinian women imprisoned by Israel for political reasons, no others, including mothers taken from their husbands and children, as well as young girls forcibly taken from their families.
Since occupation began in June 1967, over 15,000 Palestinian women and young girls were imprisoned, over 1,400 since 2000.
Over 40% of Palestinian men and boys spent time in Israeli prisons. "(W)ives, sisters and mothers of Palestinian prisoners are leaders of the campaigns to support them," said Samidoun.
"As we mark 100 years of colonization in Palestine and 100 years of Palestinian resistance, women have always been an integral and leading part of the Palestinian revolution."
…
Stephen Lendman lives in Chicago. He can be reached at [email protected].
His new book as editor and contributor is titled "Flashpoint in Ukraine: How the US Drive for Hegemony Risks WW III."
Visit his blog site at sjlendman.blogspot.com.
Listen to cutting-edge discussions with distinguished guests on the Progressive Radio News Hour on the Progressive Radio Network. [Emphasis added]
[Refer also to:
2017 01 21: Damaging the Charter: Ernst vs Alberta Energy Regulator by Lorne Sossin, Dean Osgoode Hall Law School, York University
2017 01 25: Jessica Ernst Open Letter to Chief Justice Beverley McLachlin Regarding False and Seriously Damaging Statements in Justice Rosalie Abella's Supreme Court of Canada Ruling, Ernst v AER
2017 02 08: Canada's Supreme Court justices travel (including to Israel) to exchange ideas, discuss legal issues with international judges, Chief Justice Beverley McLachlin says politics off-limits, but legal problems are on the extracurricular agenda
2017 03 15: Clip (1:19 Min) by ACLU showing founder Roger Baldwin remarks from his speech June 13, 1978, with photos of current civil liberties concerns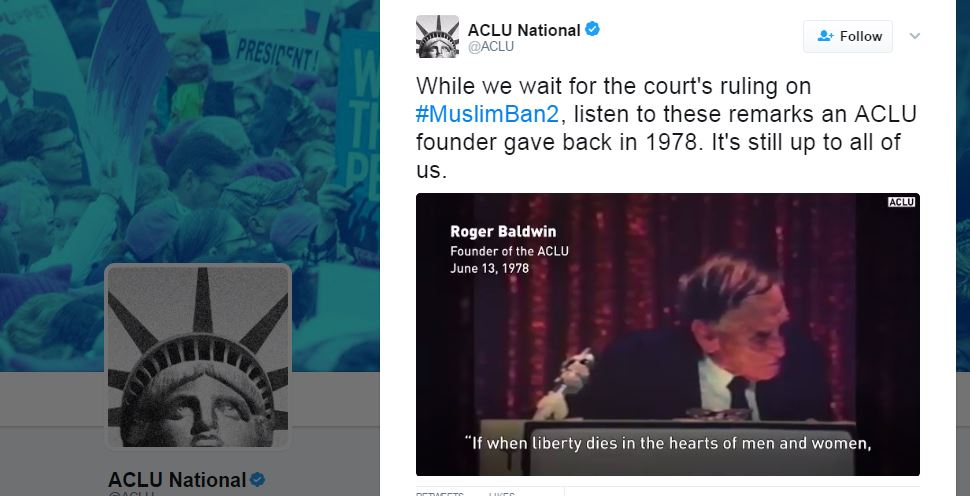 ACLU: "It's still up to all of us."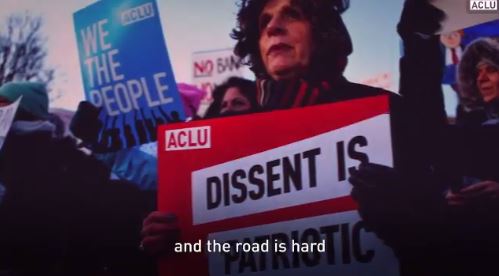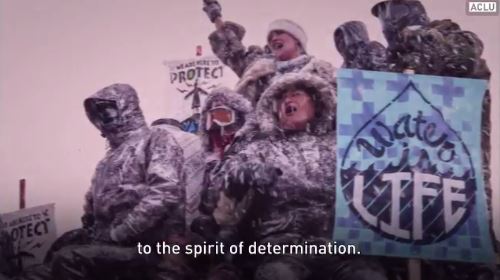 ***
Justice Learned Hand (Author of the US Bill of Rights)
If we are to keep our democracy, there must be one commandment: Thou shalt not ration justice.
…
Liberty lies in the hearts of men and women. When it dies there, no constitution, no law, no court can save it.
***
Civil liberties, generally, freedoms to do certain things without restraint from government, although there can be some restraint from private individuals or agencies eg, an individual may publish opinions without interference from government, but a newspaper or magazine is not obliged to publish them. In this respect civil liberties can be distinguished from civil rights. Constitutionally, the term civil rights appears in s92(13) of the Constitution Act of 1867 but, in this context, it refers to the right to enter freely into a contractual agreement, the right to own or lease property and the right to sue for a breach of duty owed to one.
There is some overlap among the terms civil liberties, civil rights, HUMAN RIGHTS and fundamental freedoms and, in international law, civil and political rights. Traditionally civil liberties may be categorized into 4 kinds: the political civil liberties, the legal civil liberties, the egalitarian civil liberties and economic civil liberties.
The political civil liberties are called fundamental freedoms and include the freedoms of religion, expression (speech and press), assembly and association.
The legal civil liberties refer to rights afforded persons in contact with the criminal justice system and include due process of law, the principles of fundamental justice including prohibition of arbitrary arrest or detention, and unreasonable search or seizure; the rights to habeas corpus, retaining counsel, bail, presumption of innocence and a fair hearing; and the right not to be subjected to torture or to cruel and inhuman treatment or punishment.
The egalitarian civil liberties refer to rights relating to equality and may be protected by legislation prohibiting discrimination by public and private officials against persons because of such grounds as their race, colour, creed, religion or national origin.
The economic civil liberties traditionally referred to those rights contemplated by the term civil rights in s.92(13) of the Constitution Act, described above.
Most of these categories (and many newer categories) have now been given constitutional recognition in the CANADIAN CHARTER OF RIGHTS AND FREEDOMS. Until the enactment of the Charter in the constitution, civil liberties in Canada were recognized by the courts on the basis of the common law and such UK constitutional principles as the rule of law.
Civil liberties reflect an essentially modern view of individuals and society but derive as well from older societies, such as those of Greece and Rome.
***
September 19, 2013: Alberta Court of Queen's Bench Chief Justice Neil Wittmann ruled Ernst has a valid charter claim against the AER.
The Supreme Court of Canada did not strike it down, rather it ruled against Ernst's guaranteed right to seek remedy for the violation by the AER.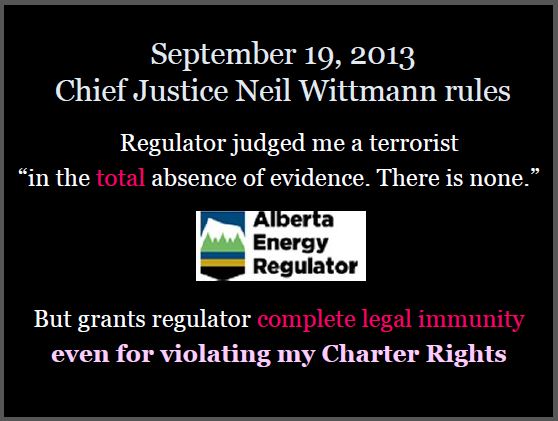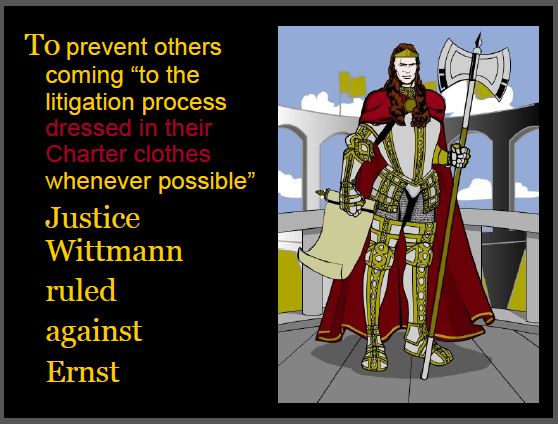 What does Ernst do now with her valid charter claim against the AER?
Do Canadians have civil charter rights in actionable reality?
Or do we have flimsy statements on paper that are not enforceable?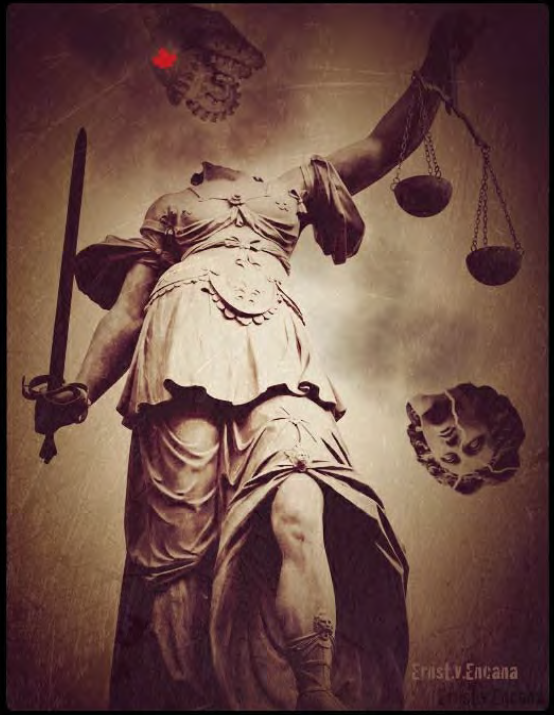 Slides from Ernst speaking events
***
Examples of American Civil Liberties
The rights we are guaranteed in the Constitution and in federal law are sometimes very well-known, and sometimes a little more obscure. Some of them are explicitly guaranteed in the Bill of Rights, such as the right to free speech, while others have been inferred from those rights and made real by court decisions or acts of law, such as the right to privacy. The essential civil liberties guaranteed in the United States are, in no particular order:
Right to privacy
Right to a jury trial
Right to freedom of religion
Right to travel freely
Right to freedom of speech
Right to be free from self-incrimination
Right to bear arms
Right to marry
Right to be free from unreasonable searches and seizures of your property
Right to freedom of the press
Right to be free from cruel and unusual punishments
Right to legal counsel
Right to assemble peacefully
Right to vote
As mentioned earlier, many of these liberties are the product not of the Bill of Right's original text, but instead were based on court cases. [Emphasis added]
***
Justice Benjamin N. Cardozo
Freedom of expression is the matrix, the indispensable condition, of nearly every other form of freedom.