A small example of oil-patch-$$$$$$$-tainted Alberta academia (after these posts, Ernst no longer had time to diligently find & follow the bribes):
Cenovus, Syncrude and Suncor and other oil and gas companies "helping draft" curriculum for students from kindergarten to Grade 12!
Cenovus donates $1.5 million to Lakeland College
Talisman pledges $1.25 M to Mount Royal University, Alberta
EPA Fines Talisman For Fracking Violations
Burning Waters: UVic Partner's environmental record questioned
Encana donates $1.5 Million to Mount Royal University
EnCana donates $7.5 Million to the University of Alberta
Corporate polluters don't just buy their way out of contaminating community drinking water supplies with settle 'n gag orders given to them by their judicial friends in our courts, they buy their way out with donations too: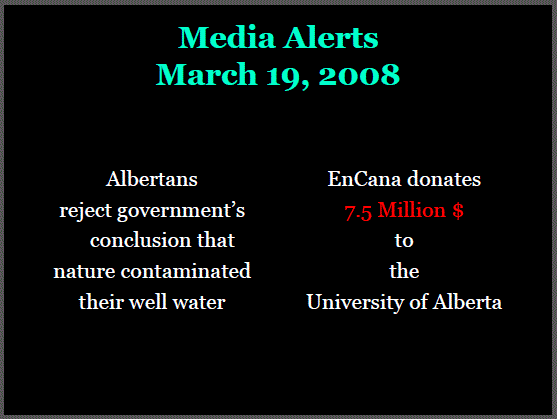 Cenovus donates $3 Million to the University of Alberta
University of Calgary Prostitutes Itself To Big Oil & Gas
EnCana to donate $1 Million to the University of Calgary
Encana donates $1 million to Red Deer College
EnCana $1 Million donation to University of Calgary questioned as company awaits energy decision
Million-dollar Nexen donation to Mount Royal University to benefit future journalists, educators
Imperial Oil donates $1 Million to Mount Royal University
Cenovus donates $3 Million to the Southern Alberta Institute of Technology
Is the Southern Alberta Institute of Technology overflowing with oil money?
ConocoPhillips Canada supports University of Lethbridge and places students link previously went to: http://www.thisismyu.ca/stories/donor/2010/11/conocophillips-canada-sees-benefits-support
Trican Donates $5 million for cancer research at the University of Calgary
Trican donates $5 Million to Fight Chidhood Cancer and for research at the University of Calgary
Enbridge donates 1.2 million to the University of Calgary, research chair first of its kind dedicated to holistic cancer care
EnCana donates $50,000 to Northern Medical Program Trust
Enbridge Donates $500,000 to the Alberta School of Business
June 2013 Cenovus 3 million endowment to University of Alberta to assess energy and environmental options for industry and government "How much water is required to produce a unit of energy?"
UCP government's university appointments draw cronyism accusations by Bill Kaufmann, August 16, 2019, Calgary Herald
Alberta's UCP government has moved to put a business stamp on the province's university governance by replacing NDP appointees with private sector figures.
That drew a swift rebuke from the opposition NDP who dubbed the moves "a return to PC-era cronyism."
The 11 appointments include new board of governor chairs such as Cenovus Energy CEO Alex Pourbaix at Mount Royal University, Grafton Asset Management President Geeta Sankappanavar at the University of Calgary and AltaLink head Scott Thon at SAIT.
The University of Alberta's new board chair is Katie Chisholm, a senior vice president at Capital Power who replaces one-time Edmonton city councillor Michael Phair, who assumed the post in December 2016 and whose term could have been extended to 10 years.
Many of those removed hadn't served out their terms.
Outgoing U of C board chair and former Calgary YMCA CEO Jill Wyatt was appointed in March 2018 to a three-year term while Sue Mallon, who has a social work background, took that post at MRU in December 2016.
Melinda Park, who's a security and capital markets executive, was appointed last December to head the SAIT board.
The appointments will improve financial oversight and bolster links to industry, Advanced Education Minister Demetrios Nicolaides said in a statement Friday.
"Our post-secondary institutions receive millions in taxpayer dollars and it is vital their boards have the strongest possible financial acumen and management experience," he said.
"Furthermore, these new appointees will help our institutions build strong relationships with industry to ensure that we are getting better labour market outcomes."
Demetrios Nicolaides said the appointments will improve financial oversight at the institutions.
The changes come as many expect the provincial government to impose spending austerity that could impact Alberta's post-secondary system. [to pave the way for more polluting corporate control of Alberta's frac'd academia?]
The UCP also promised to act with speed as part of its so-called summer of repeal to reverse decisions made by the previous NDP government.
The NDP said both Pourbaix and Thon were "historic donors" to the PC party that preceded the UCP, with Advanced Education critic David Eggen insisting the appointments seemed a return to the cronyism of the PC dynasty.
"This is exactly the atmosphere that brought us to the end of the PC era," said Eggen.
In contrast, he said, in making similar appointments the NDP government had waited until board governors had ended their terms and took time to seek the best candidates.
"These jobs were advertised on government websites based on competence, gender parity and geographical representation," said Eggen.
University governance in Alberta is being reduced to sycophancy, Levi Flaman, who recently served as student representative on the U of A's board of governors, said in a tweet.
"University autonomy is eroding faster than ever in Canada and the current government seems fine with that," he stated, while lauding Phair as an outstanding chairman.
"Rather than let the appointments serve out the remainder of their terms, they're being replaced early by yes-men loyal to the party." [doesn't he have it backwards? Kenney et al are the yes-men loyal to these industry/corporate head honchos]
Governors on the boards of the province's two largest universities serve on a voluntary basis with no remuneration.
A government spokeswoman said the appointments, which extended to a number of other boards and commissions, were made on merit.
"In revitalizing our agencies, boards and commissions, we focused our recruitment efforts on those with the right skills, competencies and experience for the job," said Jerrica Goodwin with Alberta Treasury Board and Finance.
Another government spokeswoman wouldn't comment on the speed of the appointments or say whether the previous chairpersons voluntarily resigned, though added that process is being revamped.
But Laurie Chandler with Alberta Advanced Education said the previous NDP government had filled positions to further its priorities "and it is appropriate for us to do the same."
She said the government had heard concerns about a lack of financial acumen on boards and commissions, which direct the spending of hundreds of millions of taxpayer dollars.
"It is incumbent upon us to ensure (this) membership has the appropriate skill sets and experience necessary to effectively and efficiently serve Albertans," she added. "This is consistent with our business-like approach to government and leadership."
Refer also to:
In Canada, a Stern Critique of University-Industry Collaborations
A century ago, Thorsten Veblen added another source of concern — the corrosive effect of the market on universities. More recently, John Polanyi, Canada's most prominent Nobel laureate, noted that when governments or industry try to direct scientific inquiry, rather than allowing the scientific community to do so through its rigorous peer-review system that protects the integrity of the work, our scientific horizons shrink and our future is diminished.
Unfortunately attempts by industry and government to direct scholarly inquiry and teaching have muliplied in the past two decades. The reasons are many. For industry, there is a diminished willingness to undertake fundamental research at its own expense and in its own labs – prefering to tap the talent within the university at a fraction of the cost.
For politicians, there is a desire to please industry [AND SCREW HUMANITY, ENDLESS OTHER SPECIES, WATER, AIR, LAND, FOOD, PUBLIC HEALTH, COMMUNITY, FAIR EDUCATION FOR ALL], an often inadequate understanding of how knowledge is advanced, and a short time horizon (the next election). The result is a propensity to direct universities "to get on with" producing the knowledge that benefits industry and therefore, ostensibly, the economy.
CAPP-funded Big Propaganda Project to tour Canadian schools with Canadian Geographic (to try to give CAPP some credibility)
Canadian Geographic accused of spreading CAPP oil and gas 'propaganda' in schools, including to Grade 3′s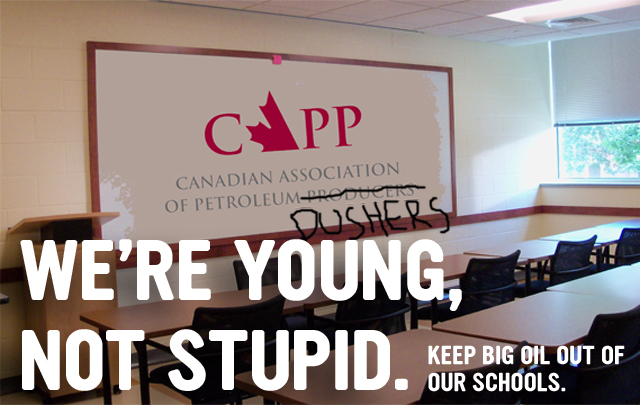 U of Calgary, U of Alberta get $75 million *each* from Canadian taxpayers to legitimize (synergize) and spread AER/CAPP/petroleum industry propaganda, to enable continued devastation and harms to Alberta's environment, communities and people and spread them across Canada
Ex-Encana VP (Gerard Protti) led AER taps Encana with $7,500 administrative penalty for major sour gas blowout at Fox Creek Alberta, Nothing for injecting 18 million litres of frac fluid into Rosebud's drinking water aquifers
2008: This is what the frac'ers really think of us, our loved ones, home, health and communities; Encana contractors give press the finger: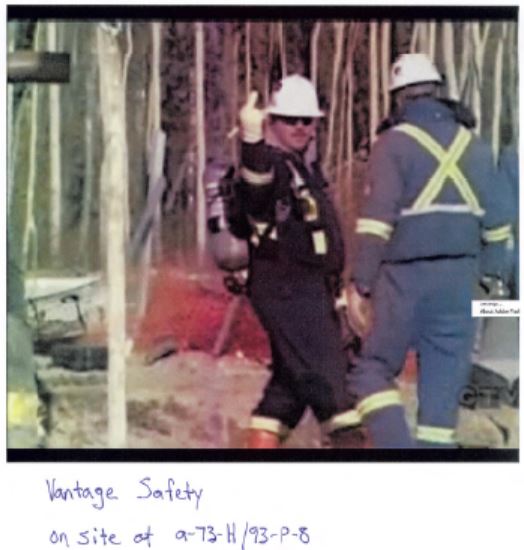 ***
And then there's this 2007 frac'd academia play by then law prof Alice Woolley (appointed to Alberta Court of Queen's Bench in 2018 by AG Jody Wilson-Raybould):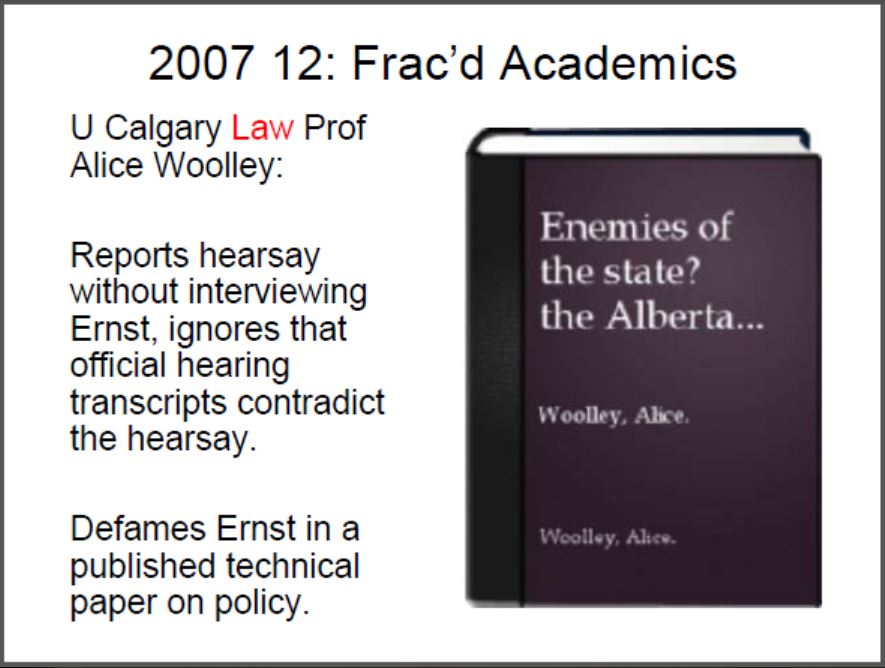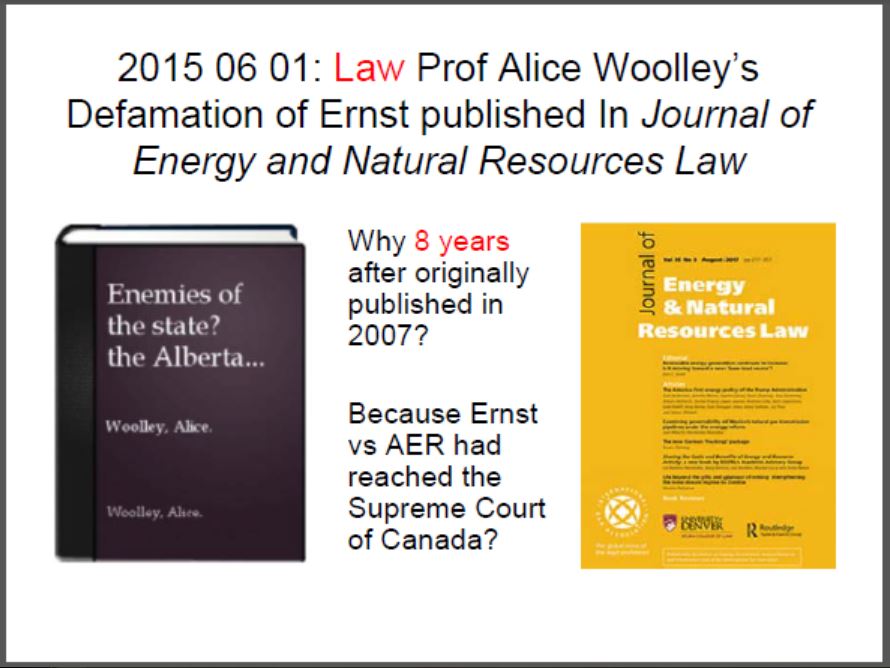 Who ordered Woolley to misuse (or ignore) official hearing transcripts and use hearsay to smear Ernst publicly on the Internet in 2007, remove it from the Internet when the Ernst lawsuit went public in 2011; republish it publicly again on the Internet eight years later in 2015 after Ernst was granted a hearing before the Supreme Court of Canada?
In 2007, Rick McKee, lawyer with EUB/ERCB?
In 2015, Glenn Solomon, AER outside counsel? AER Chair, Ex Encana VP Gerard Protti, or perhaps Chief Justice Neil C Wittmann?
Slides above from Ernst presentations in UK, October 2017
The Honourable Jody Wilson-Raybould, Minister of Justice and Attorney General of Canada, has announced the appointment of alumna Alice Woolley ('94), a professor at the University of Calgary, as a Justice of the Court of Queen's Bench of Alberta in Calgary.
Following her B.A. in history from the University of Toronto, Justice Alice Woolley graduated with an LL.B. from the University of Toronto Faculty of Law in 1994, where she received both the Gold Medal and the Dean's Key. In 1995, Justice Woolley earned an LL.M. from Yale Law School, and in 1995-1996 she was a law clerk to the Right Honourable Antonio Lamer, then the Chief Justice of Canada.
After completing her clerkship, Justice Woolley moved to Calgary and, until 2003, practiced law in the areas of civil litigation and energy regulation. In 2004, she was appointed a professor at the University of Calgary Faculty of Law. During her time at the University of Calgary, she became a nationally and internationally recognized scholar of lawyers' ethics and professional regulation, with publications considering a wide range of issues including the lawyer as advisor, lawyers' fiduciary obligations, the good character requirement, access to justice, regulation of civility, independence of the bar, and the theoretical foundations of the lawyer's role.
Justice Woolley served as Associate Dean (Academic) (2014-2016) and as Co-Chair of the Faculty's Curriculum Committee (2013-2014). From 2015 to 2018, she was President of the Canadian Association for Legal Ethics, and from 2016 to 2018, she was President of the International Association of Legal Ethics. Justice Woolley has twice received the Howard Tidswell Memorial Award for Teaching Excellence and also twice been named one of Canadian Lawyer's Top 25 Most Influential Lawyers. In 2016, she was named the City of Calgary Council's first Ethics Advisor.