Critics raise concerns over oil industry involvement in Alberta curriculum redesign by Mariam Ibrahim, March 12, 2014, Edmonton Journal
Critics say they're worried about the direction of Alberta's massive overhaul of school curriculum after it was revealed Tuesday major oil companies are being consulted on changes. A document posted to the Alberta Education website indicates companies such as Syncrude Canada, Cenovus Energy and Suncor Energy are included among partners "in helping draft Alberta's future curriculum for our students" from kindergarten to Grade 12.
…
NDP education critic Deron Bilous, who raised the issue Tuesday in the legislature, said it is "shocking and very concerning" that oil and gas companies could have a hand in shaping the curriculum taught to kindergarten students. This is when kids are in their most formative years, when they're the youngest and there's no reason why oil companies need to be setting the direction," he said. "It really makes me wonder what value will they gain from it and how this is going to impact our students."
Mike Hudema, climate and energy campaigner for Greenpeace Canada called it "very troubling. I think it's the job of the government and teachers to present well-balanced views on different issues and subjects within Alberta and having Syncrude and Suncor as explicit partners in the redesign at least gives the impression that the table is not balanced," he said.
Education Minister Jeff Johnson said the province wants as much input as possible as it moves forward with changes. The working group model is new, he added, and said the expectation is that school boards in charge of creating draft curriculum would consult with community and business partners. "We want the economy involved in the education system," Johnson said Tuesday. "If we're going to build a relevant education system, we need the voice of the employer, the business community, economic development — we need those people at the table." Syncrude is registered to lobby Alberta Education over the next year, but the filing doesn't include any details about their focus within the ministry.
Mark Liguori, assistant superintendent for Edmonton Public Schools, said its curriculum redesign working group consists of traditional stakeholders such as the Alberta Teachers' Association, along with businesses and community organizations. "It's absolutely crucial that we have individuals that are outside of the world of education also take a look at it as we go down this journey of the curriculum redesign, simply because what we want to be able to do is … be able to say that we've engaged our stakeholders — and the stakeholders can be from a variety of different places — in a collaborative process," Liguori said. Three sessions to bring all of the partners together around the same table have tentatively been scheduled over the next six months, he added. The school board successfully bid on a request for proposals from the province to spearhead a working group to redesign K-3 curriculum. Other school boards are responsible for leading groups on curriculum changes for other grades. The Alberta government has embarked on an ambitious rewrite of its Kindergarten to Grade 12 curriculum and expects the changes to be rolled out by the 2016 school year. Bilous criticized the speed of the redesign, pointing out that in the past, curriculum changes have been rolled out over six years, rather than two. [Emphasis added]
[Refer also to:
What happens when oil drilling and frac'ing, with 400 ppm deadly H2S, is too close to homes and schools?
CAPP-funded Big Propaganda Project to tour Canadian schools with Canadian Geographic (to try to give CAPP some credibility)
Fracking through the back door? Will "The Facts About Fracking, An Engineering Perspective" present facts or industry propaganda?
Harper government gives Sudbury mining centre $15M to help frac companies while closing embassies, libraries and veteran affairs offices, and eliminating 19,000 jobs
Radio Disney's pro-fracking elementary school tour sparks outrage; Disney withdraws from tour
Yukon Frac Committee accused of bias, poor community engagement, Originally planned to meet with CAPP, Pembina Institute, Alberta Innovates (used to be Alberta Research Council), AER, NEB and no harmed Albertans!
B.C. school kids in danger, can suffer DNA damage illness from leaking sour gas several km away, yet B.C. allows wells within 100 m (~330 feet) of schools while Dallas City Council votes in 1,500 foot setback from homes and wells!
School board in Lethbridge wants stakeholder status; School district opposes proposed oil-drilling and frac'ing project in west Lethbridge
VICTORY! Pennsylvania Supreme Court Says It's Unconstitutional For Gas Companies To Frack Wherever They Want; Act 13, Gas Industry Takeover Law thrown out by State's Highest Court
"By any responsible account," Chief Justice Castille wrote, "the exploitation of the Marcellus Shale Formation will produce a detrimental effect on the environment, on the people, their children, and the future generations, and potentially on the public purse, perhaps rivaling the environmental effects of coal extraction."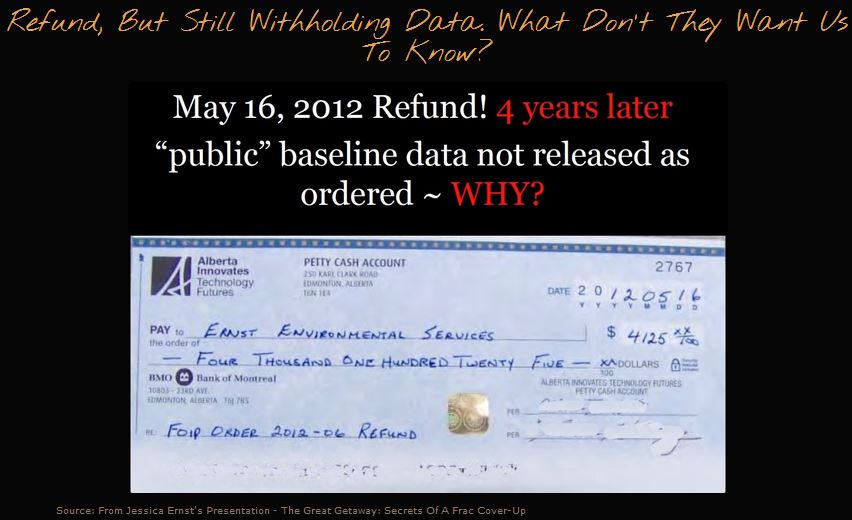 Images above from FrackingCanada How the West was Lost