Never mind the known hundreds of billions of dollars in oil patch liabilities, who is going to pay to repair the many frac'd aquifers, poisoned water wells, lakes and rivers, remove the toxic waste companies have been happily and greedily dumping on pastures and farm land for years, with govt and "regulator" blessings?
Some excellent comments to the Herald article:
David J Warren
CAPP is saying it must be done slowly….So we are looking at the year 2100 probably. Who calls the shots?
Ken Hale to David J Warren
Right now CAPP has had it's way with political pressure being exerted on the govt to keep the AER from doing anything meaningful.
Greg Thompson to Ken Hale
Prove it.
Ken Hale to Greg Thompson
What part would you like proven??
The fact that despite Alberta having good prices for commodities the rate for clean up of inactive wells did not increase any?
The AER has more consultation with CAPP than any other stakeholder with meetings occurring at their offices and the AER.
There have been policies that CAPP has fought to have stopped or watered down such as the implementation of a formal maximum well head injection pressure for steam injection.
The industry players in the CSS world also have had bitumen flowing out of cracks in the earth and despite staff recommendation that it be stopped a big finger was pounded on a premiers desk and we were instructed to let it continue.
One of the companies still has high pressure bitumen moving around in shales, ie it is above the fracture pressure of the shale and is able to propogate fractures with no meaningful external inputs.
This kind of stuff should scare the heck out of the govt and the public because if they do not know how to stop it or even how the phenomenon is occurring how can they operate safely??
Randy Shoop
This article has filled me with confidence that all wells will be cleaned up in a timely and in a fashion where no pollution will ever escape from them. If a citizen started a company that claimed it could do away with evil by waving a magic drill steel he/they would be thrown in jail for fraud. Enough said.
David joe to Liam Wilson
Yes, you have to wonder how our industry is so ethical don't you? Once you YouTube ….the fifth Estate follow the money trans Canada you will really wonder. There are so many false bragging rights here too, like the carbon capturing technology, they release as many emissions as they capture, just ask an engineer working there, most laugh about it. I know once kenney removed the cap one company here lost millions because they invested millions on industry scrubbers and as soon as the cap was off the interest was gone. Now as before consumers will pick up their costs but it will be a hidden addition to our bill.
David joe
Savage is a lobbyist for the oil industry, if you expect results from her or her boss you may be greatly disappointed….
Steve English
As predictable, any new regulations will ignore the damage done during the lifetime of functioning fracked wells: the adults and children poisoned by benzene, toluene, possible phosgene and other toxins emitted into our air, water and soils. Add to that the methane leaked, flared and vented to exacerbate effects on climate.
Dwight Popowich
Some hopeful news for landowners for a change, but I'm not going to hold my breath. I must note that the AER could start to fix much of the problem today, by simply following the laws that already exist. I have a natural gas well on my land that has been inactive for 9 years and then orphaned, by the Sequoia Resources Corp.'s (SRC) bankruptcy. It has been 21 months since SRC went under, and the law is very clear that all wells in Alberta, active or inactive, are to be under the control of a qualified license operator. In my case that means that the Orphan Well Association (OWA) should have taken over responsibility for the well, when the AER cancelled SRC's license in March/18. Still waiting for that to happen. Mean while the well sits in limbo with NO responsible entity in control. Is it leaking methane? Has it been safely suspended? Is there vandalism happening? Is the site secure? We have no idea, as there's not one to talk to and no one has checked on the well's condition for almost 2 years. And to add insult to injury, landowners, such as myself, wait years to get paid for unpaid lease payments, that are guaranteed under the law. I agree that a bonding system and time lines for inactive well abandonment and reclamation work are needed. But I fear that the AER will just ignore any new laws put in place, just like they are already doing with existing ones. The biggest problem is the Regulator is not regulating. The SRC debacle is a prime example of the fraud being perpetrated on the people of Alberta by the energy sector and the AER. How did SRC ever get approved as an operator in the first place? The current inactive well fiasco was caused by no government oversight of the AER in the first place. How does the UCP plan to fix that? Again, I'm not holding my breath.
David joe to Dwight Popowich
Don't hold your breath, I know from first hand experience that when CAPP/Cons (same thing) talk it's always cheap. Sonja Savage is not concerned about timing and that says it all, regulations will be lose and soon the UCP will figure out a way to for the taxpayers to cover it and some buddies will be given high paying positions to do nothing.
James Stirling
Minister Savage has no credibility in protecting the public interest from environmental liabilities abandoned by their insolvent owners. The large, neglected issue of suspended well bores is not new, having been enabled by decades of Conservative Alberta governments, hard to blame the Feds on this one. Privatize the profits, socialize the costs, us taxpayers will pay.
Rob Davies
Could have cleaned up a fewsmaller wells with the money wasted so far on the ridiculous war room. Kenney and Savage are again taking Albertans just to line their own pockets….shameful.
And on Twitter:
Left Turn@miwaywatch to @JulieYAli
The oil overlords drill it, pocket the profits, run away and hope the taxpayer cleans up the mess. If not they just change company names then say Oh that wasn't us it was the "other" company.
More UCP bullshit. The $260 billions in environmental liabilities will be paid by citizens because Conservatives are @OilGasCanada puppets. @Alberta_UCP will add to the regulatory mess and the bills we will pay.
… The @Alberta_UCP will use public money to fund @OilGasCanada projects that won't get private investors as everyone will divest as investors demand this. So only investors left are public pensions and @atbfinancial Big messes ahead.
And on Alberta Surface Rights Group FB page:
Douglas Malsbury
All we can do is "wait and see". Personally I'm not optimistic.

Dave Warren
This affects a lot of people and it has forced Gov. to do something. CAPP says "slowly" so it may be next century.
Douglas Malsbury Lol…..probably!
I suspect the Alberta government "changes" might be a new pair of shoes….to kick the can further down the road! But then I am a sceptic.
Dave Warren I don't hold Kenney's Cabinet in great esteem… but as you said before …they were elected by the people.
Emmanuel Logos Dave Warren Yes, elected by the people. And from what I'm now hearing, a lot of those people are not impressed and wishing they had not put them into power. Hindsight is 20/20!

Emmanuel Logos So the government wants to put more laws in place, for the AER to not follow. While I agree with a bonding system and time lines for abandonment and reclamation, the biggest problem is the fact that the Regulator is not regulating. No word on how the UCP plans to fix that problem. Not holding my breath!!!
Rob Schwartz Emmanuel ; How would a bond protect a surface landowner or the Alberta public if the financing to buy the bond comes from AIMCo ?
Subject: Is Our Federal Government Really So Slow —It Will Pay For Alberta's Sloppy Management Of The Richest Industry In Canada??
Date: Sat, 11 Jan 2020 12:59:34 -0700
From: Stewart Shields email hidden; JavaScript is required
To: bill morneau email hidden; JavaScript is required, chrystia freeland email hidden; JavaScript is required, letters email hidden; JavaScript is required, Liberal Canada email hidden; JavaScript is required, email hidden; JavaScript is required, Ministre / Minister (EC) email hidden; JavaScript is required
CC: Brian Jean email hidden; JavaScript is required, CommissionersOffice email hidden; JavaScript is required, Doreen Mueller email hidden; JavaScript is required, ENV Minister email hidden; JavaScript is required, Facebook , fishcreek email hidden; JavaScript is required, email hidden; JavaScript is required, innisfail email hidden; JavaScript is required, Lacombe Ponoka email hidden; JavaScript is required
This article simply points out how badly managed our public petroleum properties have been managed for the Alberta Owning Public by numerous Alberta Conservative governments!! I'm of the opinion this present Conservative Government doesn't have what it takes to change what has made Alberta the Petro-State that receives the lowest return per bbl. than all other petro states in the free world!! Imagine setting us a "War-Room" to catch "Oil Bogey Men" then asking the federal government to pay for past Conservative Governments failure to properly manage their public's petroleum properties!! A cursory review of just how our government has come into this silly and lazy crisis—points without question to the structure used to both regulate and financially control the properties that contain oil and gas inventories!! Removing the Alberta government to arms length was recognized and managed by the Alberta Treasury Branches —when scandals and no profits made them a joke in the banking industry!!
The management of our oil and gas properties remained with the same stupid structure and gained the very same stupid results as our public bank before it moved on!! A Crown Corporation is the very normal way public owned corporations are managed in all the free world —Alberta's Oil Properties being the exception!! A Crown Corporation has a number of business regulation it must follow —the same as any other Crown Corporation and has a board of professionals and active managers to run the corporation who are "replaceable"! Nova was probably the biggest Crown Corporation in Alberta—and should never have been sold!!! Our present management system is run directly by government—-in a manner I refer to as "Hudson Bay Rules"! And along with allowing industry to own the regulations to guide the industry– has brought Alberta to it's knees!!
If the richest industry in Canada needs help to clean-up their environmental messes left to fester for well over 30 years —why does responsibility for action on these sites leave the "polluter pays" action in place in Alberta—and becomes the duty of all Canadian's to make the richest industry even richer??
Are we to use now our federal tax dollars to cover-up the horrid management the Alberta Conservatives have offered their public owners of oil and gas wells??
Stewart Shields, Lacombe AB
Subject: Strange Very Strange!!
Date: Sat, 11 Jan 2020 15:00:35 -0700
From: Stewart Shields email hidden; JavaScript is required
To: bill morneau email hidden; JavaScript is required, chrystia freeland email hidden; JavaScript is required, email hidden; JavaScript is required, Prime ministre email hidden; JavaScript is required
CC: Brian Jean email hidden; JavaScript is required, Doreen Mueller email hidden; JavaScript is required, ENV Minister email hidden; JavaScript is required, Facebook , fishcreek email hidden; JavaScript is required, innisfail email hidden; JavaScript is required, Lacombe Ponoka email hidden; JavaScript is required, Ministerial Unit email hidden; JavaScript is required
Appearances would suggest that David Jones the arbitrator in the ATA hearing became aware of how the economy in Alberta has shrunk under the UCP's Toryland Management!! Had Notley remained in power I'm sure provincial wages could be looked at in a different light!
—And out federal tax dollars may not be in jeopardy of very foolishly being used to pardon our rich foreign and domestic oil industry members –from using their cash funds to buy back their allotments of their own private stock– while continuing to ignore the scandalise amounts of environmental messes they had promised to clean-up remains very much as it has over the last 30 years??
Kenney has displayed the same troubled and criminal mind as Klein exposed to the Alberta public– when struck with little cash coming from the public's ownership of petroleum properties? Offering the energy industry the silly " Well Work over Program" by Getty then making public employees pay back the cost of this simply stupid program– by Klein going after their wages?? Oh how wonderful Toryland was and how nice to see it return to Albertan's who really do deserve the return!!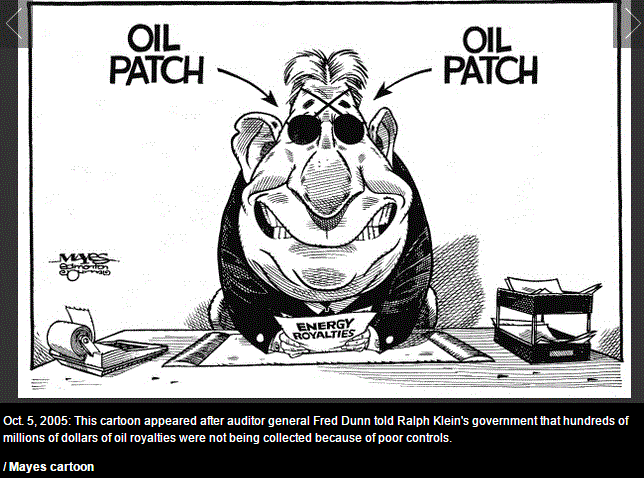 There are however a lot of Albertan's who realize that Albertans have been cheated out of billion's and perhaps trillion's of dollars by having the strangest and softest management system for ensuring a proper return of funds for their ownership of Alberta's petroleum properties??
Ask Alberta Treasury Branch to go back to the same management style they had in place before becoming a Crown Corporation like Nova—a wait the reply?? Government members must be removed from occupying business position they have little to no experience in managing —and put at arms length by having a professional Crown Corporation take over who have a host of proper business rules that must be followed –that today's management style simply ignores !! This is the reason no Albertan knows a lick about the volume and prices Alberta Public receives for their ownership of Alberta's Petroleum Products?? Strange Very Strange!! If Morneau gives Alberta A penny for Idle Wells he can forget my vote and many Albertan's who fell the same way!!
Stewart Shields, Lacombe AB

Extremely frustrated and angry:' Zero wage increases for teachers, nurses in arbitration rulings by Anna Junker, January 10, 2020, Calgary Herald
Teachers and nurses will not be receiving any new wage increases after arbitration rulings came down Friday. [ANOTHER INHUMANE HORROR SHIT SHOW RULING!]
The rulings come after the Alberta Teachers' Association and the United Nurses of Alberta were hoping for wage increases and the province sought a two to five per cent rollback.
"These independent public sector wage arbitration outcomes reflect the current economic realities in the province. The decisions align with the crucial need to fix Alberta's spending problem and ensure the long-term sustainability of high-quality services for Albertans," said Finance Minister Travis Toews in a news release Friday.
"Correcting wages over time is a critical part of our government's commitment to get our fiscal house in order. Even with these decisions, fiscal restraint and discipline must continue as we enter into new collective bargaining negotiations in 2020."
The arbitration battle began in June when the province passed Bill 9, the Public Sector Wage Arbitration Deferral Act. The bill was supposed to pause any binding arbitration hearings with public sector unions until the government had a chance to dive into Alberta's financials.
However, unions challenged the delay in court, arguing the bill broke negotiated contracts. But the court of appeal ruled in the government's favour. The arbitration pause was brought to an end Oct. 31.
ATA president Jason Schilling said Friday going into the arbitration hearing they were hoping for a three per cent increase for each year of the contract.
"I am extremely frustrated and angry at this decision. I think the association had a really strong argument in the arbitration process and I was confident that we would see a reasonable increase to our salaries," Schilling said.
Since 2012, Alberta teachers have received only one new wage increase to their general salaries.
"Teachers have done their part in the past when they've been asked to assist with Alberta's economy," Schilling said.
"Even when Alberta was not in a recession, and we're not in a recession right now, we were taking zeros and so teachers have done their part and we're looking for some correction to that."
The arbitration hearings with the UNA — which represents more than 30,000 registered nurses, registered psychiatric nurses and other health-care workers — were held on Dec. 4 and 5 in Edmonton.
In his judgement, arbitrator David Jones — who was also the arbitrator in the ATA's hearing — wrote, "no change to wage rates is justified in the third year of the current collective agreement, particularly given the prevailing general economic conditions in the province, as well as the current comparative continuity and stability of nurses' employment and the absence of any relevant other public sector settlements that would indicate either an increase or a decrease to salaries."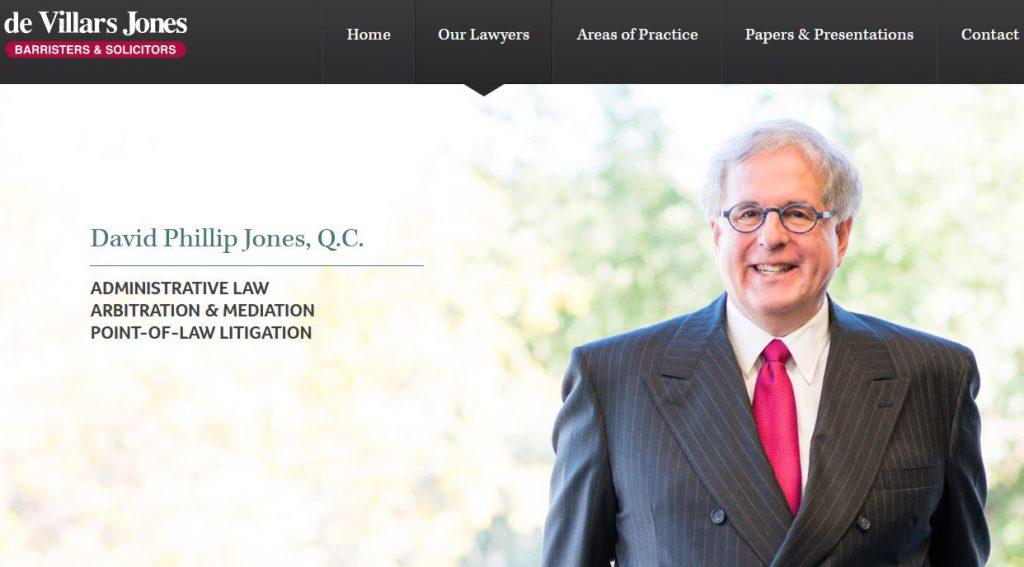 Snap above taken Jan 11, 2020 from http://sagecounsel.com/team-members/david-phillip-jones/
David Harrigan, director of labour relations for the UNA, said they are disappointed with the news. The UNA was also seeking a three per cent increase.
"This now means that it's been three years where the nurses have had a wage freeze. Meanwhile, inflation continues to increase. We're disappointed in that," Harrigan said.
However, Harrigan took comfort in the fact Toews seemed to be satisfied with the arbitration decision in his statement.
"We're not expecting a quick and easy round of negotiations. But at least the minister's being honest that there is no real reason to look for rollbacks," Harrigan said. [LOOK OUT! Kenney is a monster, he'll work at it to force those rollbacks]
The UNA's contract is set to expire on March 31 and the union is scheduled to begin bargaining with Alberta Health Services on Tuesday. The ATA's contract expires in August and bargaining is expected to begin in the spring.
UCP set to overhaul oilpatch liability rules for oil and gas wells
by Chris Varcoe, Jan 10, 2020, Calgary Herald
Decision time is coming soon for the Kenney government as it faces a tangle of issues surrounding orphan wells, the future of the Alberta Energy Regulator and growing oilpatch liability concerns in the province.
Energy Minister Sonya Savage says the province will unveil "an entire suite of policies dealing with well licences and the liability" management issues before the end of March.
"We will be bringing forward a package in the near future that will look at the entire life cycle of wells. [Nothing needs "looking at!" New policies, new "packages," new panels, more failed UCP candidates are not needed. All that's needed is for gov't to stop wasting the public's money with idiocy like the War Room and Witch Hunt, and order companies to start cleaning up, NOW, not years in the future, and disband CAPP, CSUR, AER, etc, and all "controlled opposition" NGOs and evil Synergy groups. Bring in the RCMP to do what taxpayers pay them to do – protect the public – not harass and trespass on Indigenous lands.]
"It's everything from the beginning, from licensing to operations, to transfers of licences, to abandonment and reclamations, to the orphan wells — and even to post-closure and legacy sites," she said in an interview this week.
"That will include things that can be done inside the AER and some things that will involve some regulatory and policy changes." [ALL OF WHICH WILL RESULT IN LOTS OF TALK, LOTS OF LIES, AND ZERO CLEAN-UP ACTION. The AER does not regulate! It breaks the law. The AER owes no duty of care, is legally immune, has no public health mandate, and does not operate in the public interest.]
Savage wouldn't reveal specifics on where the government will end up on these complex issues, but a coherent policy is sorely needed on problems that have been decades in the making.
More than 450,000 oil and gas wells have been drilled over the past century and the cleanup of thousands of suspended wells has accumulated over the years without hard, fixed timelines on remediation.
The provincial regulator says there are about 93,000 inactive wells in the province today. As the Financial Post reported recently, more than 15,000 drilled before 1964 have yet to be fully remediated.
In the past five years, the number of inactive wells has jumped by about 11,000 because of sluggish commodity prices, company insolvencies and a maturing producing basin, the AER said in November.
The overall bill to clean them up has also been rising. According to the regulator, total liabilities for the sector are $59 billion [way too low] as of September (including oilsands and coal mines), although other estimates are higher. [!!!!!!!!!!!!!!!!!!!!!!!! They can't even stop lyging or report the truth at this desperate stage of the end game. The fix is in. AER, CAPP, companies and the Alberta gov't plan to let industry walk. That's clear.]
The Alberta Orphan Well Association (OWA), an industry-funded group, pays to clean up wells when there's no owner in place to tackle the remediation. Its inventory of such wells has shot up from just 74 in March 2013 to about 3,400 as of November.
With no effective timelines on when a suspended well must be dealt with, something that exists in some U.S. states, the issue is coming to a head.
"The problem is just finally starting to set in," [No no no! The problem set in decades ago, and all who gave/give a damn, knew it and know it. Has Prof Olzsinski been frac'd like the university he works at?] said Martin Olszynski, a professor of environmental law at the University of Calgary who has studied the issue. [He needs to do a lot more studying]
"Two things should happen to ensure these liabilities don't become public. One is timelines for closure and the other is sufficient bonding at the outset."
A decision on a mandated period to close suspended wells, or the province requiring upfront securitization before drilling occurs, will be sensitive as the government tries to coax more investment into the sector. [That aint gonna happen, except via stealing the pensions off hard working Albertans and Canadians. The sector is on its deathbed]
Savage said timelines "can be a concern, so they are not something I am favourable to," [see, the policies the UCP are promising are already full of air] but didn't weigh in on requiring upfront bonds.
The government's package of changes also comes as the province has begun a sweeping review of the mandate and governance structure of the embattled Alberta Energy Regulator.
It's also dealing with the fallout from last year's pivotal Supreme Court decision on bankrupt Redwater Energy Corp., which saw the top court uphold the polluter-pay principle [But Alberta govt and AER do nothing to enforce the polluter-pay principle that is already law, efficiently ignored & pissed on law], but has made it more difficult for some companies to borrow money. [if that's the case, those companies have no right to be operating or given any licences/permits by AER]
Varcoe: Alberta seeks Ottawa's help — and money — in cleaning up abandoned wells
In November, Premier Jason Kenney said his government would do "everything we possibly can to mitigate the unintended consequences" of the Redwater decision, although it's unclear what it can do.
Savage stressed the government intends to return investor confidence to the province [How? UCP is so ignorant, arrogant, criminal and screwed up, investor confidence is tits up, never mind the many investment funds divesting from uneconomical polluting fossil fuels] but also ensure environmental responsibilities are managed in "an appropriate time frame." [According to CAPP et al, two hundred years from now, even better, never.]
"We are working on it diligently right now. Over the holidays I have been fine-tuning some of the proposals," the energy minister said.
"You are definitely going to see something [that will only benefit industry] in the first quarter."
The government faces a tricky balancing act.
It needs durable policies to address an array of issues and ensure environmental costs aren't left with landowners and the public over the long run.
It also needs to make sure companies remain healthy and clean up their own wells, otherwise the costs will be shuffled on to other petroleum producers through higher industry levies.
"We do think there has to be increased stringency for companies to retire their end-of-life obligations," said Canadian Association of Petroleum Producers vice-president Brad Herald. [Yet all CAPP does is lobby against any and all regulations, and make their puppy AER deregulate more and more every year.]
"That has to be done with some sensitivity to the economic challenges of today, so it's a gradual process to get there." [Was it a gradual process for Encana, Cenovus, Suncor, Syncrude, etc to make billions of dollarss every year? No. Clean up ought to have been initiated by companies years ago, instead, they keep lying, drilling and frac'ing hundreds more wells, installing more noisy compressors, leaking and spilling toxic chemicals, polluting, harming the public and environment, and walking with billions while leaving their party left overs (one hell of a lot of vomit) and dirty dishes for Canadians to clean up]
Herald points out companies have been able to reduce remediation costs by up to 40 per cent and tackle more wells through an area-based closure program, where companies work together to decommission a number of wells in a region. [Not trustworthy; just another scam to keep foolish Albertans enabling the abuses by AER, CAPP, govt and industry.]
As for setting firm timelines on when an old well must be tackled, CAPP backs corporate-wide targets (setting out a percentage of inactive sites that must be retired by a producer), so companies can move in an area-based fashion. [Whatever CAPP backs is a bad plan for Canadians and the environment, don't do what CAPP backs]
Herald, who is also chairman of the OWA, noted the association has been ramping up its activity in recent years. [Frac! The idiocy of our media! Ya, right, OWA has been spouting a lot of crap, and "ramping up" more and more of it]
"We are slowly getting to a more sustainable place, but the cruising altitude is quite narrow without creating a bunch of unintended consequences," he added.
But the province can't keep kicking the can down the road, as previous Alberta governments have done over the decades.
… What is indisputable is Alberta has needed a comprehensive strategy for years to tackle these issues. It's time for action.
Well cleanup ***in the cards*** after Alberta energy company announces plans by Scott Johnston, 630CHED, January 10, 2020, Global News
Jan. 5, 2019: A unique art display at an Edmonton gallery is examining the number of orphan oil wells in Alberta. Julia Wong reports. [Click on link above to see the clip]
Calgary-based Cenovus Energy [ENCANA SPAWN. CENOVUS IS AS UNTRUSTWORTHY AND DISHONEST AS ILLEGAL AQUIFER FRAC'ER ENCANA IS] set new sustainability targets on Thursday, while behind-the-scenes talks continue at the political level.
Cenovus set targets to reclaim 1,500 abandoned wells by 2030. [WAY TOO LATE, and, ii bet it's just more talk to make the masses go back to their beer, couches and hockey, happy someone is finally minding the shop, but their not]
"Our environmental practices, low-emissions oilsands operations [HA!] and the relationships we've built with residents in areas where we operate – including Indigenous communities – demonstrate our commitment to sustainability leadership," [PFFFFT. CAN'T BELIEVE IT. IT'S HOCKY POCKY CAPP-COPYING PROPGANDA] said Alex Pourbaix, president and chief executive officer, in a news release.
Cenovus has identified four areas of "environmental, social and governance" work, with targets to be met a decade from now.
They include reducing the intensity of greenhouse gas emissions by 30 per cent [NOT GOOD ENOUGH, EVEN IF CENOVUS WERE BELIEVABLE], while holding absolute emissions flat, increasing spending with Indigenous businesses by $1.5 billion [OOOO, LOTS OF BRIBERY AHEAD!~], plus other goals to improve land, wildlife and water stewardship. [IMPROVING "STEWARDSHIP" IS SNEAKY LINGO. MEANS NOTHING. If a company said they were going to mitigate their endless harms, that would be a start, better if they didn't cause those harms in the first place]
The company also announced it is aiming for net-zero emissions by 2050. [IMPOSSIBLE FOR A LEAKY OIL COMPANY, NOTABLY A TARRY BITUMEN COMPANY TO ACHIEVE! Nice words to lure in the citizens Cenovus and other companies rely on for billions of dollars in freebies & subsidies]
Cenovus' Reg Curren told Global News the intention is to get there though improved technology. [CCS IS A MASSIVE SCAM TO GET GOVTS TO GIVE COMPANIES BILLIONS OF TAX DOLLARS TO USE FOR ENHANCED OIL RECOVERY, NOT MITIGATE POLLUTION AS COMPANIES, CAPP, REGULATORS, AND GOVTS LIKE TO BOAST (LIES). THE TECHNOLOGY IS A TOXIC, LEAKING DEADLY FIASCO. THE KERR CASE IN SK IS ONE EXCELLENT ENCANA/CENOVUS EXAMPLE]
"Obviously there are many technologies that are coming that we don't yet see as being commercial. However over that period of time, we believe they provide the pathway to achieving that aspiration." [WHAT A BUNCH OF GIBBERISH, THAT AGAIN, MEANS NOTHING]
Carbon capture and storage, and the use of solvents in their Steam Assisted Gravity drainage sites are ways to reduce emissions and the use of water.
Edmonton-Riverbend MP Matt Jeneroux first raised a motion for well reclamation in 2017, wanting the feds and the province to work together. [TRANSLATION, MAKE CANADIANS PAY FOR IT ALL, WHILE BREATHING AND EATING THE TOXIC POLLUTING SHIT COMPANIES BELCH ENDLESSLY INTO OUR ENVIRONMENT AS THEY TAKE OUT BILLIONS OF DOLLARS IN PROFITS, SUBSIDIES, FREEBIES FOR YEARS. WHAT A HORRIFYING SHIT SHOW]
"I believe it was part of the meetings that Minister Freeland and Premier Kenney had," [MOST UNWISE TO TRUST ANYTHING KENNEY TOUCHES OR DOES.LOOK AT WHAT HE DID WHEN MP, AND LOOK AT HOW HE SLITHERED ILLEGALLY INTO HIS TOP ALBERTA SPOT] he told Global News. "There's general consensus that something needs to be done from a liability standpoint, but certainly from a taxpayer liability standpoint as well.
"It's good to see the companies like Cenovus are making these steps."
"The numbers seem to be all over the map, but we've heard there (were) about 83,000 wells at the time in the province that were either inactive or abandoned. I heard it was in the hundreds of billions of dollars to get these wells cleaned up."
No government money is involved in the Cenovus plan, Curren said. [DON'T BELIEVE HIM, OR ANYONE ELSE AT CENOVUS, ENCANA, ANY OTHER COMPANY, OR UCP, CAPP, AER. IF NO GOVT MONEY WAS GOING TO BE DEVOURED BY CENOVUS, THE COMPANY WOULDN'T SPEAK OF IT SO LOUDLY AND BOASTFULLY, THE COMPANY WOULD JUST GET TO WORK CLEANING UP AND PAYING FOR IT]
"We budget for it on an annual basis. We've developed an internal expertise that allows us to do this in a very efficient way." [MORE FANCY OIL PATCH PROPAGANDA LINGO. YES, "EFFICIENTLY" TELL AER HOW IT'S GONNA BE, BREAK THE LAW, IGNORE POLLUTER PAY PRINCIPLE, TAKE BILLIONS OF DOLLARS IN PROFITS AND SUBSIDIES OUT, DONATE A FEW MILLION (UPPING IT NOW TO BILLION) IN BRIBES HERE AND THERE TO DIVIDE AND SILENCE HARMED COMMUNITIES, SELL OFF FRAC AND BITUMEN FIELDS RIGHT LEFT AND CENTRE AFTER THE JUICY PROFITS ARE DONE TO MICKEY MOUSE OUTFITS ASSURED OF GOING BANKRUPT AND WALKING FROM CLEAN UP]
Other behind-the-scenes discussions have been going on, based on what Lakeland MP Shannon Stubbs published on Twitter Thursday.
"Incentivising private sector to invest in orphan well cleanup is a no brainer win-win-win for everyone. Helps workers get back to work, helps address long term environment risks. I brought this up when I met with @SeamusORegan in December." [TRANSLATION: GIVE US A FEW HUNDRED BILLION, WE'LL CLEAN UP, MAYBE BUT WE'LL DO IT SLOWLY, SUPER SLOWLY, LIKE MAYBE NOT AT ALL]
Refer also to:
Study not needed of the 100s of billions of dollars in oilfield liabilities. Complete overhaul of petroleum ownership and its structure is needed, and to send AER, Synergy groups, CAPP, CSUR etc packing!
Ernst's urged action, long ago:
Study is not needed! Action is needed! Simple solutions abound! Here's one: Immediately require bonds are paid upfront, in full, to be held in trust, before any new approvals are given, especially to notorious bullies/law violating aquifer frac'ers like Encana. Another: disallow the big brute companies from selling off their polluting, aging wells/facilities to little nothing players sure to bankrupt themselves soon as they finish sucking a few million out. Make the brutes produce their wells/facilities til they are done, especially in all the formations they soured by hydraulic fracturing and water injection for enhanced recovery. And make the brutes clean up. The big companies are sitting on billions in cash, and are causing most of the liabilities by selling off their no longer massively profitable assets to fly by night junk operators who fully intend to walk from clean up. These actions could be quickly and easily implemented by any govt that gave a damn.
Once a well/facility is appropriately cleaned up, abandoned, landowner satisfied and signs off on it, company gets their money back. Easy peasy.
All landowners forced into enduring the abusive, polluting industry on their private properties must also be fully paid in advance sufficient funds to be held in trust to fully deal with the inevitable clean up with additional emergency funds for the many things that go wrong, eg frac quakes damaging a driveway, home or barn foundation; aquifer gets contaminated; water well is destroyed; spills, on or off lease; health and or soils/crops harms; etc. Problem solved. The endless crooks will not be able to operate under appropriately protective measures, and will leave, good riddance. Alberta will be much better off without them. Grossly over paid CAPP and other industry lobby groups will cry like the spoiled babies that they are. Let them cry.
Most important must do! Stop funding and get rid of Synergy Alberta and all it's gunky evil tentacles and groups. Stop funding so called environmental, but really just enabling "controlled opposition" NGOs. Stop the mega millions given to Lies & Propaganda funding. Use the money to start cleaning up. So Super Simple.
Jan 18, 2020: Free Public Lecture by U of C Law Prof Martin Olszynski "Alberta's Underfunded Environmental Liabilities: Inactive Wells and Oil Sands Tailings"
Alberta academia was frac'd years ago. UCP government's university appointments draw cronyism accusations
BNN Interviews Alberta Oil Patch Consultant Brent Nimeck on Lexin and AER's Orphan Wells: "This problem is 30 years in the making. … I would call it a Ponzi Scheme…. This is an orchestrated fraud from multiple angles: Industry, CAPP and the Alberta Energy Regulator have enabled this to happen. … Through our independent analysis and we've confirmed this at multiple sources within the energy regulator, the liabilities are over $300 billion. That's what's on the hook for Alberta taxpayers right now – $300 billion."
More Propaganda CAPP style? AER, Charter Violating, No Duty of Care, Legally Immune, Abuser of Power, Pollution & Law Violator Enabler, "warns" industry it "could" go after directors, executives to clean up the current $300 Billion in oilfield liabilities. Really? With Ex-Encana Exec/Ex-Cenovus Exec/Ex-CAPP Exec Gerard Protti as AER Chair?
Is this what the entire province of Alberta gets to look forward to, thanks to Tory Government, Encana, CAPP, AER Chair Gerard Protti et al? Losing water quality and quantity?
Gerard Protti Sings "I Wanna Stay." Who is Gerry? Chair of Alberta's Energy Regulator. AER is: Legally Immune, Charter Violating, "No Duty of Care," 100 Percent Industry Funded, Deregulating, Non-Enforcing, Lying Propaganda Synergy Machine; Protti IS Director Petromanas; was Encana VP, Lobbyist, Advisor to Cenovus, Creator/Chair of CAPP, Director Alberta Research Council/Innovates …
All in the Protti Family? What are the connections between law-violating CSIS, law-violating Encana, propagadist big oil lobby group CAPP, law-violating EUB/ERCB/AER and the big banks?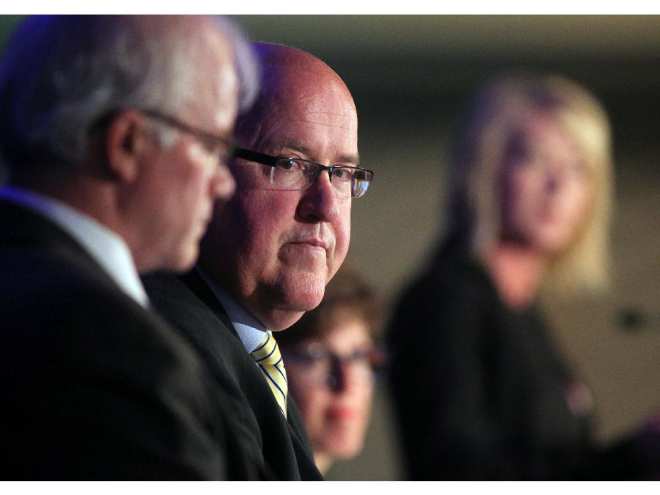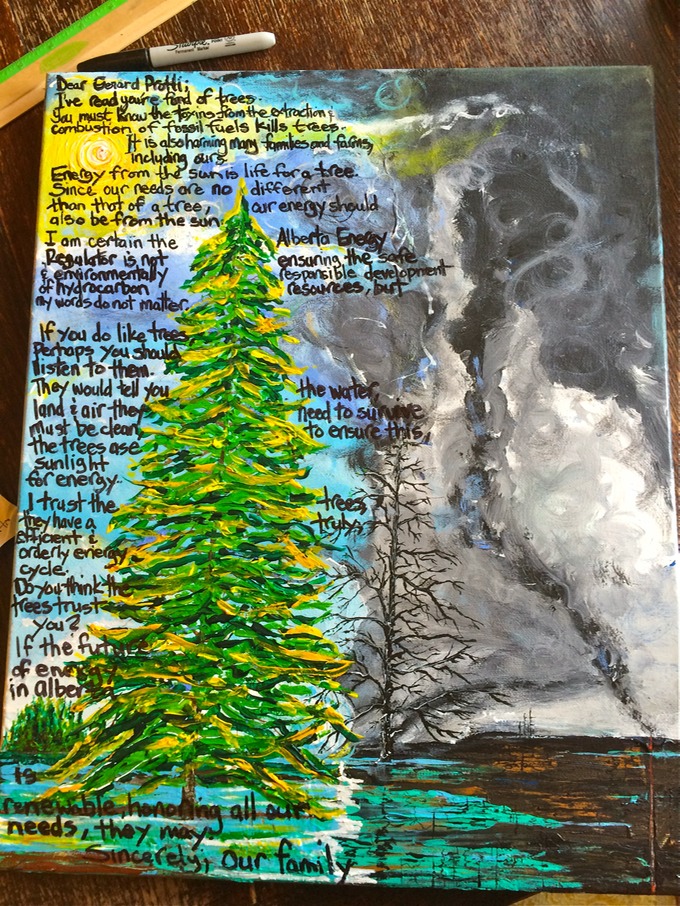 Painting above given to Gerry Protti by Diana Daunheimer