161 comments
French energy giant Total says it is writing off $9.3-billion worth of oilsands assets in Alberta and cancelling its membership in the Calgary-based Canadian Association of Petroleum Producers.
Total now considers oil reserves with high production costs that are to be produced more than 20 years in the future to be "stranded" given its carbon reduction targets and because the resource may not be produced by 2050, the Paris-based company said Wednesday.
It will take writedowns worth $7.3 billion related to its 24.6 per cent ownership in the Fort Hills oilsands mine operated by partner Suncor Energy Inc., the company said, and its 50 per cent stake in the Surmont thermal oilsands project operated by partner ConocoPhillips.
Total will also write off $2 billion in other oilsands assets, it said, along with $1.07 billion on its liquefied natural gas assets in Australia.
Total said it is leaving CAPP because of a "misalignment" between the organization's public positions and those expressed in Total's climate ambition statement announced in May.
"It is disappointing that they would write down Canadian assets, and increase their focus in Africa and Brazil and the Middle East," said CAPP CEO Tim McMillan in an interview.
"As a company, over the last few years, they've increased investment and focus in those jurisdictions."
He added it's disappointing Total is bowing out of CAPP but said, "that's their prerogative."
Impairment charge
In May, Suncor registered an impairment charge of $1.38 billion on its 54.1 per cent share of Fort Hills in view of lower oil price prospects.
The other partner in Fort Hills, Vancouver miner Teck Resources Ltd., took a $474-million writedown in May on its 21.3 per cent stake and has also cancelled its CAPP membership, saying it was part of a cost-cutting program. …
Total has been distancing itself from the oilsands for several years, although a Canadian Press analysis last year revealed it actually produced more from the oilsands in 2018 than any other foreign company.
When it sold its undeveloped Joslyn oilsands mining project to Canadian Natural Resources Ltd. in 2018, it said it was part of a strategy to move away from high cost oilsands investments.
The same rationale was used in reducing its stake in Fort Hills in 2017.
Earlier this week, Frankfurt-based Deutsche Bank said it would join a list of European lenders and insurance companies that say they won't back new oilsands projects.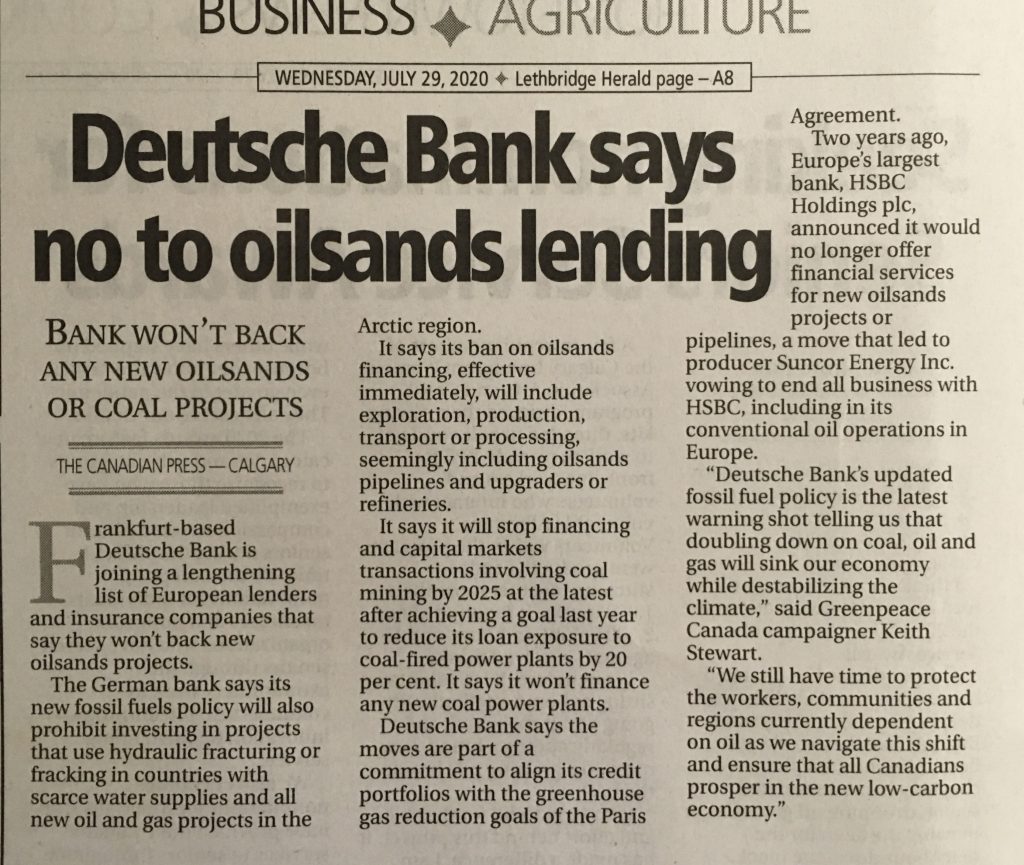 The German bank said its new fossil fuels policy will also prohibit investing in projects that use hydraulic fracturing or fracking in countries with scarce water supplies

Harumfflesnorts! But OK to invest in frac'ers (mostly law violating, bankrupting foreign companies) that frac in Canada and pollute our drinking water supplies, communities, land, air and food? Typical hypocritical banking shit show

, and all new oil and gas projects in the Arctic region.
Two years ago, Europe's largest bank, HSBC Holdings plc, announced it would no longer offer financial services for new oilsands projects or pipelines, a move that led to Suncor vowing to end all business with HSBC, including in its conventional oil operations in Europe.
In a release, Alberta's energy minister Sonya Savage said Canada's oilsands would continue to offer investment in a "stable and ethical democracy."

Roaring laughter! Look out hedge funds, investment firms, investors and banks. Mega Evil Corrupt Harper-Controlled UCP wants your money – to lose for you fast! Stay away, if you have any brains.

"At the same time Total is dismissing the leadership of Canadian producers who are doing their part with active strategies that have reduced emissions, they continue to invest in countries such as Myanmar, Nigeria and Russia," Savage said.

"Bla bla bla."

"This highly-hypocritical decision comes at a time where international energy companies should, in fact, be increasing their investment in Alberta, rather than arbitrarily abandoning a source of a stable, reliable, supply of energy."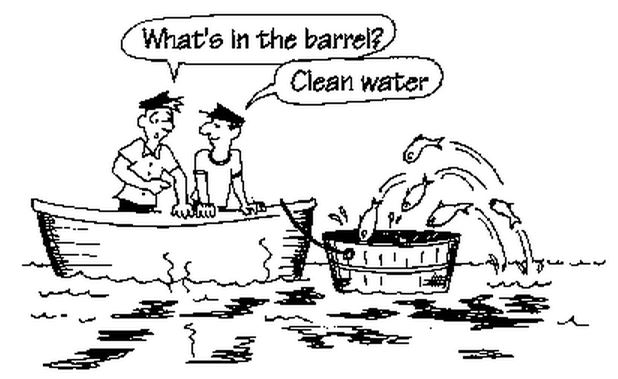 Refer also to:
2017 04 25: Diana Daunheimer's Excellent Summation of AER & CAPP's Evil Synergy Alberta as to why Trudeau govt caves in to oil & gas industry pathetic whines about costs, Delays requiring reductions in industry's leaking methane for 2 years (and if reelected, for 4 more years?)
Brilliant comments by Diana Daunheimer to the National Observer article included in link above, with the best summary ever on AER/CAPP's Evil Synergy Alberta:
Diana Daunheimer
This the way. Lobby, lobby, lobby.
CAPP and AUC, AGS, COSIA, CAGC, CAODC, CEPA, CERI, CHOA, CSPG, CSEG, CSUR, CIAC, CASA, CCS, CIM, CCC, CAC, CPIA, CIAC, CAPPA, CAPL, CAPLA, Enform, EPAC, GPAC, IASA, IEA, FHOA, HAI, OSDG, MAC, NRCan, NRCB, PSAC, PAAC, PTAC, PCOR, PJVA and WAC
All industry interests, which do not include protecting the environment or public health.
Landon
You actually make it seem so easy with your presentation but I find this topic to be really
something which I think I would never understand. It seems too complicated and very broad for me.
I am looking forward for your next post, I'll try to
get the hang of it!
Diana Daunheimer
Landon,
It is complicated and broad, much broader than what I posted. I'll take a moment to cut through the convolution, so you can appreciate it, as I have experienced and researched.
Industry has numerous routes of lobbying and influence, reaching into every corner of our lives, from our education system, community engagement, to every level of government.
Registered lobbying is the easiest to see on paper. The Canadian Association of Petroleum Producers (CAPP) is the largest and most active lobby organization in Canada. Almost immediately, perhaps preceding any new environmental policies, CAPP is there to squash it. The reasons tend to repeat infinitely; too costly for industry and any increased environmental measures will hamper competitiveness. In other words, greed. Why our governments fail to protect the public interest, instead, caving to corporate manipulation, amounts to the same answer, greed, perhaps a healthy dose of corruption to boot.
Here is a link to the most recent registration by Tim McMillan of CAPP, from the Office of the Commissioner. Please take a look, not only at how many issues they are lobbying, but also how many departments they contact. Staggering.
https://lobbycanada.gc.ca/app/secure/ocl/lrs/do/vwRg?cno=226641&regId=86…
The other slew of acronyms I posted above, are the myriad of additional industry funded or friendly organizations, for pipelines, upstream services, etc, all of which lobby or exert influence on municipal, provincial and federal governments. There are over 200 such organizations across Canada, all using industry funding for the most part.
Additionally, most major oil and gas company executives and VP's serve as registered lobbyists, such as Russ Girling with TransCanada.
https://lobbycanada.gc.ca/app/secure/ocl/lrs/do/clntSmmryclientOrgCorpNu…
This is just the tip of the iceberg though, the lobbying and corporate pressures that are visible above the surface. What lies beneath?
At the community level in Alberta, we have this slimy system of lobbying, referred to as "synergy". Synergy Alberta is partnered with, and partially fiscally supported by CAPP and the AER. In the past, the Government of Alberta also contributed, but recently have pulled funding. The rest of money for operations of these synergy groups, comes from invoicing industry.
Here is a list of Synergy Alberta groups:
Alberta Energy Corridor, BalCAP, Battle Lake Synergy, Battle Action Committee, Regional air-sheds such as PAMZ and the Peace, Calumet Synergy, CMAG, Clearwater synergy, Cochrane Pipeline Operators Assc, Crossfield District Synergy, FAAMA, Fox Creek Synergy, Genessee Synergy, LICA, Life in the Heartland, FAO, PAG, Peace Regional Synergy, Pembina Synergy, Rimbey Synergy, SPOG, VAPPA, WASP, Waterton Advisory, West Central Stakeholders, Wetaskiwin Synergy and Yellowhead Synergy.
I have participated in many meetings and interactions with SPOG and CMAG and they way they operate is disturbing, to say the least.
For instance, with CMAG, industry and AER reps, community members, perhaps a municipal councillor will generally meet at the local Smitty's for breakfast, hosted by an "impartial facilitator" (who happens to be paid by industry and gets her breakfast paid for nearly every time by TransCanada, hardly impartial). Since witnessing several misleading and fabricated statements regarding local operations, such as Julia Fulford with the AER, stating that the well sites by our home have "no emissions", I took to recording the meetings. Present after all, are elected officials and government employees. It outraged the group, and they kicked me out, while passing a Terms of Reference that states that no recording, visual or audio, can be taken at meetings and that meeting minutes can not be used in legal proceedings. All this information is accessible on the CMAG website in the TOR and meeting minutes.
The evolution of Synergy groups, generally follows the same path. It begins with local community concerns regarding industry activity or a serious incident. The Pembina Institute would be the most famous example of this, borne of the Lodgepole Pine sour gas blowout. CMAG came about because of CBM activity. The origins of these groups are respectable enough, however, the progression from community led, to industry controlled and colluded, is what is so disgraceful, and it happens every time.
Just look at what Pembina has become, a national eNGO, hosting galas in Toronto, with industry money. They don't assist impacted residents at all, neither does any synergy group. In reality, this system operates more on the basis of discrediting harmed landowners and endorsing industry regardless of impacts. Industry moves in on these groups and uses money and power to change the dynamic and messaging, until they are nothing more than a subset of stakeholder relations departments pushing corporate interests. Controlled opposition at it's finest. Community level lobbying.
Aside from industry infiltrating communities via synergy and four stacks with a side of sausage, industry also funds the air-shed groups in Alberta.
When we had a PAMZ air quality trailer on our land, the company shut in all their operations near our home, for the duration of testing. PAMZ, the AER and the company, then used this manipulated data set, that had no resemblance to air quality during full production, as a means to discredit our concerns over sour gas emissions. When industry pays for the operations of air-sheds doing community testing, they have ways to ensure they are not implicated in any non-compliances. Air quality lobbying.
More industry money is directed at influencing education. Major oil and gas operators are currently partners in the Alberta K-12 curriculum. They also sponsor industry propaganda at the Telus Science Centre, Glenbow Museum and promotion at Heritage Park. Industry funds numerous organizations that come to schools with corporate messaging guised as environmental initiatives, delivered by the likes of Earth Rangers and Inside Education.
Of course, industry has huge monetary influence in our post secondary institutions. The U of C is infamous for their oil and gas based agenda, led by the Haskayne School of Business and the School of Public Policy. Academic lobbying.
In fact, in Alberta, you will be hard pressed to find any eNGO that does not have industry money behind them. The Alberta Ecotrust is a prime example. Environmental lobbying.
Then you have your "charities" which are pro-industry, the most renowned is the Fraser Institute. Charitable lobbying.
Then you have industry in the communities, donating money to local schools, bonspiels, beer gardens and the other events and projects, yet, implementing proper emission reductions for priority pollutants, inspecting and maintaining pipelines and facilities or implementing and installing proper air and water quality monitoring to protect the public, is all too costly and lobbied against. Buy-off lobbying.
Finally, you have all the money industry spends on private meetings, the ones not on anyone's books. Like how TransCanada met privately with members of AAMDC, which resulted in their resolution to endorse Energy East. Those AAMDC members had no knowledge of the tolls ($4.6 billion, at minimum) to Albertan's, and had not read the take-or-pay contract for the project, nor seen an economic benefit analysis for our province. Must have been some meeting. Private lobbying.
These are all forms of how the industry petitions for and acquires support from the community, up to the federal level. Lobby, lobby, lobby.
If all this funding from synergy, lobby and enticement were re-directed, industry would easily have the financial capacity for emissions reductions, proper monitoring and enforcement, meant to protect public health and environmental sustainability.
What serves a community better, money put towards beer gardens, golf tournaments and awards shows (PTAC, EPAC, CAPP) or reducing hazardous pollutants and ensuring high pressure sour gas lines are properly maintained and inspected? Priorities are extremely out of place here.
There are billions being wasted on lobbying, propaganda, partisan alignments and Pete Club perks, and hearing industry complain about costs related to protecting public health is revolting. The fact that the federal government accepts this bullsh*t as means to delay policies in which they made a commitment, is worse.
Did you follow all that?
All the best, Diana
Public Interest
Your detailed posts are appreciated.
The industry spends hundreds of thousands, even millions, rigging studies and results in their favour, rather than pay landowners their rightful compensation in damages caused by the industry. Government and regulators back them. Landowner property rights are fiction.
Diana Daunheimer
Thanks, and I like your short and sage comments:)
Property rights do not exist. Right of Entry in Alberta legislates you can not refuse exploration and production for resources on your land. Expropriation is the means for federal projects.
Agreed, industry spends millions on agreeable scientists, academics, biologists, engineers, geos, even doctors. APEGA is a sullied example of a captured professional organization, which is mandated to hold the health and wellness of the public and environment paramount, but never do.
Far from rightful compensation, industry and regulators still insist there are no harms incurred to public health. You can't get a single doctor in this province to discuss the effects of industrial emissions on health. The Chair of the Maternal and Child Health program at the Alberta's Children Hospital, is from Husky Energy.
The AER has no public health mandate. Certainly by intention, there has not been one comprehensive epidemiological study done in Canada to date, on the public health impacts of the oil and gas industry. The medical community has failed the public in this regard.
Rightful compensation will also remain fiction, until damages are duly acknowledged, and not paid to be obfuscated.
Nielle Hawkwood
Diana says it all. We will never see anything change until Albertans are willing to stand up and demand protection for our environment and our present and future citizens. There is no time for delays – we have already delayed too long.
2020 01 31: Ovintiv/Encana, Chevron, Exxon et al deeply deserve this! CNBC's Jim Cramer: "I'm done with fossil fuels … they're just done. We're starting to see divestment all over the world. … It's going to be a parade that says, 'Look, these are tobacco and we're not going to own them.' … Younger people don't want to own them. The dividends are great…but you can tell that the world's turned on them. It's actually happening really quickly."
2020 03 25: Really Kenney? Canada's worst economist ever? Steve Harper trashed our economy to serve China, Israel, the USA and big oil. I expect you know that, and that CAPP 'n gang have your penis roped tight so that you give them everything they demand.
2020 04 20: Are Covid-19 fatalities a measure of the oil & gas industry's killing power? More and more studies prove how deadly & dishonest the industry is. Message to CAPP & AER: It's not "odours" killing us, it's pollution, including nitrogen dioxide.
2020 07 23: Frac Tank Reality Show: "Debt, Debt and Debt" and more debt; Judge-gifted bankruptcies to keep companies frac'ing & polluting and con investors into losing more money; Abandon thousands of frac harmed families; And intentionally dump pollution and clean-up on taxpayers. In the USA, "explorers burned through some $342 billion of cash since 2010, leaving little in the way of returns for investors." In Alberta, AIMCo took $100s of millions (under Kenney & Harper, will likely take $billions more) from pensioners years ago to give to "quite leveraged" frac'ers already then.