Is Fracking Causing Big Sinkholes in the South? by Sean Brady, August 23, 2013, Carbonated TV
While the South's soil has been known to be weak enough that sinkholes are not that uncommon, the increase of sinkhole activity, especially in places like Louisiana and Florida, may have something to do with one new development in oil and gas that has caused much controversy: Fracking. While the process has been around for seven decades, fracking has been incredibly expensive to perform. It was only due to the recent surge in oil and gas prices that fracking was considered profitable enough to use as a means of extraction. However, fracking does not occur without side effects. Unlike straight drilling for oil and gas, which is vertical and covers a very limited space, fracking is done horizontally along the ground, and requires a lot more earth to be removed. Consequently, there is the risk that fracturing these rocks will inadvertently cause a geological disturbance through either high pressure gas being released or rocks being shifted. Sometimes, this causes earthquakes, major and minor. Other times, it causes the water to move out of a certain part of the ground, causing a sinkhole.
In the case of Bayou Corne, fracking is likely the cause of the sinkhole developing. A nearby fracking operation in Assumption Parish run by Texas Brine LLC lost control recently when the salt dome cavern they were using collapsed, leading to the ground shifting elsewhere, such as the Bayou Corne sinkhole. Now, officials in the state of Louisiana are suing Texas Brine for the environmental damage and the sinkhole. Furthermore, in Kansas, a recent sinkhole developed near the western town of Sharon Springs. While it is unlikely that fracking caused the sinkhole, Sharon Springs and the surrounding area sit atop of shale basin used for fracking, which makes the case a distinct possibility. What this means remains uncertain. Fracking has not started in Florida, which remains the most common place for sinkholes. Further, this is the first conclusive case of a sinkhole cause by fracking. Still, caution must be taken into consideration in developing fracking, as the evidence demonstrates that environmental damage can happen, as well as property damage. [Emphasis added]
Raw: Louisiana sinkhole swallows giant trees by Ottawa Citizen, August 22, 2013
It took just seconds for a sinkhole to swallow several giant trees in Louisiana's Assumption Parish. The parish's emergency management department caught it on video.
This insane video is why fracking should be made illegal by Ned Hepburn, August 22, 2013, Death and Taxes
Fracking: it's the worst thing to happen to the future of the planet since the invention of the atomic bomb. It's causing earthquakes thousands of miles inland, destroying entire communities, and desecrating the countryside. But the one thing fracking hasn't had is a "holy shit" moment – say, a video one can watch to show just how bad this practice is.
Here's just how big the sinkhole could get: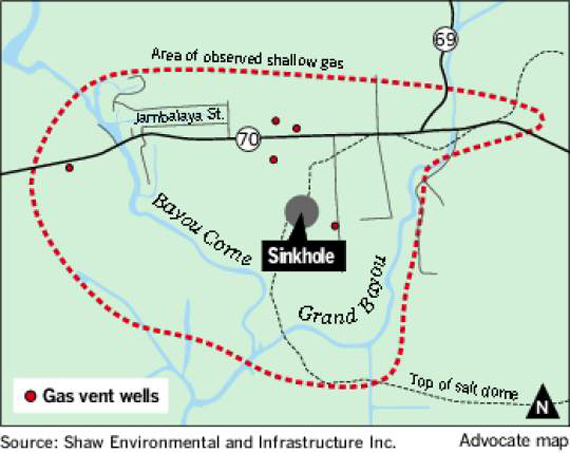 The whole town of Bayou Corne in Louisiana had to relocate after nearby fracking opened up a salt mine below them. Mother Jones magazine ran an exposé on the sinkhole in their latest issue, saying:
What happened in Bayou Corne, as near as anyone can tell, is that one of the salt caverns Texas Brine hollowed out—a mine dubbed Oxy3—collapsed. The sinkhole initially spanned about an acre. Today it covers more than 24 acres and is an estimated 750 feet deep. It subsists on a diet of swamp life and cypress trees, which it occasionally swallows whole. It celebrated its first birthday recently, and like most one-year-olds, it is both growing and prone to uncontrollable burps, in which a noxious brew of crude oil and rotten debris bubbles to the surface. But the biggest danger is invisible; the collapse unlocked tens of millions of cubic feet of explosive gases, which have seeped into the aquifer and wafted up to the community. The town blames the regulators. The regulators blame Texas Brine. Texas Brine blames some other company, or maybe the regulators, or maybe just God.
Louisiana Sinkhole Video: Bayou Corne Sinkhole Swallows Trees In Seconds Despite Containment Efforts by Jill Heller, Augut 22, 2013, International Business Times
A colossal sinkhole that opened up overnight in August 2012 in the rural Louisiana town of Assumption Parish has continued to expand at a staggering rate, devouring with it land and trees as documented in a new video that was uploaded on Tuesday. The three-minute YouTube video was posted to an account run by the Assumption Parish Police Jury. The video shows about a dozen trees on the outside of a berm in the sinkhole suddenly swallowed in less than a minute. Six seconds into the video, the trees slowly begin to sink. At 41 seconds, their tops are no longer visible above the bubbling water.
The sinkhole, which has displaced 150 families in Bayou Corne, La., has eluded local efforts to contain it for more than a year. According to OpEd News, it is now approximately 28-acres-wide. Local environmentalists said the sinkhole constitutes "an unprecedented environmental disaster." …
"When you keep drilling over and over and over again, whether it's into bedrock or into salt caverns, at some point you have fractured the integrity of this underground structure enough that something is in danger of collapsing,"  ecologist Sandra Steingraber told the magazine. "It's an inherently dangerous situation."
Assumption Parish residents first became concerned last spring when they noticed unusual bubbling in the Grand Bayou, according to OpEdNews, which describes itself as a progressive, liberal publication. Residents reported that the water smelled of fuel and sulfur. Months later, a sinkhole "the size of three football fields" appeared in the ground, eventually forcing some 350 residents to pack their belongings and evacuate. More than a year since its abrupt appearance, the sinkhole now measures roughly 15 acres. …  Texas Brine, the company that owns the collapsed salt dome, had been sending weekly checks to displaced residents as of May, the Associated Press reported.
Sinkholes can occur naturally or as a result of pollution, often without warning. … Environmental activist Erin Brockovich — whose successful fight against a California power plant over contaminated groundwater was portrayed in the 2000 film "Erin Brockovich" — is involved in the Louisiana case and has urged residents to take legal action, the Baton Rouge Advocate reports. Lawyers working with Brockovich filed a class action suit on behalf of 57 individual plaintiffs and three local businesses. [Emphasis added]
[Refer also to:
Sinkholes – BIG ONES ! by N. Donna Wise, July 13, 2013
The reason why this story in Louisiana caught my attention is because since October 23, 2009 we have discovered our own unique  water-to-surface anomalies on our farm.  Today we know of 5 dangerous water/mud holes on our land for which we have a professional report by an independent hydro geologist that dismisses 'naturally occurring' for the cause of the first known one that we refer to as "The HEAVE".
HERE in ALBERTA, for the past four years, I can't get an iota of interest for a simple request that some one conduct a SINCERE, second, more in depth, professional environmental investigation into the cause of heaves/sink holes on our farm.  … Encana Corp. – the tenants on our land who, until proven wrong, I suspect their subsurface activities are at the root of our mysterious water and soil problems – sent their lawyers after Our 2010 WATER REPORT this past spring. They appear to be more prepared to spend money on legal fees than to help understand a problem that may lead to a better understanding of what is happening on our farm. And this is not only occurring on our farm. I have documentation of other similar 'heaves' and weird land disturbances on my neighbours' lands over the past 4 years.
This province's oil/gas regulator (what's their new name? not the ERCB anymore) have been missing in action on so many levels with serious issues directly related to our lives and a willfully bad tenant for years.
Alberta Environment has been a scream… an Alberta Environment Protection Officer that clearly gave the impression on both visits that he had very little interest in protecting our farm's environment? Then there's his official conclusions that are so laughable they beg for further explanation.
And Diana McQueen, the minister I thought responsible for the protection of the environment hasn't been heard from despite the fact that my MLA, Mr. Jason Hale has had several discussions with her about our unique and dangerous water/land problems.
Oh and forget Alison, she was there with the Stelmach gang when we first wrote for help about these new and dangerous water hazards on our farm. Alison doesn't return my mail. [Emphasis added]
Bayou Frack-Out: The Massive Oil and Gas Disaster You've Never Heard Of ]