Two sides continue to be at odds on fracking safety by Celia Ste Croix, August 22, 2013, Whitecourt Star Oil industry experts and Alberta government regulators, on the other hand, have defended the process as tried and true with the world's best safeguards in place to prevent possible water contamination.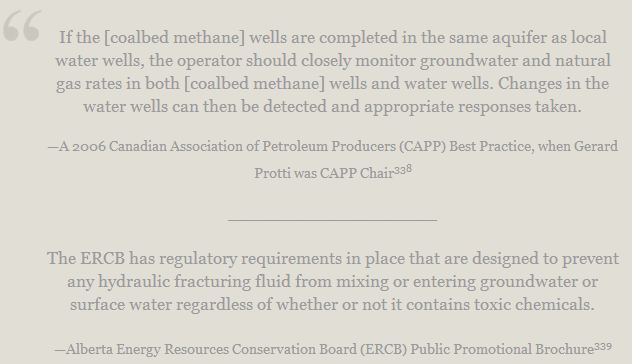 This summer another voice entered the discussion, that of Jessica Ernst, a scientist and oil and gas industry consultant for 30 years. In June she published a 93-page report arguing how fracking, despite Canada's stringent safeguards, can without a doubt contaminate [ground] water.  Ernst cites numerous examples in Canada and around the world, not the least of which her own farm in Rosebud, near Drumheller, Alta. For this reason, and the fact that she is currently suing her former employer Encana Corporation and the Alberta government for the contamination, those in the oil industry might look sceptically at her report. … It does however back it up with itemized industry-published data and sources. …

The reason fracking has been such a hot topic in recent years is because of high profile problems that have happened in the United States, said Bob Curran, communications section leader at the Alberta Energy Regulator. "They don't have the same regulations that we have here. Our regulations are designed to prevent those things from happening." Curran is talking about regulations such as requiring wells to have surface casing as well as production casing when the well will pass through or close to aquifers. Aquifers are areas of water bearing permeable rock.
Curran said that surface casing, or cementing the well bore all the way down, protects the ground water from contamination. Ernst's report notes that numerous industry studies over the years have stated that leaks from well bore casings are not rare. [Emphasis added]
[Refer also to:
Above snaps from: The Science is Deafening: Industry's Gas Migration
French Translation of the gas migration paper by Les Ami(e)s du Richelieu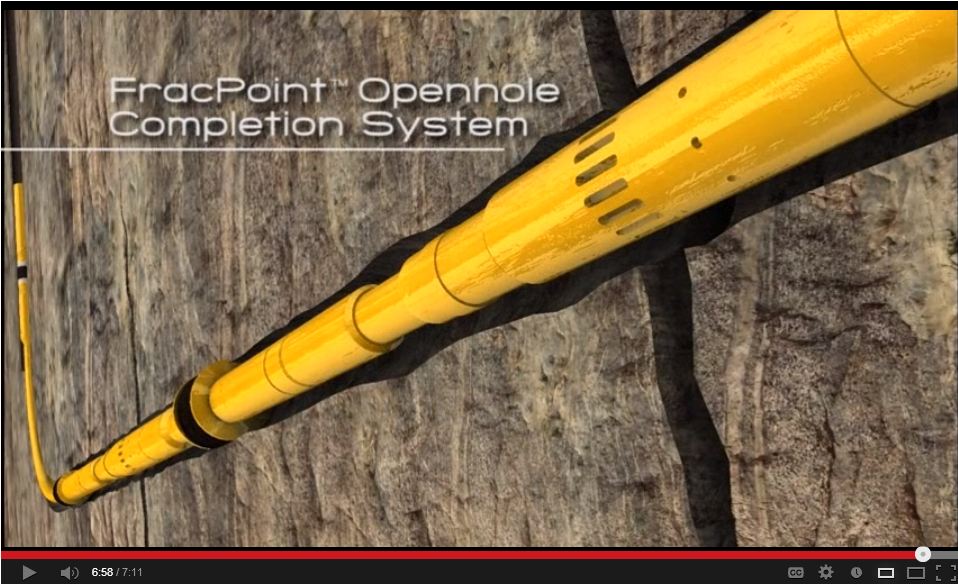 WATCH FracPoint Openhole Fracture Completion System by Baker Hughes Inc., October 21, 2010 FracPoint™ openhole fracture completion system precisely and reliably isolates multiple zones in open and cased holes. The system establishes openhole isolation between zones, zone lobes, or fault lines so fracture fluid is delivered where needed for maximum effect. Pinpoint fracture placements without cementing for improved initial productivity, accelerated reservoir drainage, and faster [return on investment].
Tight Oil Developments in the Western Canada Sedimentary Basin – Energy Briefing  by Canada's National Energy Board, December 2011 Currently, the majority of wells drilled in western Canada are horizontal wells, where the operator drills down to a certain depth, then "kicks" out sideways to drill what is called the horizontal leg. The vertical depth in emerging tight oil plays in western Canada is anywhere from 600 to 2900 metres, and the horizontal legs are anywhere from a few hundred metres to two kilometres long. Often, the production casing is only run to the start of the horizontal section of the well and the horizontal leg is left uncased, allowing for "open-hole" completions, where no perforations are needed to access the targeted formation. The advantage of the horizontal leg is that it greatly increases the contact of the well to the subsurface layer containing oil or gas. [Emphasis added] [Encana data from its wells around Rosebud, show open-hole completions]