PSAC will work with government, public to answer questions, address hydraulic fracturing concerns Warmest regards, Mark Salkeld, MBA
President and CEO Petroleum Services Association of Canada, [undated] 2015
Our membership includes all of the hydraulic fracturing companies operating in Canada, and their thousands of employees, who are easily ranked among the world's best for safely providing hydraulic fracturing services, while operating in one of the most stringently regulated environments in the world. These Canadian companies spend millions of dollars [keeping their injected chemicals secret, lying, synergizing and propagandizing harmed families and] on research and development in pursuit of ever more advanced processes and making improvements wherever they can [does "can" mean companies they "do?"] to use less water, advance sustainability practices and enhance public, worker and environmental safety.
PSAC recently met with Alberta's Energy Minister Margaret McCuaig-Boyd and her chief of staff, where we were pleased to be able to share PSAC's role in representing the hydraulic fracturing companies that operate in Alberta. We look forward to working with her ministry to help raise awareness of the highly specialized and technical aspects of the process, and to show how risks are [lied about and covered-up, with cumulative impacts ignored and never mitigated in Alberta?] identified, managed and mitigated to ensure the highest protection for the public, workers and the environment.
Our member companies voluntarily [UNENFORCEABLE, LEGALLY MEANINGLESS FOR HEALTH HARMS, LAND DAMAGES, WATER POLLUTION, ETC] operate by a Hydraulic Fracturing Code of Conduct developed from Best-in-Class operating practices [WHAT DOES THAT MEAN?], and from the many consultations [propaganda and synergy sessions?] PSAC held with communities across the province in areas where hydraulic fracturing takes place. These community [brainwashing sessions?] consultations were a significant influence on the development of the Code and were based on open, honest and frank conversations with concerned citizens, synergy groups, First Nations, landowners and farmers across western Canada. People shaped the code by which we operate.
Over 215,000 wells have been hydraulically fractured in Canada, with the first wells in Alberta, dating back to 1953, that were successfully stimulated and are still producing today. There have been no significant or harmful effects to residents or the environment reported during the last 60 plus years of production from any of those very first wells drilled to the thousands of wells drilled since.
Hydraulic fracturing is not a new process, what is new is the high level of sophistication involved in the process that makes it safe, well-controlled…. 
[Why is PSAC lying?]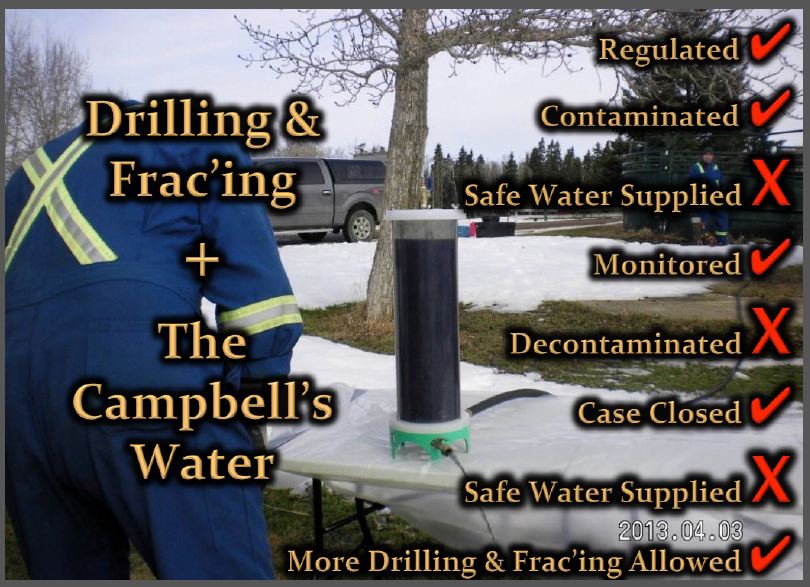 [DOESN'T PSAC READ?
TALK TO CAPP?
FOLLOW CURRENT EVENTS?]
[Reality check:
2015 06: Even the US EPA frac report admitted drinking water aquifers in Alberta were hydraulically fractured by industry and area water wells contaminated with natural gas.
2014: Canadian Association of Petroleum Producers: Coal bed methane operations contaminate water resources
Yet CAPP's Alex Ferguson says many worries about water quality are based on past operations involving coal-bed methane — shallow deposits in closer proximity to groundwater. These did occasionally contaminate water resources, he says. In some of the more infamous instances, affected landowners could light their well water on fire.
2005 01: Investigators say an accumulation of gases appears to have caused the explosion that destroyed the Rosebud water tower and sent a Wheatland County employee to hospital [After Encana illegally fractured the communities drinking water aquifers and diverted fresh water without a permit under the Water Act.
There are proven cases of fracking contamination by Jessica Ernst, July 14, 2014, Rocky View Weekly
Re: "Documented cases of fracking contamination are not proven" June 23
There are proven cases documented and industry admits they don't know what their frac's do.
1987 Report to Congress: Kaiser frac'd about 4,000 feet deep "allowing migration of fracture fluid from the gas well to Mr. Parson's water well. This fracture fluid, along with natural gas was present in Mr. Parson's water rendering it unusable."
1989 Industry: "hydraulic fracturing stimulation" for light oil, in several wells in Manitoba propagated into a water zone.
2001, 2004 Groundwater Database entries: Gas wells 02-06-04 perforations at 100.5 metres, 05-14-27-22-W4M intentionally fractured Rosebud's drinking water aquifers.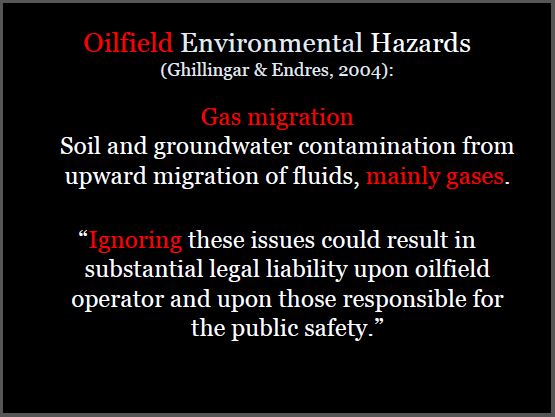 2005 – Current: "Oil wells on the Campbell property have caused gas from 1,757 metres to enter their aquifer," said Muehlenbachs
2005/06 Industry: "….industry still has much to learn about hydraulic fractures. Fractures from both horizontal and vertical wells can propagate vertically out of the intended zone, … potentially connecting up with other hydraulic fracturing stages or unwanted water or gas intervals."
2006 Regulator: "Information provided by industry to date shows that there may not always be a complete understanding of fracture propagation at shallow depths and that programs are not always subject to rigorous engineering design."
2008 Industry: "We Can Safely Say That We Know Everything There Is To Know About Hydraulically Created Fractures EXCEPT How Deeply They Penetrate; Their Vertical Extents; Their Symmetries About the Wellbore; Whether They Are Planar or Multi-stranded; Their Geometries At The Perimeter; Which Directions They Go; What Their Conductivities Are"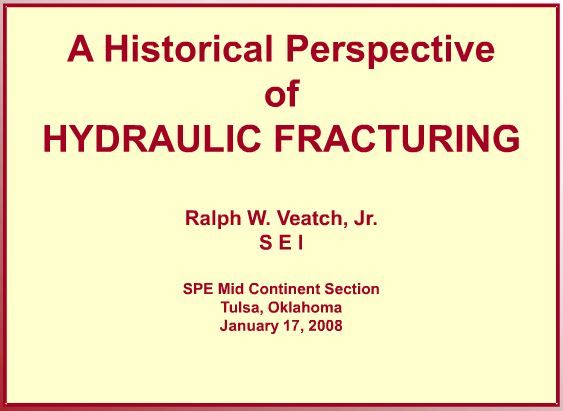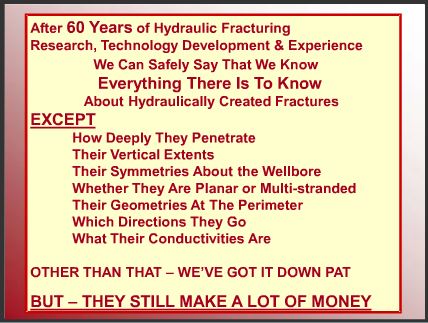 2010 Regulator: "Fracture propagation via large scale hydraulic fracturing operations has proven difficult to predict. Existing planes of weakness in target formations may result in fracture lengths that exceed initial design expectations."
2012 Regulator: "High-Risk Enforcement Action against Crew Energy Ltd." for a frac incident that contaminated groundwater. "The concentrations of chloride…remains elevated. Benzene, toluene, ethylbenzene, and xylene (BTEX) concentrations remained unchanged…."
Mr. Meikle's letter: "Again when oil companies are going to hydraulically stimulate wells, they test all surrounding water wells for water quality and production rate."
In my experience, companies refuse to do this, don't test for all chemicals used on the few wells they do test and refuse complete chemical disclosure before drilling, preventing appropriate testing. And after a community's water is contaminated and water tower explodes, Alberta regulators argue in court they owe 'no duty of care' to anyone harmed by industry's contamination.
Mr. Meikle's letter: "All chemicals used in fracking have to be reported to the AER."
Not according to the regulator's General Counsel: "the ERCB does not currently require licensees to provide detailed disclosure of the chemical composition of fracturing fluids."
I asked what chemicals were injected in my community's aquifers. Encana and the regulators refuse to cooperate.
Let's hope more proof doesn't involve Mr. Meikle's water or loved ones. Fighting for accountability, justice and safe water, is an expensive, full-time job.
Jessica Ernst
Rosebud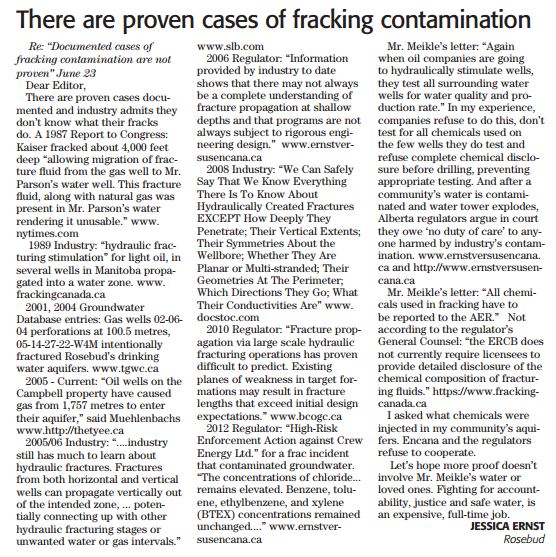 More reality check:
2010 02: As Schlumberger Chairman and CEO Andrew Gould said during a conference call with investors Monday:
"we're doing it by brute force and ignorance."
…
2011 08 27: USGS: "We're only starting to learn" about fracking, fluid injection, earthquakes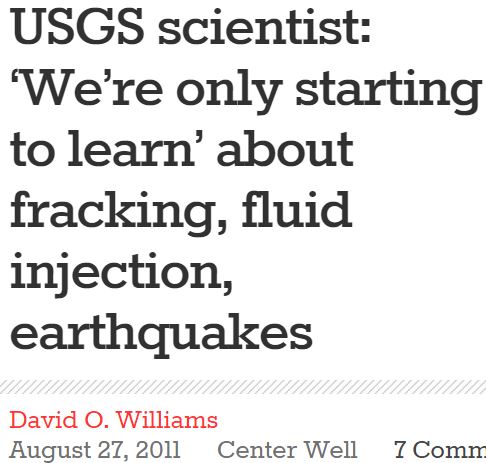 …
2013 02 19: AER (ERCB) lawyer Gary Perkins' angry bullying letter in response to Stew Shields FOIPing for records on frac's gone bad in Alberta:
"potentially in the order of millions of pages of records."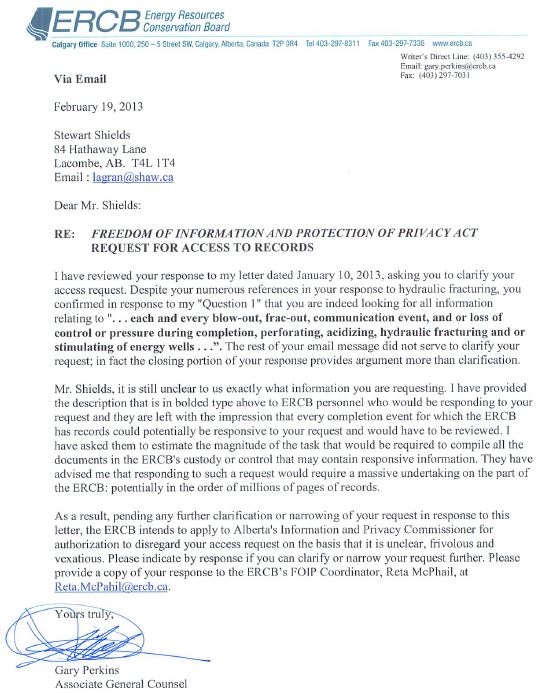 Reality Big Lie Check to ad by the Lochend Industry Producers Group (LIPG) in the Rocky View Weekly October 29, 2013 and Cochrange Eagle October 24, 2013: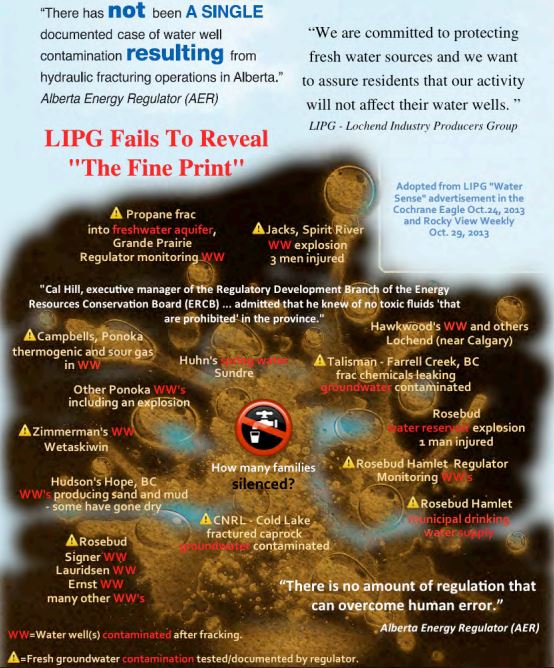 LIPG Fails to Reveal the Fine Print!
2014 04: Did Dr. John Cherry and his Council of Canadian Academies (CCA) Frac Panel Expert Report tell the truth and review the most damning evidence of contamination by fracing)? In the CCA frac report:

Why did they leave this out: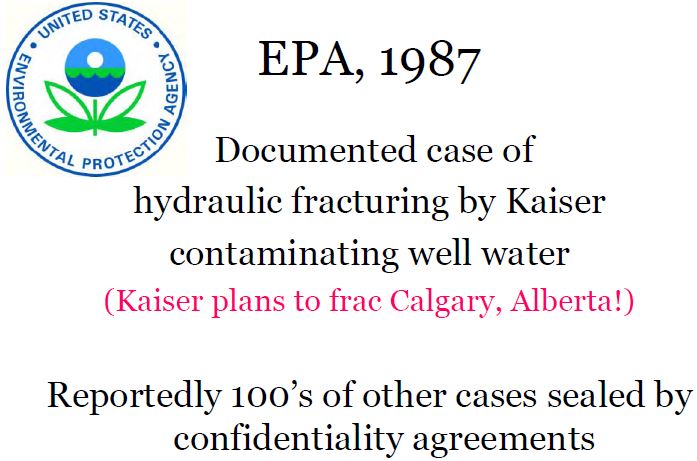 Slide from Ernst speaking events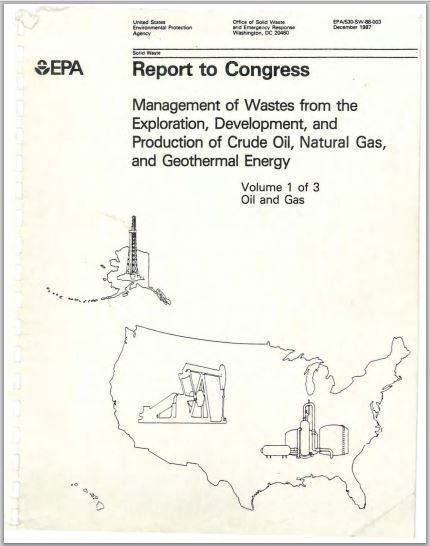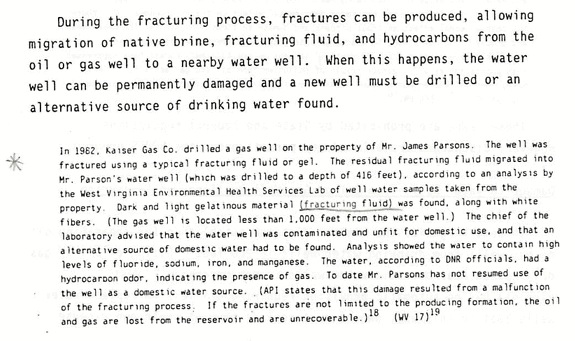 2014 Poster by BC Tap Water Alliance: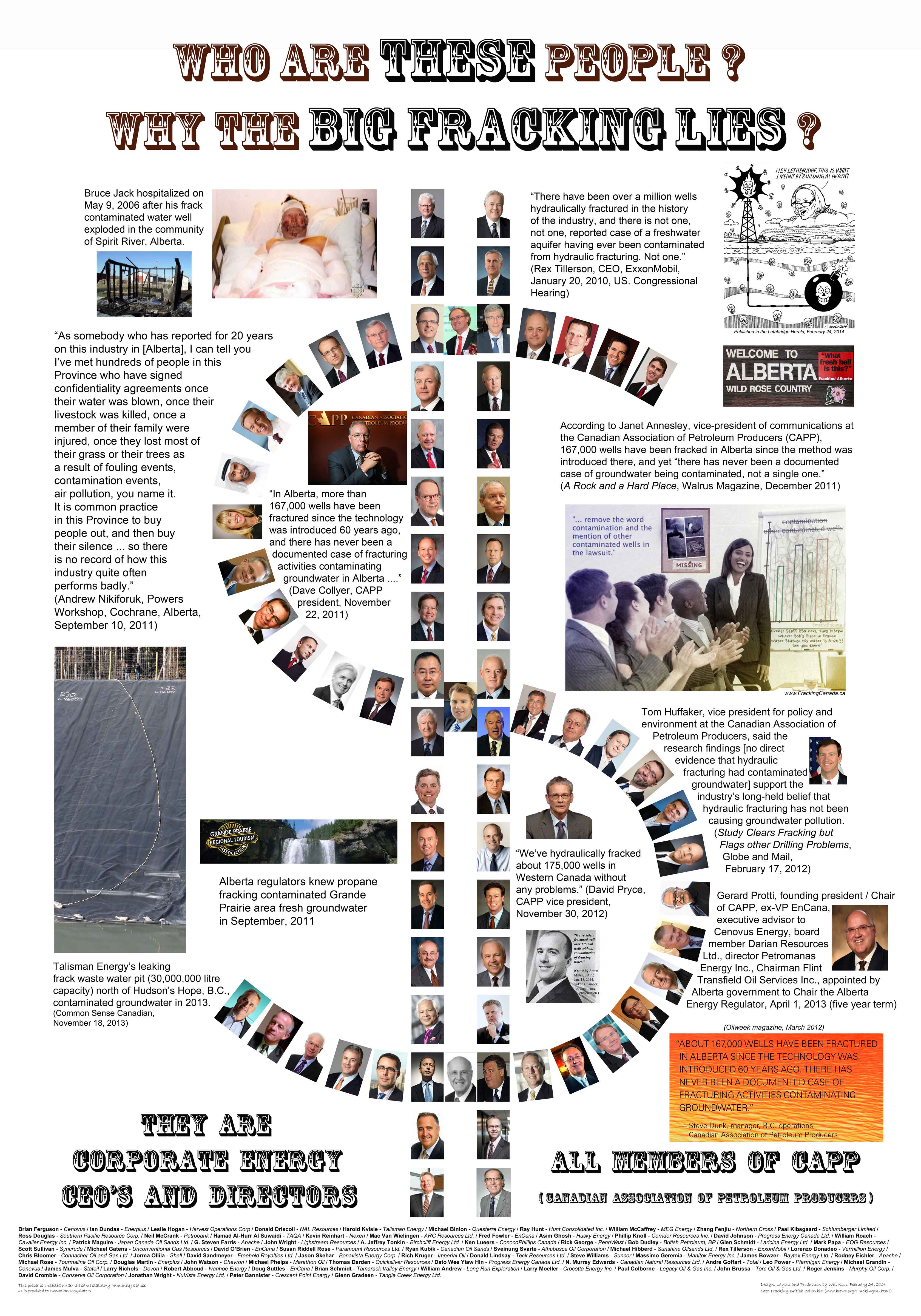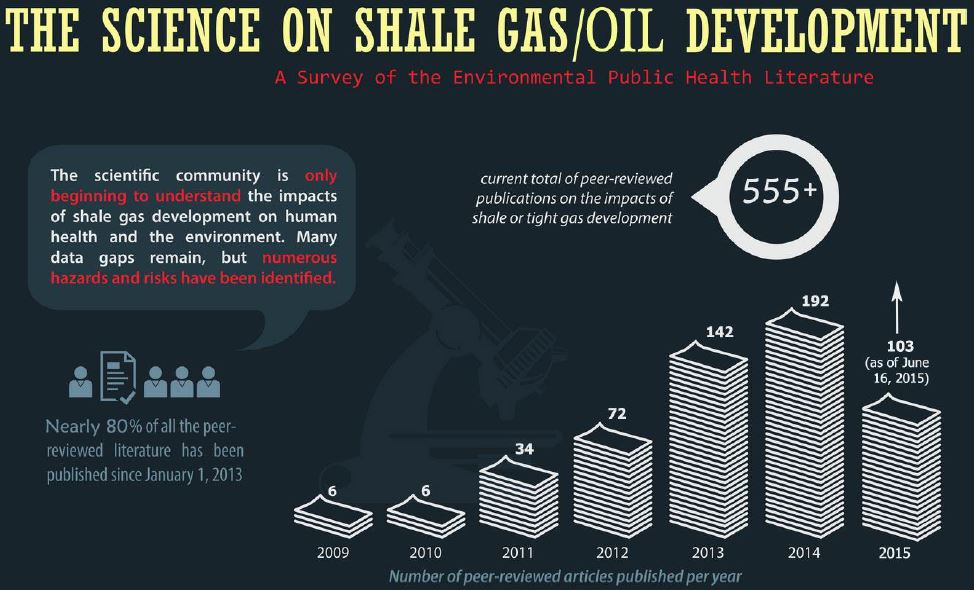 2015 06: PDF compilation by BC Tap Water Alliance of the PSE Science on Shale Gas and Oil Development (excludes all on CBM), now at >555 peer-reviewed, published papers, most showing significant hazards and risks.
…
How long will Canadian and provincial governments, and their expert propagandists, enable the cover-ups, frac lies and poisoning of families, communities, air, land and drinking water?
The Code (just voluntary deregulatory promises that mean nothing except propaganda, all the better to frac you and your loved ones and water with):
http://www.oilandgasinfo.ca/fracopedia/hydraulic-fracturing-code-of-conduct/
fracopedia?
How stupid do companies and their enablers think we are?