Midwife Attacked for Asking Why Babies Are Dying in Oil Boomtown by Anastasia Pantsios, January 12, 2015, Bill Moyers.com
Utah oil town turns against midwife who asked about infant deaths by John M. Glionna, January 10 2015, LA Times
Veteran midwife Donna Young prides herself on delivering healthy babies. In 20 years, she has coached hundreds of pregnant women in this energy boomtown. She calls them her girls.
When one mother delivered a stillborn infant in May 2013 — Young's first-ever such fatality — she grieved with the parents, who had a plaster cast made of the hands and feet of the daughter they named Natalie. While attending the funeral at Rock Point Cemetery, Young noticed new grave markers for seven other infants. Another five babies were soon buried there, she said, bringing the total to 13 for the year.
Young isn't sure how many were stillborn and how many died before their first birthday. Yet she knew one thing: All of the mothers had carried their babies to term in Vernal.
Young asked herself: Was this an aberration? Or was there a common cause? Could the deaths be tied to the oil industry, the region's economic powerhouse?
No one knows if the deaths are linked — a state investigation is underway — but the questions Young posed have unleashed angry and bitter feelings in this desert town of 35,000, where half the annual budget comes from oil and natural gas exploration. Even mothers of the deceased babies publicly insisted oil drilling wasn't to blame.
The midwife became a pariah. She got phone calls warning her to "shut up" or leave town. One caller said a few dead babies wasn't worth putting any heat on the oil companies. She was dismissed as a meddling midwife and pilloried on local talk radio and in Internet chat rooms. Recently, she found rat poison in the cattle feed at her ranch 40 miles outside town, although none of her animals got sick.
Meanwhile, some townsfolk suspect drug use and other unhealthy habits caused the infant deaths. "These oil fields guys drink a dozen Monster energy drinks a day. Many do drugs and exist solely on hot dogs," said Lucas Massey, 33, a natural gas operator. "With lifestyles like that, how can people even hope to have healthy babies?"
Seth Lyman, an air-quality researcher for Utah State University here, also doubts oil drilling is responsible, calling it "extremely unlikely that poor air quality in Vernal is the primary cause of an infant mortality epidemic." Yet air quality has been an issue in Vernal. A recent National Oceanic and Atmospheric Administration study showed winter ozone layers here spiked well above Environmental Protection Agency safety levels, though no studies have linked ozone to the deaths.
Mayor Sonya Norton called Young's questions an insult to a town trying to clean up its air. "People get very protective of what we have here," she said. "If you challenge our livelihood, it's considered personal." Using a portion of $100 million in mineral lease returns from energy companies, Vernal built a $15-million City Hall complex. "Without oil," she said, "this town would be a couple of storefronts and a gas station."
***
Young recalls the moment baby Natalie was born, how her head lolled and turned blue, how the child never took a breath. The mother remained stoic: "Whatever is meant to be, will be," she said. "It's in God's hands."
Days after Young spotted the graves at Natalie's funeral, she began checking obituaries and records at area cemeteries for stillborn babies and children up to age 1. In 2010, one in every 95 graves dug in Uintah County contained a baby, she said. For 2013, she said, the rate rose to one in every 14.
A 59-year-old mother of six, Young said that calling the newspaper isn't her style, so instead, she contacted Joseph Shaffer, then director of the TriCounty Health Department. Shaffer worried there might be something to Young's concern: More than a dozen dead infants in one year seemed like a high number for such a small community, he said, no matter what the cause.
He called for a public meeting on the matter and a few dozen residents attended, including elected officials, physicians and the parents of one dead baby. After Shaffer mentioned that Young's concerns prompted the meeting, many people treated her as an outcast. Doctors she knew from local hospitals scowled at her, she said.

The public attacks blindsided her. "I'm pro-oil," she said amid tears, in the town's modern brick-and-glass public library. "Two of my sons work in the industry. I want oil to be here, the economy to thrive."
In the end, county officials asked the state to investigate, and the Utah Department of Health is now studying infant mortality rates from 1991 to 2013 in Vernal and two other towns in the Uintah Valley to determine risk factors.
The fallout of the meeting was fierce.
A month after the public meeting, Young said, a doctor warned her that local power brokers were "coming after you politically; they're going to destroy you."
The local Ashley Regional Medical Center wasn't pleased either. "The physicians were very upset about her stirring this up," [Sounds like how Alberta and Federal Canadian medical/health/environmental officials responded to Dr. John O'Connor asking questions about the rare cancers in Alberta's Tarsands] said hospital spokeswoman Debbie Spafford. "Our take is that she went to the cemetery, counted a bunch of headstones and made a bunch of insinuations."
The public also attacked Shaffer. "Air quality is a touchy issue here," Shaffer said. He stepped down as health department director amid the tumult, and he feels for Young. "She's been treated unfairly," he said.

Recently, the community has turned up the heat on her.
"Donna Young is despicable," read one Facebook post. "What a fraud of a woman."
Another: "Shame on her!"
And another: "Who is this lady and where does she live? Doesn't she need to do some research before she spreads this kind of gossip?"
State officials say they rely on people like Young to inform them of potential problems. Said Sam LeFevre, program manager of the state's Environmental Epidemiology Program: "It's disappointing to know she's under attack for doing her civic duty."
***
In the fading afternoon light, Young walked the infant section of Rock Point Cemetery. She passed the marker for two infants lost by a Vernal mother in 18 months. At a nearby site, someone had left a tiny red toy tractor next to a boy's headstone.
The state health study is due in this year, but Young said the number of infant deaths in Vernal dropped to just two in 2014. Was 2013 just an odd spike? [Or did companies clean up some of their air polution to skew results of the study?]

Meanwhile, she keeps delivering newborns, advising her "girls" to filter their water and air. "I know that if I lose another baby, the powers in this town will crucify me," she said softly.
She's updated her will and stays on guard. "I keep searchlights on and turn the guard dogs loose after dark," she said. "And I keep a pit bull on the inside. I don't lose any sleep."
Neither do Vernal's oil industry supporters.
George Burnett owns a Main Street smoothie and juice bar called "I Love Drilling," which serves organic drinks named after U.S. oil wells, like "Slick," "Dirty Devil #22" and "Hogback #1."
He believes oil and healthy living can coexist. "Drilling," Burnett said, "brings the earth's energy to life." He called Young's questions "alarmist thinking that has gotten ahead of good science."
On one recent afternoon, he stood outside the shop, by a roadside sign reading "Honk If You Love Drilling."
The horns didn't stop blaring. [Emphasis added]
[Refer also to:
New York State to ban fracking because of red flags to public health. Health Commissioner Howard Zucker: "Would I let my child play in a school field nearby? After looking at the plethora of reports, my answer would be no."
Alberta Energy and Environment Regulators Play Catch 22: Fracking and ill health, Albertans take fracking head on
Bob Willard, Senior advisor at the Alberta Energy Regulator, agreed to speak about current regulations.
David Kattenburg: Why aren't these things being monitored for in the gases that are coming out from flaring and incineration stacks?
Bob: The long list that you've identified would be the responsibility for monitoring of not only the Alberta Energy Regulator, but the Environment department themselves, and I would direct you once again to ESRD for them to identify what their plans are relative to updating those guidelines.
David: I have actually, I've tried valiantly I'd say to try to get them to explain to me why they have these guidelines that say all industry MUST conform to these guidelines, and then I said well why does directive 60 of the Alberta Energy Regulator only establish monitoring requirements for sulfur dioxide and he said: "speak to the Alberta Energy Regulator." 
Bob: Um, it is important, and this is something the Energy Regulator does lead, is capturing the metrics of the volumes of material, so we do have good metrics as to the volumetrics.
David: But essentially nothing about the composition of those gases, other than sulfur dioxide.
Bob: A totally accurate composition, I would certainly volunteer that no, we do not have a totally accurate comprehensive information on the flare composition rather, we have it for the uh volumes, but not necessarily for the compositions. 
Full Interviews: Canaries in Coal Mines, Air Monitoring Appeals by David Kattenburg, December 14, 2014
New study links fracking to birth defects in heavily drilled Colorado, Risks of some birth defects increased as much as 30 percent in mothers who lived near oil and gas wells
Fracking might be as damaging as thalidomide, tobacco and asbestos, UK's Chief Scientific Adviser warns in new report: "In all these and many other cases, delayed recognition of adverse effects incurred not only serious environmental or health impacts, but massive expense"
Sounds like Alberta! Pennsylvania health officials ordered to ignore fracking-related health complaints, Former Department of Health employees say they were forbidden to talk about drilling
Fracturing our lives and how it affects us all presentation by Diana Daunheimer to The Alberta Surface Rights Federation, March 13, 2014, Camrose, Alberta, some slides below on Daunheimer's "good neighbour" Angle (now Bellatrix) by: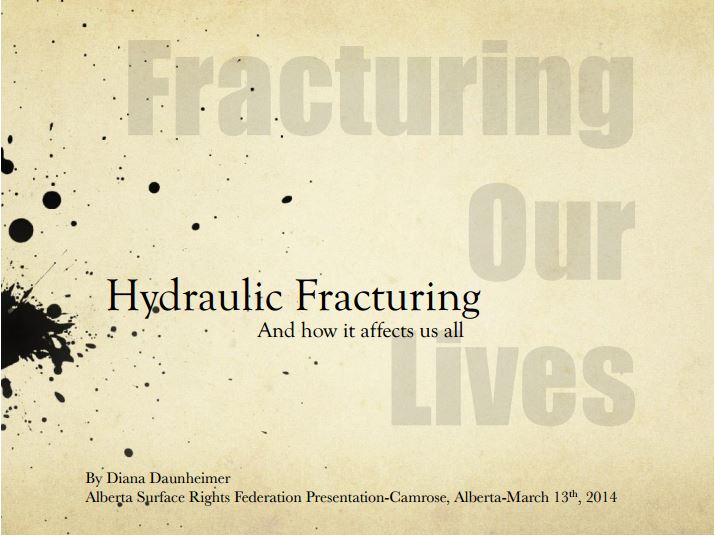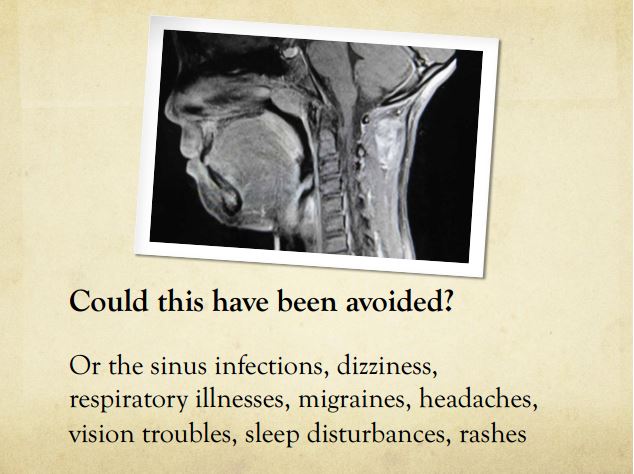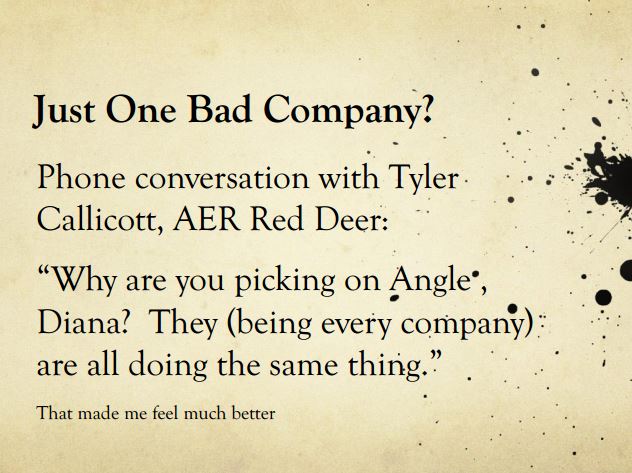 Water concerns a long, hard struggle, says Daunheimer family near Didsbury, Alberta
The Daunheimers near Didsbury, suing Angle Energy (changed to Bellatrix) for $13 million for causing harm to health, property, financial status, personal safety and water
Broken trust: Alberta family without answers about tarsands' health impact, When an Alberta mom met with an ear-throat-and-nose specialist in Grande Prairie about oil-sands emissions pollution, his advice stunned her
Dr. David Schindler: Tar Sands Science "Shoddy", "Must Change"
Slides below from presentation by Geoffrey A. Clark and Colin Murray WorkSafeBC: