The Forgotten History of the Controversial Sister Serpents:
"SisterSerpents Demolishing the patriarchy since 1989."
"Misogyny: Look it up. Stamp it out."
"Male-supremacy"
"Rape"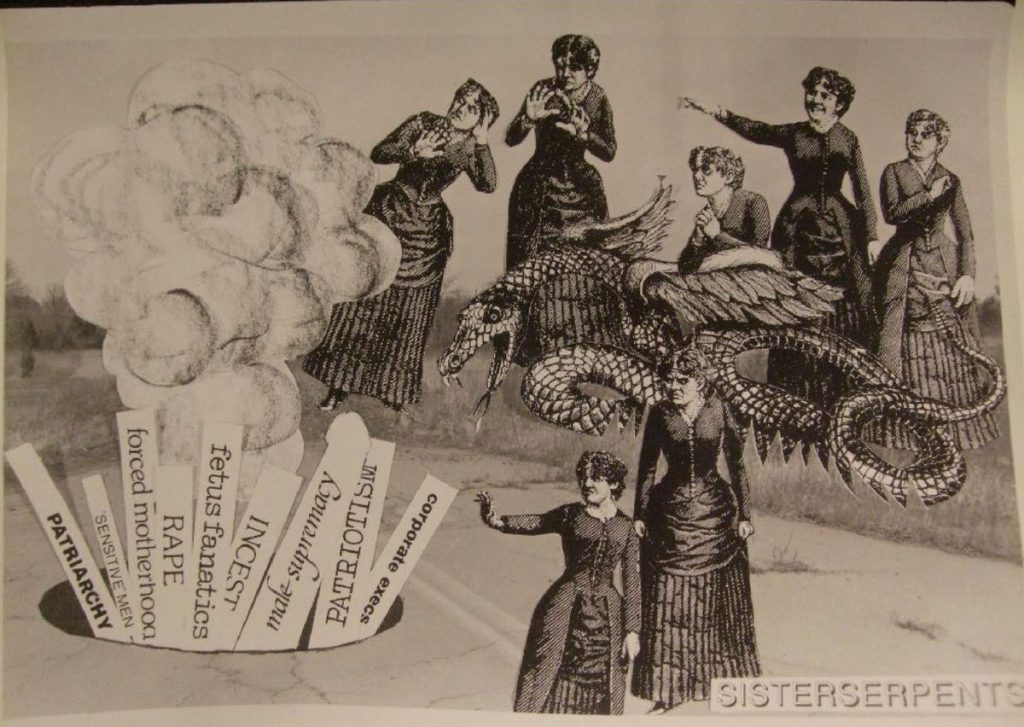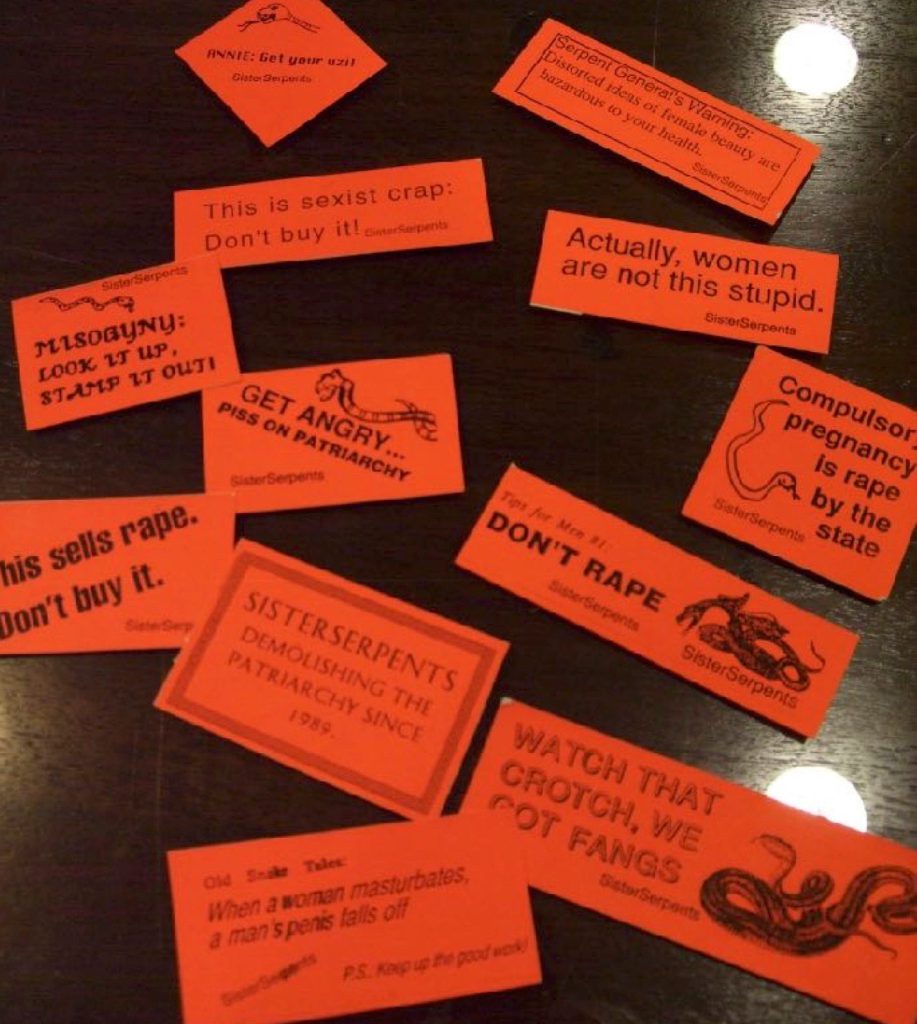 Ha ha ha ha! My favourite:
"When a woman masturbates, a man's penis falls off."
Ha ha ha ha!
Posters above by Sister Serpents
OPP officer guilty of sexual assault on unconscious woman and recording it to 'teach her a lesson', A judge found Jason Redmond made a video of the assault to 'prove' the victim had a drinking problem and 'to show that anybody could rape her' by Sabrina Bedford, Postmedia, Mar 29, 2023, National Post
An Ontario Provincial Police officer in Leeds County was convicted of sexual assault for having sex with an unconscious woman and recording it on his phone.
Jason Redmond, a constable with the Ontario Provincial Police in Leeds County, was found guilty of sexual assault in a Brockville courtroom last month for having sexual intercourse with a woman while she was unconscious.
A judge found Redmond also made a video of the assault on his phone to "prove" the victim had a drinking problem, and to "teach her a lesson" about how irresponsible she was when consuming alcohol.
"He made the video to show that anybody could rape her," Ontario Court Justice Janet O'Brien read in her ruling last month, recalling the testimony of one Crown witness.
Redmond, who has been on paid leave from the provincial police service since 2015 after being involved in a local drug trafficking operation, was charged with sexual assault in 2021.
He pleaded not guilty. His trial took place over two days this past August at the Brockville courthouse, and the decision was handed down on Feb. 16 in a judge-alone trial.
The OPP did not inform the public of the charge.
While the trial took place last summer, the assault itself happened in December 2017.
On the day in question, the victim had been drinking alcohol, the court heard, while both she and Redmond did cocaine many times throughout the day, as well.
The judge found the victim, over the course of a long day of drinking and drug use, eventually lost consciousness "either because she went to sleep or as a result of the effects of alcohol, or a combination of these."
The next day, Redmond told her about what he'd done – that he had sex with her while she was passed out, that he knew she wasn't aware of it, and that he had recorded it on his phone.
He tried to show her the video to prove how intoxicated she had been, she testified in trial, but she was embarrassed that she couldn't remember it, pushed his hand away, and went about her day as normal.
As time went on, the existence of the video eventually became known to many people in Redmond's inner circle, including several people who took the stand.
Over the course of the two-day trial, the court heard from several Crown witnesses, all of whom testified Redmond told them he had sex with the victim while unconscious, and made a video to "teach her a lesson," a court transcript reads.
Three witnesses testified to Redmond bragging and trying to show them the video, while a fourth testified to inadvertently finding the recording.
One of the witnesses, while testifying, said Redmond "was kind of laughing" when talking about the incident.
"He appeared to find what he had done funny and was making fun of (her)," one of the witnesses testified.
The OPP eventually became aware of the video's existence, prompting a criminal investigation in 2021, which led to the sexual assault charge against the officer.
Redmond argued the victim's inability to remember was not proof she did not consent. The judge found, however, that the Crown proved beyond a reasonable doubt that she "did not consent to the sexual touching either because she was unconscious or she was incapable of consenting."
The video was not shown as evidence in the trial, but the judge found the Crown had done its job proving its existence.
"Based on the circumstantial evidence, I find the only reasonable inference is that Mr. Redmond recorded himself having sexual intercourse with (the victim) while she was unconscious or in a state of near unconsciousness," the judge ruled.
This was further solidified when the victim testified she had no memory of the assault.
"(She) was unaware of any sexual touching. Mr. Redmond knew that (she) was unaware he had sexual intercourse with her."
The victim's identity and some of the circumstances surrounding the sexual assault are protected by a publication ban.
Redmond, who started working with the OPP in the mid-2000s, was involved in another high-profile case after being convicted of drug trafficking in 2015 stemming from his involvement with Project Arrowtown.
Project Arrowtown was a case where police "conducted an 18-month investigation into criminal activity by police officers in Leeds County," where an undercover officer posed as a petty criminal to connect Redmond and other officers with illegal drug activity.
Redmond pleaded guilty to a pot-trafficking charge and was found guilty of forging documents in 2018, but was not given jail time for his crimes.
He has remained on paid leave from the force ever since. On Wednesday morning, an OPP spokesperson confirmed that despite his several convictions, Redmond is still employed.
"I can confirm that Jason Redmond's employment with the OPP remains the same at this time. He is still on paid leave," Acting Sergeant Erin Cranton said in an email.
His name was included on the 2021 public sector salary list, where the province annually publishes the names of all public sector employees who were paid $100,000 or more.
He made $121,047.96 that year, according to the province.
Redmond is due back in court Apr. 14 for sentencing.
A few of the comments:
John Klassen:
It is beyond comprehension that this man has not been incarcerated, that his employment with the OPP has not been terminated and that he is still receiving his salary.
Raymond Wand:
Being paid for being a criminal. Only in Canada! Paints yet another terrible picture of Canadas justice system!
John Dowell:
Another violation of public trust is the secrecy of this whole business. Not the OPP's finest hour, for sure.
Will he finally be fired by the OPP?
Kevin Swiff:
Canada is a failed state. There is no hope.
John Snow:
Charged with drug trafficking in 2015 and on paid leave $121,000 ever since, while charged in 2021 with Rape and convicted of Rape in 2023, and still on government payroll, everyone in a senior position above this guy should be fired. All the way up to the top of the force. We civilians pay stupid high taxes on our incomes to our beer we purchase to our every day life items we buy, huge sums of provincial tax every year from our wallets and this is what we get, drug trafficking Rapists earning $121,000 a year from tax payers.
Nicolas Krinis:
Paid leave? Are you joking me?
Gillian Foster:
So when is this rogue goof going to jail. Rescind his Diploma from the Ontario Police College and fire him.

I doubt he'll to go jail or lose his free pay. I expect the patriarchy has instructed the judge to let him off to protect his good fortune and big money career, and most importantly, keep him out of prison so he can rape again and again and again (best way to keep women down trodden and serving the patriarchy is to keep raping us and taking the rights to our own bodies away). If the judge does give him prison time, he'll appeal, stay free on full pay, and the court of appeal will let him off for some fabricated reason like, "Poor dude, suffered enough already." Caveman Canadian "Justice" is misogynistic and serves the Patriarchy.

Chris Bennett:
So, effectively, he's been on paid vacation for almost 8 years. What a country
Teresa Cederberg:
On paid leave since 2015, seriously? What he did is sick, I hope he gets jail time for his crime, and stop paying him, enough already, talk about gaming the system.
Pat Daley:
Special Jail for Special People no doubt, hey thanks OPP for informing the public of a violent sexual offender living in your community, that makes us feel safe and to boot you're still paying him?.. no wonder the public has trust issues with the Police……
Marie David:
Cops/criminals: thin blue line.
Yvan Poulin:
No more morals or integrity. Every square inch of Canada and the US is corrupt to the bone.
Marion Bacon:
Shouldn't police forces conduct a psychological profile on their candidates to, you know, maybe screen out the dangerous sociopaths?
John mith to Marion Bacon:
They call it the psych test, but most say its the psychopath test
Rae Capri:
"He pleaded not guilty."
Dude, the video you took of yourself dunking your dinkus proves otherwise.
The police need to start doing far better security checks on applicants. Furthermore, either start performing in depth psych evaluations, if they haven't already been, or start performing much better quality in depth psych evaluations to weed out the socios.

In my view, the police and RCMP select for monsters; the patriarchy demands it, you know, to keep women down trodden and in our place. Like how our politicians put racists and misogynists on the bench to also serve the patriarchy, notably raping religions.

James Richard:
That is one sick and disgusting specimen of humanity; .
Nick Wendell:
Wait so you can commit a crime as a police officer and your "punishment" is a paid 8 year vacation courtesy of the taxpayer?
How is this possible?
Timothy Boyle:
I can only think of the hardworking and often struggling tax payers who are funding his unearned and totally unmerited income.
Cormoran Strike:
I feel like my head is going to explode. $121,000 X 8 years = $968,000, even though he was convicted of drug trafficking in 2015. He should have been fired then instead of continuing to receive a payout now totaling almost $1 million. … Absolutely disgusting!!!
OPP has been trying for years to fire officer convicted of recording sex assault on woman: commissioner, 'I know this is troubling for not only members of the public, but for our own members' by Sabrina Bedford, Postmedia, Mar 31, 2023, National Post
The commissioner of the Ontario Provincial Police says the actions of a Leeds County officer convicted of sexual assault are "unacceptable," and that his agency has been trying to fire him for years.
In response to the Recorder and Times story about OPP officer Jason Redmond being convicted in February of sexual assault for raping an unconscious woman and filming it on his phone to "teach her a lesson," the OPP said they have been trying to dismiss him from the force since he was first convicted of drug trafficking in 2018.
This process has been met with a series of delays and appeals, provincial police said on Friday, and the matter is still before an adjudicator.
Redmond remains on paid leave.
"I know this is troubling for not only members of the public, but for our own members who always seek to serve the people of Ontario with pride, professionalism and honour," OPP commissioner Thomas Carrique said in a media release late Thursday night.
"The OPP has been seeking dismissal of this individual since his initial conviction. This behaviour is unacceptable for any police officer and cannot be tolerated."
… But years before this conviction, Redmond was involved in another major local case involving illegal activity among OPP officers. This was in connection with Project Arrowtown, a situation where police "conducted an 18-month investigation into criminal activity by police officers in Leeds County," and eventually charged Redmond and other officers with illegal drug activity.
He was charged in November 2015, and subsequently convicted in October 2018, for trafficking a controlled substance and using a forged document.
He has been suspended with pay since the charges were laid in 2015.
Once convicted, Carrique says the OPP Professional Standards Unit laid charges under the Police Services Act to have Redmond dismissed.
This was initiated on Nov. 14, 2018, but the hearings were "delayed multiple times," OPP spokesperson Bill Dickson said Friday. The process continued until November 2022 when the adjudicator sided with the OPP and ordered Redmond be dismissed.
Citing privacy concerns, Dickson wouldn't elaborate on the nature of the delays.
Redmond immediately appealed his dismissal, further lengthening a years-long process.
The appeal is still before the Ontario Civilian Police Commission, with the next hearing scheduled for Jun. 15.
While in the process of trying to dismiss him for his 2018 crimes, Carrique says they began another investigation in August 2021 "related to allegations regarding numerous violent offences stemming from 2017."
Redmond was arrested and charged with sexual assault on Oct. 15, 2021.
The OPP did not inform the public of the charge, and Carrique said it was in an effort to protect the victim's identity.

Bullshit! Or should I say Rape Shit!?

The Police Services Act currently says an officer charged with a criminal offence can only be suspended with pay. In order for someone to be suspended without pay, the person must be convicted and be sentenced to a term of incarceration. Redmond was not given jail time for his 2018 crimes; he was placed on probation for one year by the court.

I expect he was intentionally not given jail time by our misogynistic courts to keep him getting free money of the citizenry while engaging in more crime. It's a specially designed racket, like self regulators for lawyers, judges and industry.

This enabled him to collect his salary during the OPP's efforts to remove him from the force, a process governed by the Police Services Act.
But changes are coming to that Act, according to the Office of the Solicitor General, particularly with regard to suspensions and collecting a salary while being charged with serious crimes.

Ya, like dinosaur super slow, the changes are fermenting, not coming, Caveman Ontario Doug Ford is making sure of that.

Hunter Kell, a spokesperson for the Office of the Solicitor General, said an overhaul to the controversial Act is on its way.
"No one convicted of serious and disturbing crimes like these should be receiving a taxpayer-funded salary," Kell said on Friday.
"Recognizing that, we brought forward legislation, the Community Safety and Policing Act, that once in force will allow a chief of police to suspend an officer without pay if the officer is charged with a serious offence."

Bla Bla Bla, lots of rape-enabling hot air. See Sun article below.

The new act will replace the Police Services Act, and Kell confirmed the ministry's target is to bring it into force between fall 2023 and early 2024.
Carrique confirmed Redmond is still facing "17 additional serious criminal charges including assault, aggravated assault, assault with a weapon and others in connection with multiple victims."
He asked that the public not judge all police officers for the actions of one.

Of course we will! We also judge Ontario police officers by how the bastards helped the fucker truckers break the law for weeks, and harass and harm the residents of Ottawa. It's not just one bad cop. It's many.

"Daily, in service to the public, OPP officers exhibit and exercise integrity, honesty and courage. We encourage everyone to recognize this and to not judge all officers by the actions of this specific individual."
Lyn Chapman:
Just fire him and let him sue for improper dismissal. That should have been the outcome years ago. As it stands, this convicted criminal has disgraced the OPP and continues to disgrace it by playing the system like a fiddle. No wonder he has a big smile planted on his face in the media. As it stands, since 2015, this individual has received around one million dollars in pay that he has never earned. A civil suit for improper dismissal likely would have cost a small fraction of this.
John Smith:
You cannot fire a cop until until he goes to jail
Russell Clark:
Anybody else and they would find themselves behind bars in days.
Doug Locke:
OPP union hopefully is not paying for this mans lawyer

I'm sure they are, just like we are forced to pay for J Russell Brown's lawyer(s) while fighting to keep his job as judge on the supreme court of caveman canada, even if the investigation finds him in the wrong, and recommends his removal. We have to pay his legal bills, even if they are in the millions. And because J Brown is also on paid leave, and doesn't have to pay a penny in legal costs, the lawyers involved I expect will not give a damn about wasting time, or being economical or fair in their billing

. He raped her off duty , just sickening that he is still getting paid .
Drew Kerr:
And a teacher gets a pronoun wrong, or repeats a historically accurate fact, and they're gone. Weird.
Doug Ford government foot-dragging means rapist cop can't be fired, The Ford government passed a law four years ago to make it easier to suspend or fire cops facing serious charges, it never came into force by Brian Lilley, Mar 31, 2023, Ottawa Sun
… Redmond hasn't worked for the OPP in nearly eight years but still shows up on the province's sunshine list as earning $121,000 to sit at home. He should be fired but right now the OPP can't fire him because even the law won't allow it.
What's worse still, is the Ford government passed a law in 2019 making it easier to fire wayward officers and to suspend those facing serious charges without pay but they never proclaimed it, meaning it never came into force. Now, facing tough questions over Redmond, they are blaming COVID.

Pfffft. Ford had no trouble giving the green belt to his rich buddies during COVID, massively privatizing public health, coddling the fucker truckers, and and and and

… The Commissioner explained in a statement that Section 89 of the Ontario Police Services Act states that unless an officer is both convicted and sentenced to jail, then they can only be suspended with pay.
… It's an infuriating situation. It's even more infuriating when you realize the Ford government's Community Safety and Policing Act, passed in March 2019, would have taken care of this. It's been sitting there for four years without being proclaimed.
Why would you pass a law and then not proclaim it?

The Patriarchy demands it. Like raping religions settling and gagging families of their victims, then shuffling the vile men to another community to keep them raping, and then the next community and the next. And, like oil and gas companies settling and gagging their endless victims so they too march happily down the street to rape another community, and another and another, again and again (as so aptly explained by AER's outside counsel Glenn Solomon). Not putting the law into place keeps this rapist, and likely many others we don't know about, rewarded.

This kind of reform has been called for by police chiefs for years. Ontario is currently the only province where officers can't be suspended without pay no matter how serious the charge.
Police unions, meanwhile, have been ferociously opposed to any such change. Now, in the face of Jason Redmond, would be a good time for them to stop fighting and be cooperative.
Senior officials in the Ford government deny that the four-year delay in proclaiming the bill has been due to not wanting to irritate police unions and maintain the main factor was COVID-19. Take that claim with a giant grain of salt because while at times the pandemic was all-consuming for the province, there were still plenty of other pieces of legislation worked on.
This just wasn't a priority.
As it stands, officials at the Solicitor General's office have confirmed that regulations are being worked on to give definition to the law. Those regulations, which will include establishing what offences are serious enough to warrant suspension without pay, need to be in place before the law comes into force.
The hope now is that will take place late this year or early next year.

I doubt it'll ever happen and "hope" will not help. Patriarchy will never allow it, or, if it does happen, the law will be loaded with loopholes to protect rapists and other abusers of women.

When it happens it will be a welcome change and while the Ford government deserves credit for doing something no other government in Ontario has been willing to do, it has taken too long.
Premier Ford needs to make this a priority now and make clear to the Solicitor General, and the officials under him, that this needs to be taken care of sooner rather than later. No more foot dragging.

Refer also to:
New low for self-regulating rape industry, oopsie daisy, I meant legal industry. Lawyer, Dan K. Purdy of Missouri, not disbarred for sexual assaults of six clients (some in open court), gets one year suspension for "egregious and outrageous conduct." Creepy, like Steve Harper's Supreme Court of Canada J Russell Brown, and lawyer Robert Regular and his lawyers. No wonder self-regulation of lawyers and judges is clung to with quasi-religious fervour like rape religions cling to kids and tax free status
Give the middle finger to most judges!
I flip my middle finger and say "Shame on you!" to the court in the Jody Vance case for disallowing "shame on you" in her victim statement and for their lame sentence. WTF?! Misogyny and enabling abusers of and abusing women by Canada's legal-judicial industry must stop
"It's the judges!" enabling rape and murder of women. No kidding. In Canada too.