J.L.Petrie@Jlpetrie64 March 9, 2023:
New ABCA Chief Justice Khullar:
"The bravery and the commitment it takes for people to stand up and fight for themselves is quite remarkable. It is our business, but you can never underestimate how terrible it is for people to be involved in the legal system."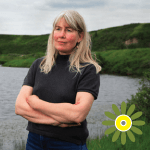 If the above quote is true (I no longer trust lawyers to tell the truth), how I wish J Khullar had been Court of Queen's Bench Chief Justice during the judicial-political circle jerk extravaganza my case endured instead of Steve Harper's Switcheroozie CJ Neil C Wittmann. My case might have gotten somewhere for the $400,000.00 wasted on legal fees, photocopying (expensive polluting unnecessary waste of trees), court costs, etc. (which judges took advantage of to please their Lord Harper by using my case and suffering to damage our Charter, and denigrate me in rulings). An additional $100,000.00 was wasted that I paid myself out of pocket. That's most of my life's savings. Gone.
I recently read a lawyer saying that judges never rule on a hearing they did not hear. Not true! CJ Wittmann did. He ruled on my 2013 hearing heard by J Barbara Veldhuis after Harper yanked her from my case. Circle Jerk Justice.
PS I still live with life threatening frac contaminated water and must drive two hours to haul alternate supply. Terribly expensive at today's high fuel and vehicle maintenance costs and an upsetting waste of time.

Some of the responses to this are hilarious, as is the Judge's Give the Middle Finger ruling:
@deluracct Replying to @rcraiggilchrist:
Celebration? I'm sorry, why did it go all the way to trial then? Guy was dragged through the muck and endured financial burden for two years. Sounds like grounds to me.
@darthclarick Replying to @rcraiggilchrist:
Not to be pedantic, but my right wasn't "God given"
Oxford Comma, Etc. – abosc33 m-word sdf org@abosc33 Replying to @rcraiggilchrist:
This is great. But I'm very confused about how a prosecutor seriously litigated this case if it was this ridiculous. What's going on there??
Michele Rajput@dsmyxe Replying to @rcraiggilchrist:
My favorite quote: "Since I'm hesitant to draft an entire decision in bold and caps-lock characters, I offer the following observations instead."
Baker@bakerhtown Replying to @rcraiggilchrist:
Christ on a cracker, what did I just read? The complainant sounds like a Canadian Donald Trump
@JustTryin2GetBy Replying to @rcraiggilchrist:
Everyone must read that ruling in its entirety.
Shame the Crown thought it was in the public interest to proceed.
Giving the middle finger is a 'God-given right', Canadian judge rules, Gesture may not be civil or polite but 'it is not a crime' and is protected under Canada's constitution, judgment says by Agence France-Presse in Montreal, Canada, 10 Mar 2023, The Guardian
Giving your neighbour the middle finger may not be polite but is protected as part of a person's right to freedom of expression under the Canadian constitution, a judge has ruled.
In a 26-page decision, Judge Dennis Galiatsatos of the French-speaking province of Quebec dismissed a case against a man accused of harassing his neighbour in a Montreal suburb.
"To be abundantly clear, it is not a crime to give someone the finger," he said in a ruling dated 24 February.
"Flipping the proverbial bird is a God-given, charter-enshrined right that belongs to every red-blooded Canadian," he added, referring to Canada's charter of rights and freedoms.
The accused, Neall Epstein, a teacher and father of two, had been arrested by police in May 2021 for threatening and flipping off his neighbour in Beaconsfield, Quebec.
The gesture "may not be civil, it may not be polite, it may not be gentlemanly… nevertheless, it does not trigger criminal liability," Galiatsatos ruled.
The judge added that despite common vernacular, "cases aren't actually thrown out", but that in this matter "the court is inclined to actually take the file and throw it out the window".
"Alas," he said, "the courtrooms of the Montreal courthouse do not have windows."