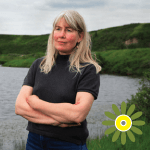 I've been horrified by Canada's racism for decades now; I boycott Canada Day because of it.
For many years now, I also boycott Remembrance Day and fake poppies because of Canada's war mongering while our sleazy politicians propagandize to the world that we are a peace enabling nation. Pfffft.
I remember and honour those who died for our freedoms and rights by growing real poppies in my garden instead. I remember. Every day. I am part jewish. Still, I remember.
AER ruled me a terrorist, in writing, without any evidence, trial, hearing, and without giving me the chance to hire a lawyer to defend myself against their fabrication intended to terrify me quiet (and stop me publicly talking about AER's/Encana's crimes). Courts ruled there is absolutely no evidence of me being a terrorist, yet AER still has not written me to apologize and undo their perverse ruling. Corrupt rape-enabling cowards.
Who are the real terrorists?
Bibi and Putin and their racist ilk – including Canada.
***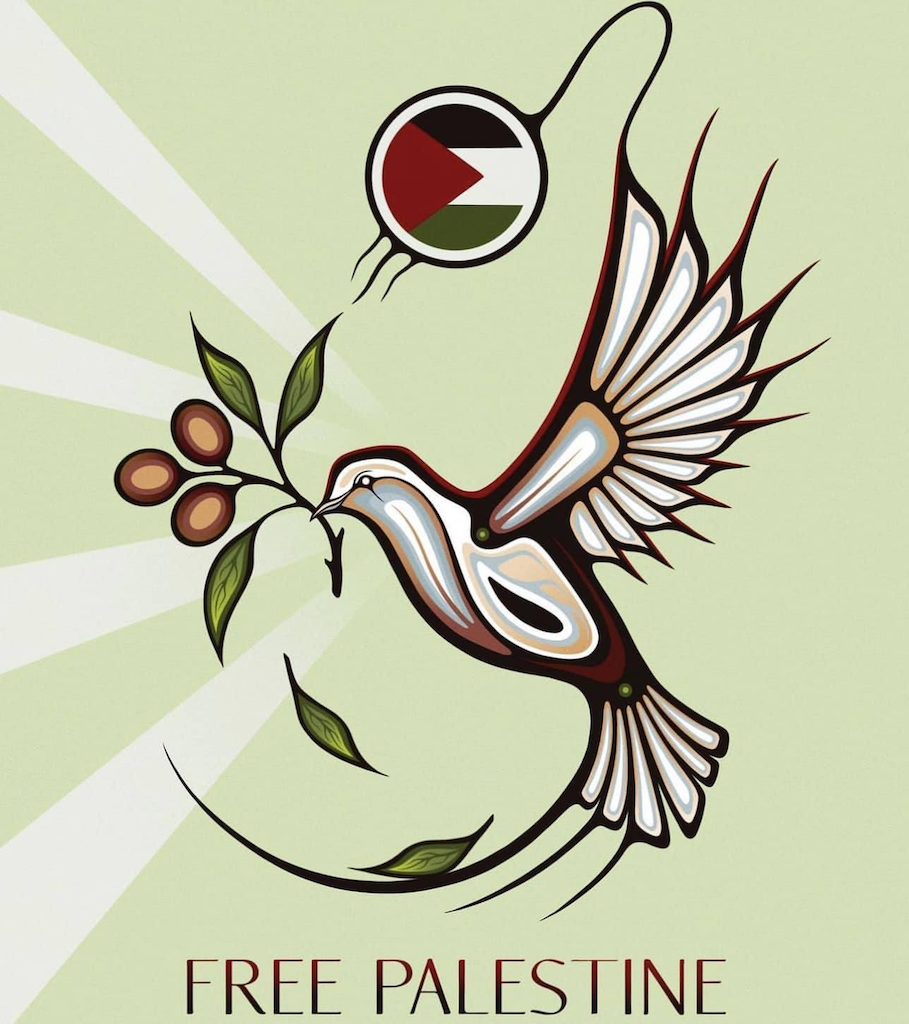 Art for Palestine by Anishinaabe artist Emily Kewageshig
***
END ALL COLONIALISM, FREE PALESTINE@BreeNewsome:
Nothing about this is complicated unless you struggle to see Palestinians as equally human
***

Instead, Canada voted like this, serving profits for Encana/Ovintiv et al and the war machine?

***
2023 10 30: Israel grants 6 companies with gas exploration licenses
***
tweety bird@tweetybird1111:
Anti Zionist protesters ,not anti Semitic. Again Zionist capitalizing on Palestine tragedy.Zionuts steal everything not nailed down
bronwen algate #proudprole@only2beyourself:
The irony of bleating about racism when you are literally pounding another people into the rubble of their city with race hatred. ALL racism is a blight on our humanity
Adrian Harewood@CarAdrianH:
Canada was one of 7 countries in the 192-member United Nations to vote against a resolution (Nov.9) calling for an end to illegal Israeli colonization of territories seized by military force in contravention of international law. The UK, France,Italy,Germany voted in favour.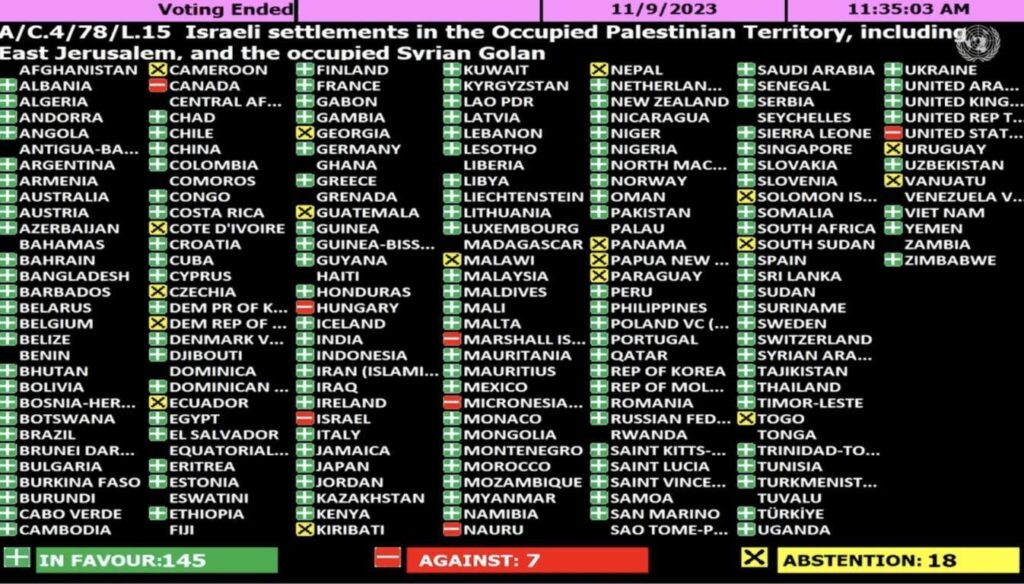 Dr. Anastasia Maria Loupis@DrLoupis:
The United Nations has just voted 145-7 in favor of a resolution condemning illegal Israeli settlement building in Palestine (inc. East Jerusalem) & Syria.
The countries voting against the bill:
Israel
USA
Canada
Hungary
Marshall Islands
Micronesia
Nauru
Mahreen @tweetwithmarry:
These countries are supporting war
Unbranded@Unbranded63:
As a Canadian, I am deeply disappointed by this. This is a shameful abdication of our duty to uphold justice and human rights.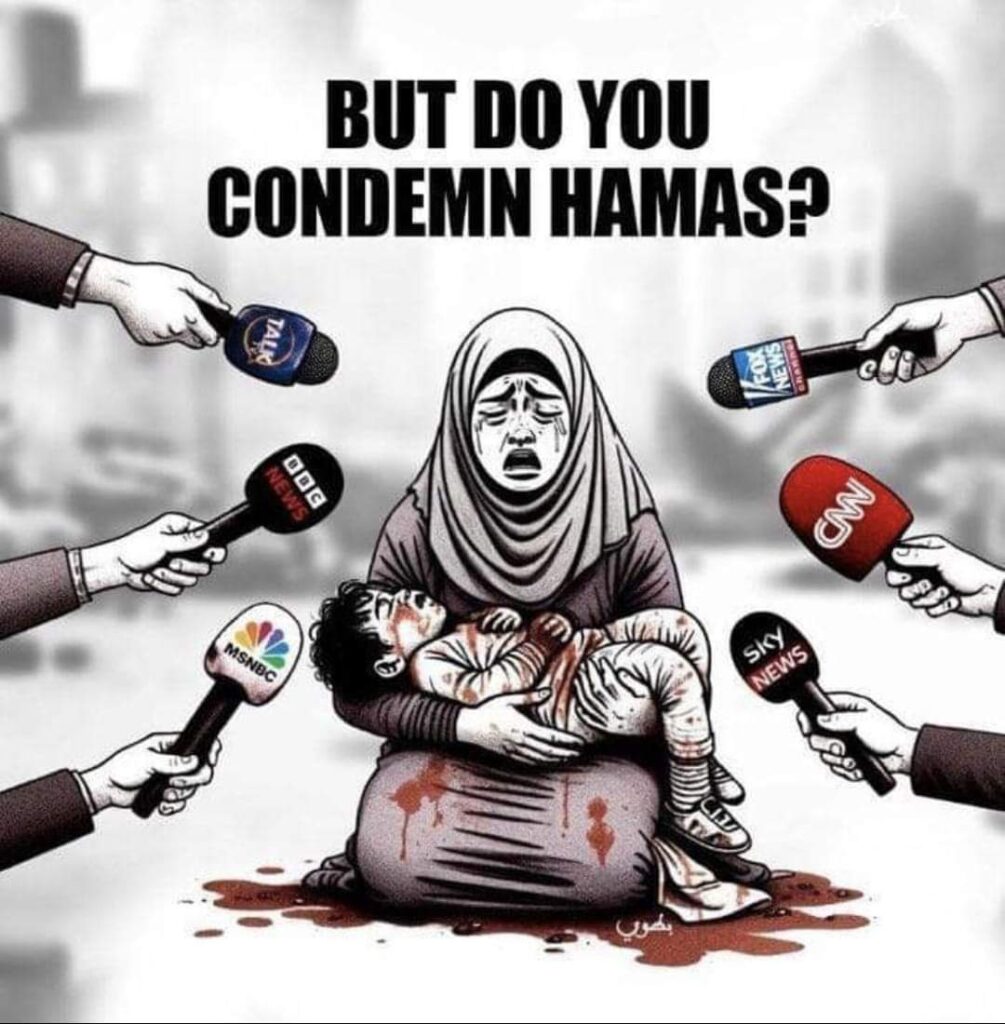 Gillian Scobie@ScobieGillian:
We're just America's lackeys.

I call our country America's armpit. We're stupid, cowardly and pathetic, we give Americans our natural gas at less than cost of production, thanks to betrayer of Canadians and the environment, Brian Mulroney, and his vile NAFTA. Wait until America sucks up the remaining water frac'ers leave Canada as we try to fight wildfires.

Saad @supersaadx3:
Canada's only foreign policy is "do whatever the USA wants" we have no foreign policy.
@MsOshya@BobRae48:
What is this disgrace? Is the Canadian government against international law? How do you justify this vote?
@zeroguerre:
Canada is Uncle Sam's mean little brother.
Stop the genocide in Gaza@residentJihadi:
Canada is Nazi rot
Alena Edwards@apalled666:
They proved that when they celebrated the SS Waffen Nazi in parliament.
Brendan Youngberg@YoungbergYYZ:
"Two-State" is an absolute farce if Canada cannot even vote against illegal settlements that have utterly abrogated Palestinian land.
Actions over words every time. Canada is Anti-Palestinian.
Kerri Claire@kerriclaireneil:
Its gross how many Canadian MPs will be getting their Remembrance Day photo ops today while supporting genocide in Palestine.
Nagito Komaeda@TNEUKUNI:
hamas offered to free EVERY HOSTAGE if they stopped the bombing on gaza, guess what israel did ??? THEY SAID NO.

Of course they said no. Bibi doesn't give a shit about Israelis. It appears Bibi and his fellow thieving terrorists planned and nurtured the Hamas attack to set up global support and financing for Israel's genocide of Palestinians.

Avnish Nanda@avnishnanda:
Embarrassed by @BobRae48 — was this approved by @melaniejoly or @JustinTrudeau, or is Rae, who has no business acting as an ambassador, freestyling here, as he's done throughout this conflict
Let's be real — @BobRae48 appointment was a patronage one, and not only has he voted for something (mind you, not abstain) that is illegal, immoral, a barrier to an enduring peace, a stark departure of the policies and statements of his govt, but tarnishes Canada's intl standing
Mix@mix_page_pk:
Canada
USA
Hungary
Israel
The axis of evil…
Ammo@ReasonTox:
Zionists will view everything after 7th of October as a loss, if they do not succeed in ethnically cleansing Gaza. It's not about Hamas, they want all of the land. The efforts to this are very apparent
Matt Kennard@kennardmatt:
This degree of savagery may be new.
But Palestinians have suffered this violence—at varying degrees—every day for 75 years.
The Zionist movement built a state on other ppl's land. Whole project is predicated on subjugation and annihilation of the Palestinian people.
Wake up.
Doctors Without Borders / Médecins Sans Frontières@MSF_canada Nov 11, 2023:
"We're on the fourth floor, there's a sniper who attacked four patients inside the hospital. One of them has a gunshot wound directly in his neck, and he is a quadriplegic [patient], and the other one [was shot] in the abdomen." #Gaza
Dr Mohammed Obeid in Al-Shifa hospital.
MSF urgently reiterates its calls to stop the attacks against hospitals, for an immediate ceasefire and for the protection of medical facilities, medical staff and patients, and to allow people who wish to leave the hospitals to do so.
Gaza: Patients and medical staff trapped in hospitals under fire by Doctors without Borders, Nov 11, 2023
ATTACKS MUST STOP NOW
Over the past 24 hours, hospitals in Gaza have been under relentless bombardment. Al-Shifa hospital complex, the biggest health facility where MSF staff are still working, has been hit several times, including the maternity and outpatient departments, resulting in multiple deaths and injuries. The hostilities around the hospital have not stopped. Doctors Without Borders/Médecins Sans Frontières (MSF) teams and hundreds of patients are still inside Al-Shifa hospital. MSF urgently reiterates its calls to stop the attacks against hospitals, for an immediate ceasefire and for the protection of medical facilities, medical staff and patients.
"We are being killed here, please do something" texted one of MSF nurse from Al-Shifa hospital basement this morning, where he and his family were sheltering from the incessant bombing. ​​"four or five families are sheltering now in the basement, the shelling is so close, my kids are crying and screaming in fear."
"The situation in al-Shifa is truly catastrophic. We call on the Israeli Government to cease this unrelenting assault on Gaza's health system. Our staff and patients are inside Al-Shifa hospital where the heavy bombing has not stopped since yesterday"Ann Taylor, MSF's Head of Mission in Palestine
Al-Shifa hospital is the principal hospital complex in Gaza Strip, with 700 beds, providing emergency and surgical care. There are currently no other facilities in the Strip able to admit and treat as many patients with complex, sometimes life-threatening injuries. Despite regular attacks and shortages, the staff has managed to keep the hospital operational. Yesterday, Al-Shifa hospital lost electrical power. The ambulances can no longer move to collect the injured, and non-stop bombardment prevents patients and staff from evacuating. At the time of writing, our staff are witnessing people being shot at as they attempt to flee the hospital.
"There are a lot of patients already operated on and they cannot walk. They cannot evacuate. We need an ambulance to move them, and we don't have ambulances to evacuate all of these patients. We cannot leave. We cannot leave because from [yesterday] morning until now, we operated on about 25 patients. If I am not here or the other surgeon, who will take care of the patients? There is a patient who needs surgery, another one is already sleeping [under anesthesia]."Dr. Mohammed Obeid, MSF surgeon at Al-Shifa hospital
MSF denounces the death warrant of civilians currently trapped in Al-Shifa hospital signed by the Israeli military. There needs to be an urgent and unconditional ceasefire from all warring parties; humanitarian aid must be supplied to the entirety of the Gaza Strip now.
MSF has lost contact with a surgeon, working and sheltering in Al-Quds hospital with his family. Other health facilities, including Al Rantisi hospital which MSF has also supported in the past, were reportedly surrounded by Israeli tanks.
Ceasefire now
We urge the US, UK, Canada, Member states of the League of Arab States, Member states of the Organisation of the Islamic Cooperation and the European Union who have repeatedly called for the respect of International Humanitarian Law (IHL) to take action to ensure a ceasefire now. The horrors unfolding before our eyes in Gaza clearly show that calls for restraint and adherence to IHL have gone unheeded. Working purposefully to reach a ceasefire is the most effective way to ensure the protection of civilians.
Thousands of people have been wounded since October 7, many of whom are in critical condition and will require complex surgeries and sustained treatment for weeks, if not months. This can only be done with a total ceasefire and the unconditional supply of humanitarian aid including access to food, fuel and water; the survival of people in Gaza depends on this.
About MSF in Palestine
The information about our response, below, is correct as of Oct. 26, 2023
MSF activities in Gaza are currently very limited. We have extreme difficulties delivering aid and providing healthcare due to the insecurity and the unpredictability of the bombardments. While some of our colleagues decided to move south following the unacceptable evacuation order of north Gaza, some of our other colleagues have remained in northern Gaza and continue to support in lifesaving activities in Al Shifa Hospital as well in Al Nasser hospital in the south. In Al Awda hospital, a team of seven MSF staff is also working in the MSF inpatient department.
We are also supporting local health authorities with donations from our medical stock. Due to the huge and uninterrupted influx of wounded people since the beginning of the current active conflict, Al Shifa Hospital, the main surgical facility in the Gaza strip, was on the brink of a complete shortage of essential medicines. In response, we recently were finally able to make a large donation of medical stock, including medicines and medical equipment to Al Shifa hospital.
Our staff are working hard on preparing medical and humanitarian supplies to be sent to Gaza when safe access will be guaranteed and open, and we'll send in emergency teams if and when we're able to.
MSF is committed to supporting the people affected by the Israeli heavy bombardments and indiscriminate attacks on Gaza. We stand in solidarity with healthcare workers and patients in Gaza. We want to be able to access people in need of medical care and offer lifesaving humanitarian services, but to do this we need basic guarantees of safety.
The West Bank
MSF's medical and humanitarian activities in the West Bank have been affected by the escalation of violence and the reinforced movement restrictions that have limited people's access to essential services, including healthcare. To adapt to the situation, MSF medical teams are providing phone consultations for Palestinian residents and displaced people, and referring patients for medical treatment, mental healthcare and social services. MSF mental health teams are also providing psychological first aid, counselling and psychotherapy, mostly remotely. In the West Bank city of Nablus, MSF teams are continuing to provide local people with mental healthcare.
MSF has donated medical supplies, including surgical kits, to Ahli hospital in Hebron, and first aid kits to community focal points in Beit Ummar, Al-Rashaydeh and to the emergency care centre in Um Al-Khair; and provided support including training for staff in Al Mohtaseb Hospital located in Hebron old city. MSF continues to assess the situation in hospitals across the West Bank.

Refer also to:
Free Palestine. BC's Jenny Kwan: "Canada must end arms sales to Israel and condemn settler attacks in the West Bank." Benjamin Netanyahu is proving himself worse than Hamas and must step down. Stop using our tax dollars to murder Palestinians