NDP promises to ban gas drilling in urban areas by James Wood, May 21, 2015, Calgary Herald
As the energy industry braces for a royalty review and other policy changes from the incoming provincial government, the NDP plan to put an end to urban drilling for natural gas is being watched closely by the oilpatch and municipal officials.
The NDP platform in this month's Alberta election campaign pledges the incoming government will ban gas drilling in urban areas. In opposition, the NDP had previously called for a ban on all drilling — oil and natural gas — within urban boundaries, but there was no immediate explanation for the more modest platform pledge.
Ward Sutherland, Calgary city council's point person on the urban drilling issue, said he hasn't seen a reason for the NDP differentiating between oil and gas drilling. The Ward 1 councillor said he doesn't necessarily agree a ban is needed, but believes municipalities need more control over drilling within their borders. "We're not opposed to urban drilling. We're just opposed to having no rules and we can't control it and have it in the right spots," [LIKE THE CONTROL COMMUNITIES JUST HAD RIPPED AWAY IN TEXAS?] Sutherland said in an interview.
Sutherland said he and Lethbridge Mayor Chris Spearman had been pushing the Progressive Conservative government on the issue — the issue has erupted in both cities in recent years, with public opposition towards corporate plans to drill in the communities — but little happened.
"We didn't get very far with it to be honest. I was really kind of disappointed," he said this week. "I think we'll get better progress with the new government."
According to the Alberta Energy Regulator, there were 26 applications for new wells in urban areas — defined as towns and cities under Municipal Affairs criteria — with none in Edmonton and Calgary. The regulator approved 22 of the projects, while four of the applications were closed.
The Tory government had been looking at new rules around urban drilling since 2012, when a controversy arose over a planned oil well in northwest Calgary. At the time, Sutherland was part of the Rocky Ridge and Royal Oak community association that had raised concerns over the well.
The issue became particularly contentious in Lethbridge, where Goldenkey Oil backed away last year from plans to drill for oil in the face of opposition from the community and city council.
Both incoming NDP MLAs elected from the southeast Alberta city — Shannon Phillips and Maria Fitzpatrick — were involved with No Drilling Lethbridge, a group that sprung up to oppose the development.
Alberta's energy sector has raised concerns about a number of NDP policy pledges, including a planned review of the province's energy royalty structure, a corporate tax hike and tougher rules around greenhouse gas emissions.
The idea of ending urban drilling, whether a blanket ban or a halt to gas drilling, is also causing concern.
Brad Herald, vice-president of western Canadian operations for the Canadian Association of Petroleum Producers, said the existing system under the Alberta Energy Regulator — which includes mandatory setbacks and consultation with affected parties — is working well.
"It's all about safe operation," Herald said in an interview this week. "The oil and gas industry in Alberta has a long history of being in and around and proximal to people and communities. There's a track record there."
He said granting new authority to municipalities to oversee urban drilling is also problematic as it could potentially lead to different standards across the province.
Last week, CAPP struck a committee to work with the new government on energy issues and Herald said the drilling promise will be on the agenda for discussions.
A spokesperson for premier-designate Rachel Notley, who will be sworn in with her new cabinet on Sunday, did not respond to a request for comment on the incoming government's urban drilling policy.
NDP MLA Brian Mason, the new government house leader, said he couldn't speak to the policy in the platform but said urban drilling has been an ongoing issue for years in Alberta. "Pardon the pun, it flares up from time to time," Mason said in an interview this week. "It's usually around some specific proposal around which there's a great deal of concern locally." [Emphasis added]
[Refer also to: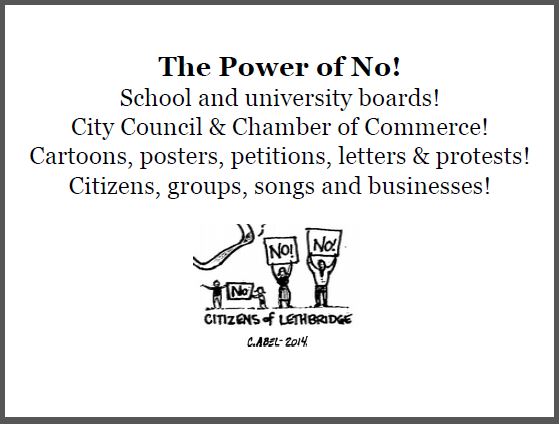 Slide from Ernst presentations
2015 05 01: Fracing's long reach: New Study says Fracking Wells Could Pollute The Air Hundreds Of Miles Away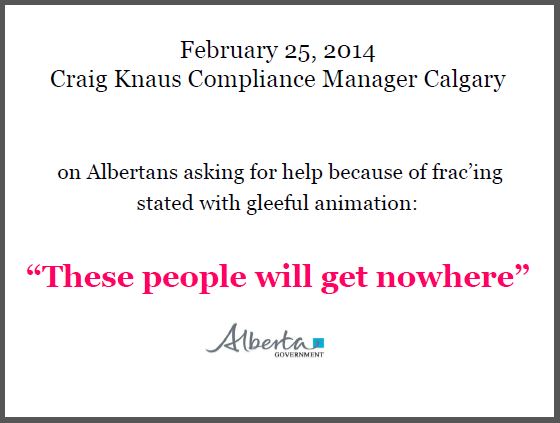 Slide from Ernst presentations
"It looks like fracking has unearthed an unbargained for and serious cancer risk in peoples' homes." John Hopkins study links radon levels in Pennsylvania homes to fracking: "These findings worry us"
2014 06 25: Alberta Energy Consultation: Affected residents KEEP OUT! Lethbridge Community and Groups Excluded from Urban Drilling Meeting
Oil drilling with possible hydraulic fracturing and secret chemicals in Lethbridge city limits is cause for concern
2014 02 06: The Alberta New Democrats are calling on the provincial government to ban all drilling in urban areas
Kaiser kills Calgary Royal Oak drill and frac for oil 400 metres from homes, Residents in Calgary community celebrate after Kaiser Energy scrapped urban frac plans but worry 2,300 metres is not far enough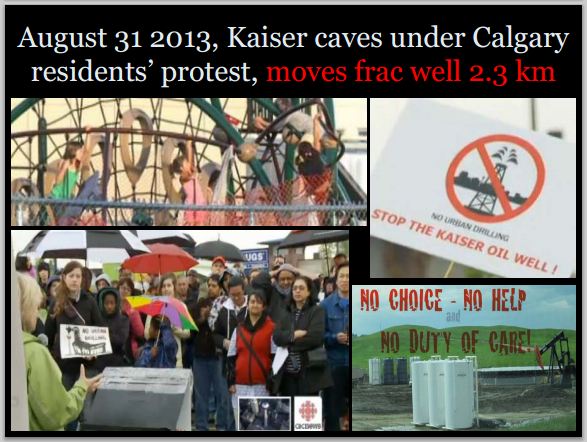 Slide from Ernst presentations
Alberta to complete review on urban oil drilling, Planned oil well in Calgary suburb sparks controversy
Calgarians near urban oilwell say "not in my backyard"
Tories crafting policy for urban oil well drilling
Royal Oak residents rally against oil well near homes
2012 06 12: New policy coming on urban drilling, says province, MLA makes announcement as 200 Rocky Ridge, Royal Oak residents rallied Sunday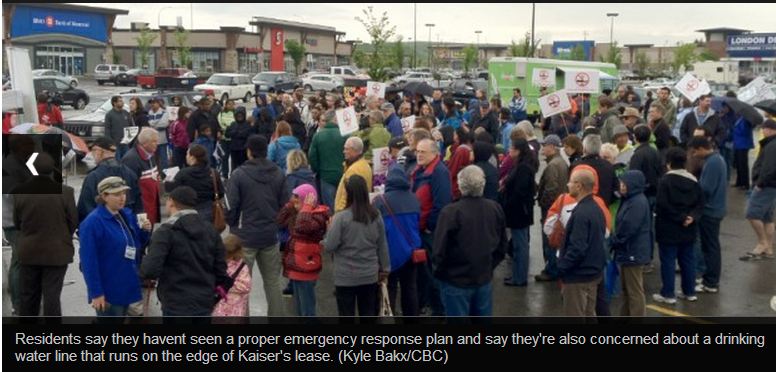 Even Big Oil Calgarians don't want oil drilling and fracing in their community
A proposed oil well to be fracked inside the City of Calgary puts residents and the industry on a collision course
Kaiser Oil Well to be frac'd in Calgary near sour gas, letter to Premier Alison Redford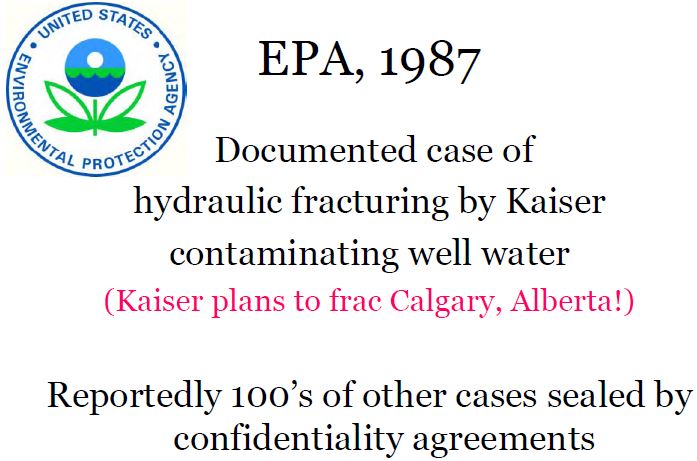 Slide from Ernst presentations
Oil wells and the Alberta city: Rift widens between worried families, elected officials and school boards, and the industry
More than 700 citizens attend Lethbridge City Council urban drilling panel
Alberta's "No Duty of Care" Energy Regulator (AER) continues to deregulate, more 100% industry funded deregulation to come
2014 05 12: Communities want more input in urban drilling decisions; What about already harmed rural communities? We don't count?
2014 03 19: Fracking task force struck (Diana McQueen later changed it to a fracing "round table") for Alberta, but not for already harmed rural families with dangerously contaminated drinking water and polluted air, only for Albertans not yet frac'd in cities
Canada's National Pollutant Release Inventory [NPRI] Oil and Gas Sector Review; Chemicals injected and fugitive or venting emissions (e.g. H2S) by oil and gas industry – EVEN IN URBAN COMMUNITIES – exempt from reporting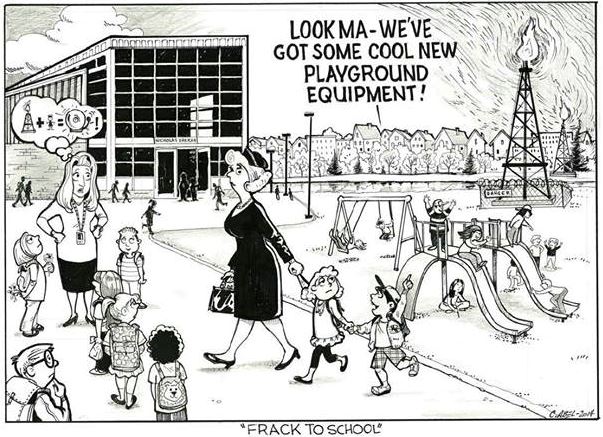 What happens when oil drilling and frac'ing, with 400 ppm deadly H2S, is too close to homes and schools?
School board in Lethbridge wants stakeholder status; School district opposes proposed oil-drilling and frac'ing project in west Lethbridge
2013 03 17: New Alberta energy regulator will weaken environmental protection and vastly diminishes citizen and landowner rights
Calgary property management company fined $30,000 for waiting 2 hours to call authorities after diesel spill, Encana fined nothing for secretly fracturing Rosebud's drinking water aquifers!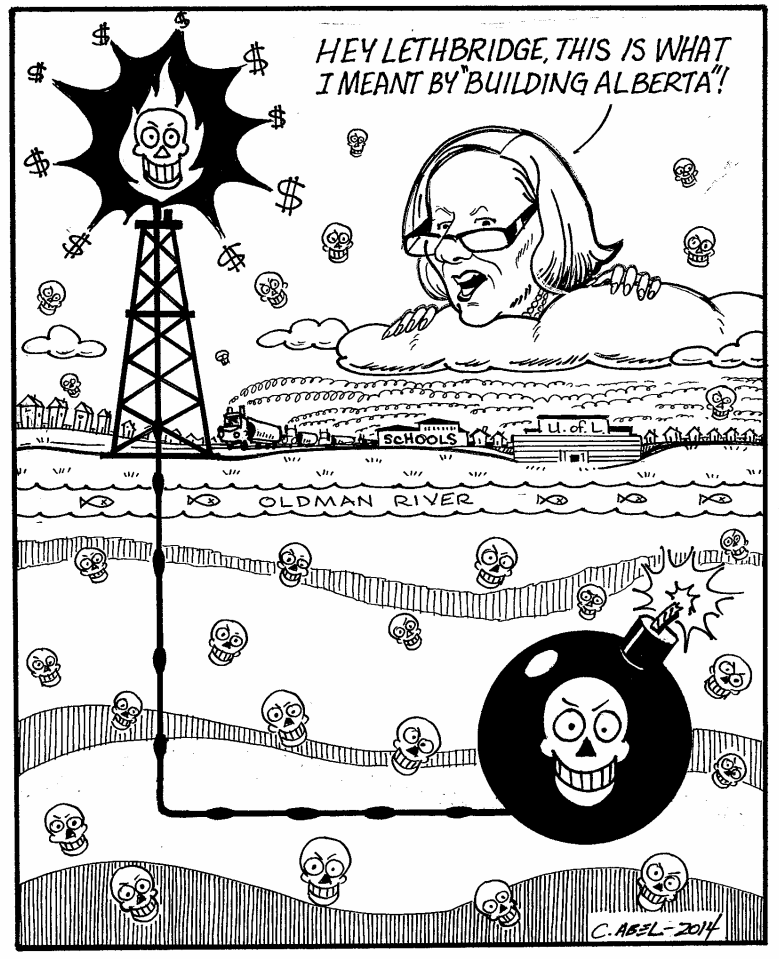 2012 10 27: Alberta Bill 2: More deregulation for the oil and gas industry and hydraulic fracturing