Road reopens following tanker crash in Trumbull County by Nadine Grimley, Oct 24, 2023, WKBN Youngstown
State Route 305 is back open after a commercial tanker overturned Monday.
The accident triggered a large response from emergency personnel, hazmat, the EPA, and the Public Utilities Commission of Ohio's Hazardous Materials and Motor Carrier Enforcement.
Troopers with the Ohio State Highway Patrol continue to investigate the accident.
"It drove partially off the right side of the road. The driver attempted to correct, steered left and went left of center in an attempt to regain his control to bring it back to the right lane — ended up rotating and the momentum rolled it over onto its side," said Sgt. Brian Cannon.
The accident happened around 10:30 a.m. less than a mile West of the Pennsylvania State line.
No other vehicles were involved. The driver of the truck was taken to St. Elizabeth Hospital for treatment of his injuries.
Emergency responders say the truck, which is typically used for hauling brine, was said to have contained mostly fresh water

Really? Was the trucking company pulling what the frac'ers pulled on Ann Craft by Ponoka in Alberta? Delivered her supposedly safe replacement household water after her well and home got frac'd by Quicksilver (prev. MGV – Mike Gatens Ventures), "mostly fresh water" in a waste hauling tanker with traces of highly toxic oil, frac chemicals, reservoir nasties, waste that was likely radioactive, severely sickening her and destroying her plumbing and filling her home with deadly fumes? In Alberta, it's illegal to haul potable water in waste tanks, for obvious reasons. Is it illegal in Ohio?

which leaked when the tanker overturned. Trumbull County Hazmat Chief Kevin Kuriatnyk says EPA tests found trace amounts of brine and minimal amounts of oil residue.
"It was flowing towards the creek. The quick actions of the Broomfield Fire Department and our guys supporting them when we got there they got it stopped before it got into the creek," said Trumbull County Hazmat Chief Kevin Kuriatnyk.
Troopers say the driver is expected to be cited.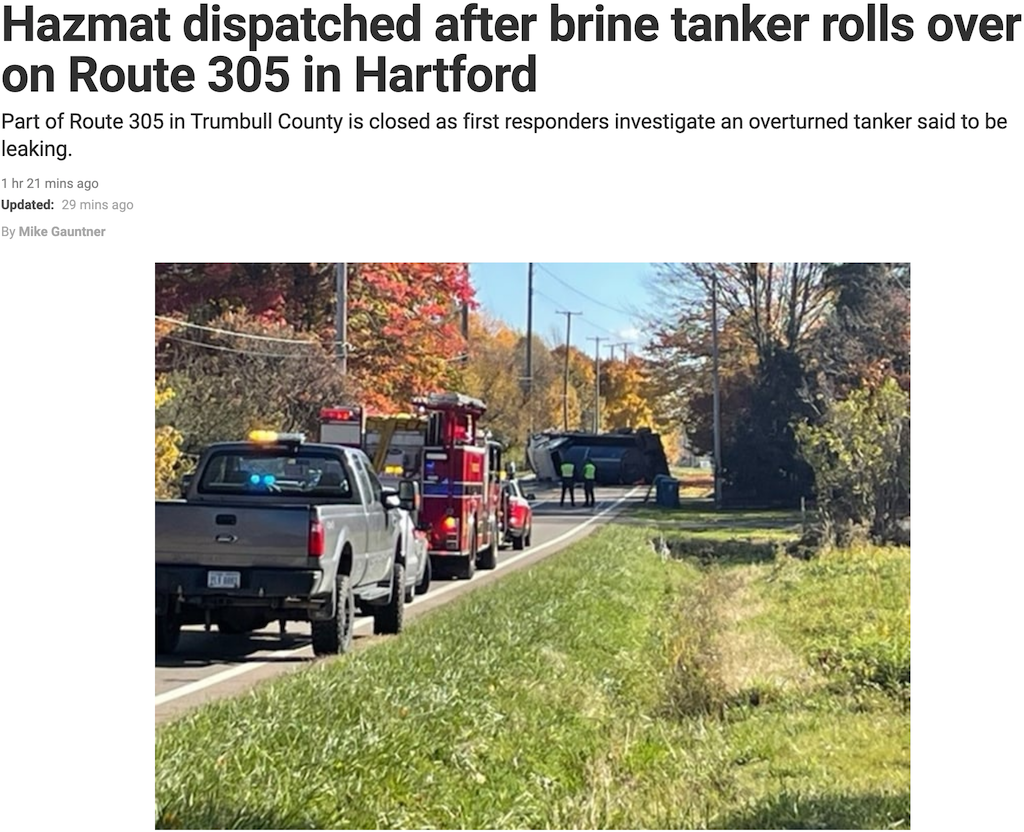 Hazmat dispatched after brine tanker rolls over on Route 305 in Hartford by Mike Gauntner, Oct 23, 2023
Part of Route 305 in Trumbull County is closed as first responders investigate an overturned tanker said to be leaking.
The truck rolled over in Hartford Township about one mile west of the state line after 10:30 a.m. Monday.
The driver, who was initially trapped in the cab, had since been freed and was taken to Mercy Hospital in Youngstown with a swollen face.
Troopers say the driver doesn't recall what caused the accident.
The tanker is carrying brine. State Troopers and Hazmat authorities have been called to the scene.
Stay connected with 21 News and wfmj.com for the latest on this developing story.

Refer also to:
2016: The Most Horrific Frac Deregulation Yet? US EPA preparing for "widespread" radioactive frac waste contamination of drinking water or because it's already happened? EPA's proposed "protective regulation" to allow dramatically higher levels of radioactivity in drinking water
2019: Radioactive frac waste piling higher and higher; Groundwater used by families showing significant increases in radium. Montana regulator, DEQ, trying to increase radiation limit for frac waste up four times, four times more than allowed in any other state.
2019: Guzzle Up! Toxic radioactive frac waste water coming soon to a bottling depot, farm, berry patch, swimming pool, park pathway near you?
2020: America's Radioactive Secret: Oil & gas wells produce nearly a trillion gallons of toxic waste a year in America. It could be making workers sick and contaminating communities (in Canada too). "Us bringing this stuff to the surface is like letting out the devil … It is just madness."
2020: USA oil & gas produced 1.02 trillion gallons wastewater in 2017 (2.8 billion gallons daily). "The fluid can be several times saltier than ocean water, and it can also be contaminated with drilling chemicals, minerals and radioactive material…. About 1% was reused…as drilling fluid or frack fluid."
2021: Frac Investors Beware: Untold Financial Risks of Radioactive Waste to be Publicly Disclosed
2021: Ohio: More radioactive frac waste. More deregulation and lies by regulator?
2021: Ohio, Noble Co: Genesis Resources LLC gas well (unused for years) sprays out what is suspected to be toxic injected frac waste (radioactive?); Over two miles of fish kill. Chemical contents will most likely never be disclosed. In a similar incident in 2020, injected frac waste migrated more than five miles.
2021: Turn toxic radioactive frac waste into bathing water to burn your babies' skin off? To ingest, breath and live with? "It's economically prohibitive to clean the water." What do oil & gas companies hate more than anything? Spending money to clean up their deadly pollution, on the environment or to protect public health and our drinking water. Terrifying: Water management market for oil and gas production in the U.S. was worth $33.6 **billion** in 2018 (for their use, not ours!)
2021: Dr. Ned Ketyer: "Fracking has a toxic and radioactive waste problem that has never been adequately addressed and solved."