A Fracking Experiment Fails to Pump as Predicted, Encana's cube project suggests output problems occur if oil wells are drilled too close together by Bradley Olson, July 4, 2019, Wall Street Journal
Two years ago, Encana Corp. ECA 0.41% unveiled a supersize fracking operation that many said would represent the future of the U.S. drilling boom.
To reduce costs and avoid production problems that can occur when single shale wells are spaced too closely together, the company introduced the cube, an experiment in which it would complete as many as 60 oil and natural-gas wells from one location.
Chief Executive Doug Suttles described the results in glowing terms, and many of the wells looked promising when they started producing in 2017. But their performance has fallen off significantly, according to a Wall Street Journal analysis of well data.
In the company's biggest cube development to date, 33 wells drilled from one location in West Texas are each on track to pump about 300,000 barrels of oil over 30 years. That is about half the amount of oil Encana said a typical well would pump in late 2017, according to the Journal's analysis of production data from Rystad Energy, Shale Profile and Friezo Loughrey Oil Well Partners LLC.
Old style: One well drilled at a time, moving equipment with each new well.
Cube development: Multiple wells are drilled at varying depths on one pad and begin producing simultaneously.
The original concept involved 60 wells, but only about 30 were used in the initial experiment.
The results of Encana's cube—the premier example of scaling up in the heart of the U.S. oil boom—suggest that operators have yet to find a solution to the challenge of production losses that occur when new wells are drilled too closely to old ones. The problem affects dozens of producers, which face the risk of eventually running out of locations, and some executives and analysts have warned that U.S. production could peak far sooner than expected.
"The wells don't perform," said Tom Loughrey, president of Friezo Loughrey, a data-analytics firm that has questioned some shale forecasts. "They didn't solve the problem." [And will there be any honest reporting of the harms this greed induced experiment caused? Or only the usual lies and cover-up?]
Encana said the 33 wells drilled in the RAB Davidson development through 2017 were spaced about 330-feet apart, and the company is now putting them about 500 feet apart. Rather than 60 wells from one cube in some West Texas areas, 40 to 50 might be the right number, including as many as five to six wells in each of eight different horizontal layers, spokesman Steve Campbell said.
The loss of 10 or 20 wells is far from a catastrophe for bigger operators, but applied across a vast swath of land, it could represent a substantial resetting of expectations for how many future locations companies might have. Such figures are an important factor for investors seeking to estimate future value that producers have in the ground.
…
Most of the new developments have been only 10 or 12 wells at a time, far from the 40 or 50 the company says it can eventually target. Encana's plan is to evaluate the performance of the smaller subset of wells before returning to drill more.
Many other operators have similar ambitions to go back to old locations and drill out dozens of additional wells. But the prospects of those future wells are far from certain.
Factory-scale fracking is a buzzword in the U.S. shale industry as companies such as Exxon Mobil Corp.and Chevron Corp. look to significantly increase operations, putting pressure on smaller competitors. [In more ways than one!] But while many operators defend the idea of concentrating multiple wells in single locations, citing the potential savings in costs and time, there are some fundamental challenges that are proving hard to solve.
The biggest problem is that new shale wells drilled too near to older ones often perform more poorly. Industry engineers have warned that the newer wells—often called child wells—could produce as much as 50% less as their predecessors in some circumstances. The issue is one of the reasons thousands of shale wells are producing less than companies forecast to investors, according to a Journal analysis.
…
Fractures from new wells can interact with those from older locations that have lower pressure, reducing production. That is why some producers such as Encana have sought to frack many wells in one spot at roughly the same time to avoid interference from well to well. [Or, is because of frac'ing greed?]
But the early results suggest the technique cannot yet totally overcome the basic problems that occur when wells are drilled too closely to one another. [Think of the damages and contamination that occurred when Encana intentionally frac'd directly into Rosebud's drinking water aquifers!]
A few companies have acknowledged that they spaced their wells too close together in some large, multiwell developments. Devon Energy Corp. , for example, told investors last year that the results of its Showboat pilot project in Oklahoma, in which the company drilled a total of 24 wells in two adjacent areas, showed that it would have been better to drill the wells farther apart, company executives said.
Write to Bradley Olson at email hidden; JavaScript is required
Appeared in the July 5, 2019, print edition as 'Hoping for Gusher, Fracker Came Up Short.'
Refer also to:
2019 02 20: Leaky frac'd well will cost CNX millions of dollars; PA Regulator gives notice of violation. Compare to AER & Alberta govt helping Encana bully, lie & cover-up explosive concentrations of methane & ethane contaminating Rosebud water wells after Encana illegally frac'd into drinking water aquifers
….one was being fracked at the same time as Shaw 1G when casing about a mile underground gave way.
CNX also told the DEP that four conventional — that is, shallower, vertical wells — nearby showed spikes in pressure, a sign of communication between the gas in the Utica well and the four other wells in the vicinity.
…
The state Department of Environmental Protection issued CNX a notice of violation last week, saying that the company failed to construct its well in a way that protects health, safety and the environment and that it didn't install a strong enough casing and other safety devices to prevent a blowout. [Compare to AER issuing no notice of violation to Encana for intentionally fracturing Rosebud's drinking water aquifers]
CNX says Utica well now under control, after more shallow wells saw pressure spikes
2017 10 25: Heaven Help Our Drinking Water: How many frac hit damages when Encana fracs multi-stacked, 60 wells per section?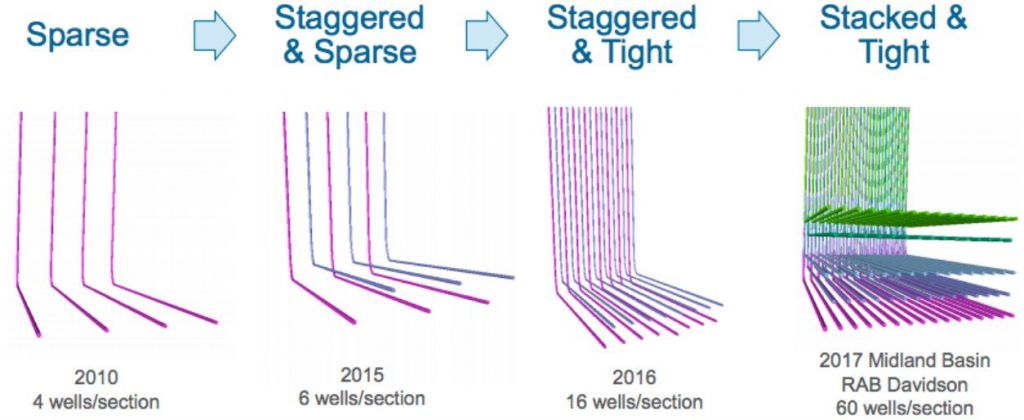 2018 02 20: Arrogance, Greed & Ignorance Out of Control: 'Frac hits' growing issue as infill drilling, frac stages rise: "Economic results could be catastrophic"
A significantly damaging frac hit in Alberta. The damages above ground are easy to see. What of the infinite damages underground, that are mostly impossible to see?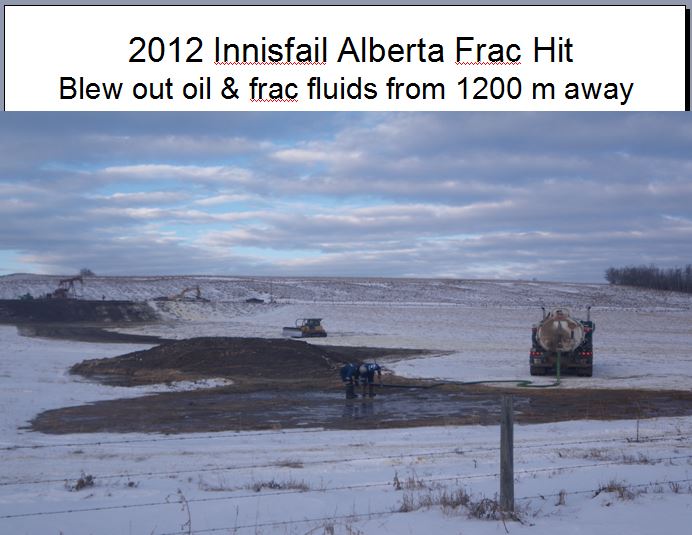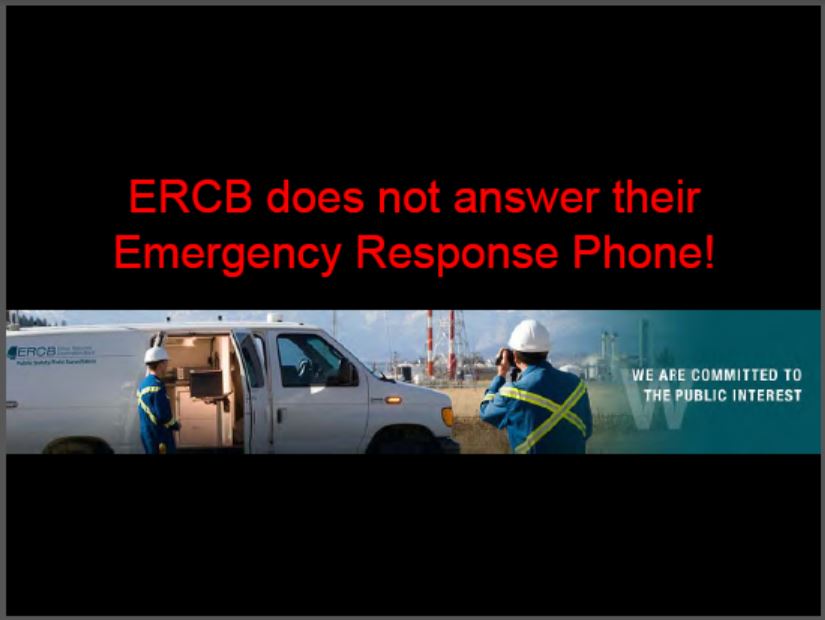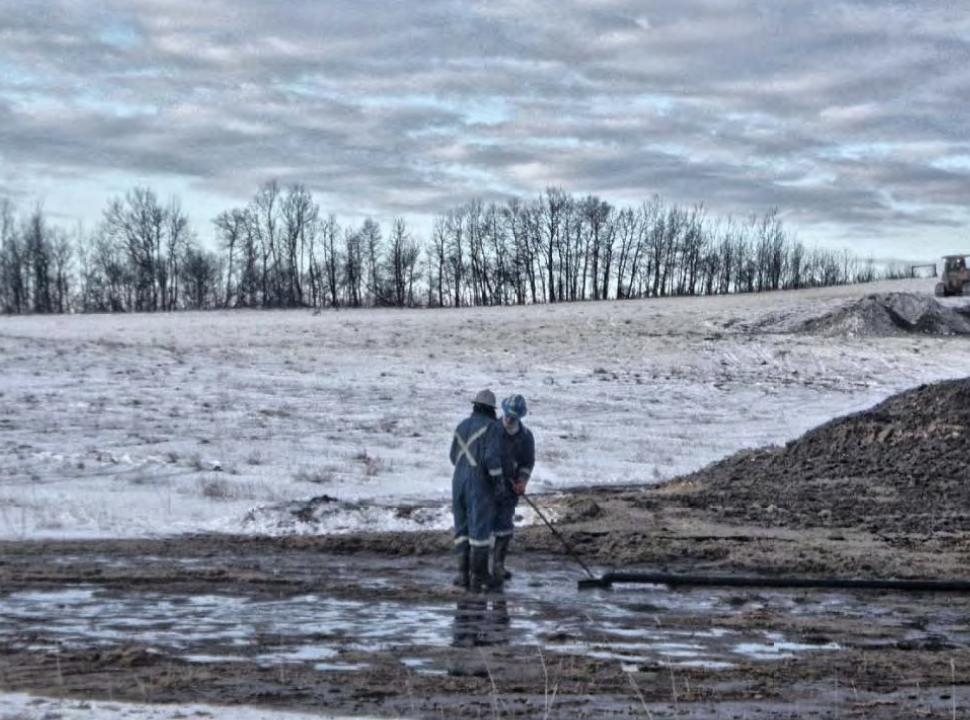 The frac'd out oil and secret mystery frac chemicals were dripping off the trees in the background, the Red Deer River behind them.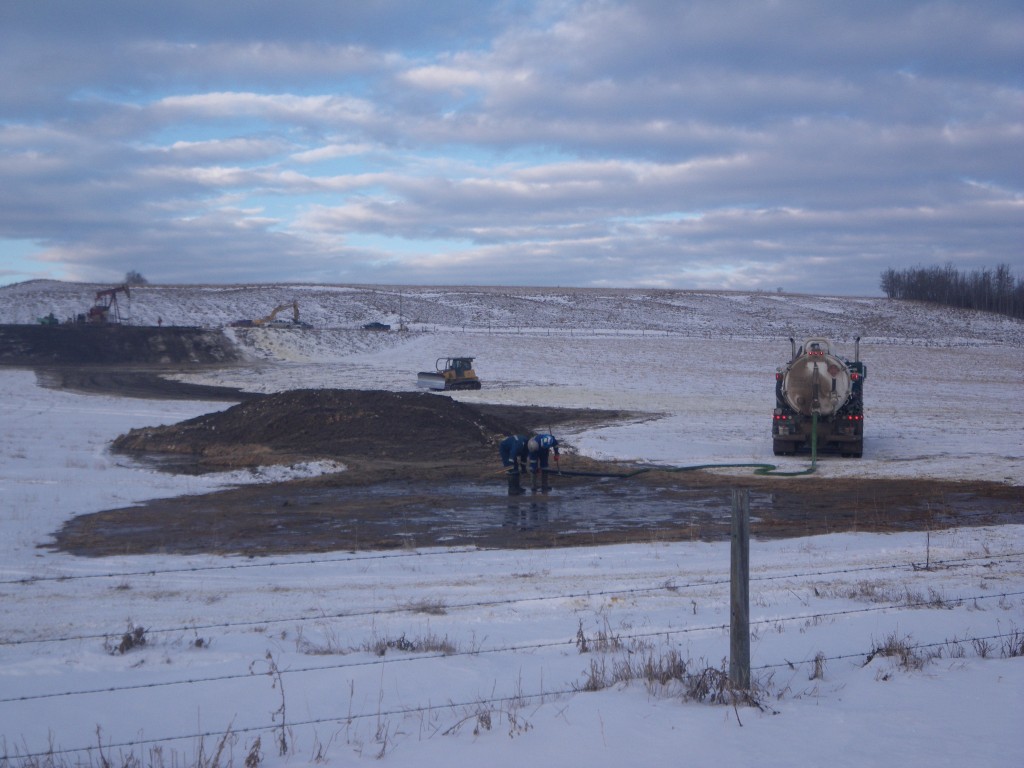 Unprotected workers cleaning up, having a close look and breathing the likely toxic fumes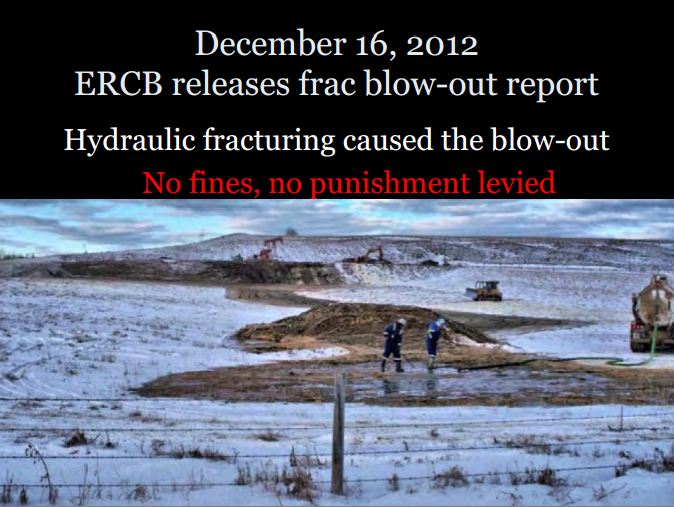 2012 12 20: The ERCB (now AER) admitted that 21 deep frac communication events had occurred in 2012 alone
Curran says that since the ERCB began monitoring interwellbore communication this year, there have been 21 incidents….
2013: When Frackers Frack Other Frackers They Break The First Fracking Commandment: Thou Shall Not Frack Another Fracker
It can get pretty testy.
Encana fracked somebody else's well – in yet another case of "involuntary stimulation"
2013: Fracking investigated by COGCC for possible frac hit causing water and gas leak at old vertical well
State oil and gas personnel are trying to determine whether hydraulic fracturing of a horizontal well outside De Beque is responsible for water and gas flowing from a non-producing vertical well a half-mile away. [2,640 feet]
… The practice also has led to some concerns about the possibility of impacting pre-existing vertical wells that may not be designed to withstand the kind of pressure associated with the fracking, which involves pumping fluids into a formation to create cracks and foster oil and gas flow.
In October, Encana said its fracking of a horizontal well in New Mexico may have been responsible for releases of fluid from a nearby vertical well, according to a report by KRQE in Albuquerque.
2014: PA DEP: September Communication Event Contaminated Drinking Water in Doddridge County
2014: AER, Alberta's new energy regulator seeks the world's trust, as Alberta's caprock is frac'd "to Hell"
2014: New Mexico wells have had over 100 frack hits, many caused by Encana, dramatically increasing natural gas production at other energy wells and probably in water wells too
Arguably, no company has been affected as much as Dugan Production, which reported 36 frack hits to the OCD. The company has conventional oil wells in the Gallup sandstone formation, many of which have been in operation for decades. They have mostly been affected by Encana….
The fracking fluid that Encana used is composed of nitrogen, water, sand and chemicals. The nitrogen keeps the solution foamy, like shaving cream, and reduces the amount of water used in the frack….
… At times, when Encana fracked its wells, the nitrogen would show up half a mile away inside Dugan's vertical wells.
… Doug Hock at Encana thinks hydraulic fracturing is stimulating production at these nearby wells.[Including natural gas and chemical foam brews in citizen water wells?] The process of fracking causes an immense pressure buildup underground, which then looks for an exit.
… Most of the wells that are frack hit get contaminated with fracking fluids in their well bore, which suggests material is moving between the two parcels of land.
2014: As 'frack hits' grew in Alberta, regulator (AER) takes action, but years too late; high pressure frac hits have been damaging hydrocarbon wells for at least a decade!
… Bonterra Energy Corp., had been hydraulically fracturing about 1,500 feet away. … Bonterra Energy had fracked its well at pressures of 3,000 pounds per square inch and had expected its fracking zone to reach 1,150 feet. The fractures had traveled farther to hit the Sword well, where pressures maxed out at 22 times the amount it was designed to withstand. The Sword well was safely shut off at 2 a.m. By then, some 2,000 gallons of oil and fracking fluid had spilled.
Sword estimated it could cost as much as half a million dollars to repair its well.
… The AER (previously the Energy Resources Conservation Board) realized downhole communication could be a problem years ago. In May 2010, the province of British Columbia issued a safety warning that it had recorded 18 frack hits. Then in December 2010, a Calgary-based company, Bellatrix Exploration Ltd., told Alberta regulators that one of its wells had suffered a kick. The company was fracking at the time, and the fracking fluid had traveled across the ground and into another well about 1,500 feet away. The AER investigated the Bellatrix communication incident six months later and found that fractures at the site had traveled much farther than the expected 492 feet. "I think the key finding is the frac propagated over 3 times more than would be expected for a frac of this size (pressure, fluid volume, duration)," wrote Al Smandych, senior technical adviser at the AER, in an email to his colleagues in July 2011."These events [in northeast British Columbia and Alberta] have resulted in some serious safety issues (kicks, wellhead damage) and damaged wellbores," he wrote.
… On March 28, 2012, Equal's well bore was damaged by fracking at a nearby well owned by NAL Energy. There was no surface spill, but Equal's well could not be repaired.
2015 06 11: Fracking Blowout in Texas Causes Huge Dead Zone
2015 06 12: Home Wrecker? Three Weeks After Encana Oil Well Explosion in Karnes County Texas, Families Still Can't Go Home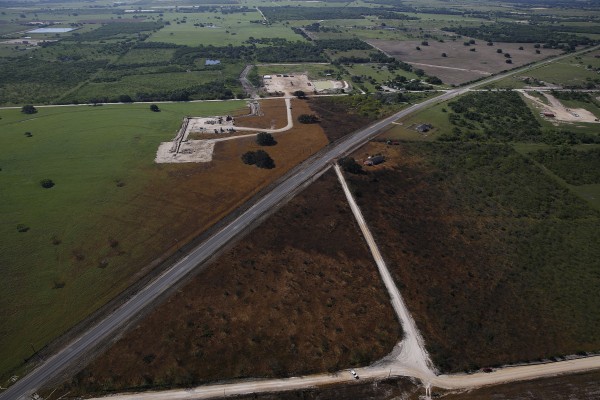 A dead zone is visible on June 1, 2015 around an EnCana frackng well blowout that occurred May 19, 2015 in a rural area near Karnes City, Texas.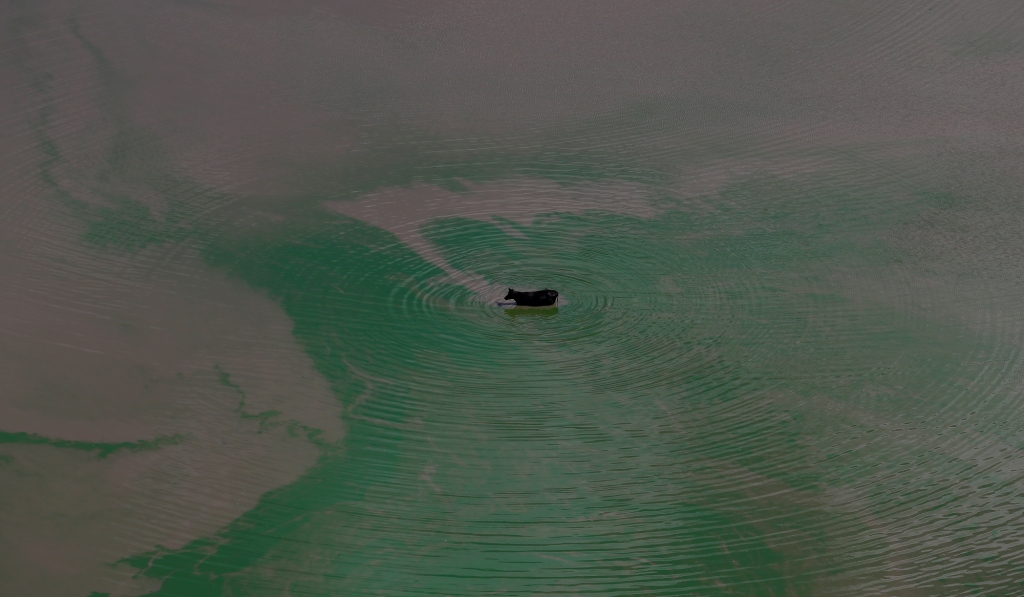 Shall we enjoy petroleum and secret frack chemical marinated steak for supper tonight?
2015 05 22: Encana well blowout after fracking leaves oily mess of spewing natural gas, propane, butane, benzene and toluene, forces 2 dozen families from their homes in Karnes County, Evacuees anxious to see the damage to their homes
… Hock said the well contained crude oil, natural gas and condensate — light petroleum compounds used in manufacturing. The well had been drilled and hydraulically fractured when it blew. What erupted from the well was a mixture of condensate, natural gas and produced water, Hock said. Produced water contains naturally-occurring toxins from the geologic formation, including compounds such as heavy metals and the carcinogen benzene.
2016 08 11: Texas landowners poisoned by "Home Wrecker" Encana get "the law's garbage can." Encana gets easy escape, agrees to pay $17,500 for well blowout in Eagle Ford Shale that's poisoned many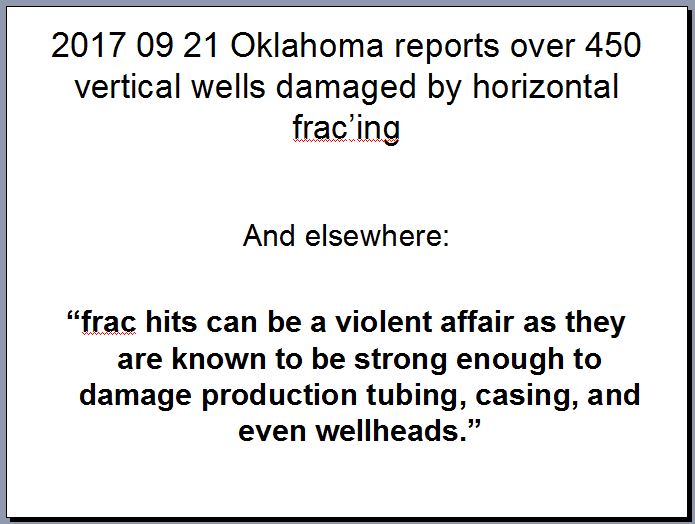 2017 09 21: Oklahoma Kingfisher County: At Least 450 Vertical Oil Wells Damaged By Horizontal Fracking. "Hundreds if not thousands of wells are being destroyed by horizontal frac jobs." How many oil & gas & drinking water wells damaged by fracking (vertical and horizontal) in Alberta?
2017 06 30: Olahoma: 'Frack hits' on the rise; Frackers Collide With Traditional Oil & Gas Drillers; Hundreds of damaging cases of "involuntary stimulation"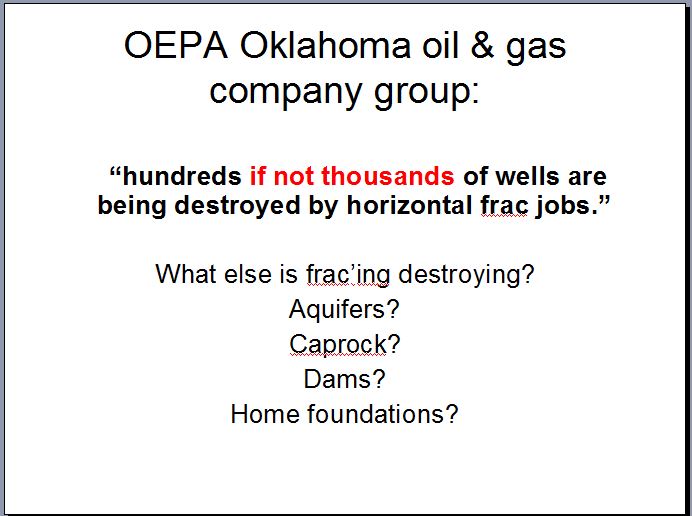 2017 11 01: "Frack Well Bashing" is going to get expensive! Frack Hit Demolition Derby Down Below: Drill, inject, bump 'n crack, hit 'n smash, bash 'n dash, while Encana lies 'n says, "We don't frac. We stimulate." 2 wells, 1 patch of dirt. Who gets the oil? The biggest bully. "Fracks hitting wells several miles away."
But it's not going smoothly. Instead, it has left a trail of older wells damaged by "frack hits," flummoxed state regulators and started a civil war within the state's singularly powerful oil industry.
…
Small producers complain the larger companies are siphoning off their oil and damaging their older, vertical wells with high-pressure hydraulic fracturing. They say state officials are allowing it, even encouraging it.
The horizontal wellbores are allowed as close as 600 feet to the vertical wells, sometimes closer. The underground fractures, created under about 10,000 pounds of pressure, sometimes reach vertical wellbores and flood them with sand and fluid.
"They know they're going to ruin your well and they don't care,"
…
The petroleum engineer is dealing with a well that has been hit three times. The first was a "bump," Altman said. The second was a "hit." The third was a "smash," collapsing the well's casing and ruining it.
That well had been producing about 40 barrels of oil a month. With natural gas production thrown in, that added up to $10,000 a month — a rounding error for Newfield, but a tidy sum for Altman and his business partners. And that's only one of more than two dozen of their wells that have been damaged since 2014.
"I've never had a horizontal well nearby that didn't hit me,"Altman said.
…
A Newfield engineer testified in September that frack fluid has been found a mile from where it started. Small drillers say they've heard of fracks hitting wells several miles away.
And the larger companies don't always accept the 600-foot setback because it means less oil. In the September OCC hearing, Newfield argued that unless the setback was waived for several wells, it would wind up leaving nearly $28 million worth of oil and gas in the ground. The judge rejected the waiver request.
Some frack hits blast through the top of the vertical well itself and cause a spill at the surface. Ironically, the owners of the vertical well are usually held responsible for the spill cleanup, since it happened at their well. [Nasty! Just how big oil and gas producers like it?]
Jury Delivers Verdict In Oklahoma 'Well-Bashing' Case
PIEDMONT, Oklahoma – A U.S. District Court jury delivered a verdict last month that is rippling through the state's oil and gas industry.
The verdict was in favor of the owner of an old vertical well who had sued a large, independent producer for severely damaging his well during a horizontal frac job.
How many farms, families and communities are to be ruined to feed the greed of a few while the ignorant brutes viciously experiment?
The Energy Resources Conservation Board (ERCB) is aware that communication between a wellbore being stimulated and an offset energy wellbore that penetrates the same formation can and has occurred. Offset wellbores include wells that are being drilled or stimulated or those that are producing, suspended, or abandoned.
The ERCB fully expects licensees to maintain well control at all times so as not to impact the environment, public safety, and efficient recovery of the resource and to prevent adverse effects to offset energy wellbores.
The ERCB reminds industry that it is obligated to plan safe and effective hydraulic fracturing operations and report any unintentional communication between energy wellbores.…The ERCB continues to monitor and assess the risk of these communication events….
Surface distance between wells: 1.2 kilometres
Subsurface distance between wells: Under investigation…
Surface distance between wells: Approximately 1,500 metres
Subsurface distance between wells: 110 metres…
Surface distance between wells: Approximately 530 metres
Subsurface distance between wells: 475 metres…
Surface distance between wells: Approximately 1,600 metres
ERCB Appendix A: Interwellbore Communication During Fracturing Operation Events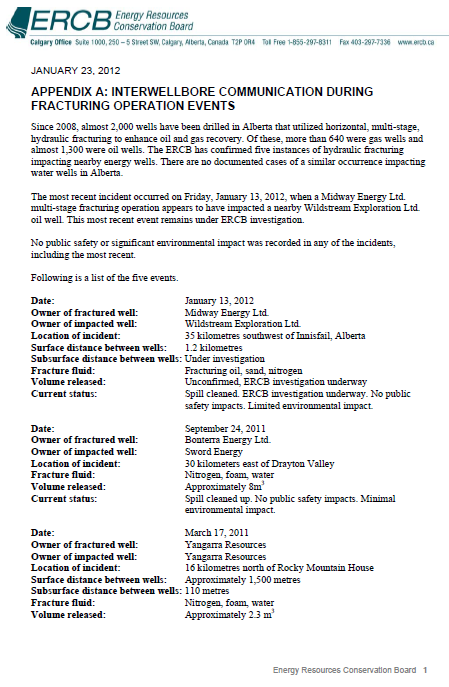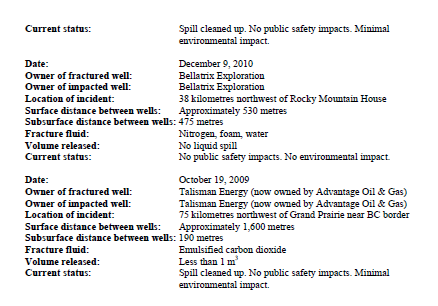 2010 05 20: BC OGC Safety Advisory 2010-03 Communication during fracture stimulation
From the regulator's advisory:
A large kick (1) was recently taken on a well being horizontally drilled for unconventional gas production in the Montney formation. The kick was caused by a fracturing operation being conducted on an adjacent horizontal well. Fracture sand was circulated from the drilling wellbore, which was 670m from the wellbore undergoing the fracturing operation.
To date, the BC Oil and Gas Commission (Commission) is aware of 18 fracture communication incidents in B.C. and one in Western Alberta as follows:
Five incidents of fracture stimulation resulting in communication with an adjacent well during drilling.
Three incidents of drilling into a hydraulic fracture formed during a previous stimulation on an adjacent well and containing high pressure fluids.
Ten incidents of fracture stimulations communicating into adjacent producing wells.
One incident of fracture stimulation communication into an adjacent leg on the same well for a multi-lateral well.
To date, all kicks taken during drilling were successfully controlled through conventional drilling safety measures (e.g. circulation with kill mud and/or reduction of the invading fracture stimulation pressure through controlled venting). Large kicks resulted in volumes up to 80m3 of fluids produced to surface. Invading fluids have included water, carbon dioxide, nitrogen, sand, drilling mud, other stimulation fluids and small amounts of gas.
Fracture fluids introduced into producing wells result in suspended production, substantial remediation costs and pose a potential safety hazard.
Incidents have occurred in horizontal wells with separation distances between well bores ranging from 50m to 715m.
Fracture propagation via large scale hydraulic fracturing operations has proven difficult to predict. Existing planes of weakness in target formations may result in fracture lengths that exceed initial design expectations.
It is recommended that operators cooperate through notifications and monitoring of all drilling and completion operations where fracturing takes place within 1000m of well bores existing or currently being drilled.
…
2005 The Globe and Mail Report on Business by Andrew Nikiforuk: Life Inside a Science Project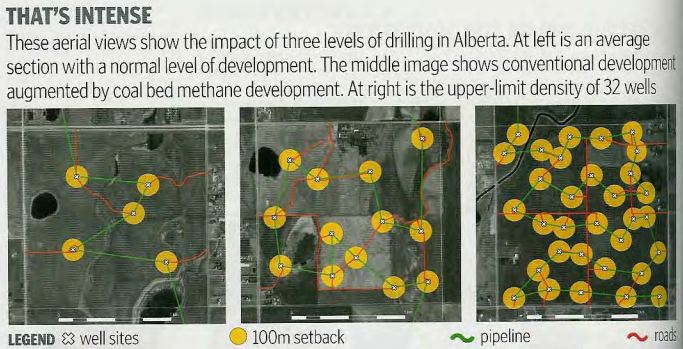 2004 A few frac hits on file in EUB (then ERCB, now AER) library: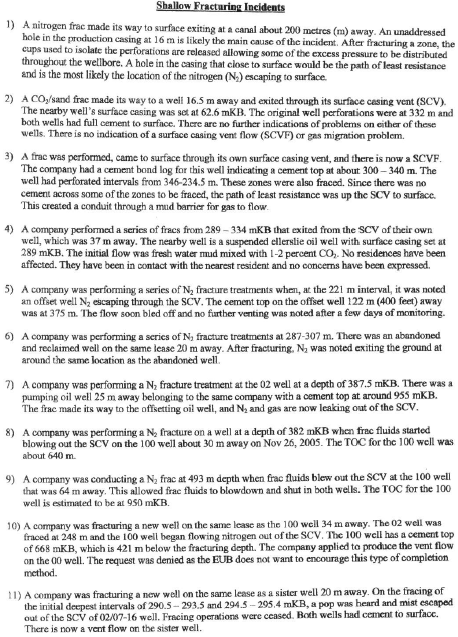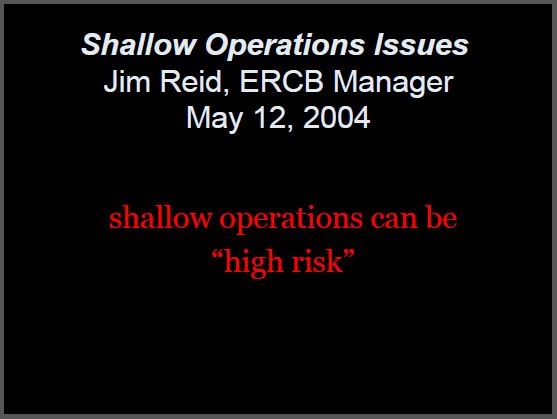 Slides above from Ernst speaking events.
****
2012 11 28: Power of Attorney Calgary managing partner for Osler Hoskin Harcourt, Maureen Killoran, lawyer representing Encana in the Ernst vs Encana lawsuit:
And, to be perfectly frank, when you do energy law, as I do, or corporate litigation, you're not dealing with life and death situations and people whose lives have been turned upside down, plaintiffs who are weeping. It's just about money.
****