'Frac hits' growing issue as infill drilling, frac stages rise by Mella McEwen, February 20, 2018, mrt Hearst Newspapers
The Permian Basin is getting crowded, with thousands of new wells being drilled.
And it's going to get even more crowded as Permian Basin operators have amassed in excess of 100,000 drilling locations.
With all those wells vying for space, "frac hits" occur when hydraulic treatment from one well — the active or child well — communicates with another well — the passive or parent well.
"A lot of companies are focused on infill drilling, and they have to figure out how close is too close," said Reece Roberts, owner of Permian Petrolink and chairman of the Permian Basin section, Society of Petroleum Engineer's Completions and Operations Study Group.
The study group recently hosted a panel discussion on frac hits as part of the SPE's "Frac Month" focus. Roberts said it is an issue that could affect an operator's production negatively, or even another operator's operations on adjacent acreage.
Panelist Dick Leonard, director of the Global Technology Team at ProTechnics, said if it's not done right, the economic results could be catastrophic.
"You may drill more wells than you need and you could potentially damage existing wells, not just the parent wells but new wells."
Panelist George King, distinguished engineering advisor with Apache Corp., said,

"More and more stages are going to be used and we're going to have a lot more issues."
The consequences of a frac hit are loss of production and mechanical, physical or chemical damage to offset wells that may or not be immediately apparent in production, King said. [And groundwater contamination; life threatening migrating gas problems, including sour gas; surface and subsurface land damages; aquifer damages; deadly air pollution; toxic frack hit chemical spills – with many proprietary dangerous additives; public infrastructure destruction; increased frac quakes and associated dangers and damages; increased explosions, fires and loss of well "control;" increased risks to workers, the public and landowners and communities forced to live in frac hit danger zones; etc]
Schlumberger is in the process of studying the issue. The oil field services company amassed case studies of wells in the Eagle Ford and 4,000 each in the Barnett and Bakken shales, said panelist Jason Baihly, commercial and risk assessment manager. He said Schlumberger also is gathering case studies from Permian Basin wells.
"We're in the early innings of understanding parent-child well interaction over a year's time," Baihly said. "(That's) the biggest issue in unconventionals long-term or even mid-term: trying to get more production out of the child wells," he said.
**********
[Important Ignorant Brute Force Frac Experiment Reality Check:
The experiment keeps getting worse; not much has been learned:
Since the early shallow days, 2001-2006:
2006: Original Directive 027, Shallow Fracturing Operations—Interim Controls, Restricted Operations, and Technical Review January 31, 2006
The Alberta Energy and Utilities Board [now AER] has approved this directive on January 31, 2006, original signed by M. N. McCrank, Q.C., P.Eng. Chairman
Information provided by industry to date shows that there may not always be a complete understanding of fracture propagation at shallow depths and that programs are not always subject to rigorous engineering design
After Ernst went public with this, the "regulator" removed the directive from their website, altered it, put it back on the website without industry's damning confession
Or since 2010:

Or since 2012: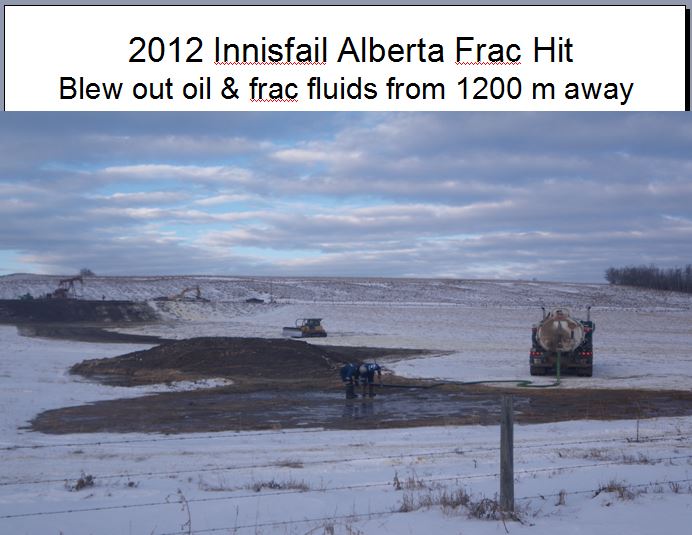 "World-Class," "No Duty of Care," legally immune, Charter-violating, pollution and abuse enabler bully Alberta Energy Regulator (AER), then ERCB, law-violating spying on innocent Albertans EUB before that, is nowhere to be seen and doesn't even answer their emergency response phone.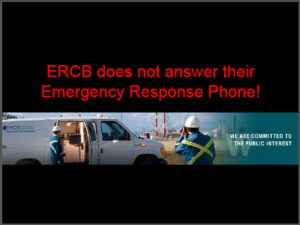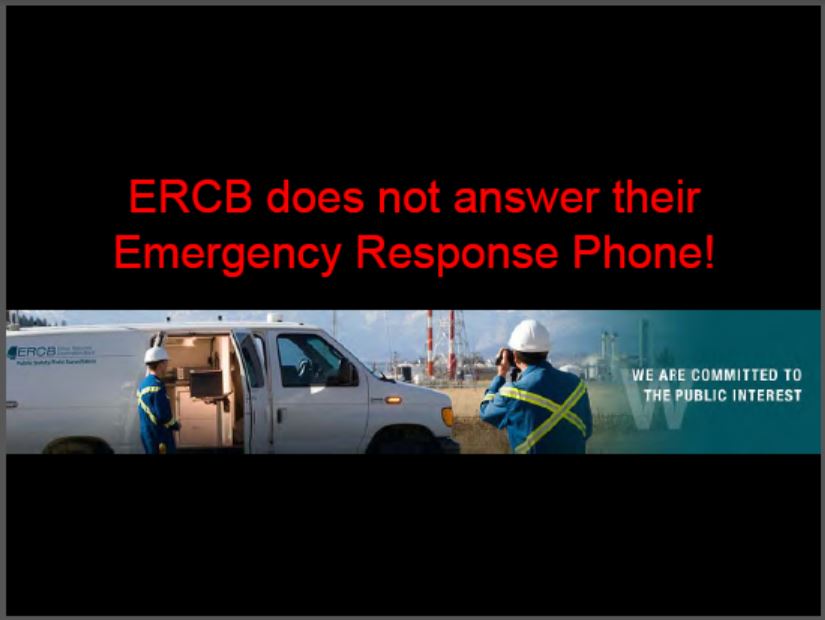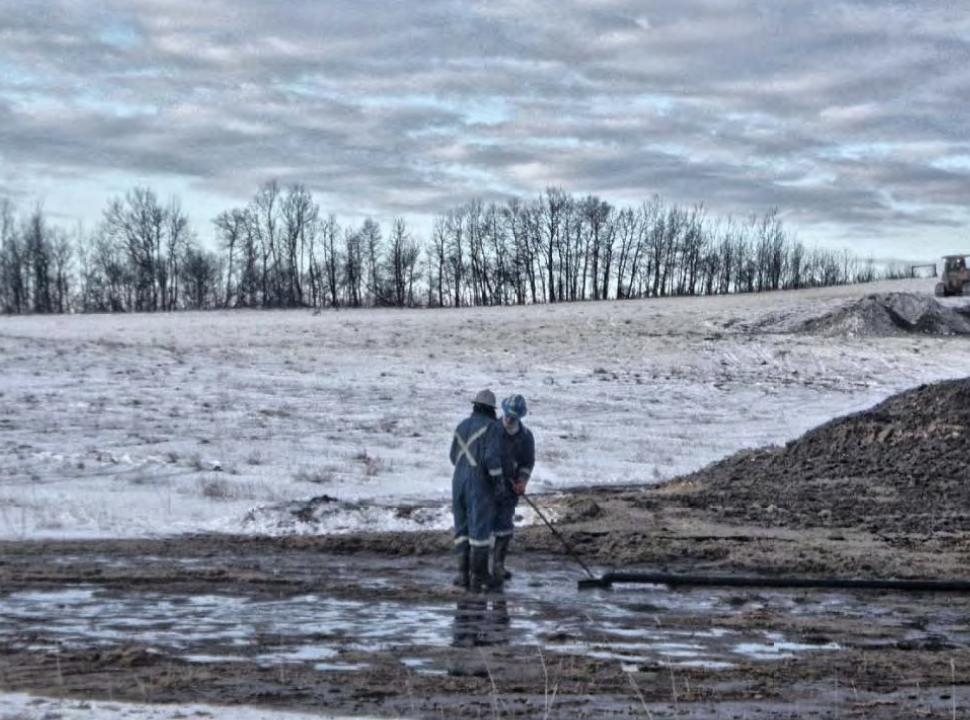 The frac hit-out fluids of oil and undisclosed chemicals were dripping off the trees with the Red Deer River behind them.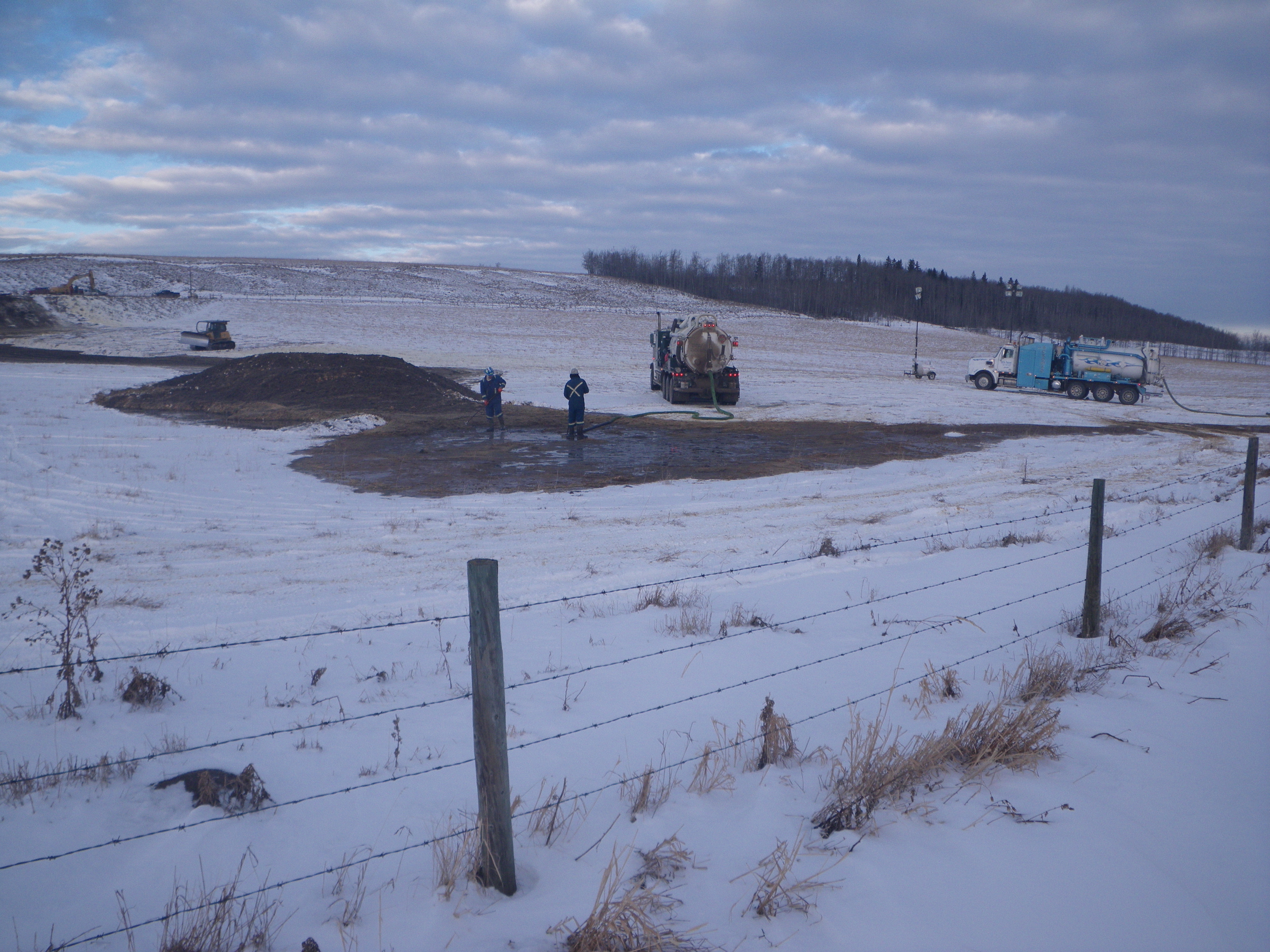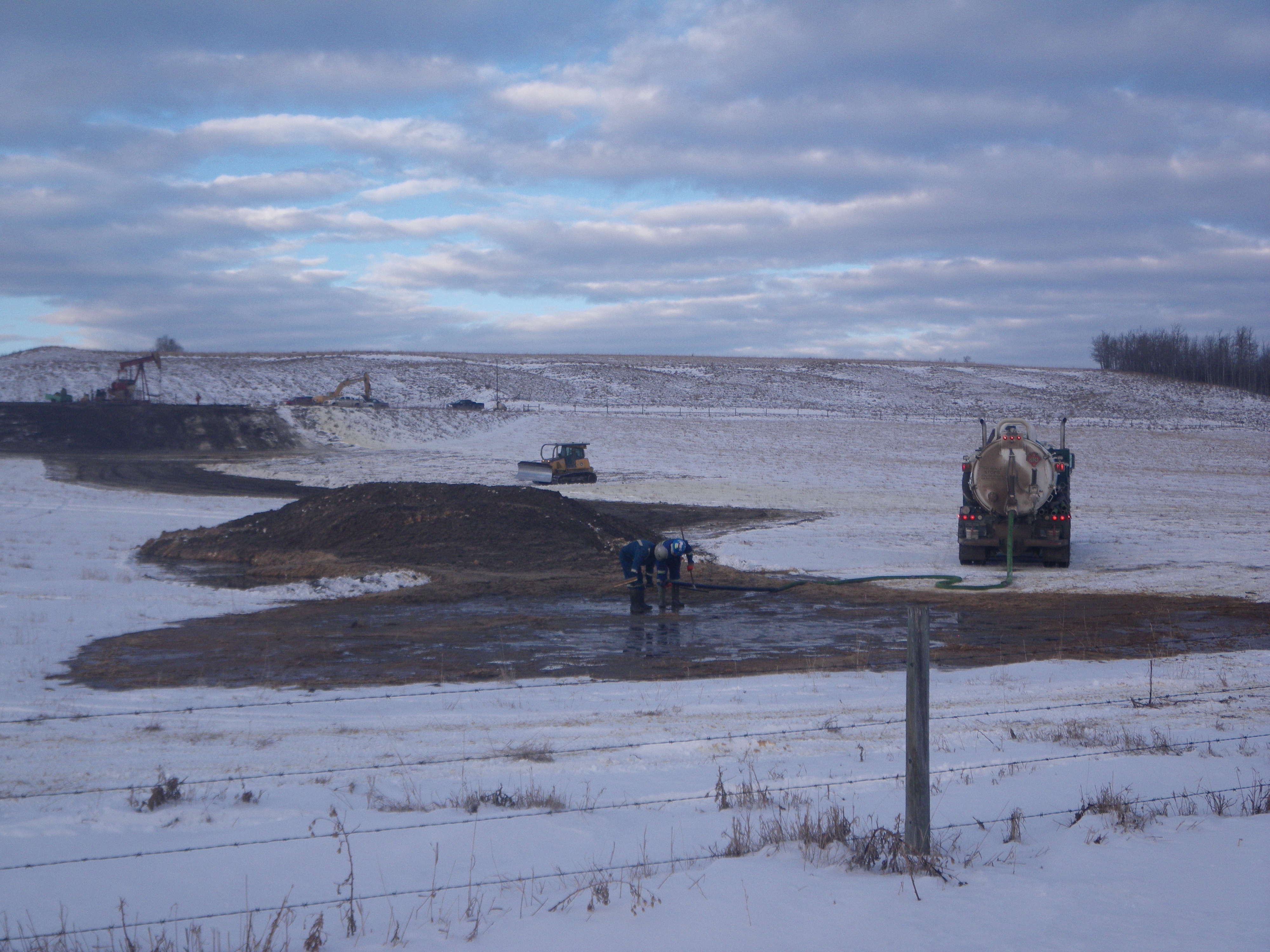 Sniffing to identify and document the toxic mystery chemicals unleashed by the frac hit?
2012: Fracking blamed in Innisfail well blowout, ERCB assigns fault to Midway Energy but no enforcement ordered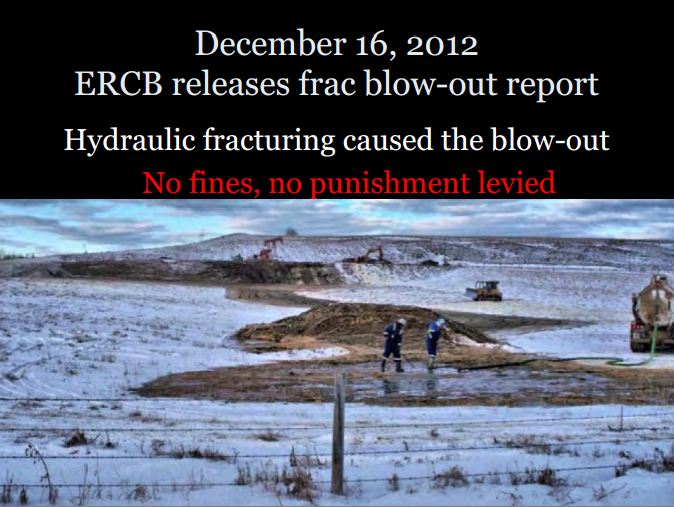 Of course no fine or punishment was levied, the frac hit happened in "World Class" AER/Encana/Capp-reigned Alberta.
2012: The ERCB [now AER] admitted that 21 deep frac communication events had occurred in 2012 alone
2012 06 25: Methane Geyser in PA: Shell Fracking Operation Suspected
Slide from Ernst presentations
Or since 2013:
2013 07 31: "Nobody understands" leaks at Alberta tar sands high pressure injection operation, Leaks in Cold Lake have been going on for weeks with no end in sight, according to a government scientist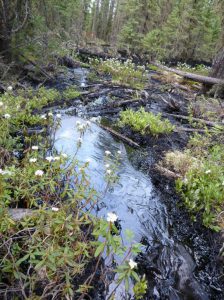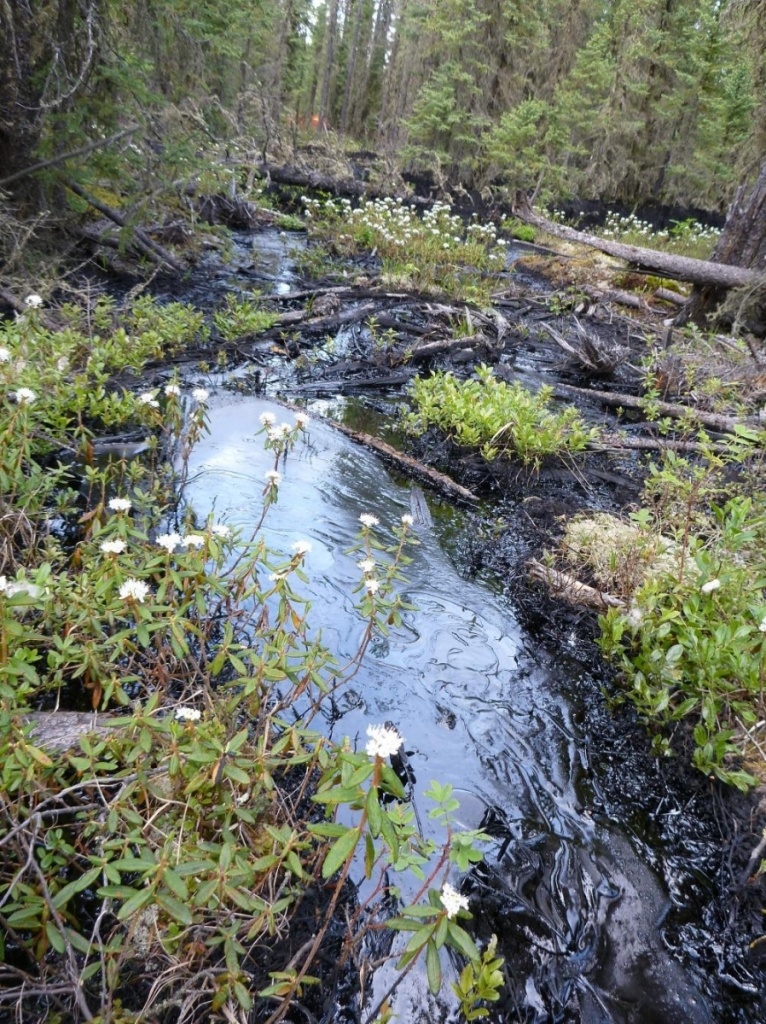 2013: Encana's fracking fluid blows out nearby Parko Oil well in New Mexico, Encana promises to but does not pay the cleanup costs
… The Parkers are now spending more in cleanup than they are earning. "Encana seems to think this is a very minuscule problem, but when you are retired, a few small wells makes a pretty good retirement income," Parker said. The spill was caused by a "frack hit," where the fractures of two adjacent wells communicate. An EnergyWire investigation this year found that frack hits are common but unregulated by both federal and state agencies. The hits are unrecorded by regulators until there is an oil spill, at which point the agencies ask for remediation and the companies jostle to figure out who pays the bills (EnergyWire, Aug. 5).
The threat is to groundwater, where well bores can rupture and allow fracking fluids to directly contaminate aquifers.
In the case of the Parko wells, the Parkers noticed and reported five frack hits to the New Mexico Oil Conservation Division (OCD) before the sixth caused a spill. The Bureau of Land Management and the OCD recorded only the sixth event in their databases. As such, five warning signs of a future spill were ignored by the authorities.
The Parko Oil and Encana wells are on federal land, but they are administered jointly by BLM and the OCD. 
The problems for the Parkers began when Encana moved into the area and bought up leases encircling Parko Oil's wells and began fracking in July. Encana was using a fracking fluid mixture containing millions of gallons of water, nitrogen gas

and chemicals

 to blast apart shale rock and release trapped oil and gas.
… Depending on the geology, some fractures can travel more than a mile, creating a channel of communication between adjacent wells drilled into the same formations. The fracking fluid, pumped in at high pressures of up to 10,000 pounds per square inch, crosses underground and goes up the well bore of the older well, usually constructed to withstand just 250 psi of pressure. Like a thin-walled balloon filled with too much gas, the pressure differential could, in the worst-case scenario, find an explosive exit by cracking the drill casing and contaminating groundwater aquifers.
…Warnings ignored
Because the OCD and BLM do not regulate frack hits, companies often must reach an agreement among themselves. The fight can assume a David vs. Goliath character when bigger players like Encana tussle with smaller, local companies such as Parko Oil. When the affected companies do report frack hits — often witnessed as an increase in pressure in their well bores — to the OCD, their complaints are ignored….
2013: Canada steps up well monitoring to try to avoid 'frack hits'
2013: When 2 wells meet, spills can often follow
"Everyone thinks cement is this magic; it's not," said Michael Beck, president of Surface Solutions Inc. and a consultant for the oil and gas industry in Canada who is helping companies including Encana Corp. deal with downhole communication issues. "Cement is not 100 percent perfect, it cracks."
… "The frack fluid crosses the path of least resistance," said James Amos, supervisory environmental protection specialist with the Bureau of Land Management in New Mexico. It runs up the well bore and can cause the production tank that's collecting the oil to overflow. To the lay observer, it appears to be a surface spill. But in reality, such spills are caused by fracking hundreds or even thousands of feet away.
… In the Montney Formation of Alberta, about 30 percent of the well bores that are up to 1,500 feet apart experience frack hits, Beck said. The Montney is similar in geology to the Bakken Shale of North Dakota.
… The incidents are called frack hits because they happen when the fractures of two wells intersect. The communicating wells have, in cases, been as far apart as 1.8 miles [9,504 feet] ….
2013: When Frackers Frack Other Frackers They Break The First Fracking Commandment: Thou Shall Not Frack Another Fracker
It can get pretty testy.
Encana fracked somebody else's well – in yet another case of "involuntary stimulation"
2013: Alberta company prevents environmental fracking disasters by Surface Solutions Inc.
A "frac" can go horribly wrong when there is a "communication" communication breakdown during the process to one or more neighboring wells. A communication breakdown means the fracking well is causing a disturbance with a non-fracking well. The majority of oil companies fracking in Alberta do not currently monitor their frac jobs. If the downhole pressure reaches a point to create "communication" with other wells. The result can be environmentally and financially disastrous, blowing off wellheads, contaminating water sources, spilling frac fluid and oil all over other well site leases.
2013: Fracking by Black Hills Exploration & Production investigated by COGCC for possible frac hit causing water and gas leak at old vertical well
State oil and gas personnel are trying to determine whether hydraulic fracturing of a horizontal well outside De Beque is responsible for water and gas flowing from a non-producing vertical well a half-mile away. [2,640 feet]
… The practice also has led to some concerns about the possibility of impacting pre-existing vertical wells that may not be designed to withstand the kind of pressure associated with the fracking, which involves pumping fluids into a formation to create cracks and foster oil and gas flow. In October, Encana said its fracking of a horizontal well in New Mexico may have been responsible for releases of fluid from a nearby vertical well, according to a report by KRQE in Albuquerque. 
Or since 2014:
2014: PA DEP: September Communication Event Contaminated Drinking Water in Doddridge County
2014: AER, Alberta's new energy regulator seeks the world's trust, as Alberta's caprock is frac'd "to Hell"
2014: New Mexico wells have had over 100 frack hits, many caused by Encana, dramatically increasing natural gas production at other energy wells and probably in water wells too
Arguably, no company has been affected as much as Dugan Production, which reported 36 frack hits to the OCD. The company has conventional oil wells in the Gallup sandstone formation, many of which have been in operation for decades. They have mostly been affected by Encana…. 
The fracking fluid that Encana used is composed of nitrogen, water, sand and chemicals. The nitrogen keeps the solution foamy, like shaving cream, and reduces the amount of water used in the frack….
… At times, when Encana fracked its wells, the nitrogen would show up half a mile away inside Dugan's vertical wells.
… Doug Hock at Encana thinks hydraulic fracturing is stimulating production at these nearby wells. [Including natural gas and chemical foam brews in citizen water wells?] The process of fracking causes an immense pressure buildup underground, which then looks for an exit.
… Most of the wells that are frack hit get contaminated with fracking fluids in their well bore, which suggests material is moving between the two parcels of land.
2014: As 'frack hits' grew in Alberta, regulator (AER) takes action, but years too late; high pressure frac hits have been damaging hydrocarbon wells for at least a decade!
… Bonterra Energy Corp., had been hydraulically fracturing about 1,500 feet away. … Bonterra Energy had fracked its well at pressures of 3,000 pounds per square inch and had expected its fracking zone to reach 1,150 feet. The fractures had traveled farther to hit the Sword well, where pressures maxed out at 22 times the amount it was designed to withstand. The Sword well was safely shut off at 2 a.m. By then, some 2,000 gallons of oil and fracking fluid had spilled.
Sword estimated it could cost as much as half a million dollars to repair its well.
… The AER (previously the Energy Resources Conservation Board) realized downhole communication could be a problem years ago. In May 2010, the province of British Columbia issued a safety warning that it had recorded 18 frack hits. Then in December 2010, a Calgary-based company, Bellatrix Exploration Ltd., told Alberta regulators that one of its wells had suffered a kick. The company was fracking at the time, and the fracking fluid had traveled across the ground and into another well about 1,500 feet away. The AER investigated the Bellatrix communication incident six months later and found that fractures at the site had traveled much farther than the expected 492 feet. "I think the key finding is the frac propagated over 3 times more than would be expected for a frac of this size (pressure, fluid volume, duration)," wrote Al Smandych, senior technical adviser at the AER, in an email to his colleagues in July 2011."These events [in northeast British Columbia and Alberta] have resulted in some serious safety issues (kicks, wellhead damage) and damaged wellbores," he wrote.
… On March 28, 2012, Equal's well bore was damaged by fracking at a nearby well owned by NAL Energy. There was no surface spill, but Equal's well could not be repaired.
Or since 2015:
2015 10 20: more fraud in the frac patch? Trying to cover-up a major frac hit by blaming vandalism? 6.4 km long North Dakota oil well spews more than 67,000 gallons of crude & 84,000 gallons of brine for days
Or since 2016:
2016 EPA fracking study: 6.3.2.3. Migration via Fractures Intersecting with Offset Wells and Other Artificial Structures
Or since 2017:
2017 09 21: Oklahoma Kingfisher County: At Least 450 Vertical Oil Wells Damaged By Horizontal Fracking. "Hundreds if not thousands of wells are being destroyed by horizontal frac jobs." How many oil & gas & drinking water wells damaged by fracking (vertical and horizontal) in Alberta?
2017 06 30: Olahoma: 'Frack hits' on the rise; Frackers Collide With Traditional Oil & Gas Drillers; Hundreds of damaging cases of "involuntary stimulation"
2017 03 01: Albania's deputy prime minister declares villagers with homes damaged by Canada's Bankers Petroleum to get full compensation. What do frac harmed in Canada get? Regulator fraud & cover-up; bullying, intimidation & harassment by authorities, even RCMP; secrets & lies; cowardly elected officials enabling more harms; AER violating Charter rights with Supreme Court of Canada fabricating "facts" for the AER
2017 10 25: Heaven Help Our Drinking Water: How many frac hit damages when Encana fracs multi-stacked, 60 wells per section?
2017 11 01: "Frack Well Bashing" is going to get expensive! Frack Hit Demolition Derby Down Below: Drill, inject, bump 'n crack, hit 'n smash, bash 'n dash, while Encana lies 'n says, "We don't frac. We stimulate." 2 wells, 1 patch of dirt. Who gets the oil? The biggest bully. "Fracks hitting wells several miles away."
Jury Delivers Verdict In Oklahoma 'Well-Bashing' Case
PIEDMONT, Oklahoma – A U.S. District Court jury delivered a verdict last month that is rippling through the state's oil and gas industry.
The verdict was in favor of the owner of an old vertical well who had sued a large, independent producer for severely damaging his well during a horizontal frac job.
How many farms, families and communities are to be ruined to feed the greed of a few while the ignorant brutes viciously experiment?
**********
[Back to the current article]
Panelist Lance Robertson, chief operating officer and senior vice president of development at Endeavor Energy Resources, said there still is a lot to learn. [Frac Patch Understatement of the century!]
"We're in the early phases and still have a long way to go," [What will be left of the integrity of the earth's subsurface, potable water supplies and real food production lands?] he said. "We and the industry have a lot to learn."
Operators are sharing data among themselves [But still not the public, or the families and communities harmed next door?], which is one way "to leverage the resources of the Permian Basin," Robertson said. "We share log data, microseismic data; sometimes we share production results. It also helps with cost-sharing. If we log a well, the operator close by doesn't have to log his."
King supports sharing information and said the industry needs to use all the technology it can to address the issue.
"We need to understand why frac hits go the way they go. A lot more needs to be known. We're learning a lot and sharing data lets us learn faster," he said.
Well spacing is important in mitigating frac hits, Roberts said.
"We do not have mitigation down yet,"

he said.

Baihly said operators are becoming savvy enough to mitigate frac hits.

"The biggest stride in mitigating frac hits is to have a set plan or a goal" and ensure the proper data is available, he said. The process is dynamic and will change over time as technology and circumstances change, he said.
Leonard, though, said mitigating frac hits "is tough. No one has the answers yet."
But operators should not treat all frac hits the same, he said. "The reality is, they could be seeing a pressure pulse," in which the active well pushes out fluids into the passive well.
"That doesn't mean the well is too close," Leonard said. "You might still have issues, but as to making spacing decisions, we need to figure out and quantify the frac hit first."
He said geology in different formations can cause differences in frac hits. "It's not necessarily the Midland Basin versus the Delaware Basin but the Wolfcamp versus Spraberry," he said.
Robertson said the Permian's wealth of old vertical wells can be used in modeling what path fracs will take. He said the more specific operators can be on landing laterals will help.
"It's not that we won't impact offset wells, we want to impact them less," he said. [The greedier, cheaper, shittier and more arrogant the operator, eg Encana, the more significant the hits &  harms? Emphasis added]
Technology falling short as shale wells make pumping oil harder by David Wethe, Bloomberg News, December 11, 2017, Calgary Herald
Imagine trying to slurp a thick chocolate shake through a J-shaped straw four miles long. That's the kind of cheek-puckering test the North American shale industry must overcome to prolong a record boom in oil output.
For almost a decade, drillers have been using new techniques to tap vast petroleum reserves scattered within deep, porous rock layers in places like west Texas, Pennsylvania and southern Canada. [And central, and eastern, and northern Canada] By digging extra-long wells that went down and then sideways at different angles, engineers were able to capture a lot more crude than from a vertical hole.
While those new methods unlocked a torrent of new supply and turned the U.S. into the world's largest producer, the increased difficulty of sucking fluid from so far underground is overwhelming pump systems that have changed little in decades. The mismatch is causing more well failures, rising costs at a time of low prices, and a scramble by companies like Exxon Mobil Corp. for alternative ways of maintaining flows.
"Every horizontal well — no matter where you are — has this problem," said Jeff Saponja, chief executive officer of Heal Systems, a Calgary-based engineering company that is working with Schlumberger Ltd., the world's biggest oil-service provider, on developing products that make pumps and pipes work more efficiently.
Extracting oil is usually easy at first as liquid gushes to the surface. But that quickly fades as the pressure eases, so producers rely on pumps that slowly extract the bulk of the reserves over years or even decades. The most common variety is a pumpjack — commonly known as a nodding donkey — a technology that's been in use for more than a century.
The nodding donkey has a steel hammerhead hovering over the well, bobbing up and down to create suction in the hole, aided by a rotating counterweight. The method is effective on vertical wells that go straight down, but is less so when used on horizontal ones. It's not uncommon for a shale well to go down a mile, then use another 800 feet of pipe to bend from vertical to horizontal before continuing sideways for a another mile or more.
Shorter Lifespans
Pumpjacks on vertical wells can last five or six years without any problems, said Jesse Filipi, who until last year worked as an engineer for Marathon Oil Corp. and was responsible for about 700 producing wells in the Eagle Ford Shale deposit in south Texas. The same pumps might not last two years on the newer horizontal wells, he said.

"You're trying to understand what's going on, and then you start to realize, it's just not quite working the way everyone tells you it should be working," said Filipi, who now works for Ambyint Inc., an oil-technology company in Calgary that focuses on ways to improve pumping systems that the industry refers to as artificial lift.
To be sure, there are only about 50,000 horizontal wells in the U.S. and Canada that use nodding donkeys, compared with a total of 1.2 million production wells in the region, according data compiled by Ambyint.
But horizontal wells have been central to a resurgence of North American output. The shale boom helped to double U.S. production since 2005. It's now the highest ever, exceeding even Saudi Arabia, according to BP Plc data. Texas, home to the biggest shale deposits, saw output triple.
Yet some of those oil reserves may get stuck underground if the industry's pumps keep failing, which boosts costs for shale deposits that were initially cheap to exploit and often remained profitable even when crude fell to $50.
It costs about $250,000 to install a nodding donkey, along with all the startup gear, and as much as $100,000 to repair or replace it, according to Ambyint.
"If you're failing your pump all the time, you're not getting low lifting costs," said Saponja, who had first-hand experience when he worked at a small exploration and production company in the Bakken shale region of North Dakota. Over a two-year period, Saponja said he replaced its pump more than half a dozen times.
"There is no one favorable solution for the problem," said Cem Sarica, director of a research group at the University of Tulsa in Oklahoma that is trying to develop alternatives with funding from companies including Exxon and BP.
One workaround engineers have used is to shove natural gas into the hole [How stupid, wasteful and energy intensive is that?!] to lighten the oil and make it easier to pump to the surface. Another is placing an electric-submersible pump, or ESP, down in the well. While both techniques work during the early stages in the life of a well, they often aren't as effective after output falls.
And then there are the slugs. That's what engineers call the separation of oil and gas in the horizontal pipes, which are often so long and bendy that they create small hills and valleys that allow the hydrocarbons to accumulate. The variations caused by big pockets of oil followed by large amounts of gas is too chaotic for most pumps to handle.
The oldest shale wells in North America are only about seven or eight years old, so the industry has only recently figured out the problems and begun looking for more efficiency, said Francis O'Sullivan, a researcher at the Massachusetts Institute of Technology in Cambridge.
"There's a need now," O'Sullivan said. "If we're looking at the shale resource as a bigger component of our national production basin, that we try and apply the best possible husbandry to the resource. That's in the national interest." [Contaminating communities, families, farms, air, land, water for damaged infrastructure (paid for by the public) and lousy economics? That's some national idiocy. Emphasis added]