Delay in Reasons for Judgment: Justice Delayed is Justice Denied by Lloyd Duhaime, April 5, 2011, Duhaime
"Thank you counsellors for your able submissions. Judgment is reserved."
Those promising words can be the last words from a trial or hearing judge for weeks and weeks….
When a judge reserves his or her decision, that means that they can take it onto their sailboat, on their judicial Pro-D days and contemplate the facts and the law, justice and how to express it crystallize in their judicial minds.
Meanwhile, the litigants and their families or associates suffer and as time goes on, are prejudiced in spite of the Latin maxim actus curiæ neminem gravabit.
In a case before the court, the core decision is often evasive – e.g. who should have custody of a child? Which witness to believe?
Meanwhile, litigants float in legal doldrums, an untenable situation.
On becoming Lord Chancellor of England in March of 1617, Francis Bacon remarked that:"Fresh justice is the sweetest". It is.
Innovative ideas on accountability and reporting on gently nudging ongoing long delays often can't get off the ground. Judges resist this and step behind the shield of independence [What independence? Independence of the judiciary is a farce, notably in rape & pillage Canada where The Rule of Law works to protect the rich so that they may keep getting richer, and protect human rights violating Israel and corrupt lying Canadian politicians and regulators that serve Israel, the rich and themselves] of the judiciary when the community asks for some kind of mechanism to deflect the very legitimate criticism of the months and months that too often occurs between the end of the hearing and the release of the ultimate decision. Or, the criticism will be deflected by the unverifiable comment that it rarely happens". If it ain't broke, why fix it.
It does happen infrequently in the context of thousands of decisions rendered instantly but there still are those horror cases which every lawyer has experienced.
That is too many.
Ethics
Delay in issuing reasons for judgment has been recognized in the common law since time immemorial by the expression justice delayed is justice denied, most aptly put by Justice Willes of the English Court of King's Bench in the 1759 case Whitham v Hill:
"Delaying justice and denying justice are considered as the same thing in the Magna Carta."
Delay in issuing reasons for judgment is also a matter of judicial ethics.
You can hardly find a judge's handbook that does not state the obvious:
[Canada:] "Judges should endeavour to perform all judicial duties, including the delivery of reserved judgments, with reasonable promptness."1
[USA:] "A judge shall dispose of all judicial matters promptly…."2
[Who ordered the Supreme Court of Canada judges to take a year to release their knowingly dishonest ruling in Ernst vs AER (on a simple matter of law)? Israel? Or was it fabricating Justice Rosalie Abella's lying smear of Ernst and how to send it to the media to instill the greatest harm that caused their long delay?]
Judging 101
When a judge takes a case under advisement, a controversial matter – a live dispute between real people – remains undecided and in a no-man's land.
Worse:
"Time is memory's thief. Details of the case will be forgotten."3
In the interim, there is no tool or process to prod the judge.4 In fact, any attempt to do so may well backfire and tip a procrastinating judge to the other side.
There are instances of judges taking 6 (six) years to render reasons. This is what happened in Re James Lenney, where the judge paid the ultimate but justifiable price of being removed from office.
But real, effective disciplinary action on a plodding judge is very, very, very rare.
In Re Greenfield, the records of Justice Edward Greenfield of the New York Supreme Court (Manhattan) showed outstanding delays of judgment of 4, 7 and even 9 (nine) years in different cases. And yet, the Court of Appeals of the State of New York decided not to discipline Greenfield proposing that this statement of law saved him, presumably with a straight judicial face:
[USA:] "A Judge's failure to promptly dispose of pending matters generally does not warrant judicial discipline but rather administrative correction."
In Canada, the Canadian Judicial Council resolved that reserved judgments should be delivered within six months after hearings, except in special circumstances.5
Not one.
Or two.
Or even three.
The standard is set at six months.
And … this is a suggestion only and even when taken seriously by the Council, results in a slap on the wrist. In one case of a complaint made to the Canadian Judicial Council, a Quebec judge had gone over the 6-month limit in five cases.6 The Council moved the complaint up the judge's chain of command and when the judge heard from his chief justice, out came the judgment!
The judge was then simply warned about the other cases. He responded by retiring.
#1 Disease
Delay in rendering reasons for judgment is the #1 disease afflicting judges.
In his 1980 book, A Book For Judges, Justice John Owen Wilson noted:
[Canada:]
"The complaints most frequently made in respect of the conduct of judges relate to delay in the delivery of judgments.
"The public has a right to expect of a judge decisiveness….
"Litigants expect, and rightfully expect, that the judge will soon relieve then from the agony of uncertainty that prevails until judgment is delivered.
"That is not to say that it is better to be quick than right…. The aim is to be both quick and right."
The problem of judicial delay in rendering judgment is also endemic to the USA where one author ominously wrote:
"[D]epriving quick and certain justice to the litigants … reinforces the negative images of the judicial system….7"
When one judge suffers from judicial indecisiveness, the reputation of his or her court is tarnished, and that includes that of his or her diligent colleagues, however unfair that may be. And anything which for no good reason, brings the justice system into disrepute is a bad thing.
Attempts to set a strict deadline have been held unconstitutional in the United States as, apparently, according to other judges (go figure!), it interferes with the independence of the judicial branch.8 [ROARING LAUGHTER! PROOF THAT INDEPENDENCE OF THE JUDICIARY IS INDEED A FARCE?]
Back to the drawing board: in the United States Code, Title 28, §476(a)(3) is a novel process of making public the names of judges who have taken too long to render judgment.
However, it only applies to delays of three years or more!
This is not a typo: three (3) years!
One would think that at the three year mark, the person to call would be the coroner: to check in with the delinquent judge.
In the Canadian Province of Quebec, some common sense. [Is that why many Albertans hate Quebec?] The 2011 version of the Code of Civil Procedure requires this, at §485:
"A judgment on the merits must be rendered within six months after the case is taken under advisement…
"Where the judge seized of a case or matter fails to render a judgment within the time limit prescribed by the first paragraph, the chief justice or judge may, on his own initiative or on a motion by one of the parties, remove the case or matter from the judge and order that it be assigned to another judge."
But the reality is that this statutory rule upon Quebec judges is all there is in Canada in terms of any guideline with teeth upon our judges.
Rock and Hard Place
Between a rock and a hard place best describes the unfortunate situation of a litigant waiting, waiting, waiting … for a judge's decision, as judicial councils fear treading on the independence of their members in refusing to accept responsibility for the conduct of their judges in this regard.
But we do lose the baby with the bath water when there is no accountability for the rare yet devastating effect of an incompetent judges who expresses her or his inabilities by inordinate delays in judgment. [Incompetence is one thing. What about judges deliberately delaying to punish/intentionally harm citizen-litigants? For Ernst, the stress of waiting a year for her ruling from the Supreme Court of Canada was physically debilitating, exhausting and still unhealed. Surely judges know how harmful excessively long delays in releasing rulings are, especially when they are simple matters of law?]
Of course, this reality of judicial politics is of no solace whatsoever to the citizen-litigant caught in the molasses.
Next to all those other Latin maxims and paintings of deceased judges which adorn the hallways of courthouse everywhere, we would enshrine and enforce these plain and simple words of Mr. Justice John Owen Wilson (1898-1986) when he weighed in on the topic:[Canada:]
"[A] month's delay is normal. Two months delay is long. And three months is too long."
2014 11 28; McGrath: Justice delayed is justice denied by Dalton W. McGrath, Blake, Cassels & Graydon LLP
The Alberta Court of Queen's Bench has experienced an enormous increase in the demand for judicial services, however, appointments and related funding have largely been non‑existent.
The cornerstone of any democracy is an effective, reliable and fair legal system which promotes the rule of law. Fundamental to the rule of law is the right of timely access to an independent, properly resourced court.
Because Alberta is undergoing the most rapid population growth of any province, the Court of Queen's Bench has experienced an enormous increase in the demand for judicial services, however, appointments and related funding have largely been non‑existent. Given the federal government's inaction, the Court of Queen's Bench has been forced to take a number of steps to reduce the services it provides. Even so, the justices of Court of Queen's Bench are still working far beyond their capacity and the court is now facing a crisis arising from a lack of judicial appointments and related funding despite ongoing requests for an increase to the judicial complement of the Alberta Court of Queen's Bench.
Because of the lack of judicial resources, a number of very negative societal effects have and continue to occur, including delays in criminal matters (which can result in the stay of prosecution of accused parties charged with serious criminal offences, which appears to be entirely inconsistent with the federal government's tougher stance on maintaining law and order). Family law matters involving the welfare of children are being delayed to the prejudice of those children, and commercial disputes are being substantially delayed, which adds costs and uncertainty to the economic drivers of the economy.
Whether litigation involves family matters, business issues or other important matters, Albertans need to be confident that the legal system is there for them and they will have the benefit of a reasonably prompt resolution to disputes. If delay and costs become too great, many will just give up on justice.
…
Whether large or small, companies also need timely and efficient resolution of commercial disputes. [Why not mention that Alberta communities with industrially, intentionally, illegally frac'd drinking water aquifers need resolution too – fast – and need safe alternate water supplies provided to them to ensure families and businesses stay safe and viable?] The impartial [In Alberta? Pffffft! Impartial enforcement of rights is a fairy tale] enforcement of rights, including the enforcement of contracts, is fundamental to economic prosperity, security and the development of robust markets. It must be remembered that the Court of Queen's Bench not only serves Calgary and Edmonton, but a plethora of other judicial districts, including Fort McMurray, where the population has more than tripled since 1996.
The reputation of Alberta as being a business‑oriented culture and one where businesses want to invest in is in jeopardy if companies see that it takes many more years, and many more thousands of dollars, to litigate in Alberta than elsewhere.
In 2008, the Court of Queen's Bench of Alberta requested an additional four judicial positions (the first expansion since 1996), and it was not until this June that the federal government amended the Judges Act to fund salaries for only two of the four requested positions.
Taking into consideration the ratio between population and the number of superior court justices to that of British Columbia, for example, an additional 12 new judicial positions would be required for the Alberta Court of Queen's Bench to simply have parity. Alberta has, and continues to have, the least amount of Court of Queen's Bench justices per capita. While the provincial government, including Justice Minister Jonathan Denis, has been supportive of appointing more Court of Queen's Bench justices, that enthusiasm and support does not seem to be shared within the federal government or, at a minimum, the silence on that topic has been deafening.
The federal government should take immediate action to increase the judicial complement of the Court of Queen's Bench of Alberta. The current significant shortfall of justices is severely restricting access to justice, prejudicing Albertans and undermining Alberta's economic growth.
Dalton W. McGrath is a litigation partner at Blake, Cassels & Graydon LLP.
Refer also to: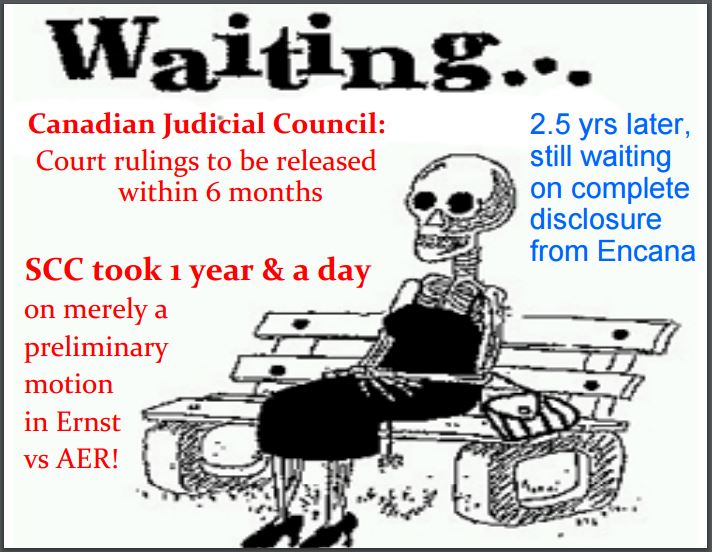 2017 07 27: Diana Daunheimer on Supreme Court of Canada rulings on National Energy Board approvals: Clyde River & Line 9: "It's a wash for our soiled SCC"
The rulings released yesterday demonstrate what happens to our Supreme Court, when fossil fuel interests are yanking puppet strings in the hallowed halls of justice.
2017 07 20: Supreme Court of Canada Justices unanimously rule Canadians have a right to a timely trial but say nothing about having a right to timely rulings
2017 11 03: Unbelievable Gall! No wonder Canada's legal system is broken! Ex-Judge "sex hurts & why didn't you keep your knees together" Robin Camp seeks to practise law again in Alberta
2017 04 15: What's with so many judges not keeping their lips together? Protecting rape & pedophilia rings? How are citizens to trust & respect judges with so many bad lips on the bench? "That judge didn't care about me," Julie Kirby, 23, one of Keith Vallejo's victims said Friday. "He only cared about the person he was convicting, and I think that is really kind of despicable."
2017 03 25: Oh Canada! Once-imprisoned lawyer (for child pornography) one step closer to getting his licence to practise law in Ontario, Two out of three lawyers on Law Society of Upper Canada tribunal decide he's of 'good character.' Dissenting opinion finds Ronald Davidovic failed to prove he was rehabilitated [What are judges, but lawyers?]
2017 01 21: Damaging the Charter: Ernst vs Alberta Energy Regulator by Lorne Sossin, Dean Osgoode Hall Law School, York University. Comment: "It causes one to question how much both the plurality and the dissent were driven by the desired end-state of the judgment, rather than consistency in applying principles of public law."
2016 10 12: Retiring Supreme Court of Canada Justice Thomas Cromwell turns focus to pursuing a more accessible civil and family legal system. "There is a serious access to justice problem in Canada." … "Various court workers were of the view that the 'civil system [is] … very much open to abuse by those with more money at their disposal.'"
2016 05 30: The Cost of Justice Project: Legal system problems cost Canadians billions
2016 05 02: Frac Captured Courts? Colorado Supreme Court Strips Constitutional Right To Enact Local Fracking Bans: "It is beyond comprehension that the Colorado Supreme Court still fails to recognize the rights of people to live in a safe and healthy environment"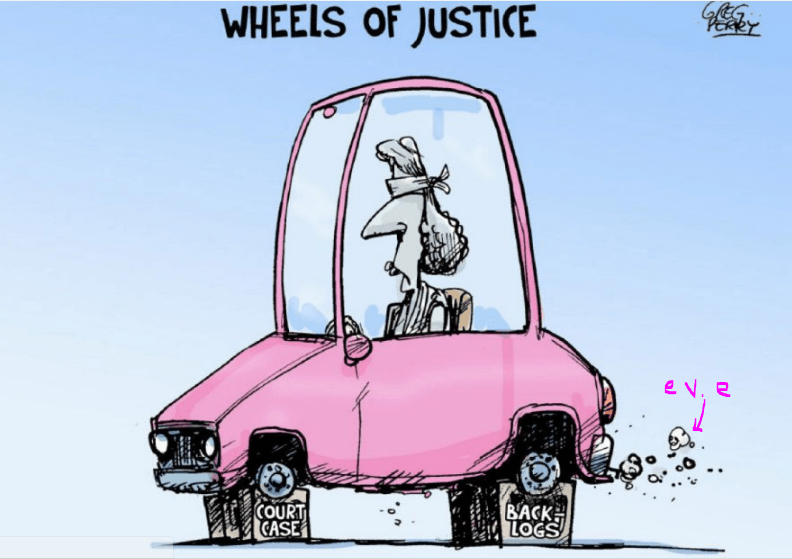 2019 04 04: International Human Rights Court Recommends Worldwide Frac Ban. Will rape & pillage enabling Canadian authorities listen?
Jessica Ernst Open Letter to Chief Justice Beverley McLachlin Regarding False and Seriously Damaging Statements in Justice Rosalie Abella's Supreme Court of Canada Ruling, Ernst v AER, January 25, 2017

The Supreme Court of Canada's ruling: https://scc-csc.lexum.com/scc-csc/scc-csc/en/item/16325/index.do

The dishonest statement by Justice Rosalie Abella (Global Jurist of the Year in 2017, the year the ruling was released in my case) was called out by J McLachlin and three other judges in their dissent ruling in my case, but only the defamatory statement by J Abella was repeated in the court's summary sent to Canadian media. Media published the lie. The smear worked, few are interested in my case anymore.

Ernst's presentation in Malton, North Yorkshire, UK last October. It sums things up.