FRACKDOWN in Newfoundland!
THURSDAY DEC 12th 2-6 pm
MAYFIELD SOCCER PITCH/THE DOME
STEPHENVILLE, NL
A Citizens Forum…Music…Speakers…Ecumenical – Insure our Charter of Rights & Freedoms, Support New Brunswick, Ban Fracking Canada-Wide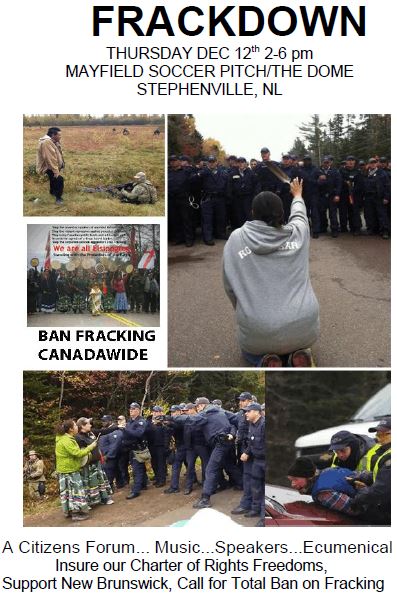 Journalism group backs anti-fracking protest reporter by Selena Ross, December 7, 2013, The Chronicle Herald
A national journalism association has called on the RCMP to "stop harassing" a Halifax reporter.
Freedom of Expression Before Environmental Regulators? by Dianne Saxe & Meredith James, December 5, 2013, SLAW Canada's Online Legal Magazine
Environmental regulators and tribunals bear substantial responsibilities and make important decisions regarding development in Canada. If they won't listen to opponents of a project, will they breach the Canadian Charter of Rights and Freedoms?

[ The writers recognize that provincial regulatory immunity of any kind does not trump the constitution ]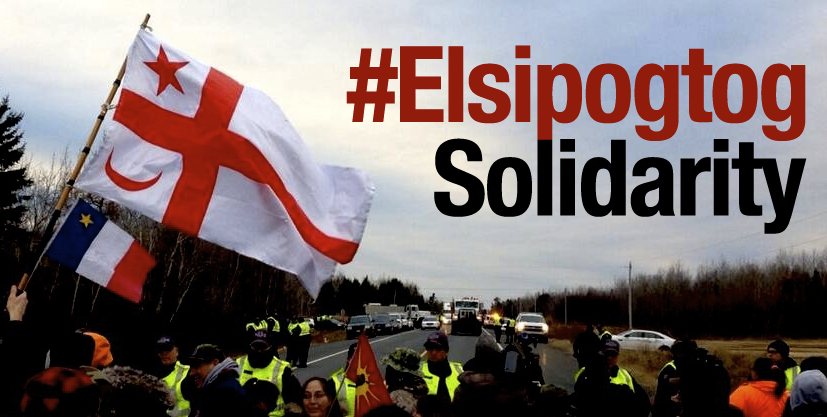 Elsipogtog: The Fire Over Water We go to Mi'kmaq territory in New Brunswick, Canada, to find out what happens when a First Nation says no to fracking
Fault Lines, December 6, 2013, Alzazeera
Fault Lines travelled to New Brunswick to ask why their fight caught fire, and find out what happens when Canada's First Nations say no to resource extraction projects they oppose.
Statement of Solidarity and Support for Elsipogtog Land Protectors Press Release by Indigenous Nationhood Movement, December 7, 2013, nationsrising
We, a coalition of Indigenous community members and relatives from nations across Turtle Island, have come together to express our support and solidarity with all of the land protectors, warriors, elders, leaders and supporters on the ground in Elsipogtog who have waged courageous, continuous struggles to protect their lands, waters, and communities from irreparable destruction and to ensure a viable future for the coming generations.
On Dec. 6, following ongoing confrontation between the Mi'kmaq Nation and RCMP, SWN Resources Canada announced their intention to end their hydro-fracturing exploratory work for the year, with plans to "return in 2015″. Although this news has been confirmed by various news outlets, warriors on the ground are still prepared to fight SWN if they fail to uphold their commitment to withdrawing from Mi'kmaq territory. We recognize that the contested issue of hydraulic fracturing at Elsipogtog has not been resolved and that the struggle to defend land and water continues.
The Mi'kmaq and their allies began actively protecting their unceded homeland in New Brunswick against "exploratory testing" by SWN more than six months ago, in the spring of 2013. SWN is searching for deposits of natural gas in shale rock formations, which if found, will be extracted through the process of hydraulic fracturing (fracking). The Mi'kmaq did not give their consent for this activity to occur on their territory and have been adamantly resisting exploratory testing for several months due to environmental concerns regarding the extremely dangerous process of fracking, as well as ongoing treaty violations by the federal and provincial governments.
On October 17, 2013, over 100 RCMP and armed tactical unit officers raided the Mi'kmaq blockade camp in Elsipogtog, assaulting a small crowd of peaceful land protectors, including women and elders, and violently arresting 40 people, several of whom were held in solitary confinement. The RCMP was enforcing an injunction granted to SWN against protestors. The Mi'kmaq Nation was subsequently denied an injunction against SWN's fracking activity on their homelands, but SWN secured a new injunction against all protests that was set to expire on Dec. 2nd. On Monday, however, it was extended until Dec. 17. Throughout this time, the RCMP have continued to enforce SWN's injunctions with violent arrests and forceful attacks on unarmed protectors, elders and women, many of whom have been arrested without charges.
The Mi'kmaq and their allies have remained committed to protecting their land, water and community from toxic poisoning by hydraulic fracking. …
We condemn the oppressive actions carried out by federal and provincial governments, law enforcement, and legal authorities for their continued violation of Peace and Friendship Treaty agreements that bind them with the Mi'kmaq nation and grant their presence in their unceded, unsurrendered territory. We condemn the colonial state protection of corporate interests in Elsipogtog and elsewhere, as well as the violent enforcement of discrimination against non-consenting Indigenous communities, who have every right to stand up against injustice, uphold their responsibilities to their land, and to protect life.
We call for a moratorium on all forms of hydraulic fracturing ('fracking') on Indigenous lands across Turtle Island and we will support and organize resistance to it everywhere we can. We will provide our full support and assistance to all protectors, warriors, communities, allies, and defenders that uphold their sacred responsibilities and we congratulate Elsipogtog and our Mi'kmaq relatives on their successful resistance to this imminent threat to their homelands.
UBCIC Responds to Forging Partnerships Building Relationships News Release by Union of BC Indian Chiefs, December 6, 2013
The Harper Government has time and time again demonstrated their jobs agenda trumps, ignores and arrogantly dismissed our constitutionally-enshrined, judicially-recognized inherent Title, Rights and Treaty Rights. The Harper government has consistently demonstrated a complete contempt for environmental values and concerns." 
Chief Bob Chamberlin, Vice-President of the Union of B.C. Indian Chiefs said "To make way for these mega-projects, the Harper Government ripped apart federal legislation, greatly weakened federal policies and hacked the budgets of federal agencies responsible for the protection of lands, water and air. [Emphasis added]
[Refer also to:
December 2013: Chiefs of Ontario say no to fracking anywhere in the province
November 2013: Alberta Environment needs to stop lying about water contamination
November 2013: Union of Nova Scotia Municipalities supports creation of a Coastal Zone Act and a moratorium on fracking
November 2013: Canadian Geographic accused of spreading CAPP (Canadian Association of Petroleum Producers) oil and gas 'propaganda' in schools, including to Grade 3′s
November 2013: Unifor, Canada's largest energy union, calls for Canada-wide frac moratorium
October 2013: Major earthquake could cause $75B in damage, study by Insurance Bureau of Canada warns; major quake would bring insurance industry to its knees
October 2013: Investors sue BP's ex-CEO Tony Hayward and Doug Suttles, now Encana CEO; Encana chops executives, five senior managers gone including USA President Jeff Wojahn, who headed the unit when it was accused of collusion
September 2013: Open Letter  by BC Tap Water Alliance to CAPP
I respectfully request that the Association apologize, in writing, to all Canadians for falsely stating that there has never been a documented/proven case of hydraulic fracturing contaminating groundwater.
July 2013: Canada: Fracking Increases Gas In Domestic Water Wells
May 2013: Protection of water and drilling: the regulation would not apply for Gaspé
May 2013: All Around The Country, Regulators Are Getting Bullied Over Fracking
April 2013: Out Of Control: Nova Scotia's Experience with Fracking for Shale Gas, Analysis Reserve Pit Sludge from Fracing for Radioactive Material (TENORM)
April 2013: Ex-CAPP Chairman/Ex-Encana VP Gerard Protti, appointed by government as Alberta's new top energy regulator
March 2013: CAPP salutes five oil and gas firms
March 2013: Alberta energy regulator will weaken environmental protection and vastly diminishes citizen and landowner rights
February 2013: Oil and gas industry seeks 2 billion-dollar tax break to lure LNG
February 2013: Hydraulic Fracturing in Canada, Federal Environment Commissioner Scott Vaughan Reports Concerns, List of Fracking Substances in Canada Still Secret
January 2013: Wheatland County (Alberta) Councillors call for Fracking Halt
December 2012: Fracking blamed in Innisfail well blowout, ERCB assigns fault to Midway Energy but no enforcement ordered because no rules in place at the time
Howard Hawkwood worries CAPP's new fracking guidelines too weak, says he's felt many tremors on his property
November 2012, Voluntary CAPP guidelines to monitor/respond to earthquakes caused by fracking
November 2012: Lonepine Resources sues Canada over Quebec frack ban
October 2012: Phased-in shale gas could deter industry in New Brunswick says CAPP
September 2012: Fracking banned by Quebec government
July 2012: CAPP pushes Voluntary Fracking standards, Amid rising opposition
February 2012: Canada's National Farmer's Union Demands Moratorium on frac'ing
CAPP aims to but does not ease fracking concerns
Voluntary CAPP fracking practices reach for 'low hanging fruit'
Janaury 2012: CAPP announces new voluntary fracking guidelines
January 2012: The Alberta Surface Rights Group calls for moratorium on fracking
September 21, 2011: Hydraulic fracturing contaminated fresh groundwater near Grande Prairie, Alberta (official investigation and regulator report)