Emmett Macfarlane@EmmMacfarlane Sept 12, 2022:
He… what? Did you point out to him that the Court he runs has a FIFTY year embargo on the release of judicial papers in the national archives?
This is also an institution, by the way, that went out of its way to muzzle former law clerks 15 years ago when I was doing my doctoral work. I hope CJ Wagner succeeds in his desire for more transparency, but taking the Court on a cross-country tour isn't it.
The Supreme Court of Canada @SCC_eng is in Quebec City this week. Chief Justice Richard Wagner joined me in studio to talk about why he wants more transparency: https://cbc.ca/listen/live-ra

Our chief justice is like the oil and gas industry and AER, reportedly using escape hatch words. Wanting something will not make it happen. Instead of spewing promises at us, make public all of the court's work – now. No more secrets, not 50 years into the future or forever!


Refer also to:
2022 08 18: Canada's Supreme Court claims it's transparent and dedicated to enhancing access to justice but lies in rulings, defames applicants, keeps secrets, denies charter rights of Canadians, pisses on CJC's time limit to release rulings, and is self-regulated.
2019: Secrets & lies by AER & Alberta govt to cover-up Encana's secrets, lies & frac crimes; Supreme Court of Canada in the cover-up business too? Top Court signs pact to keep records of deliberations secret for at least 50 years; Reserves right to keep some secret forever
2017: Damaging the Charter: Ernst vs Alberta Energy Regulator by Lorne Sossin, Dean Osgoode Hall Law School, York University. Comment: "It causes one to question how much both the plurality and the dissent were driven by the desired end-state of the judgment, rather than consistency in applying principles of public law."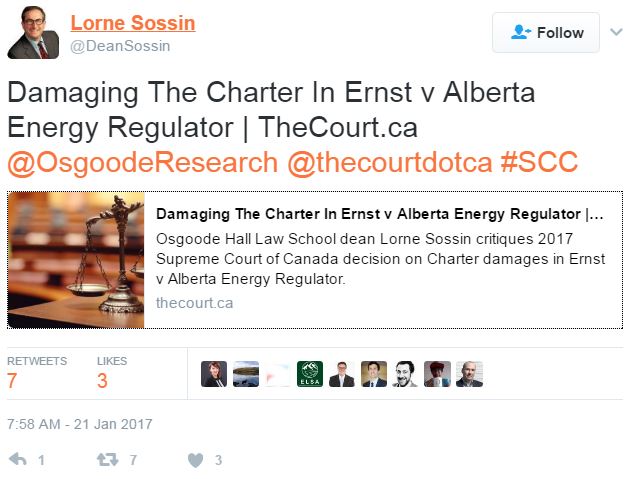 Lorne Sossin was appointed to Ontario's Court of Appeal in 2020