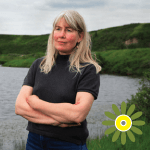 Any institution proclaiming to be transparent and dedicated to enhancing access to justice, usually isn't. If an institution is, they don't need to boast about it. The Supreme Court of Canada damaged our Charter, pissed on the rule of law, fabricates facts in rulings, exceeds time limits for releasing rulings, clearly favours the rich and industry, and keeps secrets, serving shit for justice. No wonder they're tweeting make believe.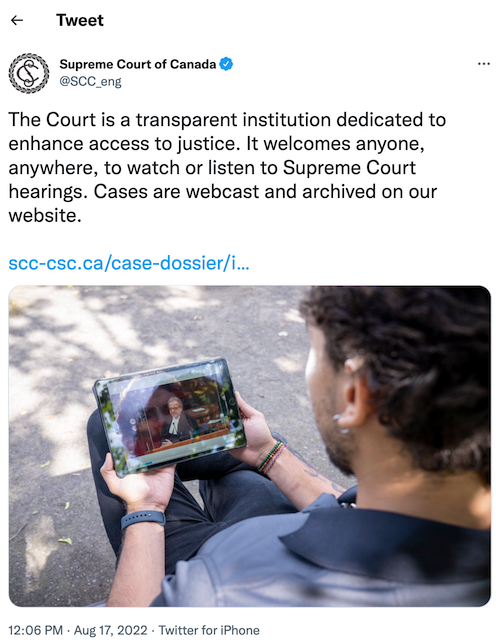 Supreme Court of Canada@SCC_eng Aug 17, 2022:
The Court is a transparent institution dedicated to enhance access to justice. …

Ernst Frac'd & Fuck'd by Usual Sad Sacks of Shit: Encana, Ovintiv and CEO Gwyn Morgan, later by her own lawyers Murray Klippenstein and Cory Wanless, with Alberta courts and Supreme Court of Canada pissing on the rule of law to protect polluters (100% industry-funded AER).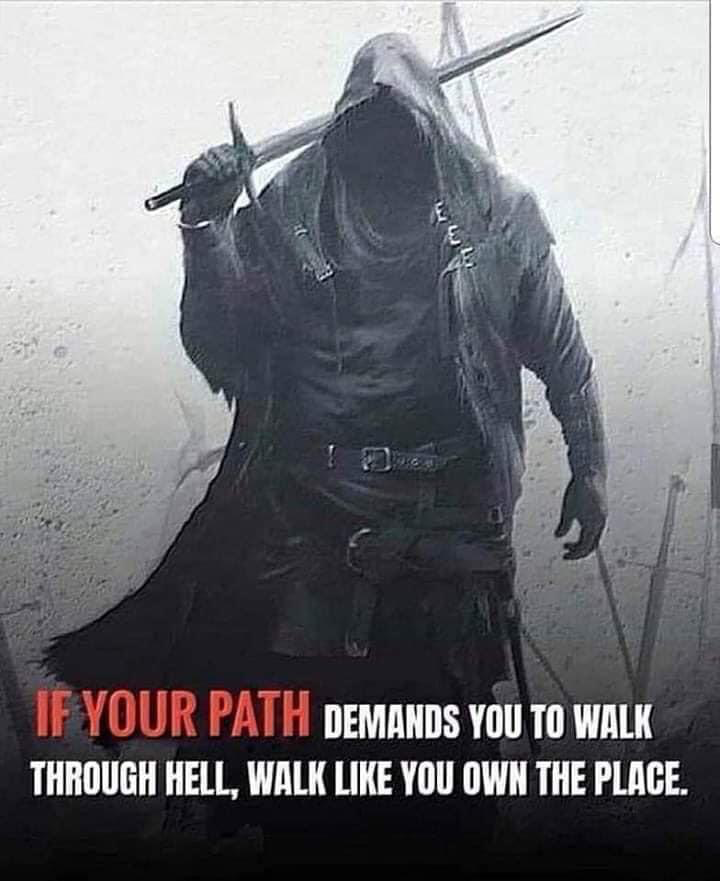 Lorne Sossin: Statutory Bars to Constitutional Remedies: The Importance of Being Ernst
Most apt legal quote of 2020. Prof Emmett Macfarlane on Canada's top court: "The Supreme Court is a political institution."
New in Canada: Federally appointed judges' expenses to be made public for first time, But judges are objecting and get away with pissing on the rule of law and lying in rulings. Why would they heed a law ordering them to disclose expenses that we pay for?
Supreme Court of Canada rules Charter does not protect corporations from "cruel and unusual punishment." When will the court apologize for intentionally publishing lies in their ruling in Ernst vs AER (100% corporate-funded Charter violator) and damaging Charter rights for *non* corporate, non criminal Canadians?
Who orders a new hearing for a Supreme Court of Canada ruling where 9 justices knowingly published a lie and sent it to the media? Who "slaps" Justice Rosalie Abella for knowingly lying in her ruling and belittling the applicant? Certainly not the Canadian Judicial Council!
Secrets & lies by AER & Alberta govt to cover-up Encana's secrets, lies & frac crimes; Supreme Court of Canada in the cover-up business too? Top Court signs pact to keep records of deliberations secret for at least 50 years; Reserves right to keep some secret forever

Perhaps because Supreme Court of Canada wants Ernst and others concerned about the high court's charter-damaging and lying ruling in Ernst vs AER to be long dead before Justice Abella's drafts and deliberations of her ruling, where she got her fabricated facts from (AER's outside counsel Glenn Solomon? Encana/Ovintiv? Gwyn Morgan? Israel?) and the reasons why the court took a year and a day to release it's defamatory ruling are "accessible" to the public?

… Chief Justice Richard Wagner has declined to publicly explain the rationale of the new policy….
… Jim Phillips, editor-in-chief of the Osgoode Society for Canadian Legal History, which has overseen the publication of several biographies of Supreme Court judges, also said he did not understand why the embargo had to be nearly so long. "I could see a rule that said 'nothing that referred to a sitting judge.' But nothing like 50 years."

John English, a historian and author of a biography of Pierre Trudeau, … said the documents disclosing Supreme Court deliberations is critical to understanding how the country's most powerful judges dealt with major issues since the 1982 Charter of Rights and Freedoms took effect. "You understand how institutions function, whether institutions function well, only if you can study them, if you have access to the materials that describe how they function, what their weaknesses are and what their strengths are," he said in an interview. …
Jessica Ernst Open Letter to Chief Justice Beverley McLachlin Regarding False and Seriously Damaging Statements in Justice Rosalie Abella's Supreme Court of Canada Ruling, Ernst v AER
Damaging the Charter: Ernst vs Alberta Energy Regulator by Lorne Sossin, Dean Osgoode Hall Law School, York University. Comment: "It causes one to question how much both the plurality and the dissent were driven by the desired end-state of the judgment, rather than consistency in applying principles of public law."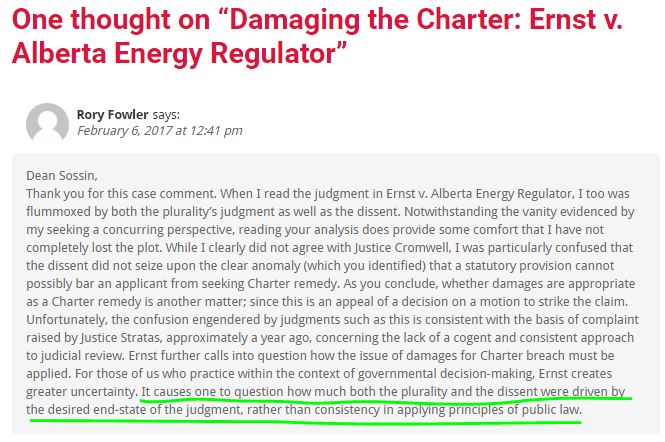 CJC = Canadian Judicial Council, the self regulator of judges.