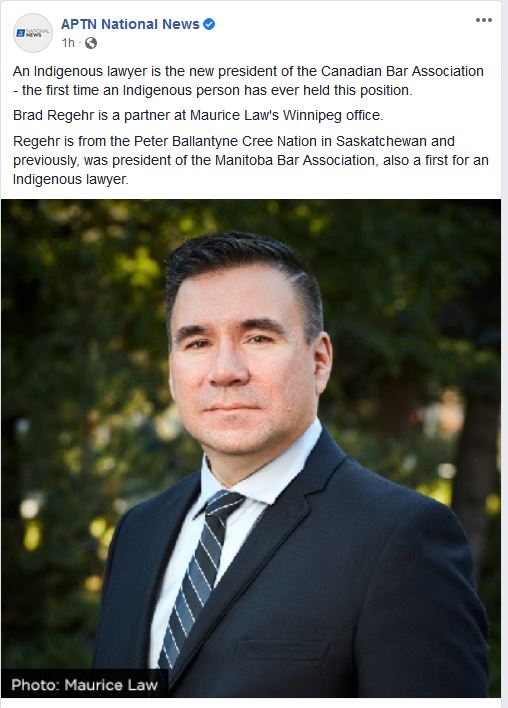 OTTAWA – Brad Regehr of Winnipeg begins his year-long tenure as CBA President today, taking the helm of the 124-year-old Association in an unprecedented time for the legal profession. A member of the Peter Ballantyne Cree Nation in Saskatchewan, he is the first Indigenous person to hold the position. He takes over from Vivene Salmon, who coincidentally was the first Black lawyer to serve as CBA President. Stephen Rotstein of Toronto begins his term as Vice-President.
The CBA Board of Directors also welcomed new members as of today: Eden Alexander of Yukon, David O'Brien, Q.C., of New Brunswick, Jonathan Coady, Q.C., of PEI, Brittany Scott of NWT, Susan Johnson of Nova Scotia, and John Stefaniuk of Manitoba. They join Board members who are entering the second year of their two-year terms. Melanie Mortensen won a mid-term election in British Columbia to replace William Veenstra, who was appointed to the Supreme Court of British Columbia in June.
As President, Regehr will co-Chair the CBA's Task Force on Justice Issues Arising from COVID-19 with immediate Past President Vivene Salmon. The task force addresses the growing list of legal issues resulting from the pandemic. The new Board has adopted the modernization of justice systems as its advocacy priority for the year.
"My personal priority this year will be to advance the work of the CBA's Truth and Reconciliation initiative, which has done some great work in the past year, including in May when it launched The Path, which is about increasing awareness of the legacy of the Indian residential school system," says Regehr. "Wellness is another priority – the stress and isolation of COVID-19 is weighing on everyone this year. I will also continue the Association's focus on young lawyers. They are an important part of everything we do."
Member outreach is a top-of-mind issue for the new CBA President, since many of the normal channels – travel to Branches and in-person meetings with volunteers and partner firms – will not be available due to COVID-19 restrictions. One way he will speak to members is through the podcast Conversations with the President, which this year will focus on the Calls to Action in the Truth and Reconciliation Commission Report.
Brad Regehr is a partner with Maurice Law in its Winnipeg office, where his practice focuses on Aboriginal law, civil litigation and administrative law. He recently completed a two-year term as President of the CBA's Manitoba Branch, and has held a variety of positions at both the Branch and National levels of the CBA, where he has been a member since 1996.
Quick facts:
Brad Regehr received his LL.B at the University of Manitoba in 1996.
He was called to the Bar in Manitoba in 1997.
He was part of the legal team that successfully defended a challenge to a First Nation's tax laws under the First Nations Fiscal Management Act, the first litigation involving that statute.
A passionate amateur actor, he has been involved in eight productions of The Lawyers Play, a joint fundraising production between the Manitoba Bar Association and the Royal Manitoba Theatre Centre.
For more information, or to arrange an interview, please contact Kim Covert at email hidden; JavaScript is required.
Related link:
Interview with CBA President Brad Regehr

Refer also to:
2020 08 05: "Rule of Law" or "Rich White Man Law?" US Senate (controls Supreme Court nominees) created to represent the rich: "…to protect the minority of the opulent against the majority." John A. MacDonald, 1st thug PM on why Canada needed an appointed Senate: "We must protect the rights of the minority, and the rich are always in fewer number than the poor."
Yup, the same racist thug PM who lost his head recently:
….it is crucial to recall that these statues are not monuments of collective historical remembrance; rather, they are static, physical pieces of propaganda. … The evidence of Macdonald's crimes against humanity are quite disturbing, to say the least.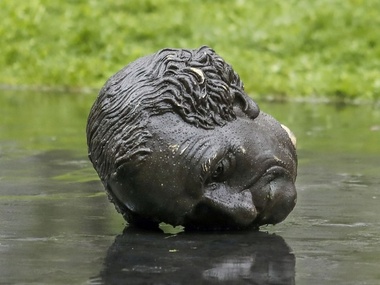 Emmett Macfarlane@EmmMacfarlane Poli Sci Prof, UWaterloo. Constitutional Law, Public Policy & Cdn Politics. Author & editor of books.
Law is politics people. Never forget.
Canada's top judge history (are/were any poor, living without water?):
All Supreme Court of Canada appointments to date:
87 White men
10 White women
2020 06 23: Alberta Law Society rescinds lawyer Grey Leighton's appointment from adjudicator pool; Ignorant Kenney/UCP refuse to apologize for putting Leighton on their judge picking committee
2020 06 20: Canada's racist legal industry rots & lies on: Alberta lawyer Leighton Grey (posted Black Lives Matter 'leftist lie' video), resigns. Picked by racist Kenney's racist UCP to be on racist committee to pick racist judges? Grey was lawyer for Clayton Boucher, imprisoned after racist RCMP found baking soda in his home.
2020 06 08: Racism murders on. In Canada too, enabled by lawyers & LSO. If legal & judicial industries refuse to confront their white privilege, how will police? Nina Simone, 1968: "They're shooting us down, one by one. … Killing us, one by one."
2020 06 04: Law Society Ontario (LSO)'s white privilege bucket runneth over
Paul Butler: "This is not about enforcing law. It's about enforcing white supremacy." The New York Times: "How the Supreme Court lets cops get away with murder." Roxanne Gay: "A hashtag is not a vaccine for white supremacy." Linda Tirado: "It was police who shot me, not protesters." Slate: "Police errupt in violence nationwide."
Gillian Hnatiw, Canadian lawyer, female: "Fundamentally, the law is about power – who has it, who gets it, and how they are allowed to wield it. … Yet evidence of misogyny remains all around us. Lest anyone forget, there is a self-confessed sexual predator in the White House. … In Canada, we're not faring a whole lot better…. All of our political leaders are men."
Doctrine of Discovery: Stolen lands, Strong Hearts: Never mind sexual assault/rape education for Canadian judges, they need to learn Indigenous Law & Rights too (and how to be honest). But, is it possible to "train" misogyny and racism out of people, especially privileged (mostly white) people (mostly men) like lawyers & judges?
2020 02 21: Legal scholar Joshua Sealy-Harrington "totally eviscerates" Murray Klippenstein's arguments. It revolts me that my public interest lawsuit is being destroyed by Klippenstein pissing on Law Society Rule 2.09 to enable racism. After abruptly quitting my lawsuit more than 730 days ago, he *still* has not sent me my case files. What tune would Klippenstein sing if all the bias/prejudice was directed at Mennonite lawyers?
2019 12 20: Oh Racist Colonial Canada: As vile under Trudeau as Harper! Police prepared to shoot Wet'suwet'en land defenders; Documents show Commanders argued "lethal overwatch is req'd" – a term for deploying snipers – like in Elsipotog in 2013. RCMP commanders also instructed officers to "use as much violence toward the gate as you want."
2019 09 11: "Hey look Ma!! Racists won!!" Ontario Law Society's Statement of Principles (SOP) abolished by dinosaurs. "Shows how corrupt our legal (definitely not justice!) system is. May all White supremacists rot in hell." … "It is from this circus of clowns we choose our judges, and it shows in our injustice system."
Studies of federal courts found that when a female justice or a justice of color sits on a panel, their male or white colleagues are more likely to side with plaintiffs in civil rights cases.
2019 07 16: No wonder Canadian "justice" is so often misogynistic, racist &/or abusive. Looking in the mirror: Harassment in legal workplaces
2019 07 06: Ontario Bar Association reaffirms commitment to promoting equity, diversity & inclusion, "speaks as a united voice." Compare to Law Society of Ontario's white supremacists squabbling childishly trying to hold onto power. How does a litigant get fair legal representation with shit like this going on?
2019 06 30: How prevalent is racism (and misogyny) among Canadian lawyers & judges?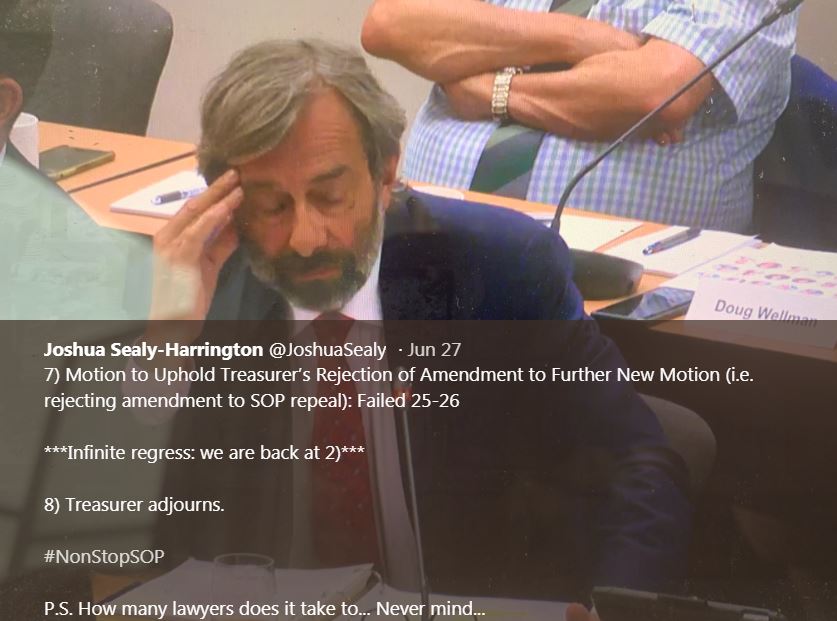 Photo above: Murray Klippenstein, One of my quitting lawyers (the other is Cory Wanless).
Do you want fairness, equality, diversity, inclusion in Canada's legal profession? In 2019, 85% of the legal profession in USA is white and mostly male. No wonder so many sexual assault victims are re-victimized in court by judges and known convicted pedophiles are granted licence to practice law! No wonder our environment is underrepresented and unjustly served with vile demented gag orders.
Diversity? Not So Much
A whopping 85% of the profession is still white. 85%.
For example, while the Report's introduction points out that the profession changes every year, much of the story contained in the Report is unfortunately the same. For example, a whopping 85% of the profession is still white and mostly male. 85%.
… 80% of our federal judges are white. Almost 75% are men. That's an incredible lack of progress for a key metric. [White men don't like to share power do they?]
… The Report also reveals what most of us would have assumed: public service lawyers are grossly underpaid with civil legal aid lawyers being paid on average the least of the least. Its no wonder we have an access to justice problem.
… 21% of lawyers report problem drinking; 32% of lawyers under 30 report problem drinking. This compares to 6.4% of the general population. 25-35% do lawyers facing disciplinary proceedings report some mental illness or addiction issue.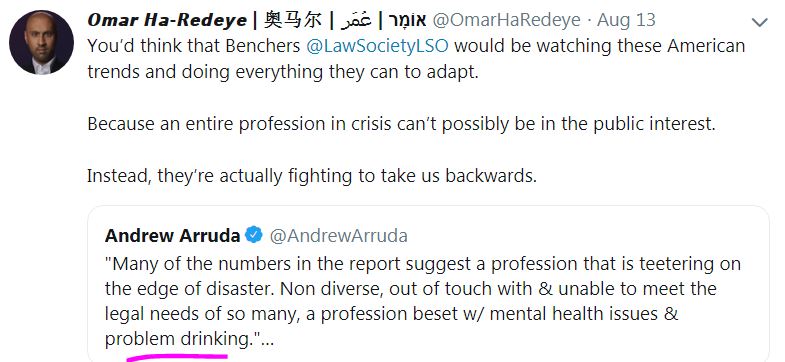 2016: Justice understood? Or are some lawyers and the Canadian Bar Association wanting to silence the many Canadians concerned with the serious access to justice problems in Canada?