This post is dedicated to the Ali sisters.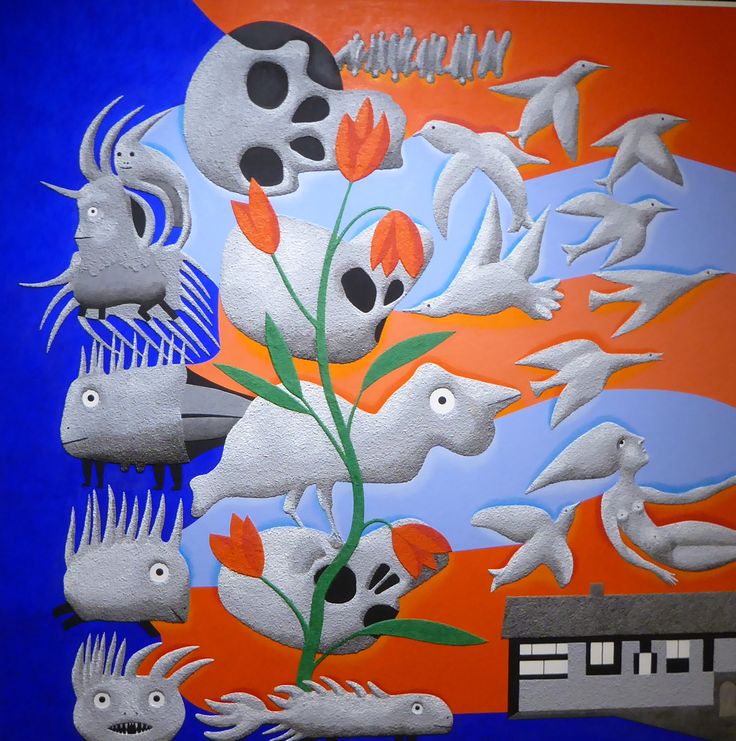 1981: Bestiaire 24e by Quebec painter Alfred Pellan
2009 Report by Canada's National energy regulator (NEB) in 2009, ignored by main media:
However, as a technology driven play, the rate of development of shale gas may become limited by the availability of required resources, such as fresh water….
… Drilling and hydraulically fracturing wells can be water-intensive procedures; however, there is very limited Canadian experience from which to estimate potential environmental impacts.
… Flow-back water is infrequently reused in other fracs because of the potential for corrosion or scaling, where the dissolved salts may precipitate out of the water and clog parts of the well or the formation.
… Finally, there are some environmental concerns with development of shale gas in Canada. Little is known about what the ultimate impact on freshwater resources will be. [Keep fracking the way Canada is fracking, there will be not enough water for people, including judges and their loved ones, and animals. Death for fish and other aquatic life. And lots of human fatalities in explosions caused by industry's fugitive "natural" gases.]
2012 AEA: Support to the identification of potential risks for the environment and human health arising from hydrocarbons operations involving hydraulic fracturing in Europe
For individual sites with less than 600 m separation between the fracturing zone and groundwater, the risk was judged "high".
…
As discussed above, the potential exists in principle for the fugitive gases, chemical additives in the fracturing liquid or the liberated, naturally occurring substances to reach underground sources of drinking water raises concerns over the risks to human health. This could potentially occur, for example, if extended fractures are linked to aquifers via faults or preexisting manmade structures.
A proportion (25% to 100%) of the water used in hydraulic fracturing is not recovered, and consequently this water is lost permanently to re-use, which differs from some other water uses in which water can be recovered and processed for re-use. [

Likely the most important regulator impact statement on frac impacts

]
…
Re-fracturing may be needed during the production phase. It is estimated that re-fracturing may take place up to four times from an individual well, as described in Section 2.2. USEPA (2011a PR p82) highlights concerns that the potential effects of repeated pressure treatments on well construction components (e.g., casing and cement) are not well understood. … Nevertheless, in view of the possible evidence for methane migration into potable groundwater (Osborn et al. 2011) and uncertainty around the risks associated with re-fracturing, the potential for increased risk due to re-fracturing remains an area of uncertainty, and hence has been assigned a risk aranking of "high" for installations with less than 600 m distance between fracturing zone and groundwater and "moderate" for installations with more than 600 m distance.
[2004: Encana illegally frac'd directly into Rosebud's drinking water aquifers (never mind frac'ing 600 metres and deeper beneath them), repeatedly, and into fresh water zones on about 200 gas wells around the community while smiling Encana Executive Mark Taylor (now VP with the AER), promised concerned families that the company would never frac anywhere near the water table and only far below it, to prevent gas from migrating into the community's water supply.
2005: Boom!
Regulators – and the Alberta Research Council led by CEO John McDougal (later appointed (rewarded?) by PM Steve Harper to CEO of the National Research Council) – lied to & bullied Ernst to help Encana lie & frac & cover-up the law violations.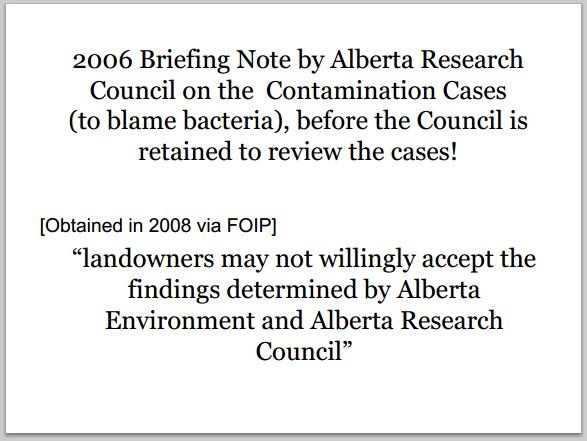 The Briefing Note was by the Research Council's very own CEO, Mr. John McDougall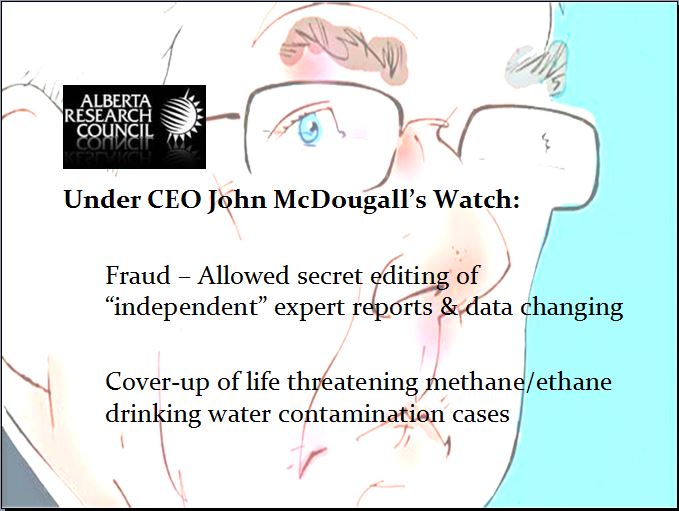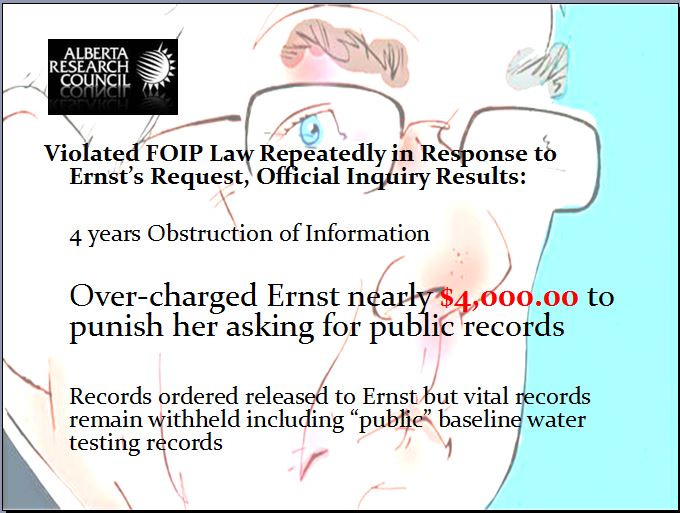 Slides from Ernst presentation for ACORRDS, Cochrane, Alberta on May 13, 2017
About 62 Encana gas wells around Rosebud were frac'd less than 200 metres from surface, never mind 600 metres beneath groundwater. The map below of Encana's shallow frac'd gas wells around Rosebud only shows wells up to April 2006. Once they frac and contaminate you, they frac you again and again and again, with cover-up regulators and selfish lying politicians (no matter what party) enabling the non-stop abuses and law violations.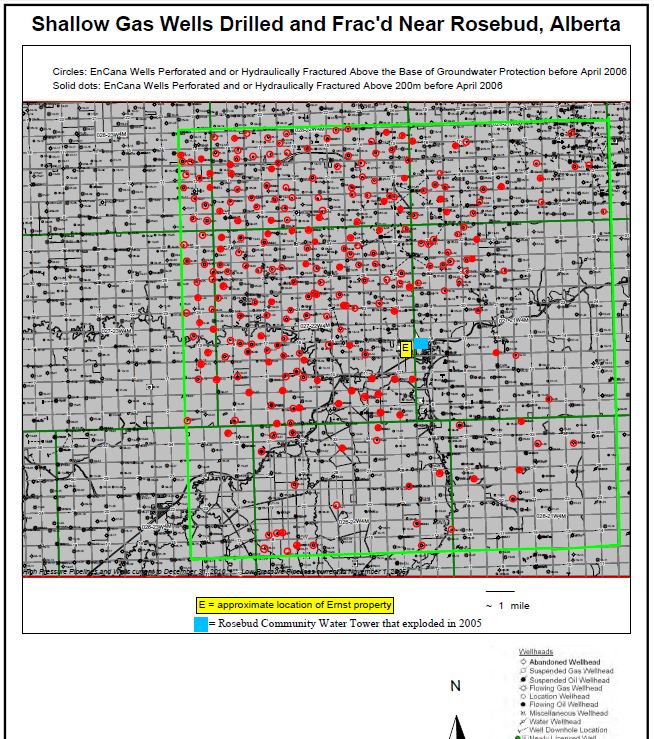 After care for harmed citizens is non-existent. Governments take more and more public money away from health, education, senior care and infrastructure to give more and more to companies that are reportedly currently sitting on over $ 630 Billion in cash, refusing to invest it or use it to clean up after themselves.
Oil and gas companies pay nothing to government for the billions of gallons of water they permanently remove from the hydrogeological cycle.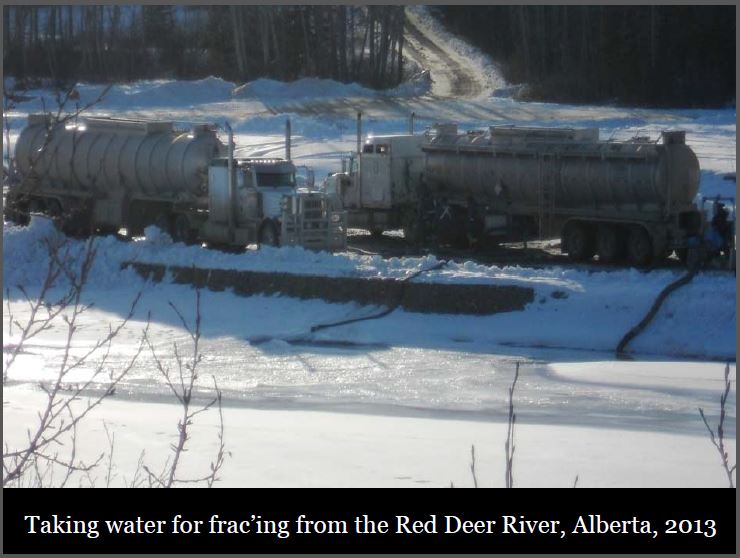 Below photos of industry taking water for fracking from the supposedly protected Bow River directly (or from municipal supplies)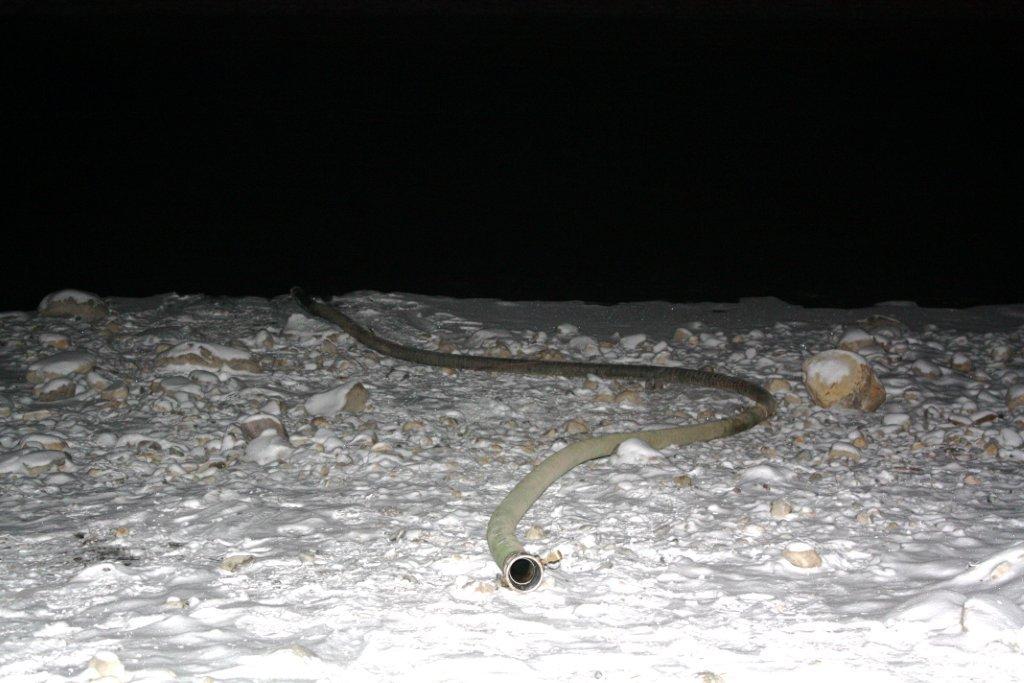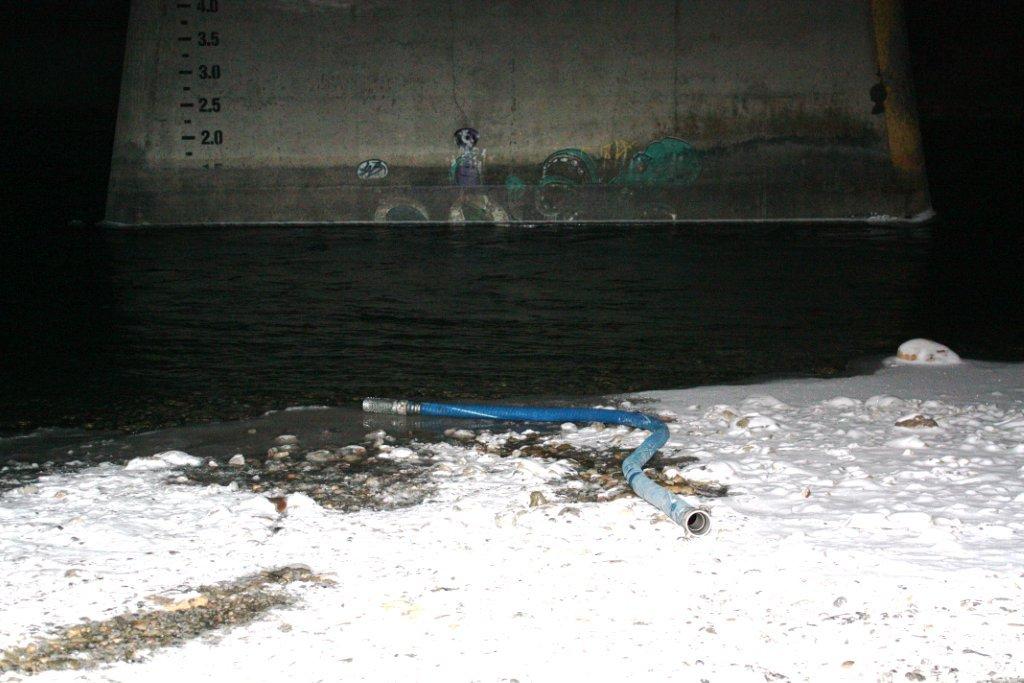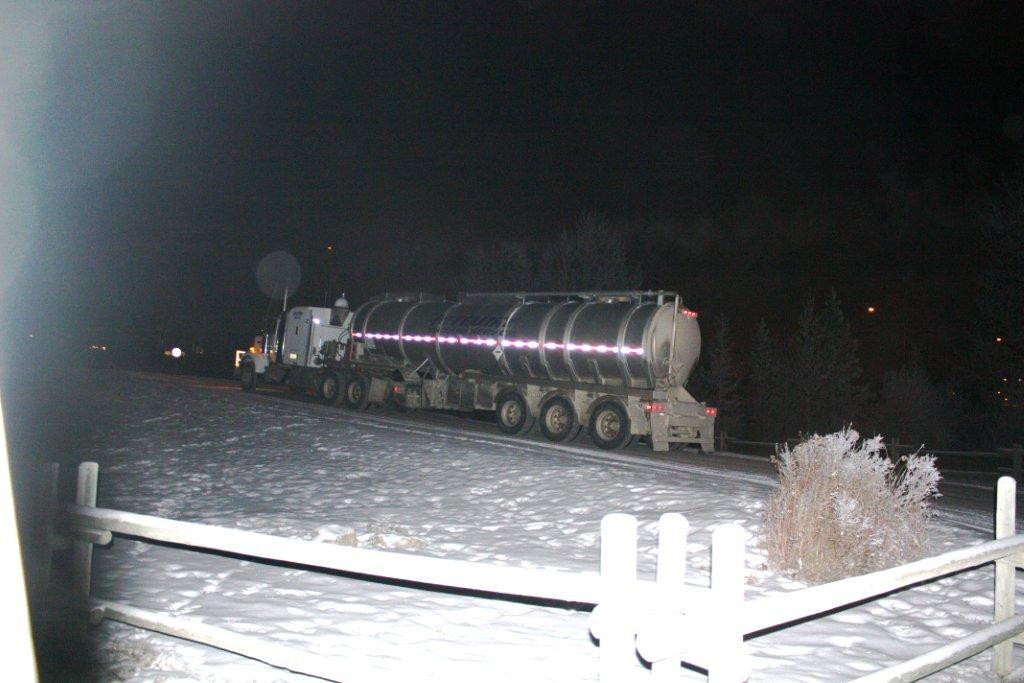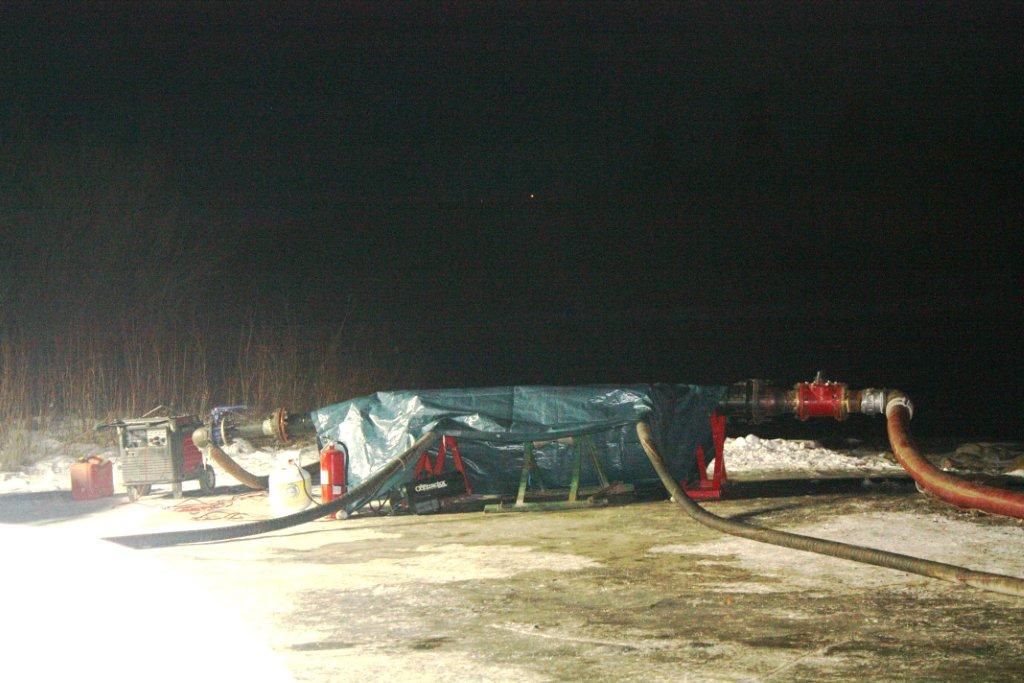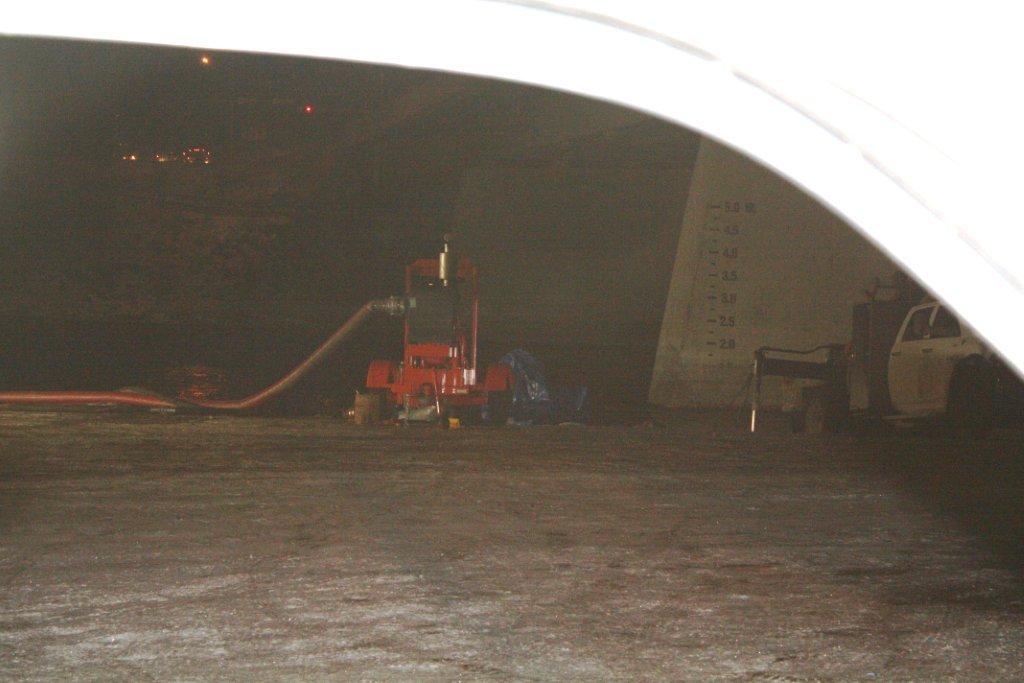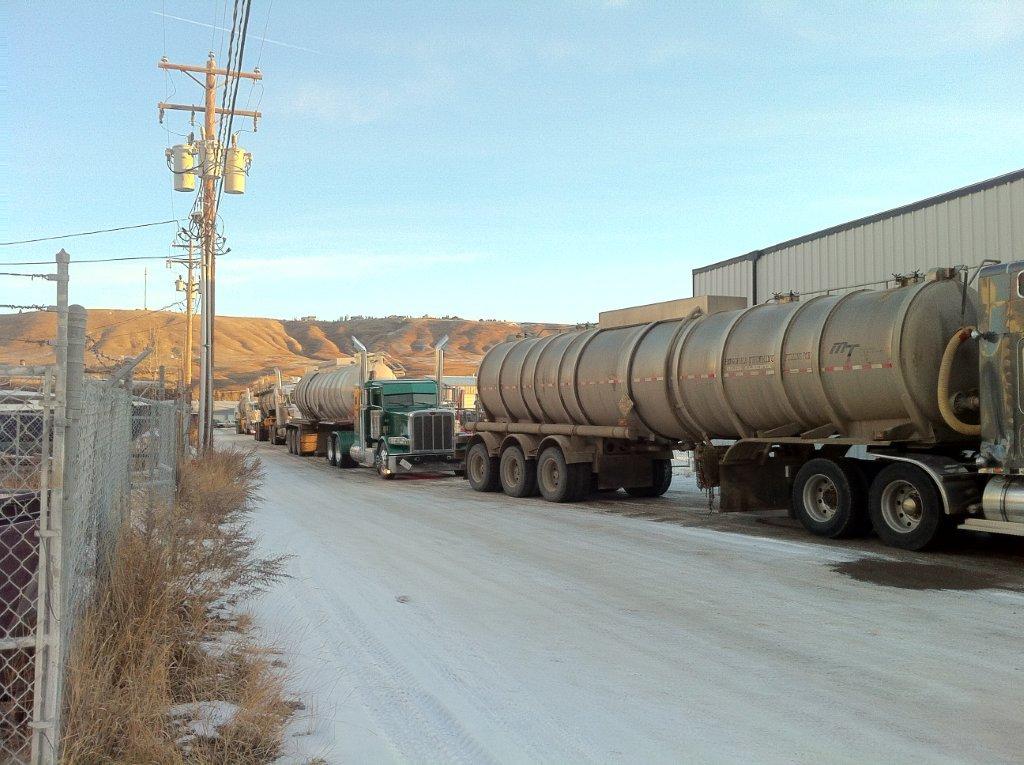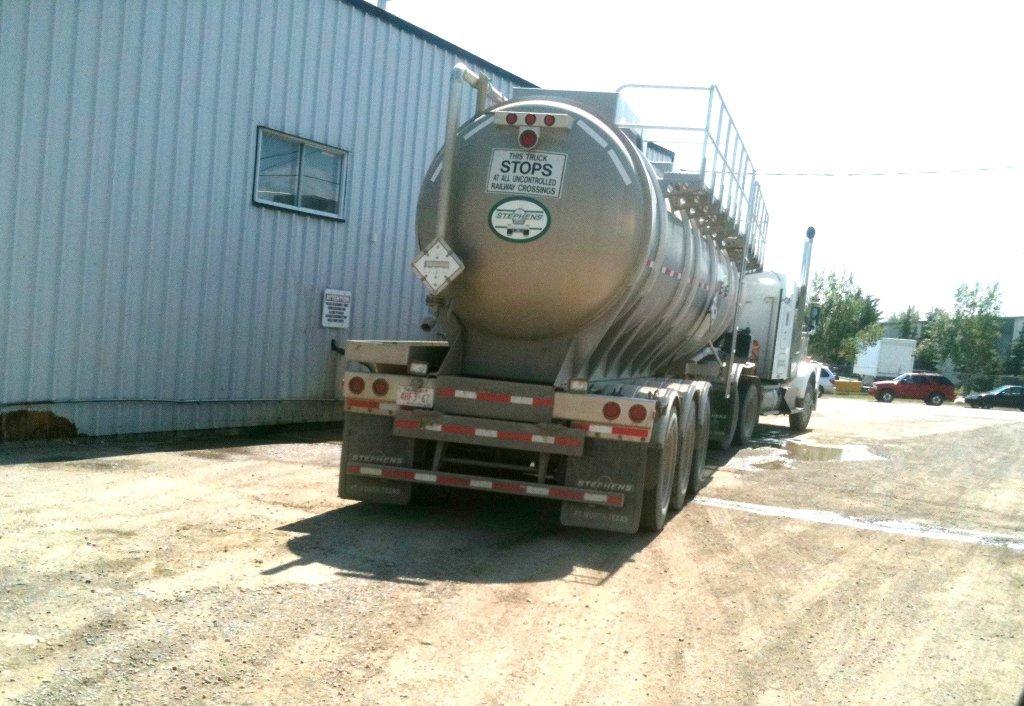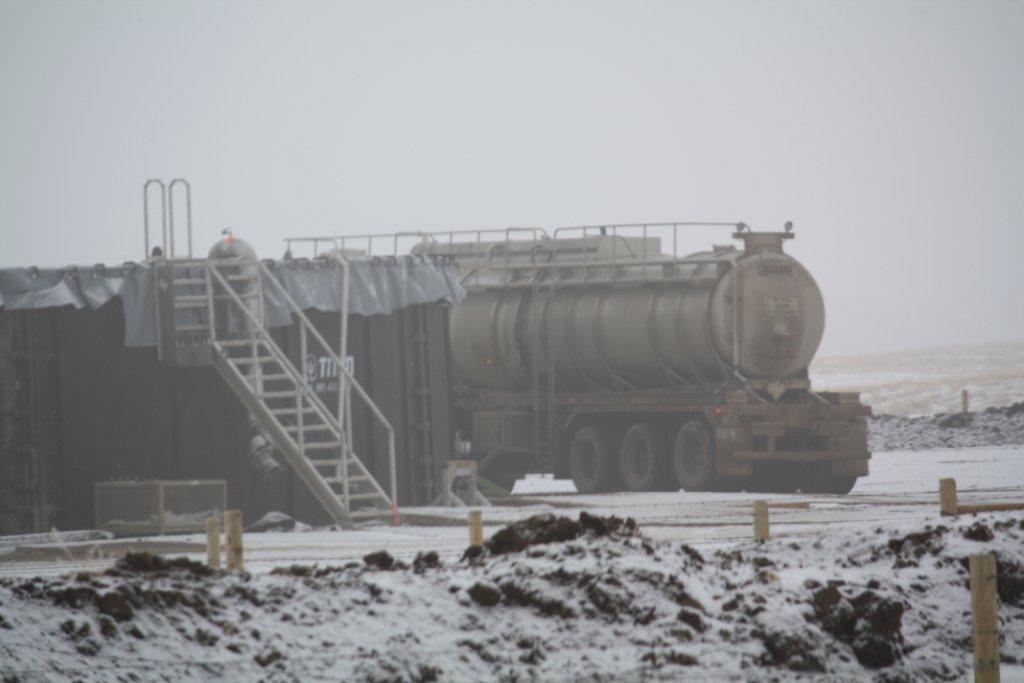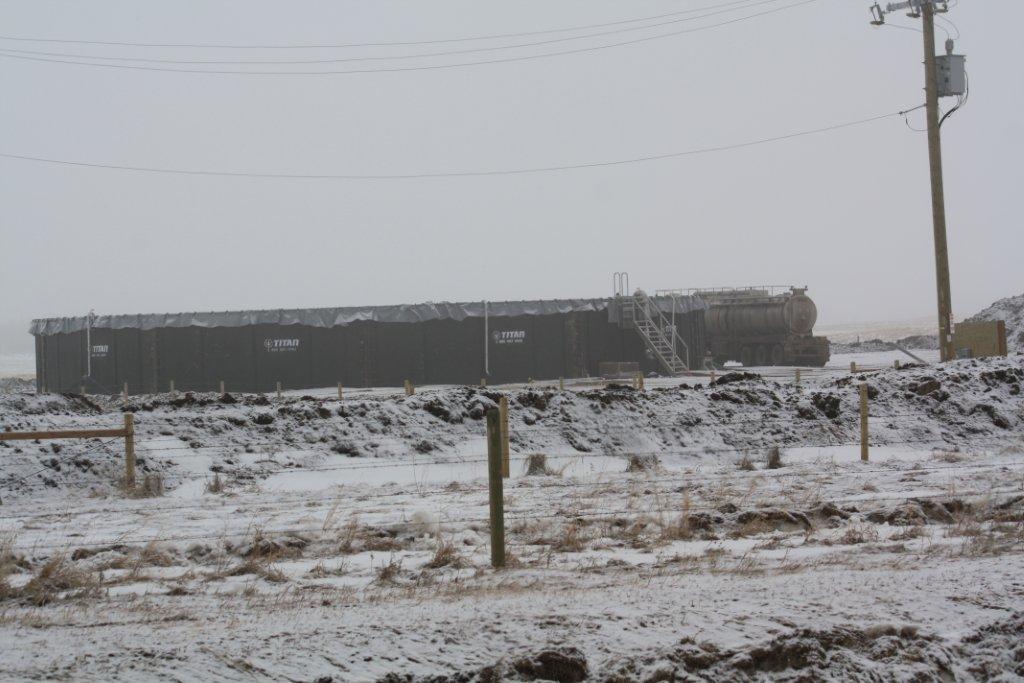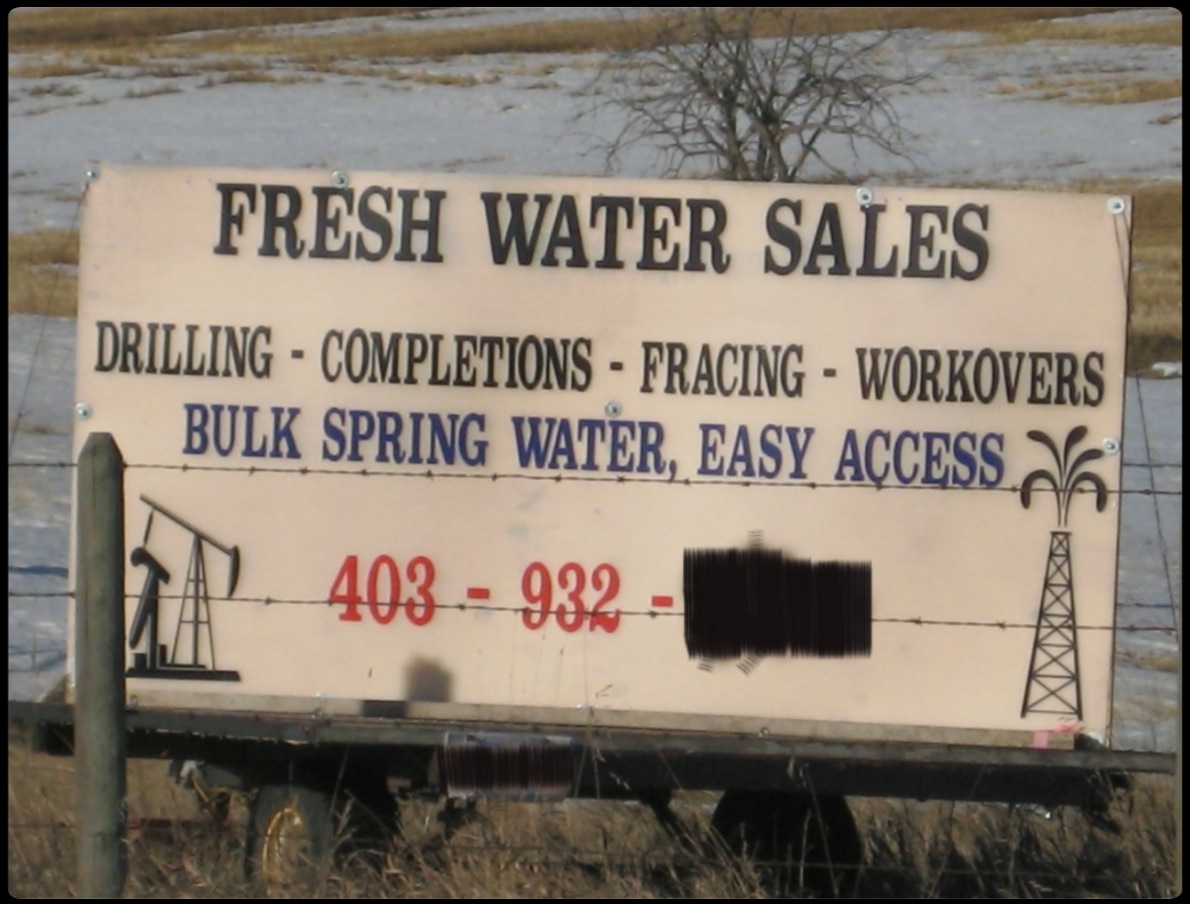 Some Albertans profiting from industry's abuse of a resource needed to sustain life that is not privately owned? Selling public surface water or groundwater?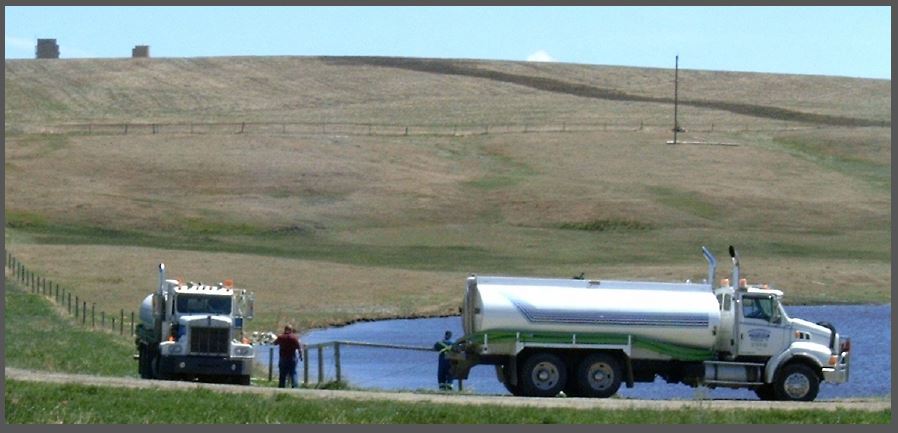 2005: Encana taking fresh water to drill 'n frac around Rosebud, after promising in public meetings the company doesn't inject untreated surface water (to prevent E. coli contamination of drinking water).
Province issues dozens of water shortage warnings as southern Alberta towns ban use by Bill Kaufmann, August 8, 2017, Calgary Herald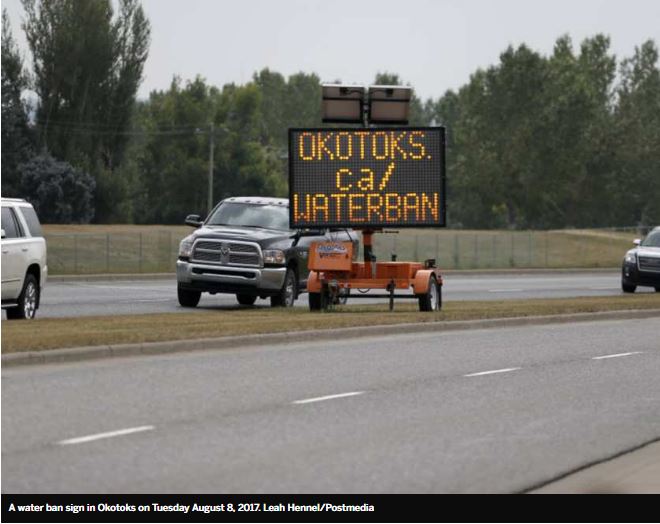 Parched conditions have led the province to issue 40 water shortage advisories across Alberta, with some towns south of Calgary banning outdoor use.
Of those advisories, 17 apply to river sections in the Calgary region, including the Bow and Elbow, in which voluntary angling moratoriums in most cases have been posted due to lower water levels and higher temperatures that are stressing aquatic life.
But for the Sheep and Highwood rivers and Fish Creek, it goes further to include no more temporary diversion licences being accepted, while in the North Saskatchewan River Basin, that's been extended to restrictions on licensed water withdrawals. [Wanna bet fracking diversions are exempt?]
For the past week, the town of Okotoks has banned nearly all outdoor use of water [Is fracking exempt?] due to the sharp drop in the flow of the Sheep River and soaring demand amid the relentless summer heat.
Bans have also been put in place in the nearby towns of Black Diamond and Turner Valley, while softer restrictions are in effect in High River.
"Basically, it comes in as supply and demand, and we have a supply problem that goes a long way back," said Okotoks Coun. Tanya Thorn.
Lawn watering, vehicle washing, filling of pools and other uses are prohibited for the foreseeable future, she said, measures last taken a decade ago.
The measure has succeeded, dropping Okotoks' water use from 15 million litres a day to 7.2 million litres, said Thorn.
But she said that with climate change and predictions of an increasingly dry future, more needs to be done at the provincial and municipal levels in regulating and co-ordinating water use and encouraging conservation.
"Water management in southern Alberta needs to be significantly looked at — in southern Alberta, we have the largest population and the lowest amount of water, and that issue is going to increase as we go forward," said Thorn. [And the water demands by oil and gas companies to frac and refrac and refrac, and for enhanced recovery, drilling and servicing are also ever increasing]
The provincial advisories haven't gone as far as restricting licensed water withdrawals or diversions.

[Why not? Because that's how the oil and gas companies get the water they want]
Precipitation levels this summer have lagged in southern Alberta while temperatures were consistently scorching throughout July.
Those conditions have also led to a recent provincial crop report predicting a 10 to 20 per cent drop in harvest production compared with the long term norm, due mainly to relentless heat.
For the next two weeks, Calgarians shouldn't see any restrictions on water use, said Frank Frigo, the city's lead river engineer.
Unlike smaller centres with limited water sources, Calgary is blessed with two rivers bolstered by decent mountain snow packs from last winter, he said.
"We've had a fairly healthy and late-lasting snow pack — it's the lack of precipitation in the past six weeks that's been noticeable but, other than that, we're OK," said Frigo.
One concern, if the region is caught in a prolonged drought, is Calgary's relative lack of a significant water holding body upstream, he said. [Wait til the greedy frackers use it all up]
And he said the lack of urgency in Calgary shouldn't lead to complacency among residents, who should do all they can to conserve water. [Residents have to conserve, but frackers get what ever amount they want]
It's a philosophy — achieved through lower-flow bathroom fixtures and judicious outdoor use — that's already succeeded in halving daily per capita use from about 500 litres in the 1970s, he added.
But in Okotoks, Thorn not only echoed those sentiments but added a plea.
"It's going to be dictated by what supply looks like," she said.
"We really need rain." [Emphasis added]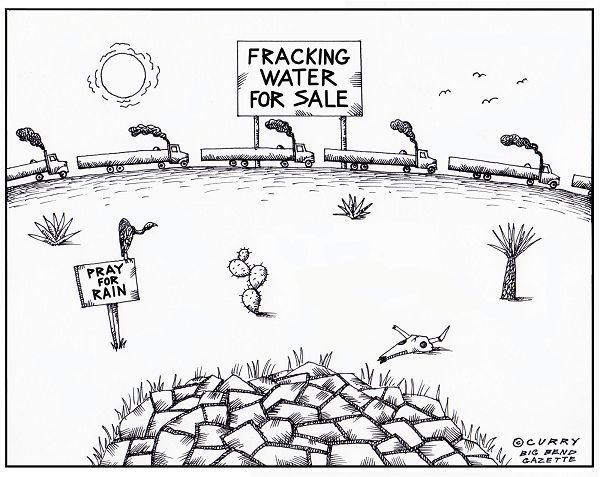 ***
What do frac'd Albertans need?
Where are Alberta's NDP? Oh right, giving hundreds of millions of taxpayer dollars to billion dollar profit taking oil and gas companies that are sitting on billions in cash.
Some Albertans have been suffering without safe water for years: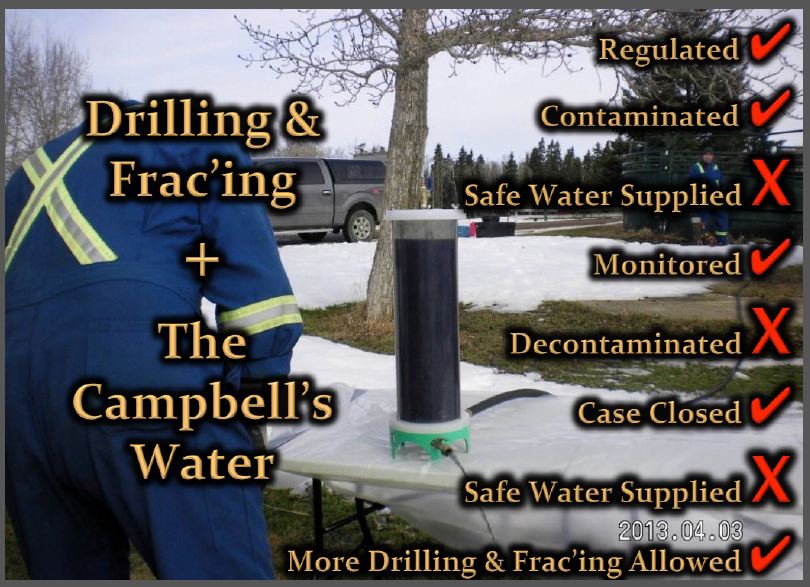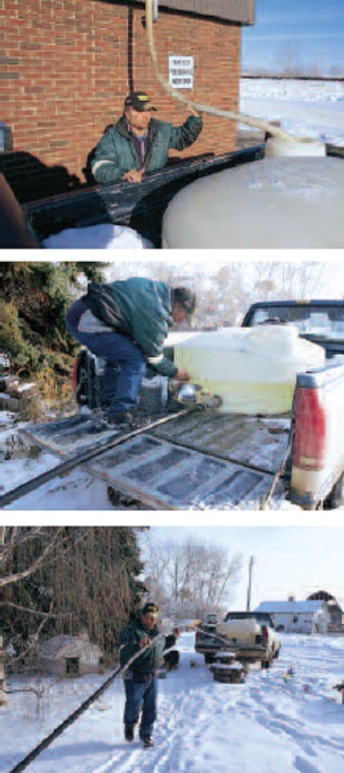 Dale Zimmerman, hauling water for his home use after MGV (name changed to Quicksilver after Zimmerman's water contamination was reported in the media) frac'd and contaminated his well water in 2005
Hauling water in winter in Alberta is no fun.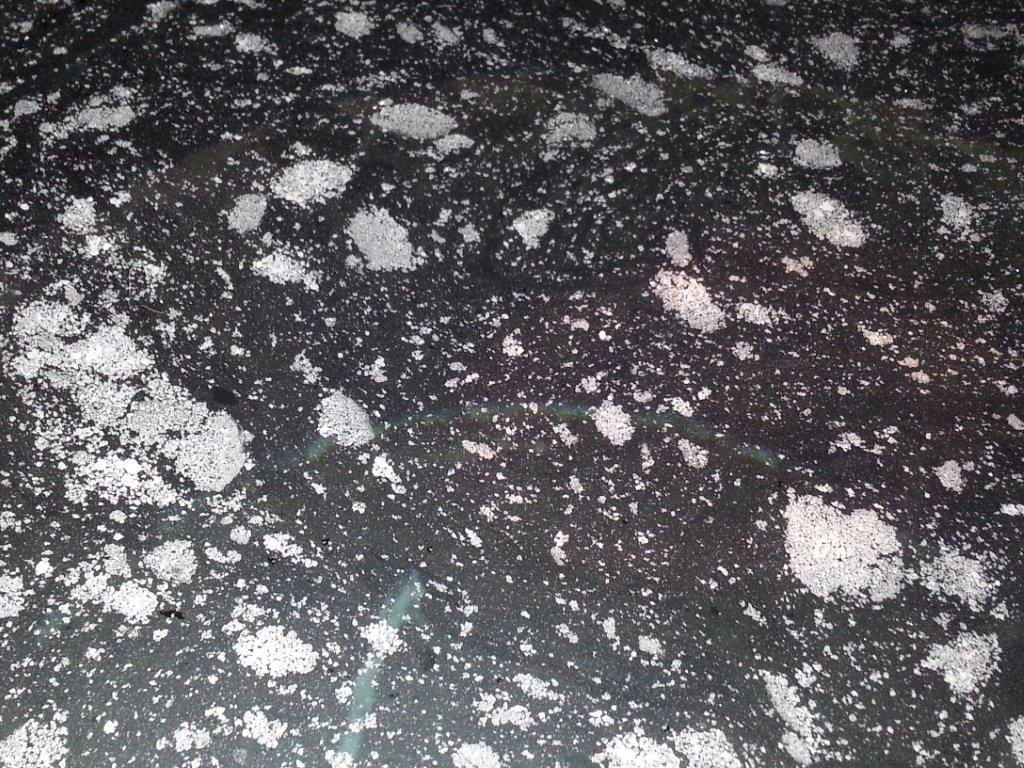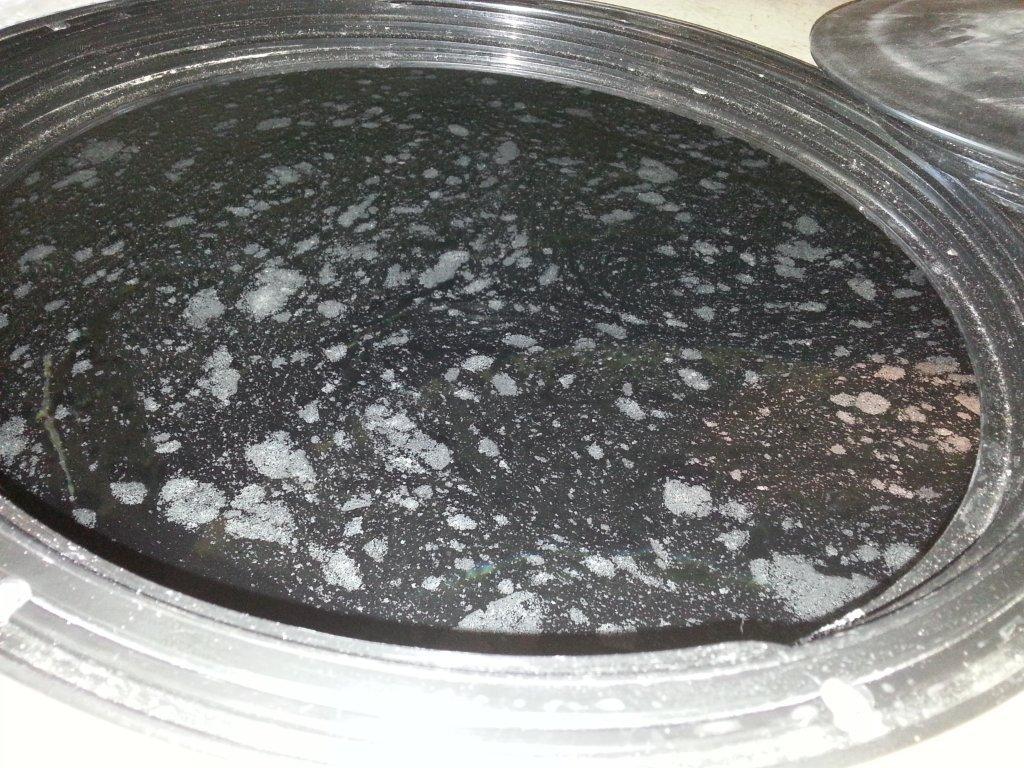 Water supplied by frac company after contaminating a family's well water NW of Calgary. Would you bathe your children in that? Would judges? 
Would you drink this?
2006: Ernst's well water after Encana illegally frac'd repeatedly into Rosebud drinking water aquifers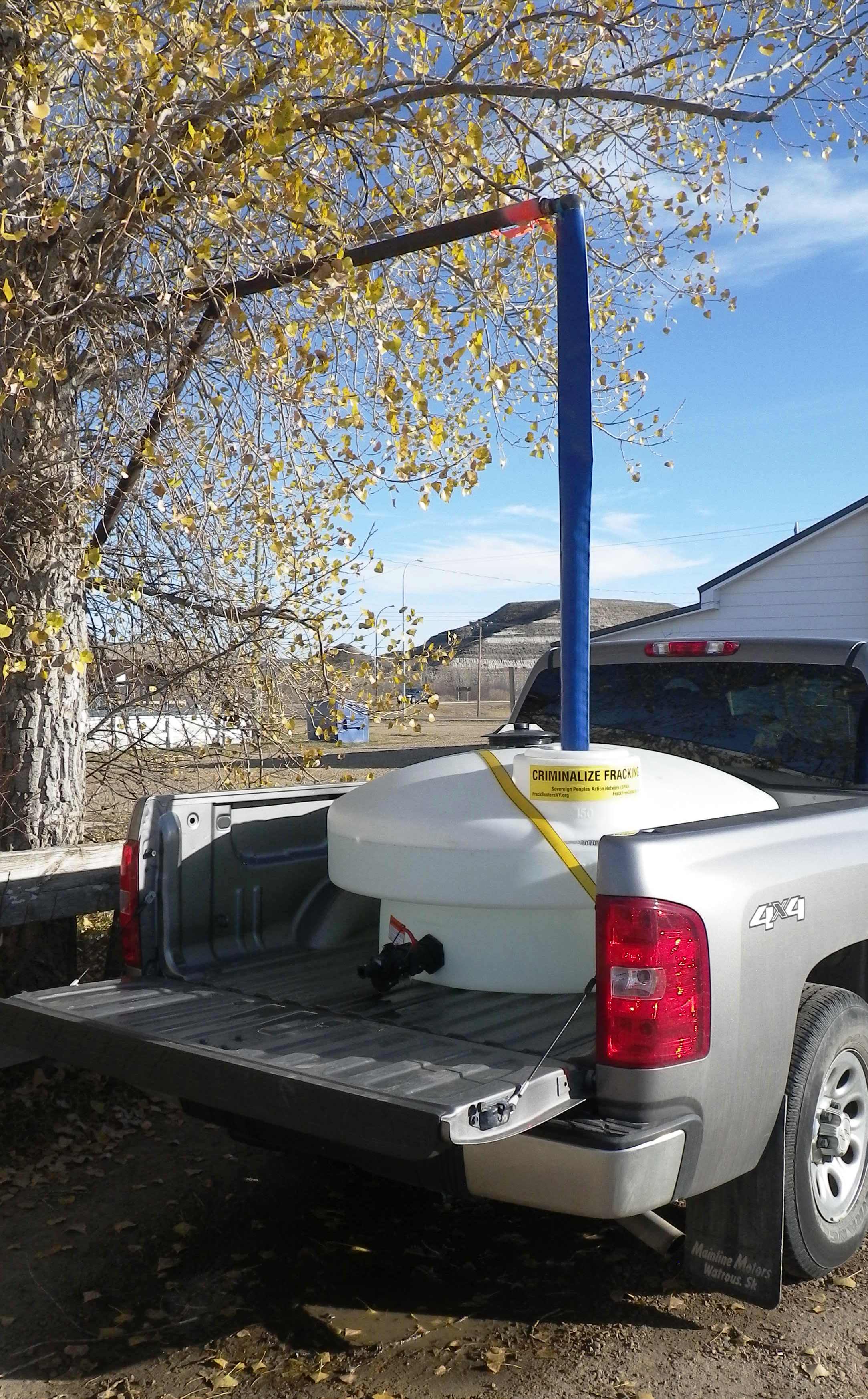 Still hauling alternate water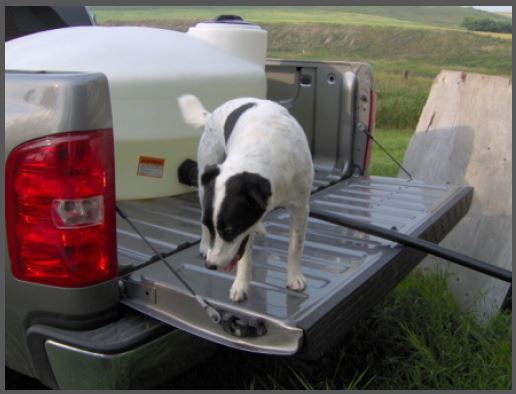 2006 – 2008: Water delivered by the Alberta water regulator. The government promised a permanent water supply but quickly broke their promise after Alberta Research Council CEO John McDougall's nasty law-violating actions and Dr. Alexander Blyth's fraudulent reports (secretly edited by Steve Wallace with the water regulator) blamed the water well owners via nature and bacteria, just like Mr. McDougall said he was going to do before Alberta Environment retained the research council. Was this orchestrated by Encana? The AER? Steve Harper? A joint effort?
Did Encana and other multinationals order them to stop because the water deliveries and permanent alternate water solution made the frac'ers look too guilty?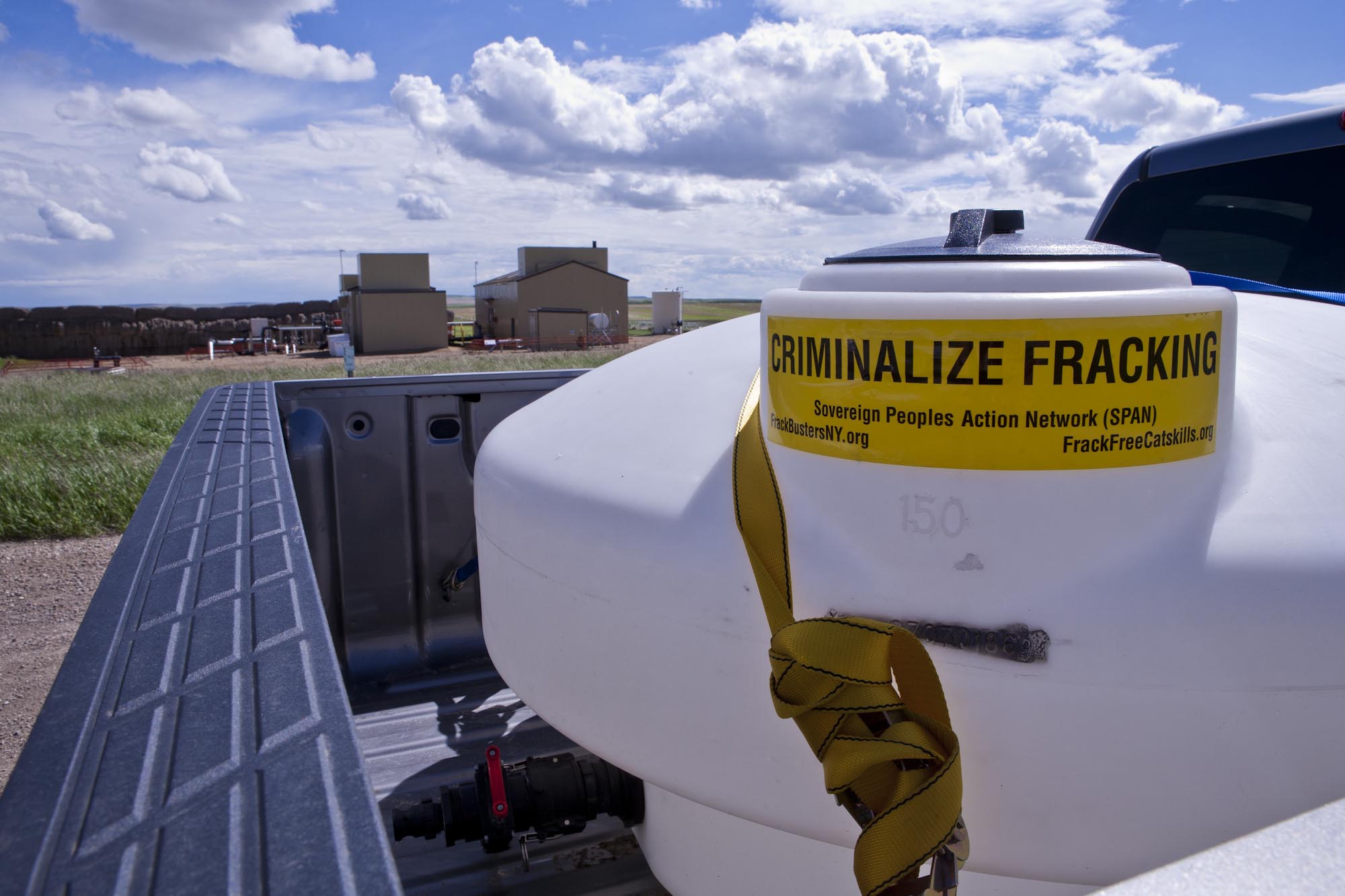 2013 Ernst hauling water and Encana's noisy compressors. One sounds like it's going to blow up, still violating Ernst's right to quiet enjoyment of her home, as of August 8, 2017. Encana must have finally realized how ridiculous they look with their super cheap straw bale wall PR stunt (the wall doesn't mitigate noise, it was just installed to con the public into believing "good neighbour" Encana cares. Encana's own noise consultant told Ernst the straw bales would not mitigate the compressor noise, that the noise would just roll over them, and on down to Ernst's house.
Or AER finally figured out what a fire hazard the wall was?
Encana's straw bale wall is gone; the noise and frac'd water contamination continue.
2008 – current, August 2017: Ernst has been hauling her own alternate water, driving nearly 2 hours for 185 gallons.
Refer also to:
2016 03 23: Devolution of a Species. Alberta Venture Special Report: Towns in Alberta's industrial heartland ran out of water last summer. Is fracking to blame? Is "No Duty of Care" legally immune AER's one-size-fits-all, world-record quaking frac frenzy drying up Fox Creek's drinking water supply?
2015 12 18: W.Va: Prenter Camp, Boone County community, out of water with nowhere to turn. How much has Fox Creek paid for hauled water? What happens when Fox Creek runs out of money? Will Encana step up like Bonavista was ordered to?
2015 07 19: Alberta Government Low Flow Advisory in Fox Creek/Peace Region, Asks Users to Reduce Water Consumption. Does that include in AER's Fox Creek Fracing Pilot Project?
2015 07 17: AER Fox Creek Frac 'em to Hell Pilot Project: Earthquakes, tax increases, water restrictions, double homicide, spills and accidents shake Alberta town's faith in fracking; Aging sour facilities in deregulated Fox Creek a big worry for council; AER's FracQuake Red Light stops Chevron only 16 days; Families moving out
2015 05 27: Town of Fox Creek Water Ban on ALL Non-Essential Use. Does that include fracking in AER's Deregulated, Blanket Approval, Frac Frenzy, Play-Based Pilot Project surrounding Fox Creek? What about for fires?
2015 10 14: Fracing the Bow River: "The most important resource in the province, and the rarest, is water" Then why let "No duty of care," legally immune, Ex-Encana led, Charter violating AER permit multinationals to frac it?
2015 12 28: It's an epidemic: Encana gets exclusive access to Dawson Creek's treated sewer water for fracking operations.
2012 08 13: Water sold for fracking raises policy concerns in Cochrane, Town administration conducting water policy review
2006 09 6-11: ROSENBERG INTERNATIONAL FORUM ON WATER POLICY, FORUM V, BANFF, CANADA SEPTEMBER 6 -11, 2006, PROGRAM SYNOPSIS & LESSONS FOR CANADA & ALBERTA 99 Pages by Henry Vaux Jr., Chair, Rosenberg International Forumon Water and Policy Analysis, and Robert Sandford, Chair, United Nations Water for Life Decade Canadian Partnership Initiative
Alberta Environment, AER and other authorities attended the workshop. They had plenty of forewarning, which they ignored or slammed the door on to benefit multinationals taking profit, and and getting away with polluting drinking water.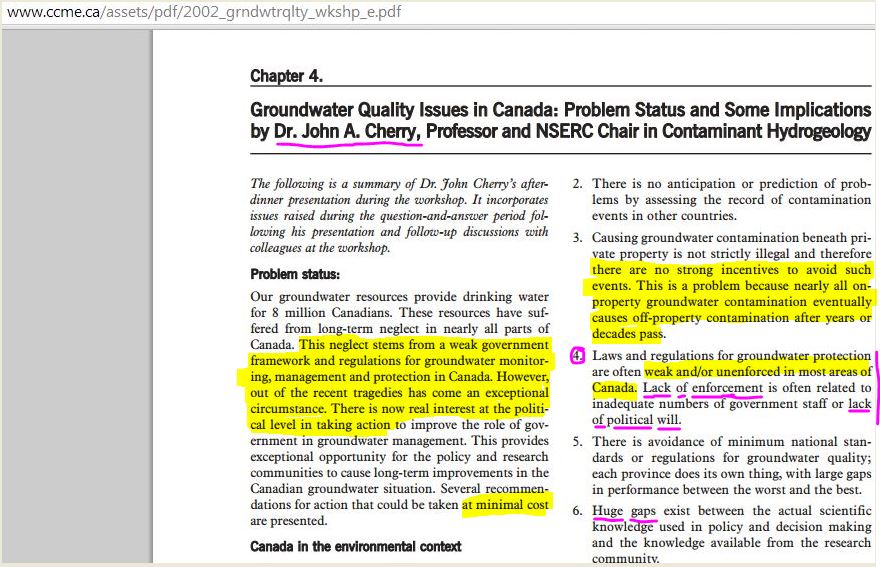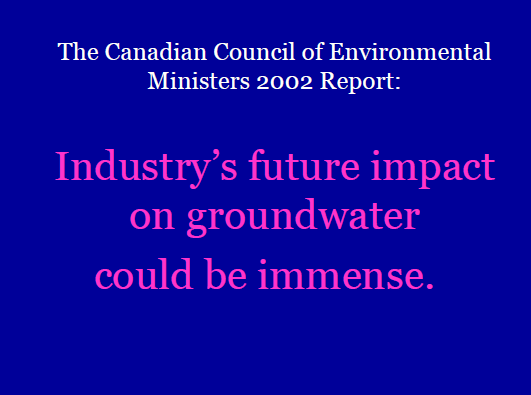 While Hanen was able to force various improvements in the plant operations in the 1970s and the 1980s, plant pollutants had seriously eroded both the environmental purity and property value of the ranch by 1990. Convinced that government and industry were working in tandem to ignore and silence her concerns, Hanen filed suit in 1991 against Esso and the Energy Resources Conservation Board of Alberta for damages to the ranch's cattle, soil, air and groundwater. While a settlement was ultimately achieved, the much more difficult task of finding ways of remedying, if not restoring the ranch's environment is underway through the work of the Restoration Action Committee. There are a number of themes at work in the account given in this paper: the regulatory authority's failure to regulate; political disinterest in redressing that failure; Esso's refusal to acknowledge the extent of pollution and their strategy of portraying Hanen as a corporate adversary; the insignificance of the community's role in the dispute; and perhaps most clearly, the utter lack of coherent management of remediation efforts after the groundwater pollution was confirmed in 1986….
Of course, the first thing that should be done is to immediately prevent any more input of contaminants. If the sources are not shut down, the problem will never be fixed. …
The Hanen collection of records indicate that from the 1970s to the 1990s, the Alberta Surface Rights Board (SRB), the Alberta Energy Resources Conservation Board (ERCB), and the Alberta Department of the Environment were reluctant to acknowledge adverse environmental effects caused by the sour gas industry, and consistently circumvented Hanen's concerns with the industry's operations. Although the ERCB and Alberta Environment occasionally showed initiative in addressing the problems, their standards and regulations were violated frequently and without penalty, and their actions to augment controls and to remedy problems were reactive and nominal.
…
Neither has co-operation extended to public scrutiny into sour gas operations. Hanen's frustration and anger in dealing with the regulatory agencies, particularly the ERCB, has been shared by many other ranchers and farmers.
…
The Board itself recently made a similar observation in a 1994 report, which noted, "We were told that too many people feel that they have not been listened to and their concerns do not matter."
…
Yet there is increasing discontent among some Albertans. The level of complaint is reflected in annual reports by the Office of the Farmers' Advocate, a government advisory bureau created in the early 1970's to aid farmers in disputes with oil companies. The 1995 report records about 2,000-2,500 enquiries by farmers related to the oil and gas industry, more than twice the number reported in the mid-1970s [Annual Reports of the Office of the Farmers' Advocate, 1975-1995, passim]. This volume of complaint speaks to the growing unease among agricultural producers living in the shadow of the oil and gas industries.
Among these complainants, perhaps the loudest has been one woman, Zahava Hanen. John Ralston Saul has reminded us in his recent [Massey] Lectures that corporate power will soon be an even greater presence in our world than it is now. He argues that the only effective challenge to its abuse of power is the citizen, who maintains an informed vigil and dares to stand fast against intimidation. Hanen's struggle, then, is emblematic of how this vigilance serves not merely local self-interest, but also the collective interests of the community, society and the environment. [Emphasis added]