Encana gets exclusive access to treated sewer water for fracking operations by Jonny Wakefield, December 23, 2015, Alaska Highway News
Encana Corp. has been given exclusive access to treated sewage water from the city of Dawson Creek for a fracking operation early next year.
On Monday, city council approved a request from the oil and gas company to allow exclusive access to water from the city's reclaimed water facility between Jan. 22 and Feb. 29.
During that time, Encana will be hydraulically fracturing at a well site six miles south of Dawson Creek, and needs up to 4,000 cubic metres of water a day from the city—the maximum the reclaimed water facility is able to produce. Encana spokesperson Brian Lieverse said the company will be drilling four wells and could use up to 7,000 cubic metres daily.
For comparison, a standard Olympic-sized swimming pool contains 2,500 cubic metres of water.
A slowdown in the oilpatch has led to lower demand for the water, which is treated from the city's sewage lagoons. That makes it feasible to offer all the water to one producer, city staff say.
In a letter to council, Encana wrote that the reclaimed water is "integral" to its operations south of Dawson Creek. It says four Dawson Creek companies have bid on a water hauling contract.
Mayor Dale Bumstead supported the idea, saying "it's why we sell water, and the more we sell, the better it is from a whole bunch of perspectives." [Does Encana pay extra for contaminated frac diesel in the water?]
Shell, which built the facility, is guaranteed up to 3,400 cubic metres a day.
Shell OK'd Encana's request in principle, saying it doesn't need the water for its own fracking operations.
The idea for the facility came about in 2007, according to Kevin Henderson, the city's director of development services.
"We saw an escalation in water use by industry and started to look for alternatives (to fresh water) and how we were going to manage it in the future," he said. "The idea popped up whether we could just use water out of the lagoons." [Did Encana, Shell, and other frac'ers "pop" the idea?]
The idea was deemed feasible, and the city asked local oil and gas companies if they would be interested in building a facility in exchange for guaranteed access to treated water.
Shell ultimately won a request for proposals to build the facility.
The water is valued at around $250,000, or $10,000 a day if Encana takes the maximum amount allowed. The city sells the water at $2.50 a cubic metre. [When the "fresh" water is permanently injected into the bowels of frac hell, and there is no longer "fresh" water to sustain life on the surface, what then? Who puts the water back?]
[Refer also to:
2009: A Primer for Understanding Canadian Shale Gas – Energy Briefing Note by National Energy Board
"Drilling and hydraulically fracturing wells can be water-intensive procedures; however, there is very limited Canadian experience from which to estimate potential environmental impacts." ….the rate of development of shale gas may become limited by the availability of required resources, such as fresh water…. 
2011 08 03: Encana, Shell and Nexen Discuss Water Sourcing Strategies At Shale Gas Water Management Canada Next Month
2012 08: AEA: Support to the identification of potential risks for the environment and human health arising from hydrocarbons operations involving hydraulic fracturing in Europe "
A proportion (25% to 100%) of the water used in hydraulic fracturing is not recovered, and consequently this water is lost permanently to re-use, which differs from some other water uses in which water can be recovered and processed for re-use."
2012 08 08: Cochrane should take steps to fix water management policy
2012 08 13: Water sold for fracking raises policy concerns in Cochrane, Town administration conducting water policy review
2012 08 16: Cochrane reviews environmental and social policies on water use for hydraulic fracturing
[Mayor Truper] McBride said the amount of water used by the fracking operation is actually quite small….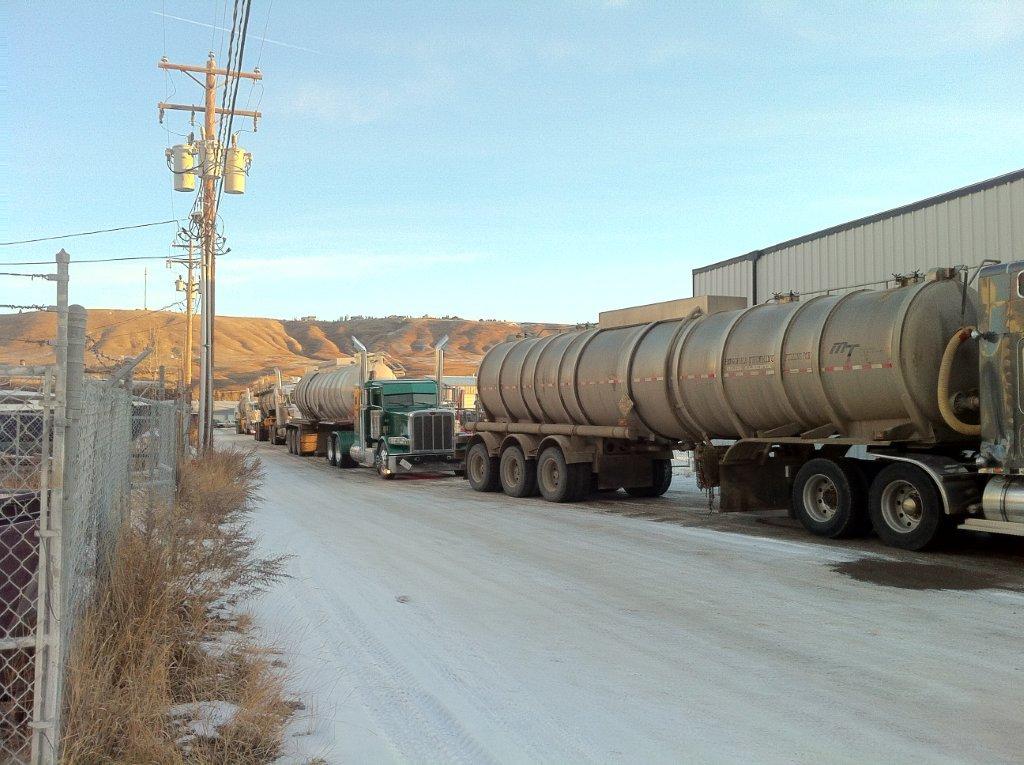 Frac water hauling trucks lined up at Cochrane's potable water supply
Cochrane Mayor McBride: "We want to take a holistic approach to it."
2012 08 22: Cochrane's water supply 'secondary' source for LIPG
The LIPG did not have an exact amount of water they have purchased from the town during the past year.
2012 09 08: Shell buys control of public water in BC for fracing, permanently removing the water from the hydrogeological cycle
2012: Firms accused of dumping sewage in North Dakota oil patch ditches, fields
2013 11 18: Town of Edson, Alberta, sells treated wastewater for hydraulic fracking2013 04 04: Encana agreement to buy water for frac'ing from the town of Rimbey signed
2013 03 26: Encana looks at purchasing wastewater from the Town of Rimbey
2014 08 03: Companies Illegally Dumping Toxic Fracking Chemicals in Dawson Creek Water Treatment Systems, City to pay $4 Million and more for monitoring to try to stop illegal frac waste dumping
"The situations we've encountered in every case has been an independent contractor to a company who signs on to a company [saying] they will dispose of the waste in an appropriate manner…and then behave badly, try to save themselves some money by coming to our dump instead of going to the proper spot."
2014 01 08: Encana begins using Rimby's wastewater to frac; reportedly significant traffic impacts to residents and damages to public roads
2014: Drinking or fracking? World Resources Institute report finds top shale plays globally are in places with scarce water
2014: Nova Scotia: Atlantic Industrial Services wants to dump 30 million litres of frac waste into Dieppe's sewage system
2015: In California, Big Oil finds water is its most prized commodity ]