Haynesville shale gas producer Vine Energy Inc. tested the market's waters in the first oil and gas IPO in years and found the temperature tepid.
Vine, led by former Encana executives and backed by investment giant Blackstone Group Inc., priced its initial stock offering $2 below the expected range at $14 per share late March 17, and investors clipped another 1% off Vine shares in the first day of trading March 18.
While Vine is marketing itself around low costs for extraction and its proximity to both the Henry Hub pipeline nexus and Gulf Coast LNG terminals — banking on a worldwide expansion in natural gas demand — investors had little appetite for another heavily indebted, capital intensive, shale gas driller despite the success of Appalachian gas producers' stocks over the past year.
Another advantage, Vine said, is that it has no minimum volume commitments to its midstream gathering providers and no firm transportation agreements with pipelines, giving it the flexibility to throttle gas flows to better match demand while keeping costs down.
According to Andrew Dittmar, an analyst at oil and gas market data firm Enverus, Vine also has the advantage of being a pure-play Haynesville gas entity. The only other driller with that focus is Comstock Resources Inc., he said.
"The mid-cap space on the public side is just pretty saturated," Dittmar said. "I don't know anybody really wants to try to work their way into that without a really differentiating factor … I don't know if there's any hidden niches that aren't already pretty well-covered."
Vine is carrying $1.22 billion in debt, most of it due in 2023, with a debt/EBITDA ratio of more than 5x, according to S&P Global Market Intelligence. After some refinancing, S&P Global Ratings raised its rating from CCC- to CCC+ but was still concerned about the looming 2023 debt wall.
"Although we expect the company to generate enough free cash flow to pay down its revolver in 2021, the company will likely have to find other sources of liquidity to offset the anticipated decrease in its [reserve-based lending facility]," Ratings said Jan. 21. "We also believe the refinancing of Vine's unsecured notes due April 2023 could prove challenging, as current yields on the company's unsecured debt remain high."
In 2020, Vine reported an unadjusted $252.2 million in losses with $42.8 in positive free cash flows after making interest payments — a non-GAAP measure — according to the IPO prospectus.
Built around a chunk of Haynesville Shale acreage purchased for $1.2 billion from Royal Dutch Shell PLC in 2014, Vine is a conglomeration of its core Vine Oil & Gas LP and two smaller gas firms. Pro forma for the combination, Vine Energy averaged 892 MMcf/d of production in 2020 with Vine Oil & Gas contributing 658 MMcf/d, an increase of 20% over 2019 for the Vine unit, according to the prospectus. At the same time, its average realized price for that gas dropped 7% to $2.25/Mcf.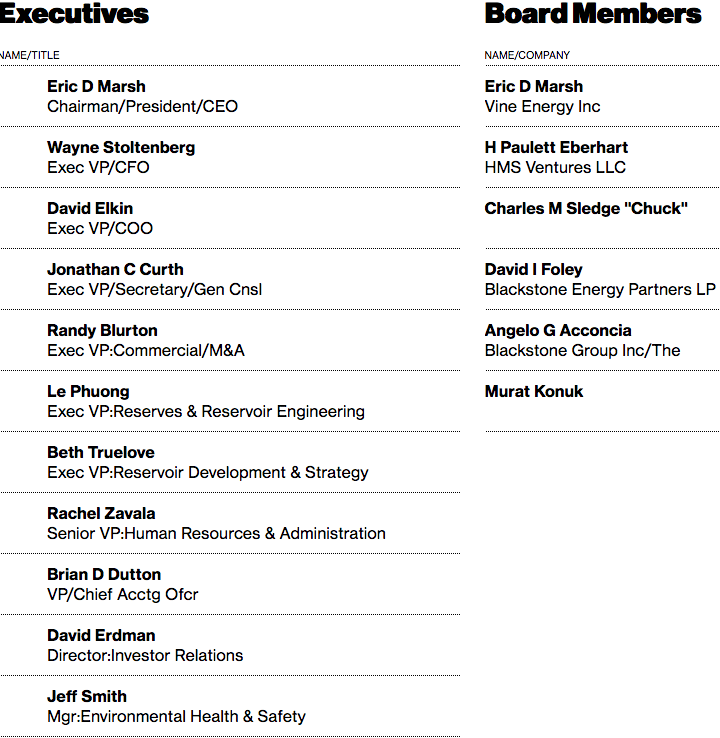 Vine Energy Inc. Executives and Board Members, Source: Bloomberg
If the first initial public offering of a U.S. shale driller in four years is any indication, Wall Street is still souring on the U.S. oil and gas patch.
Even a natural gas explorer backed by private-equity giant Blackstone Group Inc. couldn't raise the capital it had expected. Vine Energy Inc. issued stock for a total of $301 million, according to a filing. It had planned to raise as much as $361 million.
The shares were sold at $14 apiece, below the planned price range of $16 to $19. They closed down 3.6% at $13.50 on Thursday, after earlier dipping as much as 5.7% in their trading debut.
The IPO miss underscores how much investor appetite for the cash-intensive shale industry has waned after years of poor returns…. While oil and gas prices have rebounded since last year, Wall Street has little interest in seeing a shale boom once again. The chiefs of America's shale giants have been exercising caution and preaching self-control in calls with analysts over the past several weeks.
"Vine being able to complete the IPO, that in itself is a victory," said Ed Hirs, an economics professor and energy industry expert with the University of Houston.
"The U.S. shale plays have not had any returns over the past 10 years. Vine was swimming upstream."
Vine has certainly had better luck than several shale explorers that went bankrupt or have been completely shut out of equity markets, while banks cut their credit lines.
But to get the deal done, Vine had to take a lower price than sought, while Blackstone and its affiliates stepped in with a $60 million purchase. Vine ended up selling 21.5 million shares versus the 19 million it had originally intended to offer.
The Plano, Texas-based driller focused on the gas-rich Haynesville formation of northern Louisiana said it plans to use part of its roughly $281 million of net proceeds to pay down debt, according to the filing.

Refer also to:
2021: Cenovus (Encana/Ovintiv spawn): Taking COVID relief to keep workers working, greedily and cruelly laying off thousands instead.
Oil patch hot potato: Walk from billions in clean up costs. "It's the public who loses." Frac'ers, including Encana/Ovintiv, working to reduce debt and keep investors from fleeing.
"FixOvintiv!" Addicted to debt "Environmental Laggard." "Failure of Governance, No Alignment or Accountability." Shareholder Kimmeridge Energy Management Co. LLC: "Ovintiv: A Track Record of Value Destruction." Sure sums up my experiences living invaded by frac'er Encana-Ovintiv.
2020: Ovintiv/Encana, Chevron, Exxon et al deeply deserve this! CNBC's Jim Cramer: "I'm done with fossil fuels … they're just done. We're starting to see divestment all over the world. … It's going to be a parade that says, 'Look, these are tobacco and we're not going to own them.' … Younger people don't want to own them. The dividends are great…but you can tell that the world's turned on them. It's actually happening really quickly."
2016: Another greedy frac'er falls, hard, with nearly $1.2 Billion worth of debt: Lightream Resources, was Petrobakken (heavily frac'd the Lochend, NW of Calgary) latest to seek creditor protection. Where's the protection for the many Lochend families harmed by frac'ing?
2015: Art Berman: Shale Plays Have Years, Not Decades & The way of greed: Oil and gas companies face their creditors as Fracking Bubble Bursts (FUNNY!)