Even Canada's corrupt NEB (now CER, led by Peter Watson who helped cover-up Encana illegally frac'ing and contaminating a community's drinking water aquifers), reported in 2009 that frac waste water is harmful.
Watch Mr. Brouillette lie at link:
The U.S. Secretary of energy was in Washington County on Tuesday to tour a Marcellus Shale natural gas well. Pittsburgh's Action News 4 had a chance to speak with Dan Brouillette about what the tour means to people who live in Pennsylvania.
He toured a Range Resources natural gas well in North Strabane Township.
Brouillette said work done at the site is essential.
"Pennsylvania is a key component, not only to the economy, but this work, this range is not only important to Pennsylvania, it's important to the nation. We all depend upon the production of this natural gas," said Brouillette.
When asked about concerns from people who say fracking affects the water they drink and the air they breathe he said, "There are no creditable studies that show fracking harms the environment in a significant way. What we are seeing here in the technology in rigs like this one and in companies like Range Resources is that the water that is being extracted from the process at the end of the process is actually cleaner than it was when it went in. That's the innovation. That's the type of technologies that we are seeing in the industry."
With days until the election, fracking has been a hot topic on the presidential campaign trail. U.S. Sen. Tim Kaine, Who is backing former Vice President and candidate Joe Biden, said when it comes to fracking he disagrees with Brouillette on regulations regarding fracking and how it's done.
He said, "Anything you do you want to make sure that it's safe and Joe Biden and Kamala Harris as president and vice president will make sure we have regulations to keep air and water safe."

Brouillette said President Donald Trump's all of the above energy strategy protects jobs in the country.
Kaine said when it comes to private land, there's no fight over fracking and jobs.
Brouillette said, "For those of you who are concerned about losing their jobs, if this technology goes away, I would say look that's real."
Kaine said, "President Trump has jeopardized jobs. President Trump has the worst record in any recorded history."
Brouillette plans to unveil an announcement about energy funding on Wednesday, with a focus on coal.

Refer also to: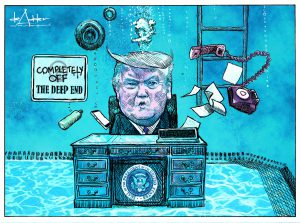 Cartoon by Michael de Adder
After Pennsylvania AG Shapiro's 2 year investigation, frac'er Range Resources pleads "no contest" to environmental crimes, gets tiny slap ($50,000 in fines & $100,000 donation to an NGO to make the criminal look good).
How stupid can you get PA DEP? Withdraws record $8.9 Million fine in settlement exchange with Range Resources to fix the company's drinking water and stream polluting, vegetation killing methane leaker, which of course, Range refuses to do.
"Justice" rears its farcical head, yet again. Radio reporter obtains judge-ordered frac harm settlement 'n gag, but court stifles him! $3M settlement accidentally made public for 8 plaintiffs against Range Resources & ten other codefendants. Two plaintiffs feel "angry and defeated" by their settlement.
PA DEP copying Alberta's AER! Pennsyvlania regulator settles $9 Million (US) environmental violations fine against Range Resources for $0.
The Frac Fraud Rages on and on: Voyles Lawsuit in Pennsylvania accuses Range Resources *and* lab, TestAmerica, of doctoring water test results
Range Resources Fracking Exec Reportedly Admits Targeting the Poor, Because They Don't Have 'The Money To Fight'
Range Resources Appeal to keep Frac Chemicals Secret in Pa Lawsuit Denied; PA Superior Court Orders Range Resources, Halliburton, et al to divulge frac fluid ingredients…Again
Superior Court hears arguments on release of frac chemicals; Range Resources appealing 2013 Court Order to release all chemicals
Drilling and Fracing Bring Up Ammonium and Iodide, Researchers find alarming levels of these new contaminants in wastewater released into Pennsylvania and West Virginia streams while Range Resources settles with DEP for $1.75 Million
DEP Fines Range Resources $4.15 Million for Violating Environmental Regulations, Consent order and agreement will close five Washington County impoundments
Toxic Insanity: DEP issued permit to Range Resources for experimenting, adding radioactive waste to aggregate for paving well pads and access roads
Pennsylvania DEP: Range Resources Inc.'s fracking waste pits contaminated groundwater and soil at three Washington County sites
Pennsylvania: Cecil Township warns about 50 residents of potential water contamination near Range Resources Frac Pit after regulator refuses to
Pennsylvania regulator: Range Resources' John Day impoundment leak bigger than first thought; Range contaminated groundwater like Talisman did in BC
Ed Rendell Intervened For Oil Company to Stop EPA Contamination Case Against Range Resources
Range Resources, still in court with EPA, sues family over contaminated water claims
EPA Orders Range Resources to Investigate Drinking Water Contamination in Parker County
Frac'er WPX made it rain toxic water upon New Mexico, sickens family, kills livestock, birds fell dead from the poisoned sky. As everywhere, the "regulator" did nothing but protect the company, issued no penalty. WPX does not have to disclose details on the toxic chemicals that rained on the family for proprietary reasons. Penny Aucoin: "This has ruined our lives in so many different ways. Our health, family relations, financial problems, literally all aspects of our lives. It has become a living nightmare."
America's Radioactive Secret: Oil & gas wells produce nearly a trillion gallons of toxic waste a year in America. It could be making workers sick and contaminating communities (in Canada too). "Us bringing this stuff to the surface is like letting out the devil … It is just madness."
Radioactive frac waste piling higher and higher; Groundwater used by families showing significant increases in radium. Montana regulator, DEQ, trying to increase radiation limit for frac waste up four times, four times more than allowed in any other state.
The Most Horrific Frac Deregulation Yet? US EPA preparing for "widespread" radioactive frac waste contamination of drinking water or because it's already happened? EPA's proposed "protective regulation" to allow dramatically higher levels of radioactivity in drinking water
Dual Trucking suspected of dumping radioactive Bakken frac waste in Montana ordered to stop, but doesn't, says waste will go to Canada
OILFIELD WASTE MUST WATCH: Julie Weatherington-Rice, PhD Soil Science, Drilling Radioactive Waste Alert Public Forum
BP, Chevron Accused Of Illegally Dumping Toxic Radioactive Drilling Waste Into Louisiana Water
What to do with all the oil field dregs, some of it radioactive, some of it toxic, and there's more and more of it
Dangerous levels of radioactivity found at fracking waste site in Pennsylvania, Hundreds of disposal sites for frac wastewater could be similarly affected
Radioactive water from Lancashire fracking site
Colchester County Appeals Committee Unanimous Vote: Fracking waste water banned from Debert sewers, Atlantic Industrial Services wanted to dump 4.5 million litres of radioactive frac waste
Out Of Control: Nova Scotia's Experience with Fracking for Shale Gas, Analysis Reserve Pit Sludge from Fracing for Radioactive Material (TENORM)
Triangle Petroleum fracking radioactive waste water cleanup target missed in Nova Scotia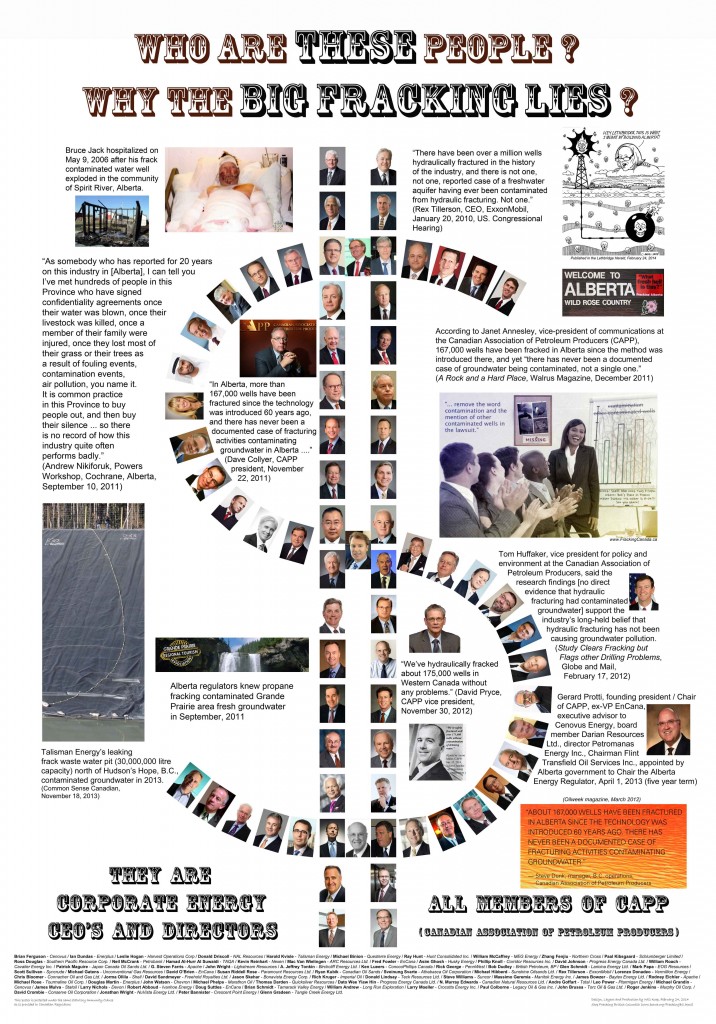 Poster by Will Koop, BC Tap Water Alliance