MARSHALL COUNTY, W.Va. — Two men are hospitalized after an industrial accident at a Marshall County well pad on Wednesday.
The 911 call came in right before 11 a.m. from the scene just off Rines Ridge in Proctor.
The men were taken to area hospitals after they were struck by a high pressure water line that blew off a water truck.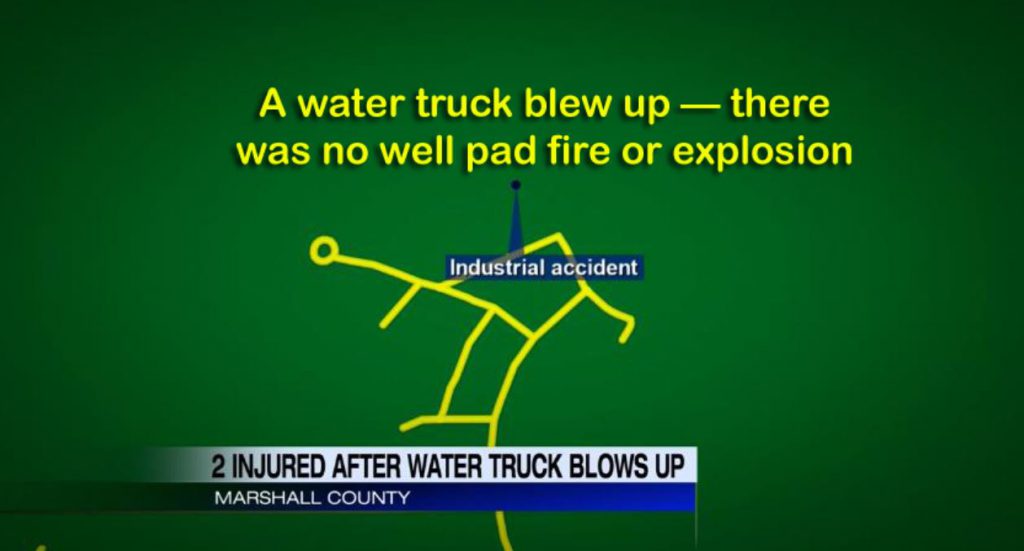 Both sustained head injuries. One of the victims was taken by medical helicopter to Ruby Memorial Hospital in Morgantown, while the other was taken by ambulance to WVU Reynolds Memorial Hospital.
The injured men – ages 23 and 26 — were using the water truck to purge gas lines when the water line blew off and struck them.
The extent of their injuries is not yet known.
Tug Hill, the operating company, has not released a statement.
Responding units included the Marshall County Sheriff's Office, West Virginia State Police, St. Joseph VFD, New Martinsville VFD, Grandview VFD and Tri-State and Wetzel County EMS.
Refer also to:
Shell Canada, Fox Creek Alberta: 47 year old worker killed by water hose in AER's Blanket Approval, "Brute Force & Ignorant" Frac Frenzy Pilot Project
Jack Shawn Eyles, 28, from Kelowna, dies fracking in NE BC for Calfrac (Nitrogen Pumping Division) on Progress Energy Canada Ltd. Site: "Not an explosion as we usually think, but an explosive or sudden release of extremely high pressure"
Oklahoma: Red Mountain Energy rig explosion kills Josh Ray, 35; Cody Risk, 26; Parker Waldridge, 60; Roger Cunningham, 55; and Matt Smith, 29; One other worker hospitalized; Company not sure what they were drilling for; Patterson-UTI has long history of fatal accidents
Perfectly Safe, "Brute Force & Ignorant" Fracking Experiment Kills Again: 1 dead, another injured during fracking at Devon Energy oil field in Blaine County
They didn't call it fracking when a young man died
Fracking by Karve Energy Inc. at Consort Alberta killed Charles Oba, Calgary father of two; Family demands answers. Police not releasing name of the victim. Will Karve Energy blame Charles?
"My son was murdered" Drilling through Danger Chapter One: Regulatory vacuum compounds inherent risks; In 12-year span, an oil and gas worker died once every three months on average in Colorado, 51 workers died between 2003-14, victims of a system focused more on protecting industry than its employees