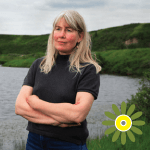 As a woman with a career in science working for decades in the even more sexist oil and gas industry in misogynistic Alberta, this Lindau Nobel news is hideous, but typical. It's standard abusive behaviour by many old white men in science, judges on rape cases, the legal industry and elsewhere. They are too greedy and cowardly to share their power or privilege.
Comment by a friend who worked her career at a Canadian university:
Good for her! Sexist idiots, all put upon, so hard done by, pathetic and powerless. Ugh! This stupidity is what feeds incels' self-pity, inspires men to commit mass shootings. Might be a smart scientist, but I…think he's a stupid man.

Amanda Heidt@Scatter_Cushion June 30, 2023:
Some drama at this year's @lindaunobel. A laureate used some of his speaking time to discuss the meeting's focus on DEI & how it discriminated against men. An early career scientist called him out. I spoke with the laureate and a few attendees. #LINO23
Nessa Carson@SuperScienceGrl June 30, 2023:
Just look at that picture of the panel, I can see why he feels alone

Too funny~! The moderator was also an old white man.

Isy Oderberg@yodaberg Jul 1, 2023:
Actually, once they knew the composition of the panel they can decline to be on it based on the misogyny it represents. Change comes in part when when people who have the privilege use it to lift other people up.
Fergal @[email protected]@fergal_whatever June 30, 2023:
"Science is not going to be the main subject, unfortunately," he [nobel laureate] said… The moderator attempted to cut her [young woman] off, saying there wasn't time to address this topic in the session and he wanted to keep the focus on the science.
Kinda sums it up.
T. Ryan Gregory@TRyanGregory:
Look at this discrimination! These poor old men forced to sit up on a stage in front of an entire audience looking at them and listening to them.
I can see that these poor men were excluded from sitting somewhere other than in the panel.
When you're accustomed to privilege, equality feels like oppression.
Amro Hussien@Amro_Hussien Jun 30:
To date, only 61 women have won the @NobelPrize compared with 898 men
Yet, Kurt Wüthrich: a successful Nobel Laureate who runs 3 academic labs in 3 continents (Switzerland USA China) complained that he faced discrimination for being a man in science.
Said while talking in an all-male panel
I'm a victim of 'anti-male bias' in science, says Nobel chemist https://timeshighereducation.com/news/im-victim-anti-male-bias-science-says-nobel-chemist via @timeshighered
https://twitter.com/Amro_Hussien/status/1674823439624945668
Mosys Power@Mo_Rahim1 Jul 1:
It is not their fault that no woman made it through.
Dr Heather Williams MBE@alrightPET Jul 2:
Correction: no woman was invited. Panel participation is not a competition, it's down to who is invited by the organisers. There are plenty of women working at the forefront of biology, so this is clear selection bias.
Bison metaphor@bidwell_g Jul 2:
And, so many breakthroughs had many women in the background (at times really doing all the great thinking and work) who did not even get credit (sometimes had their work stolen).
dags@dags83741527 Jul 2:
omg, so fragile the poor darlings.
Some Body@KevinOnEarth Jul 2:
He complains that science will not be the main subject of their meeting.
And then he proceeds to ensure that science is not the main subject of their meeting.
Erwin Villuendas @ErwinVilluendas Jul 1, 2023:

And then there are also those cases in which a woman should have won the prize, but it was granted to one of her male team members.
Sara Stolze@ChemicalSara82 Jul 1, 2023:
Had the "pleasure" of a mentoring talk with Wüthrich during my PhD… A disappointing experience, my supervisor had warned me about his anti-female attitude and he did it justice. Toxic behavior with no consciousness…
***
The Future of Structural Biology by Johann Deisenhofer, Joachim Frank, Hartmut Michel, Kurt Wüthrich; Moderator: Wolfgang Lubitz, 27 June 2023

The panel relating to this is at link above. The early career scientist starts at 52 Min. She is incredibly brave and well spoken. Best, she did not let the old white men stop her, while remaining respectful throughout. I can't say the same for Wüthrich (too insolent) or the moderator (who at least later apologized – publicly)

T. Ryan Gregory@TRyanGregory:
She is awesome. She should not have to stand up alone.
… And speaking up when you see it. I'm aghast at the silence of so many intersectionally privileged faculty. It should not be up to more vulnerable colleagues (pre-tenure, equity-seeking, etc.) to call it out and to push for change in our institutions. I wrote "equity-seeking" above. Not sure why. I also prefer "equity-deserving", which is more apt. h/t: @A_Le_Map for pointing it out. … Most recently, I have been using systematically & structurally oppressed… I long for the day when such terms are not required, but it seems we are moving backward at the moment.
Prof Ann Lopez@DrAnnLopez Oct 1, 2020:
Move away from terms like 'equity seeking' Equity is a right. Retire 'equity seeking' and claim Equity deserving" Wisdom Tettey, #nationaldialoguesandaction @UofT @UTSC
Kaylie L.N Lam@KaylieLam1:
Very brave indeed! You could tell that she is nervous speaking up but the applaud from the audience definitely strengthened her commentary and drive the message across the room.
Gemma Reguera@GemmaReguera:
Yes! It takes guts to speak up. And the power differential in this situation was abysmal. And, yet, she spoke, asked not to be interrupted, and clearly articulated the problem.

A lot of men could learn valuable life lessons from this young researcher. Sadly, I think Wüthrich is too arrogant, too old, too white, too privileged to learn a thing.

Raquel Pereira@raquelsmp89:
New role model found
Scientist & N95 #DavosSafe@ickiestvicki:
Absolute MVP!!!!!
Cahir O'Kane@OKaneCahir:
Leadership.
Julia Lee-Thorp@JuliaLeeThorp:
Kudo's to this young woman, that was very brave. She is on the button, and that 'senior scientist' has come of badly. Hope he feels ashamed

I don't think he has it in him, his angry aggression in response to the young researcher made that clear.

zhenlab@zhenlab_Toronto:
Bravo to a graceful and powerful trainee, and she nailed the problem. The problem is often hard to be understood from those who have made it to the helm, and the gate keeper for resources and prestige.
This is the full content of the video where the comment is referring to. An early career responded to a comment by one of the panelists during the talk – not related to the scientific content of structural biology that went uninterrupted – was told to discuss it 'later'.
Analiz Rodriguez MD, PhD, FAANS@ARODMDPHD:
I watched the clip many times now. Very brave woman given the large audience and it being recorded etc. I also like how she responded to the laureate holding up the article written by a woman…he was unnecessarily snarky.
Catherina says: #Vote@justthevax:
Hugely aggressive
Evgenii@joe_fenrir:
Feel sorry for moderator — he was just trying to keep talk on topic about structural biology.
Dr Tessa Vernstrom@tvern23:
They allowed the Nobel laureate to spew their nonsense uninterrupted but tried to shut down the female ecr trying to respond
***
A Nobel laureate claimed antimale discrimination. An early-career researcher called it out. Chemist Kurt Wüthrich's comments during the Lindau Nobel Laureate Meeting highlight a schism in the research community by Amanda Heidt, June 30, 2023, Science
A contentious exchange between a Nobel laureate and an early-career scientist at this year's Lindau Nobel Laureate Meeting is sparking discussions about sexism in science—and highlights the disconnect between some established academics and many of today's early-career researchers.
The meeting, currently underway in Germany, attracts dozens of Nobel Prize winners and about 600 students and postdocs each year. In addition to building a cohort of emerging talent, the gathering is meant to connect generations of scientists and inspire students early in their careers.

I was asked to do a PhD, but was so fed up and disgusted with the rampant sexism in academia and science, and men taking advantage of female students as their free assistants/servants, I said no. Sexism and men taking advantage of women in the oil patch out west was not much better, but at least my thinking was my own (even with the many men taking credit for my ideas and work). And then, there were the Alberta men telling me I was not allowed to speak to the media about frac'ing. When I asked them why, they replied sternly, "Only men are allowed." To which I responded, trying not to laugh, "Then why are Alberta men silent on Encana and the regulators breaking the law, and silent on frac'ing contaminating our drinking water?" The men shuffled their boots, looked anywhere but at me, and were silent. Too cowardly to do the right thing and stand up for community and the public interest, too sexist to let a woman do it.

But during a session about structural biology on 27 June, Kurt Wüthrich—who was awarded a Nobel Prize in Chemistry in 2002 for the development of nuclear magnetic resonance spectroscopy and currently runs research groups in Switzerland, the United States, and China—used some of his time to address a personal grievance about the meeting's focus on diversity, including an opening panel discussing the topic. "Science is not going to be the main subject, unfortunately," he said, going on to add that "as a male scientist, I have a feeling of discrimination when I am here, in the climate that this meeting is being held."

Holy shit, Mr. Wüthrich needs to experience being a woman in science for a year or two or three, or a woman blowing the whistle and living frac'd in Alberta.

After Wüthrich's presentation, a visibly nervous early-career scientist approached the microphone. "As a female researcher, it's been very uncomfortable for myself to see a Nobel laureate talking about so-called male discrimination," the woman said. The moderator attempted to cut her off, saying there wasn't time to address this topic in the session and he wanted to keep the focus on the science, but she pushed to continue speaking. "There might be individual discrimination toward men, but it is nothing compared to the systematic and structural discrimination that women have to face, especially in the STEM fields," she said, eliciting applause from some in the audience. (She did not give her name during the session and declined to be interviewed for this story.)
As the exchange continued, Wüthrich held up a paper copy of a recent newspaper interview given by fellow Nobel laureate and meeting attendee Christiane Nüsslein-Volhard that he had referenced in his original comments. In it, Nüsslein-Volhard questioned the use of gender quotas in science, technology, engineering, and math (STEM) and warned against "discrimination against men." The early-career researcher noted the significant gap in seniority and prestige that might color Nüsslein-Volhard's perspective. "She's a very, extremely successful Nobel laureate; you could have asked any young female scientist how they are feeling," she said, to further applause.
Speaking to Science, Wüthrich said he did not feel personally discriminated against as an individual at the event but thought that all men attendees faced discrimination

!!!!!!! Pfffft!~ Mr. Sexist Scientist must have had too many drinks like ex Justice Russell Brown or had COVID-19 too many times; his brain seems turned to mush or, he's a cruel man intentionally pimping disinformation.

while women were tokenized. He noted, for example, that for a group photo of the laureates, the women were brought to the front. "I would feel horrible if presented in this way. It was ridiculous, fully ridiculous."
To date, 60 women have been awarded Nobel Prizes, compared with 892 men. Just five of this year's 39 invited Lindau speakers were women.
For academics like Wüthrich and Nüsslein-Volhard, it may seem as though focusing on diversity, equity, and inclusion draws attention away from the science itself. But to many researchers, one does not progress without the other. "I understand wanting to have just science, but life and science go hand in hand," says Kristen Engevik, a gut physiology postdoc at the Baylor College of Medicine who was present at the session where the exchange took place.
Another attendee, a molecular biologist based at a research institute in Germany who asked not to be identified over fear of damaging his career, tells Science he looked forward to the meeting—which requires attendees to pass a rigorous application process—for the peer networking opportunities. "I also want to learn some life lessons from these excellent laureates about navigating a research career [and] how to be a responsible scientist," he says, which made Wüthrich's comments all the more shocking.
"We're not discriminating against white men—we're criticizing the system, but they take it very personally."
Meeting organizers are currently determining whether Wüthrich violated the meeting's code of conduct, which prohibits "verbal comments and non-verbal actions that are derogative or that reinforce social structures of domination related to … gender," Wolfgang Haaß, head of communications for the council for the Lindau Nobel Laureate Meetings, told Science in an email. The council also met on 28 June with Wüthrich and separately with a group of students, including the woman who spoke out. Yesterday, council President Bettina Bernadotte af Wisborg took to the stage to urge any attendees upset by Wüthrich's comments to reach out. "It's important that these conversations can be held during Lindau Meetings, and it's also valuable to have them publicly," Haaß adds.

Refer also to:
2013: When Women Blow the Whistle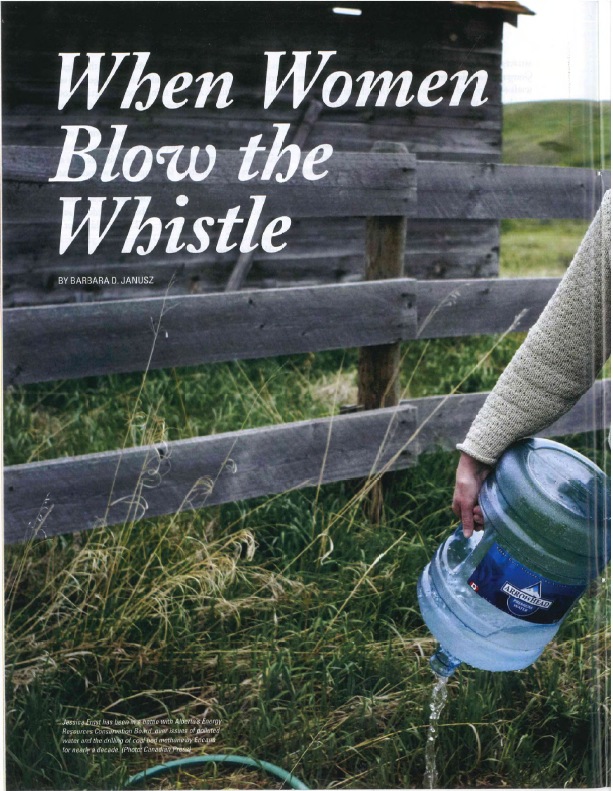 Herizons Winter 2013
… First, the researchers found that, while men in the survey said they would be more motivated to report wrongdoing by receiving a monetary reward, women were more inclined to be motivated by intrinsic factors such as duty, and by anti-retaliation protection. Perhaps the most interesting finding was that "women were far more likely than men to blow the whistle." …
… "Information has power," Ernst says. "The more it is shared, the less ugly it will be." …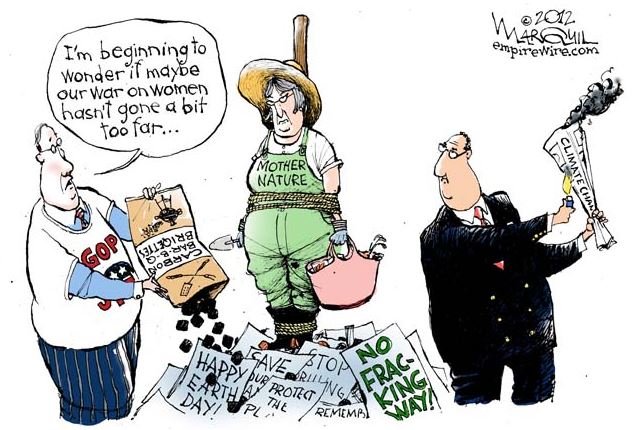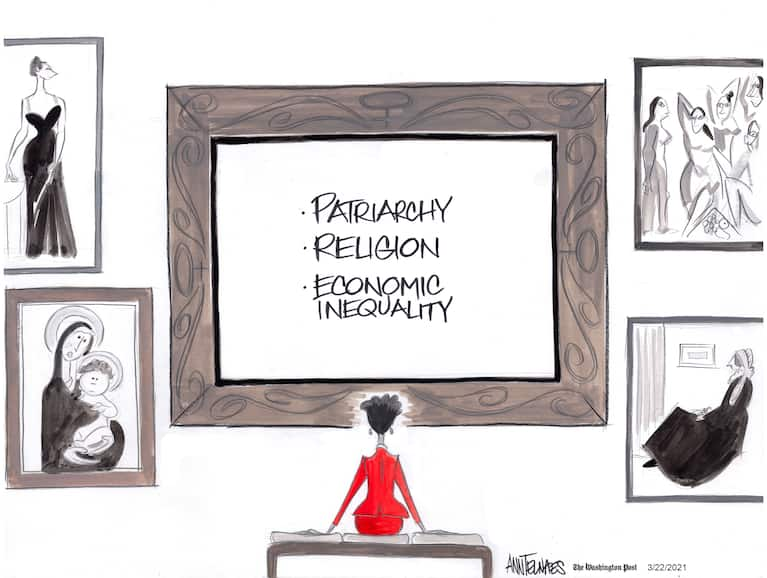 Cartoon by Ann Teinaes: Big picture of violence against women