Benzene Exposure Near the US Permissible Limit Is Associated With Sperm Aneuploidy
U.S.Centers for Disease Control Preliminary Study: Finds dangerous levels of benzene in frac workers' urine; Imagine the urine of children living beside frac'ing
Federal judge excuses Shell's pollution of Illinois town's groundwater with carcinogen benzene 26,000 times greater than allowed by state law
Garfield County commissioners, public hear results of 9 year study after regulator determined Encana contaminated West Divide Creek with methane and benzene
USGS Survey: Methane in water near Silt found most detections near where EnCana received record fine from the regulator for contaminating creek with benzene and methane
2013: Eidence Presented by Encana to 41st PARLIAMENT, 1st SESSION Standing Committee Natural Resources; Encana taking step to stop frac'ing with benzene, diesel, chromium, arsenic, mercury etc
Extreme Levels of Benzene Floating Around Gas Wells and Compressor Stations; Fracking effects: A long-term study of drilling's impact shows harmful health effects
For years, Greeley's Bella Romero Academy has served as a rallying cry for anti-fracking activists who say the elementary school, located about 1,200 feet from an oil and gas site where drilling operations began in 2018, had become a symbol of everything wrong with Colorado's neighborhood fracking boom.
Now, state officials have confirmed the results of air-monitoring tests that activists say heighten their concerns about the site's potential health hazards.
A mobile air-monitoring unit deployed to Bella Romero earlier this month recorded benzene levels at 10.24 parts per billion (ppb), exceeding the federal short-term health guideline of 9 ppb, the Colorado Department of Public Health and Environment said today, November 25.
"The state health department does not believe people were harmed by this single elevated measurement but is taking swift action to investigate the cause of the elevated level and conduct additional monitoring," read the department's press release, noting that the mobile lab recorded only one elevated benzene reading in an 85-day test period.
RELATED STORIES
The Bella Romero air-monitoring tests come as the state ramps up its efforts to evaluate the health impacts of oil and gas activity following the release of a long-awaited air-quality modeling study last month. That report found the potential for short-term effects from drilling sites at distances up to 2,000 feet, well in excess of current statewide "setback" minimums, and specifically identified benzene, a toxic chemical that can cause a wide variety of short- and long-term health problems, as a top concern.
Following last week's test results, Colorado health officials say they're "conducting an investigation of nearby oil and gas activities on the day of the high reading." The state's air-monitoring unit will return to Bella Romero to conduct additional tests, and report any additional elevated benzene measurements "as soon as data can be validated."
"While we can't say conclusively why this instance of elevated benzene occurred, the state is taking further action now to ensure the kids in this school and people in this community have peace of mind and clean air to breathe," John Putnam, the CDPHE's director of environmental programs, said in a statement.
Few oil and gas projects over the course of Colorado's decade-long fracking boom have gained more notoriety than Extraction Oil and Gas's 24-well site near Bella Romero, which environmental and social justice activists call a textbook example of environmental racism. In 2014, plans for a similar project near Frontier Academy, a Greeley elementary school with a predominately white student body, were scrapped following pushback from parents — and Extraction soon looked to a new site near Bella Romero, where students were predominantly Latino and low-income, as an alternative.
"After years of fighting this most outrageous fracking site, the CDPHE and the COGCC have just confirmed our worst fears," Anne Lee Foster, communications director for anti-fracking group Colorado Rising, said in a statement. "This industrial fracking site just 720 feet from a school playground is the perfect example of the overtly favorable relationship the oil and gas industry has enjoyed with Colorado state regulators for decades."
A spokesperson for Extraction Oil and Gas did not respond to a request for comment for this story.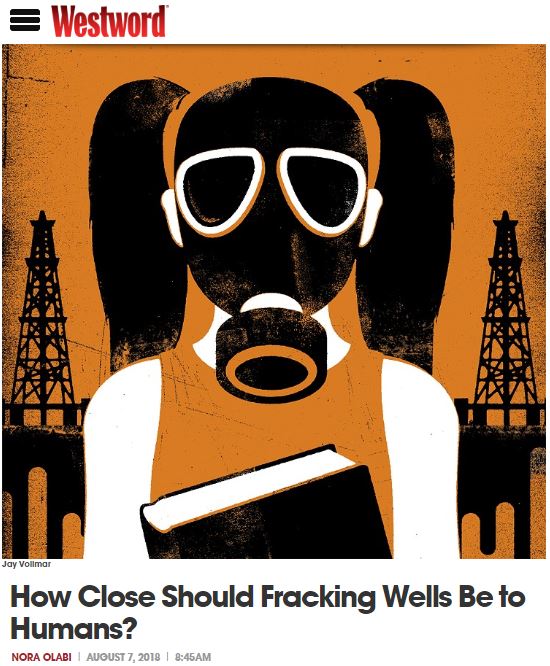 Cullen Lobe's environmental consciousness was awakened during the Dakota Access Pipeline standoff in 2016 between the Standing Rock Sioux Tribe and companies planning to run a gas pipeline underneath the Missouri River, the tribe's only source of fresh water. During his first night protesting alongside the Sioux that November, he remembers being blasted with water cannons by local police.
After returning to Colorado, Lobe soon encountered what he calls the local version of the DAPL fight at Bella Romero Academy, a predominantly low-income, minority, fourth-through-eighth-grade school in Greeley whose ballfields could soon be less than 1,000 feet from 24 fracking wells. Nearby residents have protested the natural-gas development project for years, and Bella Romero's school district has unanimously opposed the project. Environmental groups have even sued the company behind it, Extraction Oil and Gas, in an effort to put a stop to its plans.
But in spite of such resistance, Extraction is forging on with the Bella Romero development. Fracking is slated to begin in May 2019.
Earlier this year, a handful of local activists including Lobe entered Extraction's fracking site to stage a protest that included Lobe locking himself to one of the company's bulldozers. The protest was streamed to Facebook, putting a national spotlight on local concerns about the risks and potential health impacts of a fracking site so close to a school. But what activists believed to be a simple act of civil disobedience has landed them in court, with Lobe, who's studying journalism and environmental studies at Colorado State University, facing up to a year in jail.
Lobe sees communities across Colorado fighting fracking developments that are increasingly encroaching on neighborhoods and schools.
"I see this everywhere," Lobe says. "These corporations, they come into these communities and they destroy these communities. They have all the money and power. Now it's here at home, and there's no part of my body that says I can sit back and watch this happen."
Activists like Lobe, environmental groups and even cities are fighting back, hoping that state regulators and companies will hear their pleas. Voters may even get to decide in November how close fracking wells can be to the public.
The controversy over the Bella Romero project dates back to 2013, when a company called Mineral Resources was granted a permit for a fracking operation near a south Greeley charter school called Frontier Academy. Mineral Resources was acquired by Extraction Oil and Gas in 2014, which abandoned its plans near Frontier Academy after significant pushback from parents.
An alternative to the Frontier Academy site was found, about ten minutes to the east. The new site was right behind Bella Romero Academy, where more than 90 percent of students qualify for free and reduced lunch. Extraction didn't return requests for comment for this story, but it recently told the New York Times that the Bella Romero location offered an opportunity to pipe out oil and gas, which would reduce truck traffic at the site, and to employ sound-minimizing rigs thanks to the availability of electric utilities on the site.
Despite community concerns over public health and safety issues that could arise from the operation's proximity to the school and surrounding homes, Weld County commissioners unanimously approved the site in 2016, and the Colorado Oil and Gas Conservation Commission, the state's regulatory agency, granted Extraction's drilling permits in 2017.
… The COGCC mandates that oil and gas facilities, including drilling or storage sites, be at least 350 feet from outdoor activity areas like playgrounds, 500 feet from occupied buildings, and 1,000 feet from high-occupancy buildings such as schools, grocery stores or hospitals. For occupied structures, the state measures setback distances from the center of the well to the building itself, not the property line.
In April 2017, a month after the state sanctioned drilling near Bella Romero, four environmental groups, including Weld Air and Water, the Sierra Club, the National Association for the Advancement of Colored People and the Wall of Women collectively sued the COGCC to force the agency to revoke Extraction's permit to frack near the school.
"Extraction has built its business model on going into areas where other operators won't go. That's their niche — their special sauce, so to speak. That's definitely the case [here]," says Kevin Lynch, an associate professor of law at the University of Denver and the attorney representing the groups trying to revoke Extraction's permits near Bella Romero. "If [Extraction and the state] rush ahead and develop it right now, the children will bear the brunt of it, and there's no way to undo that."
The basis for Lynch's lawsuit is rooted in what is commonly referred to as the Martinez case, in which a group of underage plaintiffs sued the COGCC in 2014 to make public health and safety a pre-condition to oil and gas site permitting. Although a district court judge shot down the case in 2016, the Colorado Court of Appeals sided with the plaintiffs last year and affirmed that the state must make health and safety a pre-condition to permitting.
However, Colorado Attorney General Cynthia Coffman appealed the case to the state Supreme Court, where it is still pending.
Meanwhile, Lobe and others have used activism to try to halt the project.
"The action we took — we didn't damage property or hurt anybody," Lobe says of the March 2018 protest. "We're standing up for the children and the environment. I wouldn't do anything differently."
Four people, including Lobe, were charged with criminal trespassing, but since Lobe locked himself to the bulldozer, he has also been charged with tampering with oil and gas equipment, a Class 2 misdemeanor that comes with a minimum of three months of jail time. If found guilty, he could be sentenced up to a year. A trial date will be set in September.
Lobe's attorney, Jason Flores-Williams, says he expects Lobe will plead not guilty to the charges and will seek a jury trial. Flores-Williams says he will argue that the public-health risks of fracking were so great and imminent that Lobe was justifiably compelled to break the law to prevent serious harm.
"In America, there's a recognition that conscience-based civil disobedience is not the same as what we would term 'crime.' … There was no property damage, he was very cooperative, and it was a good action," Flores-Williams says.
Lobe was not only hit with serious criminal charges in Weld County, but he was personally sued in civil court by Extraction, which was seeking tens of thousands of dollars in supposed damages from Lobe, who works at a doughnut shop, for hindering oil and gas operations at the site. After months of legal maneuvering, Extraction settled its case with Lobe on June 27. In exchange for settling the civil lawsuit, he accepted a court-ordered permanent injunction, which bars him from ever trespassing on Extraction's property, interfering with its operations or taking drone foot-age of its work.
"Dangerously halting operations involving heavy equipment always creates serious safety concerns, and the safety of our team members is our highest priority," says Extraction spokesman Brian Cain. "The settlement agreements that we have reached to date offer the necessary protections we feel are needed to keep such actions from recurring. At this time, we have offered settlement agreements to all offenders and have reached agreements with all those willing to settle this matter."
As Flores-Williams sees it, "The purpose of these fracking corporations suing people in a personal capacity…is because [they] know it will do two things. It will bankrupt them…and in the process, it will send a message to everybody else involved in the case in any way: 'You want to get involved? You want to go to planning meetings? You want to raise your voice and express yourself? Then you, too, can be the subject of a multimillion-dollar lawsuit from a multibillion-dollar oil and gas corporation.'"
Lobe was accompanied at the protest by John Lamb, a lawyer with the National Lawyers Guild who was acting as a legal observer; Brian Hedden, a documentary filmmaker and New York University student; Jeremy Mack, an educator who says he was there as an independent journalist to document the protest; and Mary Delffs, a Fort Collins resident and University of Northern Colorado alumna who unfurled a banner over the bulldozer that read "People Over Pipelines." Extraction also sued Lamb and Delffs in civil court, but both cases were dismissed. Hedden shot drone footage of the site in addition to allegedly trespassing (the latter action brought criminal charges), and he is still fighting a civil case after a settlement agreement with Extraction fell through.
As for the lawsuit to shut down the Bella Romero fracking site for good, Lynch lost his case in district court earlier this year. The judge said in his written dismissal of the case that he didn't agree with the appeals court's decision on the Martinez case to make public health a pre-condition to permitting, adding that it is "not binding precedent," that it is unpersuasive, and that the state statute has historically been interpreted to balance corporate interests and public health. In June, Lynch appealed to the Colorado Court of Appeals, where he hopes to find more sympathetic judges.
"The [Colorado Court of Appeals] has already shown a willingness to buck the [COGCC] and hold them accountable for protecting public health," Lynch says. "If this type of development can get approved, it's hard to imagine any development that would go too far."
A grassroots organization wants voters to decide the safest distance between oil and gas activity and the public.
Colorado Rising for Health and Safety is collecting signatures for Initiative 97, which requires new oil and gas developments to be nearly half a mile away from homes, schools, playgrounds, drinking-water reservoirs, public open space and a slew of other "vulnerable areas." The initiative also allows local governments to go beyond 2,500 feet and institute larger setback requirements. The deadline to turn in signatures to the Colorado Secretary of State was August 6; an audit will determine if enough valid signatures were collected to take the initiative to the November ballot (the state has until September 5 to count petition signatures).
"We the people are taking control over setbacks," says Suzanne Spiegel, a campaign spokeswoman for Colorado Rising. "That's the purpose of this measure — to make safer setbacks. Basically, we're not creating a ceiling with this, we're creating a floor. A 2,500-foot setback is the minimum."
This isn't the first time grassroots organizers have tried to take their anti-fracking initiatives to the ballot. In 2016, Initiatives 75 and 78 would have given communities some regulatory powers over the oil and gas industry and impose 2,500-foot setbacks, respectively, but both failed to gather enough signatures to make the ballot.
Organizers behind Initiative 97, some of whom also worked the 2016 campaigns, say that they have learned from previous mistakes. For instance, they mobilized much earlier in the year in oil and gas-impacted communities through volunteer trainings and informational workshops. The organization has also tapped into a growing undercurrent of resistance to residential fracking since the Firestone explosion in April last year that killed two people in their home and severely injured two others.
Even cities have tried to halt fracking development. In 2016, the Colorado Supreme Court struck down fracking bans or moratoriums implemented by Fort Collins and Longmont, ruling that state law preempts local ordinances.
Grassroots groups have argued that in Colorado, direct democracy by ballot petitions may be the only way voters can have a say in whether they want fracking in their back yards or near their schools.
"Since the COGCC has failed to put public health and safety first and protect Colorado families from this toxic industrial activity, we the people must act to protect our homes from this clear and present danger," says Colorado Rising boardmember Micah Parkin.
State regulators claim that if Initiative 97 passes, it would be catastrophic for the oil and gas industry.
The COGCC estimates that 54 percent of the state would be off limits to any oil and gas development, not just fracking. And not including federal land, an estimated 85 percent of state and private property would be restricted from development. The implications would be especially concerning for operators in Weld County, which accounts for roughly half of the state's active wells. Nearly 80 percent of Weld County could no longer be drilled.
"Clearly, this is an attempt to stop energy development in our state," says Tracee Bentley, executive director of the Colorado Petroleum Council, in a statement. "This is bad for Colorado all the way around."
Pro-industry groups say Initiative 97 would kill jobs and hurt the economy. The Colorado Alliance of Mineral and Royalty Owners has even said that if the initiative passed, the state would be on the hook to compensate mineral owners in the Wattenberg Field — one of the top ten producing oil and gas fields in the country, located in Weld and Adams counties — to the tune of $26 billion, for untapped minerals from which they could no longer collect royalties.
With so much on the line, Colorado Rising has faced significant hurdles to get its petitions past the finish line.
Signature-gatherers for Initiative 97 say they have been harassed, even stalked, by agitators posing as protesters. Colorado Rising alleges that agitators have yelled over signature-gatherers attempting to speak with voters and have physically blocked signature-gatherers from approaching people.
When Westword observed a Denver-based worker for the campaign, four college-aged protesters nearby held signs with messages like, "1 Signature = 1 Lost Job" and "This Person Probably Won't Steal Your Identity," the latter being a reference to the publicly available voter information that petitioners provide when they sign on to an initiative.
The oil and gas industry itself could be coordinating the attack on the signature-gatherers.
An employee of a major oil and gas company who spoke to Westword on the condition of anonymity shared a flier passed around to employees in her office that calls on them to report the locations of Initiative 97 signature-gatherers via email or a text line managed by Protect Colorado, a pro-industry PAC created by the state's largest oil and gas companies. Protect Colorado's top three contributors are Anadarko Petroleum, Extraction Oil and Gas and Noble Energy, which have each donated millions to the pro-industry group this election cycle.
When Westword tested the text line, we got a call back from someone trying to locate the reported signature-gatherer. Within the hour, four counter-protesters had flanked a signature-gatherer while he spoke with voters in Civic Center Park.
"Protect Colorado is part of a larger alliance that is concerned about bad business measures," says Karen Crummy, a spokeswoman for the group. "We are exercising our First Amendment rights, which includes asking people to think about and read what they are signing. We have also asked people to let us know formally and informally when people are giving out factually incorrect information to voters."
According to a May financial disclosure statement, Protect Colorado paid $705,000 to pro-industry lobbying firm Pac/West for "street marketing events and coalition building" around the time the protesters began following signature-gatherers in late May. Pac/West declined to comment for this story.
Colorado Rising's challenges aren't only on the streets. In July, the CEO of the company it hired to gather signatures, Direct Action Partners, left the state with about 20,000 signatures after abruptly quitting the campaign. The petitions were ultimately retrieved under threat of a lawsuit and under the spotlight of national media attention. Another signature-gathering firm admitted to Colorado Rising that it was paid to quit the campaign, and Colorado Rising alleges that pro-industry groups were behind the buyout in an attempt to stop Initiative 97 from making the ballot.
Protect Colorado has raised $10.8 million to push its own ballot proposal, Initiative 108, which would require the government to compensate companies and property owners if their fair-market value is reduced by any new laws or regulations — for instance, if statewide setback regulations prevent oil and gas minerals from being tapped. That would open the door for groups like the Colorado Alliance of Mineral and Royalty Owners to sue the state for billions of dollars in supposed damages for lost property value.
After years of grassroots mobilization to press for increased oil and gas setbacks — and industry pushback — this year could totally reshape the state's oil and gas regulatory landscape, whether in the courts or at the ballot.
"I'm incredibly concerned with the alarming rate at which oil and gas is encroaching on our communities," says Ann Lee Foster, a volunteer for Colorado Rising and one of two state-designated representatives for Initiative 97. "The oil and gas industry is trying to scare us from protecting our communities, but we feel this is too important of an issue, and we will not back down."
Considering the legal challenges he's facing, Lobe says he's worried about finishing school. The possibility of jail time scares him, but he's not willing to take a plea deal. He hopes that at least one juror will be sympathetic to his case and the plight of the Bella Romero community.
"I don't feel like I've committed a crime," he says. "When these kids come up to me literally telling me they don't want to die or get sick, I don't feel like it's a crime to stand up for them and protect them in a peaceful way."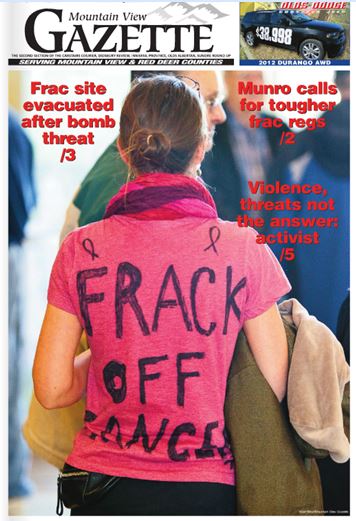 Kimberly Mildenstein, mother, attends Mountain View County Council presentation on frac harms
Refer also to:
Colorado regulators confirm oil & gas health impacts
Colorado study shows toxic chemicals up to 2,000 feet from frac sites; Benzene (carcinogen), toluene (neurotoxin, notably damages the brain in children) and ethyltoluenes found at up to **10 times** recommended levels 500 feet from frac operations. "Secret exposure to chemicals that our own EPA reports as a potential hazard to human health is unconscionable."
NE BC Fracking May Be Exposing Pregnant Women to Carcinogen, Study Says; Researchers found markers suggested benzene levels 3.5 times normal levels
New Study on Pregnant Women Living Near Frac'd Natural Gas Sites in Peace River Valley, NE BC Raises Concerns: Benzene biomarker (muconic acid) in urine 3.5 times higher than in women in general Canadian population
Harmful Levels Benzene, CO2 Detected at MidWest School Surrounded by 744 Active & Abandoned Oil Wells Within 1 Mile Radius, Including CO2 Injection Wells for Enhanced Recovery by Anadarko, Now Owned by Fleur de lis
How regulators "regulate" to make fracing safe: Let industry inject toxic frac waste into federally protected drinking water aquifers; "Levels of benzene up to 700 times federal standard have been found in waste water from fracking"
New Study: Frac chemical mix causes disturbing changes in breast tissue; Low levels of chemicals used in unconventional oil & gas production cause abnormal mammary glands and pre-cancerous lesions
New peer-reviewed, published study by Lisa McKenzie et al, U Colorado School of Public Health: Childhood cancer linked to nearby oil and gas activity; People ages 5-24 diagnosed with acute lymphocytic leukemia more likely to live in areas with a high concentration of oil and gas activity
Elevated Cancer risks surround oil & gas drilling. Fracking is bad for your health says Israel Health Ministry official; Frac flowback stage causes greatest air pollution
Study: Toxic Chemicals, Carcinogens at Levels Far Exceeding Federal Limits Near Frac Sites, Will almost certainly lead to cancer increase in surrounding areas
LISTEN: The Current: What happens when oil drilling and frac'ing, with 400 ppm deadly H2S, is too close to homes and schools?
B.C. school kids in danger, can suffer DNA damage illness from leaking sour gas several km away, yet B.C. allows wells within 100 m (~330 feet) of schools while Dallas City Council votes in 1,500 foot setback from homes and wells!