LISTEN: What happens when oil drilling is too close to home 27:30 Min. by Anna Maria Tremonti, January 21, 2014, The Current, CBC.ca
"If there can be drilling the heart of Los Angeles there can presumably be drilling in some urban areas in Calgary," Alberta Energy Minister Ken Hughes said. (CBC)


People in Lethbridge are wary of plans for what is known as Urban Drilling. An oil company is posed to drill wells inside city limits and outside the comfort zone of hundreds of parents and homeowners. It is a fight happening across the country from BC to Quebec.
"People want to believe in their government …That people they've elected have the power to prevent this kind of hazardous activity coming to their community."
Dave McCaffrey, Organizer with 'No Drilling Lethbridge'
Alberta is perhaps not the first place you'd think to look to find opposition to the oil industry. But the mayor isn't alone in pulling up the welcome mat. It's hardly unusual for a Calgary resource company to want to drill a few explorations wells. But when Goldenkey Oil Inc announced its plans for Lethbridge, the mayor, the council, two provincial MLAs and many of the city's residents said NO. The wells would be inside city limits, about a kilometre from some homes
A community group called No Drilling Lethbridge is ready for battle. Last week, it held an information session in Lethbridge to rally support. More than 300 people attended. Dave McCaffrey is a volunteer with the group 'No Drilling Lethbridge'.
David Hill is an independent consultant working on behalf, Goldenkey Oil Inc, the Calgary company proposing to drill. He was in our Calgary studio.
Lethbridge isn't the only Canadian community struggling with 'Urban drilling'. Last year, Gaspe, Quebec prohibited oil drilling on city property to protect its water supply. And according to a study by the University of Victoria, if liquified natural gas exports proceed as planned, some 6 to 10 thousand new wells could be drilled in northeast British Columbia near Fort St. John and Dawson Creek. Calvin Sandborn co -wrote the study. He's the Director of the Environmental Law Center at the University of Victoria.
The Current received a written response from Paul Jeakins, commissioner and CEO of the BC Oil and Gas Commission, the regulatory agency that oversees oil and gas operations in the province. He said "British Columbia has strong regulations in place for oil and gas activities and an excellent safety record." He went on to add that in 2010, "the Commission initiated a strict review process for industrial activities proposed within two kilometres of a school" and that "industry is also required to prepare emergency response protocols for any proposed activity." [Emphasis added]
[Refer also to:
Pennsylvania Supreme Court Says It's Unconstitutional For Gas Companies To Frack Wherever They Want
"By any responsible account," Chief Justice Castille wrote, "the exploitation of the Marcellus Shale Formation will produce a detrimental effect on the environment, on the people, their children, and the future generations, and potentially on the public purse, perhaps rivaling the environmental effects of coal extraction."
Health report: some Alberta doctors refused to treat families exposed to toxic emissions by Baytex in Peace Country, one lab refused to process a test; 10 day public hearing starts January 28, 2014
Groundwater testing remains a concern in Alberta, protects industry more than it does groundwater
Netherlands: Friesland wants to be compensated for damages caused by drilling; Nearly $2 billion property damages in Groningen from gas drilling induced earthquakes
As 'frack hits' grew in Alberta, regulator (AER) takes action, but years too late; high pressure frac hits have been damaging hydrocarbon wells for at least a decade!
B.C. school kids in danger, can suffer DNA damage illness from leaking sour gas several km away, yet B.C. allows wells within 100 m (~330 feet) of schools while Dallas City Council votes in 1,500 foot setback from homes and wells!
…
The Canadian Union of Public Employees safety sheet for workers, for example, says "THE SAFEST EXPOSURE TO HYDROGEN SULFIDE IS NO EXPOSURE AT ALL."
…
At the time, then Energy, Mines and Petroleum Resources Minister and MLA for Peace River South — also centre of the province's biggest natural gas play — Blair Lekstrom, issued a media release announcing the B.C. setbacks. "These steps will ensure there are no new wells drilled or facilities constructed within one kilometre of a school or community centre, and residents will see additional safety measures for any activity taking place within half-a-kilometres from their home," Lekstrom said in the release. The government promised the school safety zones would combine a one kilometre safety setback with an additional one kilometre enhanced management zone, for a total buffer of two kilometres. Private residences would get an additional 500 metre safety buffer around private homes. That was before the exodus of half a dozen top oil and gas bureaucrats from the province to positions with companies involved in the very petroleum development that they'd previously been regulating.
Lekstrom's bold measures were never enacted.
…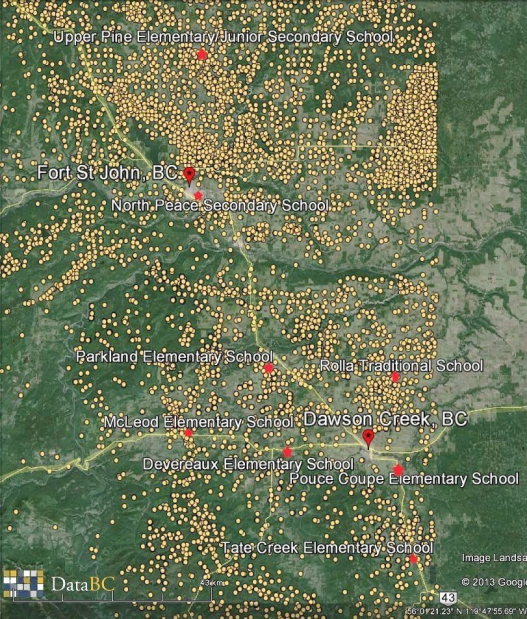 Yellow dots are wells; red dots are schools in the Dawson Creek/Fort St. John area.
More than 1,900 children at nine schools in British Columbia's northeast are at risk from toxic sour gas tapped by wells either already drilled or planned for the province's liquefied natural gas strategy, warns the University of Victoria's Environmental Law Centre. The warning is part of a blunt report prepared with the Peace Environment and Safety Trustees Society and set to be delivered to Premier Christy Clark Thursday morning.
By way of context, it points out that in a single recent five-year span there were 73 documented sour gas leaks in B.C. and that 34 workers have died as a result of sour gas exposure since 1983.
…
Hydrogen sulphide gas, once used as a chemical weapon during the First World War, can be fatal in prolonged doses as small as 100 parts per million. When exposed to concentrations of 800 parts per million, it kills within five minutes.
But one sour gas leak at Pouce Coupe in 2009 continued unabated for 27 minutes before an automatic emergency shut-off valve activated itself, the report says. It then took two more hours to isolate and seal the leak.
2012: Encana Reaches Compensation Deal for Deadly Sour Gas Leak