Why Encana Corp. Is Just a Big Disappointment; Stock price tanked 80% in the last 10 years
"Canada" becoming a dirty word or has "Encana" been a dirty word for years? Name change to Ovintiv brings investors 9.3% drop, biggest drop in a year. Erectile Dysfunction?
Encana fleeing Canada in Scheer desperation? Shares drop 9.2%! Illegal aquifer-frac'er, caprock buster, poisoning bully of families and briber/divider of communities running to USA, changing its spots to Ovintiv Inc. Erectile Dysfunction drug or cross between Ovaltine in vintage container and a vagina?
The Drilldown by Felixe Denson, Jan 29, 2020, ipolitics
Internationally
Ovintiv Inc. – previously Encana Corp. – is expected to meet with investors today to discuss the company's progress since purchasing Newfield Exploration Co. for US$5.5 billion in 2018. The oil giant decided to ditch Canada [after finishing raping us and spitting out the dregs] in order to improve its standing, but there hasn't been a large improvement since Ovintiv began to trade on the U.S. market this past Monday.
Shares have dropped nine per cent in two days, according to Bloomberg. [Holy frac! Investors, you better get out of there!]
Ovintiv faces first investor test after rebranding from Encana by Michael Bellusci, Jan 30, 2020, Bloomberg News

The oil and gas producer formerly known as Encana Corp. has completed its corporate overhaul with a new domicile and a new name. It has yet another hurdle to cross.
Now based in Denver, Ovintiv Inc. will update investors Wednesday on its progress for the shale oil assets in Oklahoma it amassed after the US$5.5-billion acquisition of Newfield Exploration Co. in 2018. The Stack and Scoop fields in the Anadarko Basin have faced investor scrutiny and operational challenges that sent a handful of small explorers into bankruptcy. The company is also set to host a tour of its Stack operations Thursday.
"We think the focus will be on steps the company has taken to reduce well costs and improve returns to make the play more competitive with other resource plays in North America," said JPMorgan Chase & Co. analyst Arun Jayaram in a report. "The company will likely face stiff headwinds 'selling' the play to the market given the sharp pullback in activity by industry."
Before its name change, the Canada-listed shares of Encana had been falling for a decade as it faced a rout in commodity prices and a pipeline bottleneck in Alberta. [Pipeline bottleneck has nothing to do with Encana's demise, it's greed taking the company down] Its purchase of Newfield didn't help as it reversed course on a strategy of slimming its oil and gas portfolio.
And as Ovintiv started trading with the new symbol OVV in the U.S. on Monday, the shares haven't done much better — dropping nine per over two days.
JPMorgan (Arun Jayaram)
• Focus will be on well costs and steps Ovintiv has taken to improve returns in the play
• Sees the company providing more of its 2020 program details during 4Q earnings release in February
• Jayaram has a neutral rating on Ovintiv
Peters & Co. (Harbie Jawanda)
• Well costs and results are areas of focus
• With the company "spudding its first cube style development" in April, Jawanda seeks any additional update with respect to its development plan for this year
• Rates Ovintiv's stock as a sector perform
BMO (Randy Ollenberger)
• Shares are in the "penalty box," and performance can improve if Ovintiv can "demonstrate improving profitability in the Anadarko basin."
• Ovintiv has "materially lowered D&C costs; however, well productivity has lagged peers"
• Ollenberger rates the stock as an outperform
Eight Capital (Phil Skolnick)
• Doesn't expect a production and recovery comparison of Ovintiv-drilled and complete wells versus Newfield drilled & completed wells
• Says this could have been a potential catalyst for investors
• Skolnick rates Ovintiv neutral
Cowen (Gabe Daoud Jr.)
• "While one-year cumes appear in line with the company's type curve, we remain worried over the longer-term trend given what's seen in the (albeit sometimes funky) OK State data"
• Daoud Jr. recommends a market perform rating for Ovintiv's stock
Refer also to:
2017 10 25: Heaven Help Our Drinking Water: How many frac hit damages when Encana fracs multi-stacked, 60 wells per section?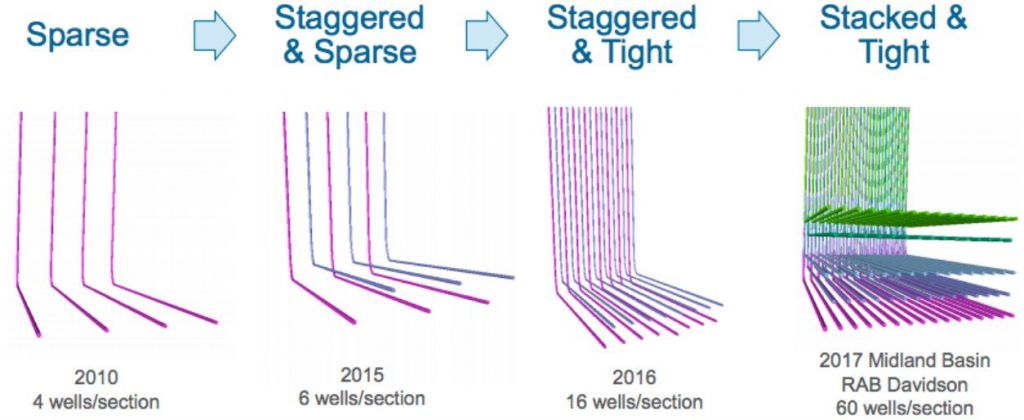 2017 11 01: "Frack Well Bashing" is going to get expensive! Frack Hit Demolition Derby Down Below: Drill, inject, bump 'n crack, hit 'n smash, bash 'n dash, while Encana lies 'n says, "We don't frac. We stimulate." 2 wells, 1 patch of dirt. Who gets the oil? The biggest bully. "Fracks hitting wells several miles away."
2017 11 01: Now it's oilmen who say fracking could harm groundwater. How many oilmen settle & gag when their water is contaminated or vertical wells are destroyed by frac'ing?
2019 07 06: Encana's Supersize Spatial Intensity Frac Cube Experiment Fails