Why Encana Corp. (TSX:ECA) Is Just a Big Disappointment by Karen Thomas, MSc, CFA, June 13, 2019, The Motely Fool
Encana Corp. (TSX:ECA) has taken many forms and variations in its decades long history. Many of these forms have been grossly mistimed and misinformed, leaving Encana and its shareholders on a disappointing path, stomaching value destruction.
Accordingly, Encana's stock price has tanked 80% in the last 10 years.
Encana's history
In its 2009 corporate split, Encana split into two highly focused energy companies, Encana Corp., a natural gas company armed with a portfolio of high quality natural gas resource plays, and Cenovus Energy Inc., a fully integrated oil company.
This was the worse timing ever, as the decision to focus entirely on natural gas was made when Canadian natural gas was trading at approximately $12 per gigajoule. As we know, it proceeded to fall off a cliff amid [industry greed, greed, and more greed] skyrocketing production and an oversupplied situation in the natural gas market.
In 2013, Encana capitulated, refocused — and CEO Randy Eresman retired. A new CEO entered the picture, and with this, a new focus on five resource plays and a more balanced production profile was the way forward for Encana.
The problem is that in its history, Encana bought natural gas assets when they were hot, so overpaid for them and sold these assets when natural gas prices tanked on the cheap. It was the same with Encana's move to more oil production at a time when oil was hot, trading at north of $100. Many of the company's acquisitions and dispositions were very badly timed, and indeed were reactionary moves after the fact as opposed to proactive decisions that would ensure smart, financially sound transactions. [Does Encana have any brains? Who in their right mind would intentionally illegally frac a community's drinking water supply and then bribe to divide & silence the adversely impacted community?]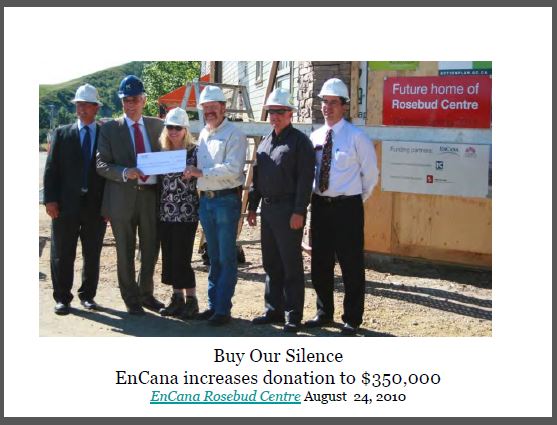 These are big disappointments, surely, but where do we stand today?
Surely, Encana stock looks cheap. The company has an enviable asset base once again. Let's remind ourselves of the prolific resource plays that Encana has exposure to, such as the Permean basin, the Duvernay, and the Montney regions.
The company has made good progress thus far on its five-year plan for maximizing cash flow and increasing margins, and with its enviable asset base, can we can expect good times for Encana in the years ahead?
Although adjusted EPS came in better than expected in the first quarter of 2019, at $0.14 per share versus $0.08 expected, cash flow came in well below expectations, production came in slightly below expectations, and capex came in slightly higher than expectations.
The recent Newfield acquisition has resulted in shareholder dilution, and execution risk to Encana, but management has stated that they expect it to be financially accretive to the tune of up to a 10% addition to cash flow.
Valuation and expectations on Encana stock are at rock bottom. This is a show-me stock, and for good reason. There is a light at the end of the tunnel, however.
Encana is free cash flow positive, the company is cutting costs and becoming more efficient, and the focus is on returns as it should be. The Newfield acquisition is resulting in better-than-expected synergies (expect annual synergies of $150 million), and the company is expecting 15% growth in liquids production from its core assets.
The 2019 cash flows should ramp up significantly as a result of the acquisitions and cost cutting. I am left wondering if the time has finally come when Encana will put its disappointing past behind it and finally participate in value creation.
Encana's long local history is history by Medicine Hat News, Nov 1, 2019
Encana's roots in southeastern Alberta can be tracked back to the initial discovery of natural gas in the region, but for a decade the company's local operations have been nothing more than history.
The natural gas giant that once controlled the drilling rights to Suffield Block and inherited petroleum rights from Canadian Pacific Railroad, announced on Thursday that it would move its head office to Denver from Calgary.
Industry observers noted the exit as another sign of struggle for Canadian-based producers that have fought with low prices, stressed export capacity and what business groups call regulatory burden.
The company was a major presence in the southeast until 2009, and was even headed by Medicine Hat native Randy Eresman from 2006 to 2012.
Encana's operations at CFB Suffield were hived off in 2009 when the company split oil and gas operations by creating oil-focused company Cenovus. That company subsequently sold off its operations there in 2018 to International Petroleum Corporation (IPC Alberta) in order to pay for an expansion in oilsands production.
According to financial transparency documents filed with investors, the company had no operations in Cypress, Newell or Forty Mile counties in 2018. Small operations on the Siksika First Nation, Wheatland County and Vulcan County are listed alongside more substantial operations in northwest Alberta, British Columbia and Texas..
The company was formed in 2002 as a combination of The Alberta Energy Corporation and PanCanadian Petroleum, the later of which was the resource division of the CPR. It earned mineral rights along the route of the Trans-Pacific Railroad as part of its franchise with the Dominion of Canada in the 1880s. [If you want to know the true blood of Encana and Cenovus, read Andrew Nikiforuk's Governor General Award winning Saboteurs]
Along the way, drilling crews seeking water discovered gas at Alderson in 1883, which is pointed to in the City of Medicine Hat's founding story and as the birth of the Western Canadian energy sector.
Refer also to:
Encana fleeing Canada in Scheer desperation? Shares drop 9.2%! Illegal aquifer-frac'er, caprock buster, poisoning bully of families and briber/divider of communities running to USA, changing its spots to Ovintiv Inc. Erectile Dysfunction drug or cross between Ovaltine in vintage container and a vagina?
Trudeau names Brian Ferguson, CEO of Cenovus (company along with Encana that's been reduced to junk bond status) to Economic Advisory Council, possibly the most influencial people to be around PM and Finance Minister Bill Morneau
Fracking in the Red & Junk Bonds Backing Fracking Facing $11.6 Billion Loss
"Merriest fossil fuel stories" of 2019 show frac industry melting down. Roaring 20s speed into "tragedy on the horizon" where investments could "go to zero quickly." Vital warning for AIMCo by Bank of England Governor Mark Carney: Pension funds could be hit by 'worthless' fossil fuels
BlackRock, world's largest fund manager with nearly $7 trillion in investments, plans to offer new funds that shun fossil fuel-oriented stocks, could put pressure on other large money managers to follow suit. It's strictly business.
World's Biggest Fund Manager, BlackRock, lost $90 Billion investing in fossil fuel companies over last decade