After fracking blast, Chevron offers pizza by Peter Moskowitz, February 18, 2014, Aljazeera
A Chevron well in the preparation stages for hydraulic fracturing exploded last Tuesday 50 miles south of Pittsburgh, Penn., causing a fire that lasted for four days and left one Chevron contractor unaccounted for and another one injured. The fire is now out, but Chevron's damage control efforts may be far from over.
An image of a coupon from Chevron offering free pizza to residents near last week's disaster was posted online Monday, prompting outrage, mockery and disbelief among activists and the Internet commentariat. They say the offer shows Chevron lacks awareness of the seriousness of its actions and indicates a larger problem of oil and gas companies buying support in communities where hydraulic fracturing…is on the rise.
…
The pizza isn't the only relationship-mending effort Chevron is undertaking after the fire. The company will also donate grants ranging between $1,000 and $7,500 to fire departments that operate in Pennsylvania's Marcellus shale region, where much of the state's fracking takes place.
But activists say the pizza coupon is just the most outlandish of the many ways Chevron and other oil and gas companies have tried soften their image, as fracking stirs controversy over environmental and health impacts. "How arrogant and stupid do they think people are?" said Gloria Forouzan, a leader with Pittsburgh-based anti-fracking group Marcellus Protest.  "What (fracking companies) are doing in terms of PR is insidious. They advertise, and they advertise heavily, and for that, (people) are basically willing to lie down and let the companies walk all over them."

Regardless of Chevron's intentions, others questioned whether the pizza coupon was the best way to convey their sympathies to the community. "With one person missing, that's a major crisis. You don't respond in such a meaningless way," said Ron Smith, a public relations professor at State University of New York in Buffalo and the author of four books about public relations. "This is going to go in one of my textbooks as an example of how to screw up a crisis response." In an emailed statement, Chevron said the company wanted to offer [an inexpensive] token of appreciation to the community. [Emphasis added]
The Chevron Guarantee: Our well won't explode…or your pizza is free! by Will Bunch, February 17, 2014, Philadelphia Daily News
Chevron: Sorry Our Fracking Well Exploded, Here's a Free Pizza by Ashley Feinber, February 18, 2014, gizmodo.com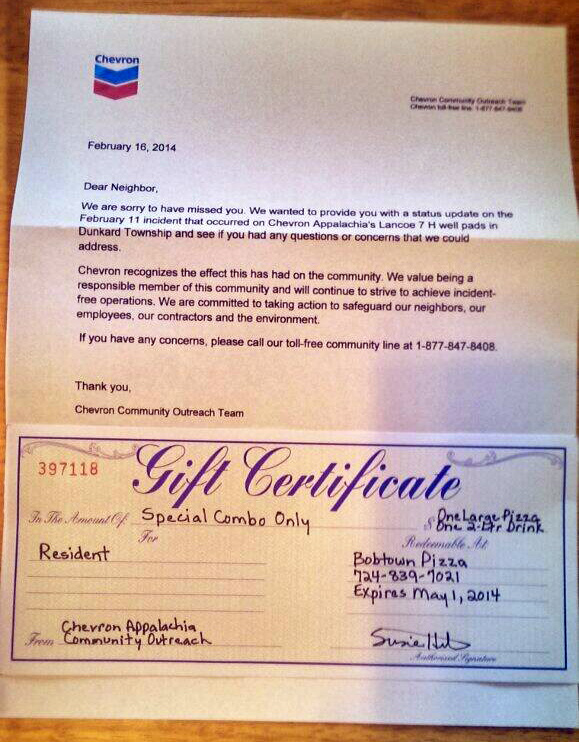 Attempting to distract residents from a fracking explosion with the promise of a free meal (Special Combo only) is odd enough, but in light of how terrible this particular accident was, the offer seems downright insulting.
The Philadelphia Daily News, which first reported the letter, describes the extent of the explosion's damage:
It was a horrific event on every level. One worker at the rig was not found and is presumed dead. The fire — which posed enormous risks to rescue workers and to the surrounding community — burned intensely for five days before it was finally extinguished. Despite reassurances, neighbors surely worried whether toxins were released in the fiery aftermath.
The Philadelphia Daily News also managed to speak directly to Bobtown Pizza, which was able to confirm that Chevron did indeed distribute about 100 of the gift certificates to homes around the area. [Emphasis added]
[Refer also to:
Crews battling large gas-well fire in Greene Co. Pennsylvania; 1 worker is missing
BP, Chevron Accused Of Illegally Dumping Toxic Radioactive Drilling Waste Into Louisiana Water
Unanimous Ontario Court of Appeal decision: Ecuadoreans can seek Chevron damages in Canada and Chevron's two Canadian subsidiaries ordered to pay $100,000 in costs
Chevron halts Romania shale work after using riot police to harm concerned citizens in Romania, RCMP use riot police against concerned Canadians, Mi'kmaq in New Brunswick refuse to back down, defy another court injunction
Ecuador asks The Hague to quash Chevron case
Final stage of Chevron's litigation fighting the 19 Billion judgement in favour of harmed Ecuadorians renews focus on its stock
Romania villagers and farmers block Chevron test drilling
Constitutional protection, Judge gives way to request on Chevron frac deal in Argentina
Chevron Sues Its Own Shareholders In Ecuador Compensation Battle
Criminal investigation at Chevron refinery, Pollutants allegedly routed around monitoring devices
Chevron Face Opposition Over Eastern Europe Fracking Plans
NY judge lets Chevron's Ecuador claim move forward
Judge in Chevron Case Declines to Reject Award
Chevron Workers Plead To Be Evacuated Before Deadly Blast
Chevron Temporarily Quits Romania Shale Gas Plans
Chevron's Ecuador Cancer Problem: 10,000 People at Risk of Contracting Disease in Coming Decades, Says Expert, Oil Giant Faces Up to $69 Billion in Liability for Potential Cancer Deaths ]