Activist investor Kimmeridge Energy Management Co. has built new positions in Ovintiv Inc., PDC Energy Inc., and Cimarex Energy Co. and plans to push for changes at the oil and gas companies to improve their performance and governance.
The New York-based investor considers Ovintiv, formerly known as Encana Corp., to be the poster child for all that ails the North American exploration and production sector, according to Mark Viviano, its head of public equities. The sector as a whole is rife with excessive compensation and a lack of accountability, he said in an interview.
"Ovintiv is one of the more egregious examples of misalignment in the sector, whether it's the excessive compensation relative to performance, the low insider ownership, or the lack of any meaningful board refreshment," Viviano said.
Even before oil's historic plunge, oil and gas drillers were rapidly falling out of favor with investors after embarking on a wild spending spree that failed to boost returns and left them struggling with unsustainable levels of debt. The oil crash added to their woes, leaving energy stocks as the worst performers in the S&P 500 benchmark this year.
Ovintiv said in an emailed statement it valued constructive suggestions from all shareholders.
"We disagree with Kimmeridge's characterizations of our corporate governance and compensation programs. Our focus today is very clear – reduce debt, maintain scale, drive efficiencies and return cash to our shareholders

And, bribe, divide, conquer and destroy families and communities, and their drinking water supplies

," it said.
Representatives for PDC Energy and Cimarex declined to comment.
Align Compensation
Ovintiv rose 3% to close at $12.29 in New York on Tuesday, giving the company a market value of about $3.2 billion. PDC Energy rose 2.7%, while Cimarex rose 2.3%.
Kimmeridge plans to release a white paper this week that sets out what changes it would like to see at the three companies and others in the sector to help rebuild shareholder confidence. The paper, a copy of which was seen by Bloomberg, includes suggestions to better align compensation of directors and management with long-term value creation, including mandating upfront stock purchases and directors fees being paid in equity.
Kimmeridge, which owns a 1.9% stake in Ovintiv, has raised its concerns to the company, and will keep all options on the table if the company fails to address them, including starting a proxy fight to replace board members if needed, Viviano said.

Why not do the right thing, put your money where your mouth is, and dump Ovintiv? Why own so much in lying abusive law-violating name-changing shit show Ovintiv?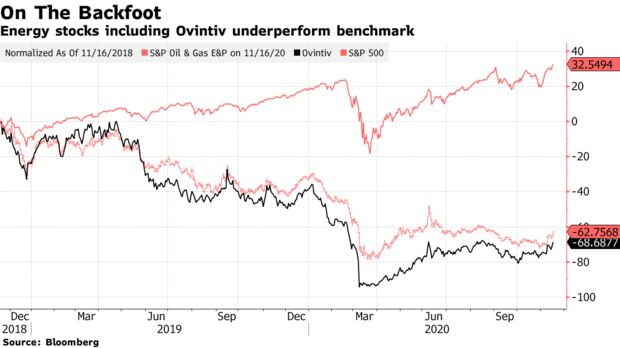 Ben Dell, a managing partner at Kimmeridge, said he was concerned that Ovintiv's Chief Executive Officer Doug Suttles continues to get paid millions of dollars a year in compensation despite an 87% drop in the company's shares over his tenure. Suttles was paid $12.6 million in 2019, according to regulatory filings.

And, not one frac'ing penny to repair Rosebud's illegally frac'd drinking water aquifers.

Suttles and the board hold very little stock in the company and they need to better align compensation with performance, according to Kimmeridge. "It's just staggering," Dell said. Since some of the company's directors have held their seats for more than a decade, that leaves a question mark over their independence and willingness to hold management accountable, he said.
Declassify Board
Kimmeridge would like to see PDC Energy implement a dividend, and Cimarex declassify its board so that all of its directors are re-elected each year rather than just a few at at time, Viviano said.
The firm has conveyed its message to Cimarex but has yet to do so at PDC Energy, where it waged an unsuccessful proxy fight last year.
"We're building positions in these companies because we believe the underlying asset quality and cash flow generation has been overshadowed by a combination of flawed capital allocation, corporate governance and environmental performance," Viviano said.

2016 02 13: US EPA Releases Final Frac Report: Rosebud Alberta drinking water aquifers frac'd, water wells contaminated with gas. EPA's late edits to 2015 draft frac report downplayed the risks, contradicted the evidence, called "bizarre" & "irresponsible." Like Alberta regulator official, Steve Wallace, secretly editing "independent" drinking water contamination reports to protect illegal aquifer frac'er Encana?
2017 12 14: Merry Christmas & Happy New Year! Will Encana Spawn's Greed Kill Your Frac Job? Cutting Workers to Fatten Investors, Making Workers Wonder over the Holidays. Nasty, in True Encana/Cenovus Form
2020 01 31: Ovintiv/Encana, Chevron, Exxon et al deeply deserve this! CNBC's Jim Cramer: "I'm done with fossil fuels … they're just done. We're starting to see divestment all over the world. … It's going to be a parade that says, 'Look, these are tobacco and we're not going to own them.' … Younger people don't want to own them. The dividends are great…but you can tell that the world's turned on them. It's actually happening really quickly."
2020 02 01: Why the Guardian will no longer accept fossil fuel advertising.
2020 02 02: Bank in Quebec, Caisse Solidaire, offers Oil-Free RRSPs! 250 professors, including from Calgary, ask Canadian universities to divest from petroleum industry. Laure Waridel: "One of the ways to put the economy at the service of the planet is to review the way we invest."
2020 02 04: Frac industry is damaging the oil & gas economy. When flipping for a profit fails, frac companies file for bankruptcy, which in turn deters lenders. "Wall Street has basically completely turned its back on the industry right now." Is there anything frac'ing doesn't damage?
2020 02 06: Oil industry execs dead in the head with desperation? Parsley Energy CEO Matt Gallagher tries to bribe Gen Z with "dazzling BS" in a "shale new deal," blames Wall Street, teens and our "perception" for its demise when industry's greed is to blame.
2020 02 21: JP Morgan leaked report has dire warnings for human race. Then, quit giving the fossil fuel sector so much money! JP Morgan was one of 33 financial institutions that gave estimated total of $1.9tn to fossil fuel sector between 2016 and 2018
2020 03 10: Living with Encana (Ovintiv) in Pavillion, Wyoming. Sue Spencer, hydrogeologist: "There's this veil of secrecy about everything they do. … The oil industry went nuts. ….[the oil lobby] was just like, 'you can't say that groundwater was impacted by the fracking industry.'"
2020 05 12: Norges Bank blacklists CNRL, Cenovus (split from Encana – now Ovinvtiv – after Ernst lawsuit filed), Suncor and Imperial Oil from Gov't Pension Fund Global for unacceptable carbon emissions in Alberta's tarsands. Updated with tar-pimping by Ms. Southern and Alex Pourbaix, CEO Cenovus.
2020 06 17: Encana/Ovintiv Greedy Frac'ing Bloodbath Continues, Kills More Jobs After Promising Not To.
2020 06 22: US frac'ers face $300 Billion in writedowns in Q2. "The boom in fracking was largely financed by debt" and we the people are being robbed to pay for the frac'ers' greed 'n rape fest.
2020 07 23: Frac Tank Reality Show: "Debt, Debt and Debt" and more debt; Judge-gifted bankruptcies to keep companies frac'ing & polluting and con investors into losing more money; Abandon thousands of frac harmed families; And intentionally dump pollution and clean-up on taxpayers. In the USA, "explorers burned through some $342 billion of cash since 2010, leaving little in the way of returns for investors." In Alberta, AIMCo took $100s of millions (under Kenney & Harper, will likely take $billions more) from pensioners years ago to give to "quite leveraged" frac'ers already then.
2020 10 21: Canada Pension Plan (CPP) & Crestone Frac'ing Hanky Panky. More than 1,000 formal complaints made to state regulator against Crestone operations in Colorado (sneakily via Encana/Ovintiv)
2020 10 25: Bankruptcy plan to let Cenovus/Husky "legally" escape clean-up, aided by taxpayer-funded courts? Cenovus (Encana spawn), buys Husky for $23.6 Billion, "including debt" (financed by Canada Pension Plan and AIMCo?); Will kill jobs Kenney promised would increase when he gave industry $Billions in tax breaks, mega corporate welfare, tax super holiday and citizen-financed propaganda (war room and Steve Allen's witch hunt).