Calgary oil explorer Bellatrix target of activist investor Orange Partners by Lauren Krugel, August 20, 2014, The Canadian Press in Calgary Herald
In a regulatory filing Tuesday, New York-based Orange Capital LLC disclosed it has bought a 5.3 per cent stake in Bellatrix, which has land throughout Western Canada but is mainly focused on west-central Alberta. The hedge fund said it plans to talk to the management of Calgary-based Bellatrix about ways to "maximize shareholder value."
That could include hiring an outside adviser to make recommendations on "strategic alternatives, capital allocation and improved investor communications" as well as shaking up the energy company's board of directors. Orange also wants Bellatrix to take steps to bring its valuation "in line with its intrinsic value," adding the company currently lags its Canadian peers. [What about fixing harm to Daunheimers from the company's non compliance (Angle's)?]
In addition, it wants Bellatrix to stop raising financing in ways that hurt its stock price and to better explain to investors how it intends to use any future capital. And Bellatrix is being pressed to explore a potential joint-venture, spinout or sale of midstream assets — essentially those used to transport and process natural gas.
Shares in Bellatrix closed up more than 10 per cent at $8.73 on the Toronto Stock Exchange .
AltaCorp Capital analyst Jeremy McCrea said he was a bit surprised to see an activist investor take an interest in Bellatrix, which he says has performed well over the past three years.
"The management team's done an exceptional job of growing production and cash flow," he said.
However, Bellatrix has "stumbled a bit" on the communication front, said McCrea. For instance, he agrees the company could have done a better job outlining how it would use proceeds from an equity issue earlier this year.
Some investors are also having a hard time understanding what Bellatrix's midstream infrastructure is worth, said McCrea.
"You can see the long-term plan in doing this and there's some short-term pain while it's being developed and I think that's the issue," he said. "It's hard to put a value on the strategic nature of these assets sometimes." [Emphasis added]
[Refer also to:
Alberta Energy Regulator should be ashamed, AER Directive 60 Deregulation as the frac poisons ramp up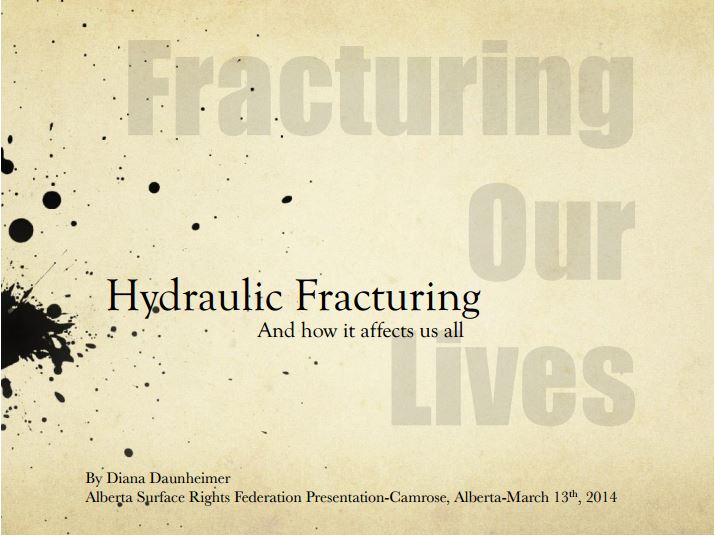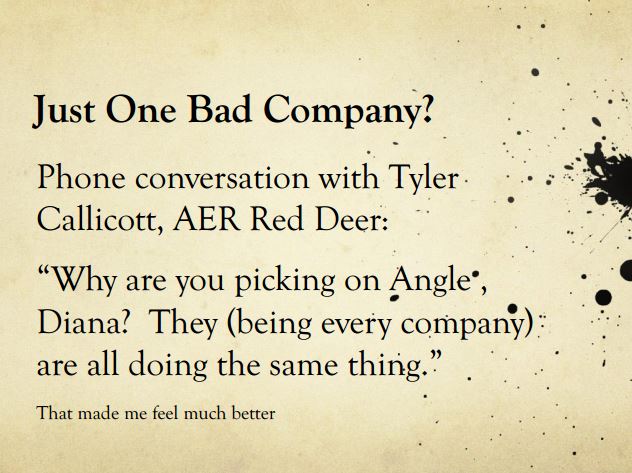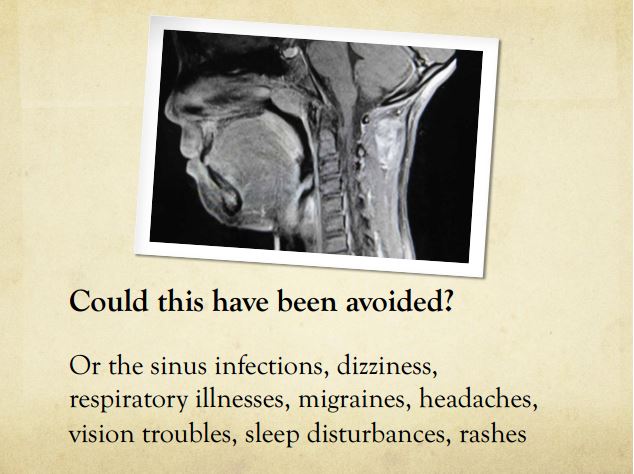 Slides above from Diana Daunheimer speaking presentations
Bellatrix Exploration Ltd. 70% hydrocarbon carrier fluid frac January 3, 2013 near Diana Daunheimer's home, from fracfocus.ca (removed from fracfocus on July 4, 2014. After Ms. Daunheimer asked why it was removed – without getting an answer, the record was put back on July 11, 2014, but not searchable under Bellatrix – previously Angle Energy)

The Daunheimers near Didsbury, suing Angle Energy (changed to Bellatrix) for $13 million for causing harm to health, property, financial status, personal safety and water ]