Martin calls for Toews to be removed from bench, Judge 'compromised and tainted' after violating Conflict of Interest Act [After? Toews was tainted and compromised before Harper govt put him on the bench. Harper often put known law violators into positions of power. One example: after John McDougall, CEO of Alberta Research Council, broke the law withholding public records and covering-up for Encana polluting a community's drinking water aquifers, and Alberta Environment breaking the law helping Encana do that, Harper rewarded McDougall, appointing him CEO of the National Research Council. There, McDougall's job was to turn the council into a profit-raping tool for corporations but he suddenly and mysteriously stepped down from his powerful position after Andrew Nikiforuk's book Slick Water – that succinctly summarized McDougal's crimes – was published.] by Stephen Maher, with files from Canadian Press, April 21st, 2017, iPolitics
Former NDP MP Pat Martin says that Justice Vic Toews should recuse himself from acting as a judge until the Canadian Judicial Council can determine if he is fit to continue in the role.
Toews, the former minister of Justice under Stephen Harper, was found Friday to have twice violated the federal Conflict of Interest Act in 2013 by working for two First Nations with which he had direct dealings during his time in office.
In March 2015, Martin asked Ethics Commissioner Mary Dawson to investigate the business relationship after The National Post reported that a numbered company controlled by Toews' wife had received payments that appeared to be related to a real estate transaction that Toews had been involved with as minister.
Martin, who was defeated in the 2015 election, said that Toews' career as a judge has been "compromised and tainted" and that his appointment needs to be reviewed.
"I absolutely think the judicial council should review A, how Mr. Toews managed to get there [Harper govt!], and B, how appropriate it is for him to be on the bench when he's been found guilty of violating the public trust."
Toews, who was appointed to Court of Queen's Bench in Manitoba by former cabinet colleague Peter MacKay in 2014, has never commented on the investigation.
Martin said he had good working relationships with other other Harper ministers, but found Toews "spiteful and vindictive in his political life." [Canadian "justice" slid fast and deep into Hell while Harper was PM.]
"He probably realizes the significance of this finding and how bad it looks for a sitting judge to be exposed for this kind of really greedy self-interest in running roughshod over all of the checks and balances that are put in place to prevent the of abuse of power," Martin said. "And there is no more egregious abuse of power than using your public office to line your own pocket 24 hours after you leave politics. And then to try to hide it by having your wife set up a numbered company. Jesus Christ."
Under The Judges Act, federal and provincial justice ministers have the power to initiate an inquiry about a federally appointed judge.
David Taylor, director of communications for federal Justice Minister Jody Wilson-Raybould, said Friday that her office is still reviewing the report.
"We'll need to read the commissioner's report before commenting," he said in an email.
Martin noted the violations of the act carry no penalty.
"I'm actually kind of heartened that the ethics commissioner stayed with this," he said. "But it does raise the question. What are the sanctions? What is the point of having a rule if it doesn't lead to any kind of punishment? Where's the deterrence?" [Precisely!  That's why begging the courts for Judicial Review of the AER violating the Charter rights of citizens harmed by the oil and gas industry is a total waste of time – if it were even allowed by Alberta laws and if the courts were to say yes (which they wouldn't). There is no punishment under Alberta Judicial Review – AER would just laugh with Satan into eternity.]
Dawson's 41-page report finds Toews was hired to do lobbying and consulting work on behalf of two First Nations in Manitoba in the months after he left office. The contracts violated two different aspects of the Conflict of Interest Act.
In one, Toews provided strategic legal advice to Peguis First Nation and even helped draft a settlement proposal to the federal government related to the Kapyong Barracks dispute in Winnipeg. In 2007, Toews was the minister who signed off on the sale of the former military barracks, and was later named as a defendant in a lawsuit from First Nations, including Peguis, about the sale.
In that instance,

Toews violated the part of the act which bars cabinet ministers for life from doing work on an issue they handled while in office.
"In providing strategic advice on a proposed settlement agreement in relation to the Kapyong matter, and in participating in its drafting, Mr. Toews switched sides," Dawson said in the executive summary of her report.
In the second matter, Toews violated Sec. 35 of the act because he signed a contract to provide consulting services for Norway House Cree Nation. His work included touching on a trust fund issue which the First Nation had lobbied him directly about on two occasions less than a year earlier.
Former cabinet ministers are prevented from working for an entity which lobbied them while in government for two years after leaving office.
A spokeswoman for the Court of Queen's Bench in Manitoba said Toews was not available to comment on the matter.
Duff Conacher, co-founder of the advocacy group Democracy Watch, called it a clear case of violating the ethics legislation. He said it is frustrating the only penalty Toews will face is "a couple days of media attention."
"Overall I have to say it's much too little, much too late," Conacher said. "It's yet another example of how bad the ethics enforcement is at the federal level."
There are no specific penalties for violating the act in this matter.
He said
he intends to file a complaint with the judicial council, arguing Toews violated the "fundamental ethical rules for cabinet ministers."
"We're not talking about jaywalking here," he said. "It's not a small violation and it's a violation of a law."
Toews represented the Manitoba riding of Provencher for the Conservatives from 2000 to 2013, and was a senior minister in the Conservative cabinet from 2006 until his resignation on July 9, 2013.  [Emphasis added]
A few of the comments to above article:
Dutchcourage
Given other judges were removed or were encouraged to resign for far lesser issues, I don't see how Toews can continue as a judge.
That guy Dutchcourage
I didn't see how he could be elected as a MP, but crap rises I guesses.
imhotep-12
Toews is a disgusting low life that should never have been made a judge.
Jay Ross
Not too many years ago a female judge in Manitoba was put through the wringer because her scuzzy husband shopped out nude photo's of her, without her knowledge or permission. The Canadian Judicial Council twisted themselves into pretzels trying to get her off the bench. This crucifixion went on so long she finally threw in the towel and retired (scuzzy husband passed away).
It will be interesting to see if they sanction, at the least, or throw Toews off the bench at the best. One wonders if there's a double standard running rampant through the Court of Queens Bench. [Does one need to wonder?]
Blurr
I would encourage all to read the section of the report on PROCESS, where Dawson described the torturous replies and obfuscation and ignoring she encountered when dealing with TOEWS, and determine for yourself whether he is fit to remain a judge as he made his replies while in that role.
Kristen t
Let's call a spade a spade here. Vic Toews should have never been appointed to the Manitoba court of Queens bench. The fact he sits on the bench is an insult to Manitobans.
Before he was elected as an MP he violated Manitoba election law, a charge he pleaded guilty to and paid a fine. He labelled Canadians in disagreement with his policies in pejorative terms. He issued prejudicial and inappropriate statements in reference to Omar Khadr. He had no concern for the privacy rights of Canadians but blubbered like a baby when his revolting behaviour was made public.
Vic Toews represented himself as a font of morality and a paragon of virtue. He did so despite his reprehensible personal conduct. While disgusting it wouldn't have been an issue if he hadn't been such a sanctimonious family values hypocrite. He repeatedly made the claim he was the "law and order" candidate. Now the ethics commissioner has found he broke federal conflict of interest rules.
This character should not be presiding in judgement over anyone. The fact he is can be laid at the door of Stephen Harper and Peter Mackay.
Kristen t Casper Gutmann
While a sitting judge Toews had his salary garnished in 2015 because he did not pay his rent on the Ottawa apartment he had rented while an MP. The landlord had to take him to court for payment. His treatment of his wife of 30 years was appalling.
He used to represent a rural Manitoba bible belt riding. The utter hypocrisy of the "Christian" right has been exposed for the farce it has always been on both sides of the border.
Margaret Bricknell Jane Lowe • a day ago
He was hoping for the SCC or the senate.
***
Comments to article below:
Chris in Ottawa
It is astonishing to me that Toews was appointed a Queens Bench Judge in Manitoba. He had a previous conviction for election fraud in Manitoba and he also tried to get away with not paying support payments to his ex-wife, not to mention getting the family babysitter pregnant. The guy is a disgrace who should never have been a Cabinet Minister, let alone a Judge.
Avenging Angel
Harper patronage appointment as well as a lasting gift for the people of Manitoba.
RolandX
Why is he only being warned when he broke the law twice? He should be prosecuted to the full extent of the law.
[Canada's legal "system" is there to protect law violating politicians, and to service the rich and polluting, law violating corporations, while punishing and defaming civil plaintiffs if they dare try to serve the public interest (which sends a loud message to ordinary Canadians: "Keep out of our private club funded by you. If you try to enter, we will hurt you."]
Former cabinet minister Vic Toews broke ethics law: commissioner by The Canadian Press, Apr. 21, 2017, The Globe and Mail
Canada's former public safety minister has had his wrist slapped by the federal ethics commissioner for violating conflict of interest rules.
Vic Toews was a Conservative MP from Manitoba and senior minister in Stephen Harper's government between 2006 and 2013. He is now a judge on the Court of Queen's Bench in Manitoba.
Ethics Commissioner Mary Dawson says Toews violated the Conflict of Interest Act twice in the months after his departure by working for two Manitoba First Nations with whom he had dealt with as a minister.
In one instance, Toews provided strategic legal advice to Peguis First Nation and even helped draft a settlement proposal related to the Kapyong Barracks dispute in Winnipeg.
While in office, Toews was the minister who signed off on the sale of the former military barracks, and was later named as a defendant in a lawsuit from First Nations, including Peguis, about the sale.
Dawson said Toews' actions meant he "switched sides" just two months after he left office, something that is not allowed under the Conflict of Interest Act.
In a separate instance, he provided work for the Norway House Cree Nation, an entity with which he had met with in his final year in office. That was also a violation of the law, said Dawson.
Dawson has no authority to issue any penalties for the violations. [Of course not! Penalties might discourage corrupt Canadian elected officials from repeatedly breaking the law. Emphasis added]
[Refer also to:
2012 02 21: Vic Toews – You Were Warned: Identity of Vic Toews' Mistress, Stacey Meek, Revealed
… Call Senator Terry Stratton and ask him if hiring Vic Toews' mistress and paying her salary with Canadian tax dollars was a political favour, or "just a coincidence". You may even be able to ask Stacey Meek herself, if she's the one who picks up! Call 613-947-2224 or email email hidden; JavaScript is required
Or ask Joyce Bateman, the MP Stacey Meek works for. Call 613-992-9475 or email email hidden; JavaScript is required
Transcript here: http://pastebin.com/JbEFyGGh
And to those who say Mr. Toews' personal life is not relevant to this debate: it became relevant when…
A) Vic Toews' mistress was hired by the Government of Canada and paid with our tax dollars,
B) Vic used his former mistress and son as tools to paint himself as a devoted family man for political gain, and…
C) Vic Toews attempted to make it legal to steal the personal information of every Canadian citizen with an internet connection, including intimate details about their families.
2014 03 07: Vic Toews appointment by Harper government seems to set new standard for blatant patronage
In 2005 a Canwest News Service analysis found that more than 60 per cent of federal judicial appointees had donated to the party in the five years before their appointment.
…
Back in 2008, the Winnipeg Free Press reported that Toews had tired of federal politics and was looking to get appointed to the bench in Manitoba. Columnist Don Martin wrote then: "The mind reels. If the Conservatives under Harper stood for anything while in Official Opposition with Toews as the justice critic, it was a clean bench kept clear of patronage deadwood." The blowback seemed to spook the government, and Toews stayed in cabinet, moving first to treasury board and then to public safety. He was rumoured to be seeking a way out, though, because he was weary of politics, particularly the tricky business of supervising the RCMP. But a second marriage, a young child and an expensive divorce meant that he needed a big paycheque.
I was told that the prime minister had quietly told him he could go to the bench, but there would have to be a six-month cooling off period. Toews pooh-poohed that kind of talk, chiding journalists for their unseemly speculation. But then he retired in the summer, and sure enough, nine months later, on Friday afternoon, the government appointed Toews to the Manitoba Court of Queen's Bench.
He will make $288,100 a year, $51,000 more than the $236,900 he made as a cabinet minister, plus his MP pension, which ought to make those enormous alimony payments easier.

As Martin wrote in 2008: "It's difficult to fathom why the Conservatives would risk so much political karma on such a move."
It looks terrible. The bench should not be used as a retirement home for burnt out politicians. That's what the Senate is for, and certain consular offices.
…
The Toews appointment — less than a year from cabinet table to the bench — seems to set a new standard for blatant patronage, which shouldn't come as a shock to anyone who has watched Harper appoint senators.
….we want the best on the bench, and when you throw partisan politics into the mix, you don't get the best, you get the best-connected. [Emphasis added]
2015 07 25: Scary! Stephen Harper's courts (including Supreme Court of Canada): How the judiciary in Canada has been remade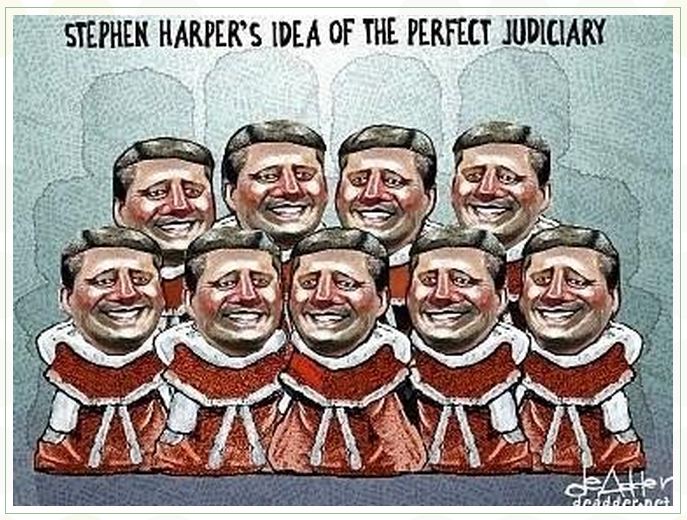 2017 03 23: MUST WATCH! 'This Hour Has 22 Minutes' Sketch: "Judges: a danger to Canadian women"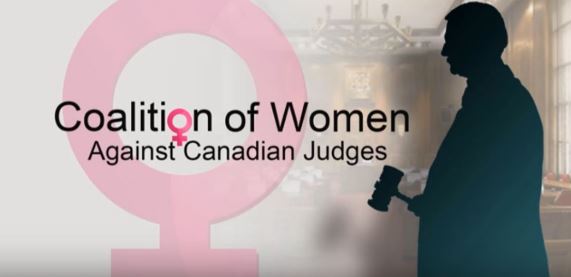 The neighbourhood takes a terrifying turn when a judge moves to your street. 22 Minutes checks in:
"Maybe you should have kept your knees together."