This is a must read no matter where you live in the world if you value your rights including Freedom of Expression like I do (especially after the Supreme Court of Canada pissed on ours here).
I posted excerpts that are particularly important to me, but I urge you to read the entire article. The many photos are excellent.
When fear makes me want to give up (usually 100 times day and more every night), I think of Melo putting his life at risk and find myself making it through to another day.
Condolences Melo, for the loss of your sister.
jessica
****
No importa donde vives en el mundo, este es algo que se debe leer si como yo vos aprecias sus derechos, en particular el derecho de "libre expresión" (especialmente cuando el Corte Supremo ha cabreado todo como nos ha pasado aquí)
En mi página web (Ernst v. EnCana Corporation https://ernstversusencana.ca/defending-freedom-of-expression-into-the-heart-of-father-melo-jesuit-priest-and-journalist-whose-life-is-threatened-in-honduras/) hice referencia a frases más particular para mi, pero insisto que merece que vos lees todo el articulo. Además las fotos son excelentes.
Cuando el miedo me agota y pienso en renunciar esta lucha (tal vez 100 veces día y noche) pienso en Melo quien vive con esta amenazas contra su vida y con esto tengo la energía seguir por otro día.
Melo, mi más sentido pesame por el fallecimiento de tu hermanita.
jessica
En el corazón del padre Melo, periodista y sacerdote jesuita amenazado en Honduras by Iván Benítez, July 03, 2019, atreintaytresmilpies
Into the heart of Father Melo, Jesuit priest and journalist whose life is threatened in Honduras translated by honduras2etc.wordpress.com July 7, 2019
Excerpts included below:
…
Melo has travelled to the United States and Europe to receive international awards for the defense of the freedom of expression. But he is more comfortable visiting the sick in hospitals in his city, or sitting with team members in the courtyard of their home sharing a beer wearing casual shorts and his flip flops. He collaborates with the most prestigious media outlets at an international level, while being very present to care for his mother, Doña Lita or his sister Inés. (Inés died two weeks after this report was written.) With equal ability he prepares an intellectual discourse for any scenario in the world, but he is equally comfortable rolling up his sleeves in the kitchen while preparing some scrambled eggs with corn tortillas for his friends. Melo can be timid while at the same time be capable of a few jokes, familiar, solitary, unpredictable and often unpunctual. It is characteristic of his commitment to life and simplicity, while remaining a staunch enemy of double standards and false praise that can be directed towards him. Melo does not feel like a superhero in such a dangerous country in Central America: Honduras had the second highest per capita number of murders: 3,682 in 2018 or 40/100,000. (Insightcrime.org)
The 5 men of Honduras
March of the Torches, Melo walking with his people in El Progreso (photo credit Iván Benítiz)
According to the Forbes list of 2018, five people in Honduras accumulate the equivalent of the minimum annual salary of two million of their population. "Honduras remains hostage to a small group that rubs shoulders with the richest people in the world," says Melo. "225 are in control of all economic and political decisions. And this is what causes the origin of the migrant caravans." Of the nine million inhabitants, one million live outside of the country and six million live with precarious futures in health and housing. "Honduras possesses the conditions of wealth which would enable its people to live with dignity, for this generation and the next, but the small handful of people who concentrate the wealth have created a triple alliance with which they protect themselves" Melo continues. "There is a triple alliance formed by a corrupt political bureaucracy, an entrepreneurial elite and multinationals. And whoever touches this triple alliance is threatened with a premature death. That's why they threaten to kill us". "A triple alliance" he stresses, "protected by the United States, organized crime and the military."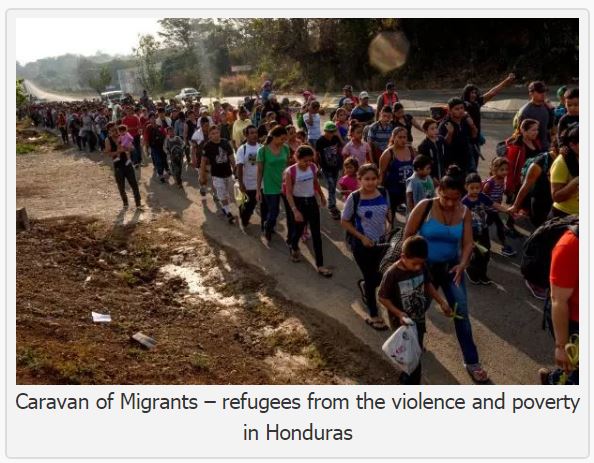 For the past two months (May and June), another social and political crisis has been detonated in Honduras as the threat of "privatization initiatives" in education and public health care has alarmed the population. "In reality, this crisis is nothing more than the accumulation of conflicts that are rooted in the coup d'état of 2009, the illegal and fraudulent elections of November 2017, the corruption, the impunity and the links of President Juan Orlando Hernández with drug trafficking" clarified Melo's team (ERIC) this week. "The social and political pressures continue to rise, and the escalation of repression and systematic violation of human rights is very serious", they have warned. To all this is added the government plan to "criminalize" Human Rights defenders. Diario de Navarra has had access to a document in which the government puts Father Melo in the spotlight, pointing him out as one of the "political leaders behind the planning of marches, riots and looting" with the express aim according to the document to "disaccredit" him.
…
Freedom of the press
A slight smile escapes Melo when speaking about freedom of the press. "To exercise freedom of expression in our situation is a permanent task. Here in Honduras, we celebrate this day while living in a country that is at the service of the elite. Freedom of expression as a right of the press has ceded to a demand to be at the service of the strong. We cannot say that we enjoy freedom of expression. Freedom of expression becomes a huge challenge and an affront to adverse conditions. We risk our lives and risk our personal safety and that of our team."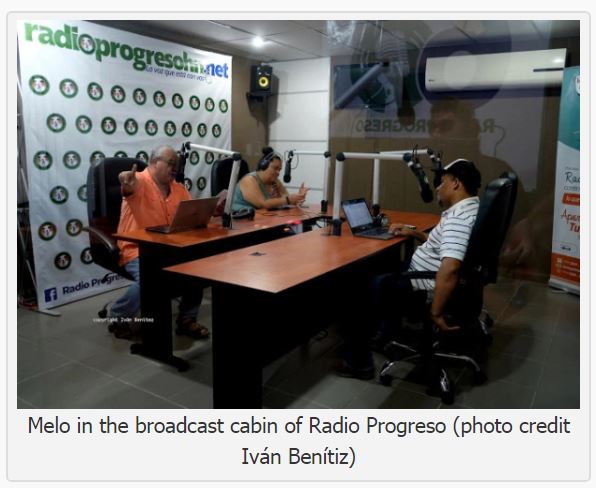 … The State has the obligation to implement protection measures for people at risk". "To do this", he clarifies, "the State sends to our home a police patrol at nine o'clock at night and at four o'clock in the morning. But it happens that the police themselves are contaminated by organized crime. Therefore, they fulfill a double function. Ostensibly they protect us, but in reality they watch and control us. I do not think they're going to kill me. What they are now seeking is to discredit us. They try to connect me to one issue or another. That's why they watch us, videotape us and even listen to our conversations."
At 5.15 am, the gate to Radio Progreso opens. A security guard, who does not carry a weapon, watches the entrance. The silence of the empty streets is left behind. The priest places his fingerprint on the door security system so that he and the journalist visitor can enter. The station is protected by bulletproof glass. Melo opens the palm of his hand and leans against the wall. He must climb the stairs sideways, pulling his body up the stairs. They walk through a first room, a small library which exhibits a book edited by the Rafto Foundation that awarded Melo in 2015 the prize for the "defense of freedom of expression". This was a huge international recognition which recognized "the legitimacy of millions of Hondurans and Hondurans who yearn for a real and profound change in the social, political and economic situation that affects us as a society." The Foundation highlighted in 2015 "that justice and the reason for this popular clamor to stop once and for all the thousands of abuses suffered daily by the peasantry, the indigenous peoples, the Garífuna communities and rural towns and communities in the face of the voracity of the interests of extractive and transnational companies in Honduras." Since 1987, the Rafto Foundation has recognized and awarded human rights and democracy advocates, including people who later received the Nobel Peace Prize.
…
"You will be the next"
Since childhood Melo has had to learn to deal with death before its time. His father, a peasant leader, was murdered in 1974 in a violent robbery that Melo "suspects" had other objectives. Melo also knew Ellacuría, his thesis professor. The Basque Jesuit was killed by the Salvadoran army in November 1989 along with five other priests of the same order and two women employees of the Central American University (UCA). Melo had a warm friendship with the woman who cooked for the Jesuit community and her daughter. He had just invited them to spend Christmas at his family house in El Progreso.
The news of this brutal assassination caught Melo while he was in the mountains, celebrating a mass with a peasant community. Upon receiving the news, Melo first went to his family home to be with his mother. He sought Doña Lita's embrace, her consolation, and he cried. Doña Lita, then, whispered to her son: "You will be next. Have courage." Those words of his mother cemented the strength that today holds firm. Years later after these words from his mother, in 2016, Berta Cáceres was murdered. She was an indigenous woman leader who opposed the government's "extractive" model of development. Berta had received numerous death threats because she could not be bought by the corporations and political parties. Berta Cáceres knew what she faced.
Thus, whenever Gerardo Chevez, one of the main investigative journalists from the radio station, picks Melo up at the airport or accompanies him from one place to another, Melo somewhat jokingly reminds Gerardo: "Roll down your window so the gunmen do not confuse us and kill you instead." At a protest in Rio Blanco three years before she died, Berta asked Father Melo who of the two would first be assassinated. "Who will go first, Melo, you or me?"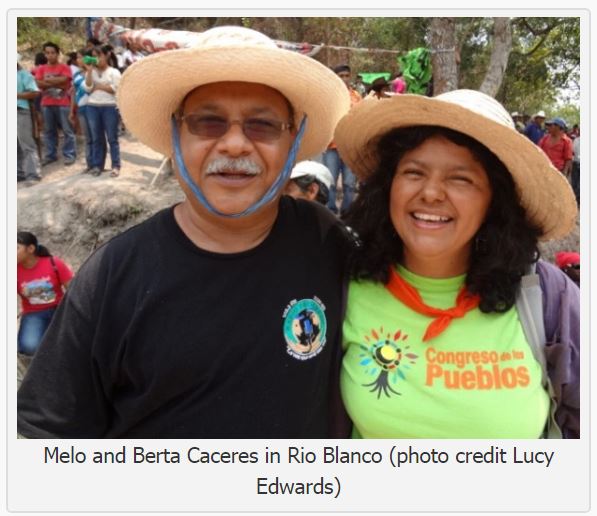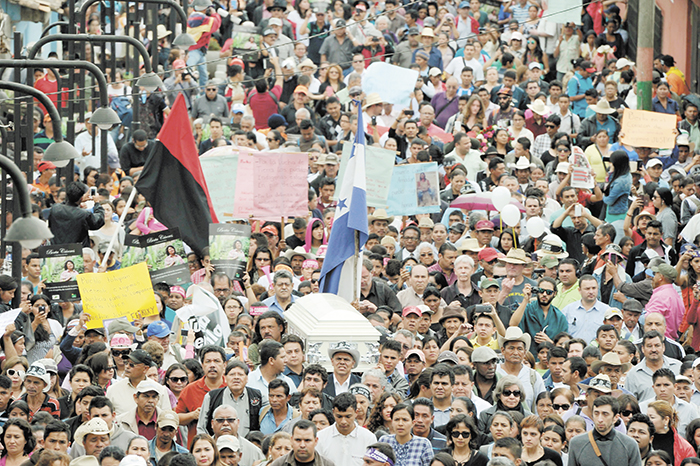 …
He remembered those years when he as a Jesuit priest accompanied the peasant indigenous population, in the midst of a genocide conducted by the Guatemalan army which had been trained by the Israeli military.
The military burned to the ground the peasant villages. On one occasion the military had them surrounded in the middle of the forest. "It was Christmas. We did not have food. We had not eaten for days. But on Christmas day someone managed to break through the siege and brought us some soda crackers. Carefully these were sliced ​​and distributed equally in tiny portions. Then, I discovered the meaning of Christmas."
Complete translated article with excellent photos at link.
Refer also to:
2017 01 25: Jessica Ernst Open Letter to Chief Justice Beverley McLachlin Regarding False and Seriously Damaging Statements in Justice Rosalie Abella's Supreme Court of Canada Ruling, Ernst v AER
****
Jessica & Melo
by Phil Little, July 7, 2019
A number of years ago I struck up a pen pal type relationship with a woman in Alberta whose "letter to the editor" made me think – This woman is special! Years of correspondence and then the opportunity to meet her a number of times has confirmed that indeed she is very special.
Her name is Jessica Ernst. She lives in the tiny little village of Rosebud, Alberta, somewhere northeast of Calgary on the way towards Drumheller. Rosebud is a nothing little village with not much going for it other than being a lovely little village on the Alberta prairies nestled among a number of coulees, tiny little ravines or land breaks along the flat prairies.  Jessica has a small river flowing through her small acreage. It is the type of place an artist would want to live, quiet, peaceful, inspirational, close to nature with antelope, deer and the occasional coyote.

2012 07: Photo of Jessica on her land with the old Rosebud river running through it by Phil Little on one of his visits to Rosebud
Jessica is a scientist with many years working with the petroleum industry. However things turned sour for Jessica when natural gas started to flow through her water taps and her animals refused to drink the water. She would get burns on her skin after taking a shower. The energy giant EnCana had asked permission to frack her property, as EnCana has sunk literally tens of thousands of wells all over Alberta in the process called hydraulic fracking to extract natural gas that is trapped in the bedrock. Jessica refused permission, for as a scientist and property owner she understood what this could do, so the company fracked under her property using horizontal drilling. Jessica must drive 40 kms to fill tanks on her truck to get clean water for her house and animals. Her own subterranean water is now poisoned as are much of the aquifers around the province.
Jessica has responded with a legal suit against EnCana and the Alberta government "energy regulator" which is a group of industry pals who set their own rules. This is a typical "David and Goliath" story, truly epic but not one where the small guy eventually wins out. Jessica has had good lawyers working for her, but the odds are stacked against her and the process has revealed that the petroleum industry, the Alberta government, the provincial courts and even up to the Canadian Supreme Court have connections (links, relationships, agreements, wink wink friendships) that otherwise would not be revealed. Jessica has had threats and suspicious robberies of select material from her home, and has been trashed as a nuisance. However there have been very serious studies and writing about her case, most notably the book by Andrew Nikiforuk titled Slick Water.
https://www.drmackenziebrooks.com/the-jessica-ernst-interview/
OK, maybe I am not an unbiased observer – I greatly admire Jessica and consider her to be one of our great Canadian heroes and certainly one of our great "environmental defenders". The fact that the political and legal establishment are so negative towards her in itself is testimony to how much she has done. On the international level Jessica has traveled to talk to grass roots groups fighting the "fracking process" and notable successes where fracking is banned or severely curtailed is in part thanks to the work and influence of Jessica. Something about the prophet being recognized outside of her own land!!
So last year when we had the unique privilege to host Melo Moreno, a Jesuit priest from Honduras, who came to spend a month with us, I wanted him to meet Jessica. Without knowing one another they were brother and sister in the same struggle for human rights and the protection of the land. We traveled to Alberta and then went to Rosebud to meet Jessica. Just watching them together was magic – they connected and knew how close they were in a common struggle.
There was recently an article in Spanish titled "Into the Heart of Father Melo, Jesuit priest and journalist whose life is threatened in Honduras." It explores the character of Melo in a way not often found in so many articles about him and his work. I translated this and posted it in a blog about Honduras. I sent out the link to people who know Melo or something about him.
I received a quick response from Jessica. She not only read the article but she posted the translated article onto her own website.
The connection between these two "torch bearers" gets stronger. Melo faces a more imminent fate, Jessica perhaps the thousand paper cuts of a bureaucracy corrupted and an industry that really rules the province if not the country.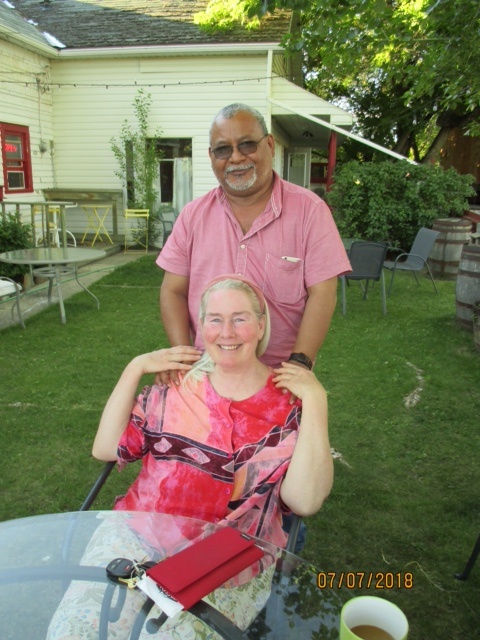 Melo & Jessica at Thorny Rose Cafe in Rosebud Alberta Canada, July 7, 2018, a year ago today. Gem was still alive; she was so happy to meet Melo and play fetch with him.