Encana selling subsidiary that distributes liquefied natural gas by Dennis Webb, April 15, 2014, The Daily Sentinenl
Texas-based Stabilis Energy said in a news release that it is acquiring "substantially all" of the U.S.-based assets of Denver-based Encana Natural Gas Inc., a subsidiary of Encana Corp. ENGI distributes liquefied natural gas fuel to domestic, high-horsepower engine operators in the oilfield, mining, rail, marine, transportation and industrial sectors, the release said. The sale is scheduled to close April 30.
Encana spokesman Doug Hock said the sale will mean some Denver employees will move to Stabilis. No Encana employees at the company's Parachute office will be impacted, he said. Neither the privately held Stabilis nor Encana, a publicly traded company based in Canada, disclosed the purchase price. "This is not a material transaction for Encana, so we're not disclosing the value," Hock said.
…
In March, Encana announced the $1.8 billion sale of its Jonah Field natural gas holdings in the Pinedale area of Wyoming to TPG Capital. The sale includes more than 1,500 active wells.
Encana last year announced layoffs of 20 percent of its employees [but companies – Encana included, regulators and politicians keep saying frac'ing "creates" jobs!] in response to lagging gas prices, and a decision to focus on drilling on areas rich in oil and other liquids in order to better balance its gas and oil portfolio. It also suspended its natural gas drilling in western Colorado's Piceance Basin.
However, the company has shown no signs of planning to sell its Piceance assets, saying they are large in size, provide a good base cash flow and offer a lot of potential when gas prices rebound. Asked about the reason for the sale to Stabilis, Hock said, "We're focusing on our core business of exploration and production and on the execution of our strategy."
Encana has worked over the years not only to produce gas but to promote markets for it through the use of liquefied natural gas and compressed natural gas. It uses gas as a power supply for drilling rigs and fleet vehicles. Last year, ENGI opened a public compressed natural gas fueling facility at the Shell gas station in Parachute — its eighth such station in North America. Hock said those stations aren't part of the Stabilis deal and will stay with Encana, at least for the time being. The focus of Stabilis appears to be on the liquefied natural gas market. It plans to open its first such production facility in Texas in January to serve oilfield customers drilling in the Eagle Ford shale formation. That's part of a joint venture with Flint Hills Resources LLC, a subsidiary of Koch Industries, to build up to five liquefied natural gas production facilities targeting oilfield customers.
Hock said Encana believes natural gas provides a tremendous opportunity as a domestic fuel source for high-horsepower engines. "Great savings were realized by utilizing natural gas in our operations, and we're confident it will remain a part of our fuel mix," he said. [Emphasis added]
Encana unit to sell US assets to Stabilis Energy by Ashutosh Pandey and Sneha Banerjee, Editing by Kirti Pandey and Saumyadeb Chakrabarty, Reuters, April 14, 2014, Financial Post
Liquid natural gas supplier Stabilis Energy said on Monday it would buy most of the U.S. assets of Encana Natural Gas Inc, a unit of Canada's Encana Corp, for an undisclosed price. Encana, Canada's largest natural gas producer, has been shedding assets under Chief Executive Doug Suttles, who wants the company to cut its dependence on natural gas, prices of which have slumped after a shale boom in the United States. Encana is focusing on shale fields that are rich in oil and natural-gas liquids such as Montney in British Columbia and Duvernay in Alberta. Encana Natural Gas distributes LNG to engine operators in the oilfield, mining, rail, marine, road and industrial sectors.
The deal is expected to close on April 30, privately owned Stabilis said. Stabilis, which also supplies LNG to the oil drilling and production industry in North America, plans to open its first LNG production plant in George West, Texas, in January 2015 to service customers in the Eagle Ford shale. The George West plant will be able to produce about 100,000 LNG gallons per day when complete, Stabilis said. Stabilis will also continue to source fuel from Encana Natural Gas's existing third-party supply network. [Emphasis added]
Texas-based Stabilis Energy buying Encana's U.S. liquefied natural gas unit by The Canadian Press, April 14, 2014
Encana Corp. will sell substantially all the assets of a Denver-based liquefied natural gas unit to Texas-based Stabilis Energy under an agreement announced Monday. Financial terms of the deal weren't disclosed. Calgary-headquartered Encana has been reducing its portfolio and recently agreed to sell natural gas properties in Wyoming to a private equity firm. Denver-based Encana Natural Gas Inc. distributes liquefied natural gas (LNG) fuel to operators of high horsepower engines used in the oilfield, mining, rail, marine, over-the-road transportation and industrial sectors.
Stabilish will add ENGI's staff and buy its fleet of trailers, mobile fuelling units and other equipment. The transaction is scheduled to close on April 30.
Could the Mancos Shale be the next big thing? Encana says yes by Nicholas Sakelaris, April 10, 2014, Dallas Business Journal
The Mancos Shale in northwestern New Mexico could be the next big shale play with Encana Corp. leading the charge. Canada-based Encana plans will run two to four rigs to drill up to 50 wells in 2014 on 176,000 leased acres in the Mancos Shale, part of the larger San Juan Basin, the company announced this month. The company will spend $350 million in the Mancos Shale in 2014. The company has already drilled 30 wells there.
Historically, this region of New Mexico has been known as a dry gas play but Encana became the first to use horizontal drilling and hydraulic fracking in the Mancos formation. The majority of Encana's acreage holds crude oil and natural gas liquids. Encana projects 50,000 barrels of oil equivalent per day of light, sweet crude oil could be produced in the play. The northern section is mostly natural gas while the southern section is oil prone.
Encana's report is titled "Getting Back to Winning," a fitting name after the rough year 2013 where the company announced it would cut 20 percent of its workforce and consolidate operations. That included the office in the Shops at Legacy in Plano. "It is moving forward to have that wrapped up by the middle of the year," said Doug Hock, media relations manager for Encana. "Some personnel will continue on with Encana and will move to Denver to work on this Mancos project."  He had no further updates on the status of the building after that.
The consolidation focuses the majority of Encana's resources in New Mexico, Colorado, Louisiana and in Alberta, Canada. [Emphasis added]
Major Developments Affecting Shale Development & Unconventional Oil & Gas Extraction Using Hydraulic Fracturing by Michael Zehr, October 9th, 2013, HBW Resources
Texas
Stabilis Energy and Flint Hills Resources have announced plans to build up to five natural gas liquefiers to serve oil field operations, with the first facility planned to launch in the Eagle Ford Shale in January 2015. The first liquefied natural gas production facility will be located in George West, Texas and produce up to 100,000 gallons of liquefied natural gas per day, the companies said. They also plan to launch facilities in North Dakota and West Texas in 2016 and 2017, pending land procurement agreements. Additional facilities would come online by 2017.
More than a third of all new natural gas wells since 2005 were drilled in Texas, and the state uses almost four times as much water for hydraulic fracturing as any other state, according to a study by a Texas environmental group.Operators in Texas drilled 13,540 wells in 2012, and have drilled more than 33,000  since 2005, according to an Environment Texas report, which focuses on potential hazards and pollution associated with the drilling technology.
North Logan house fire blamed on natural gas vehicle by Amy Macavinta, 2 months ago, HJNews.com
A North Logan house fire that was likely caused by a natural gas vehicle has left one family seeking shelter and caused damage to two homes.
…
According to North Logan Fire Marshal Jason Killinen, the fire was likely caused by a natural gas leak inside the garage. [Emphasis added]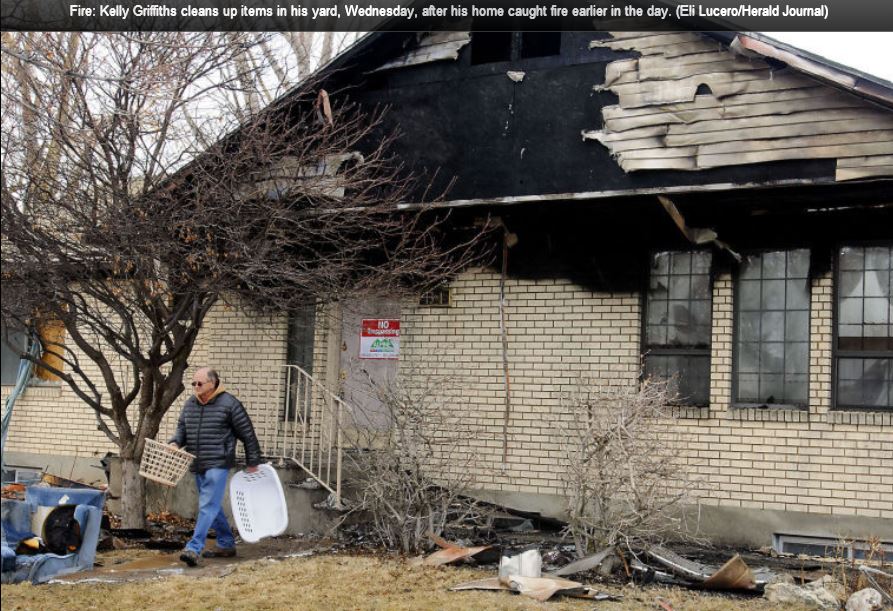 1 killed, 1 injured in Howard truck explosion; "Something in the load of the vehicle shifted and it compromised the compressed natural gas fuel system, consequently there was a detonation"