Mercedes Stephenson@MercedesGlobal:
Reminder that the government shut down a probe into sexual misconduct and sexual assault in the military this week. So they could put together a report of recommendations that mirror what the government has been being told since 2015. Before all the witnesses could speak.
The government consistently calls themselves feminists and says that they believe women and are concerned about victims of sexual misconduct. Yet when a Parliamentary committee tried to get answers, it was stopped.
Global News broke the story about the allegations against General Vance on February 2nd. It is now April 15th. Ten weeks. It has been ten weeks of the govt repeating everyone deserves a safe work space. No accountability. No apology. No information about the probe or watchdog.
Censored@8maggiemay Replying to @MercedesGlobal:
The news should announce "10 weeks and still no government response on the rampant sexual abuse in the military". And keep at it every news cycle until the public finally gets answers.
Unworthy of the Perfect Princess @thecandyglitter@iAmOwnedbyCandy Replying to @MercedesGlobal:
and now when photos of one of their MP's naked on Zoom gets out they want an investigation!

that's 'cause he's a man! he has the all valuable Caveman Canada ID Card – a penis (and harmed himself), so he's worthy of an investigation (like duh, think before you strip!)

Jim Goddard@jimgoddard3 Replying to @MercedesGlobal:
Great work on this file. The coverup could not be more obvious.
Ken Serné@Hup_Holland Replying to @MercedesGlobal:
Seriously, NOW they want an investigation? After all the things they have dodged, buried, swept under the carpet, they want a thorough investigation of Nude-Gate? Military women must feel really good about the government leadership right now. All it took was a man to be a victim.
The Liberals are planning to put forward a motion that would wrap up a House of Commons defence committee investigating sexual misconduct allegations against Gen. Jonathan Vance by April 16, a notice of the motion obtained by Global News shows.
Several witnesses who are considered crucial to the investigation have yet to appear before the committee, which is probing sexual misconduct issues in the Canadian Armed Forces, including allegations raised against Vance.
If passed, the motion would effectively shut down the committee before they can testify.
The list of key witnesses yet to testify include former PMO staffer Elder Marques, who was a senior adviser in the Prime Minister's Office at the time the allegations were put forth against Vance.
The notice of the motion calls on members to "send their drafting instructions and recommendations for the report to the Clerk by 4:00 p.m. on Friday, April 16, 2021."
The notice of the motion would also instruct committee members to "complete its review of the draft report and adopt the report not later than Friday, May 28, 2021."
If the motion, set to be put forth by Liberal MP Anita Vandenbeld, carries, the report will be tabled in the House of Commons no later than June 10. The House is expected to reconvene on Monday.
"We owe it to the women and men of the Canadian Armed Forces to get concrete recommendations to the government as soon as we can," Vandenbeld said in an emailed statement to Global News.
"Throughout the study, the witnesses who have come before the committee have indicated the urgency to act, to support survivors coming forward, and to take immediate action," the statement read.
"Recognizing this, and in order to be able to provide the government with recommendations on how we can move forward with a culture change in the Canadian Armed Forces, the clerk of the committee recommended a timeline to be able to provide the government with a timely response."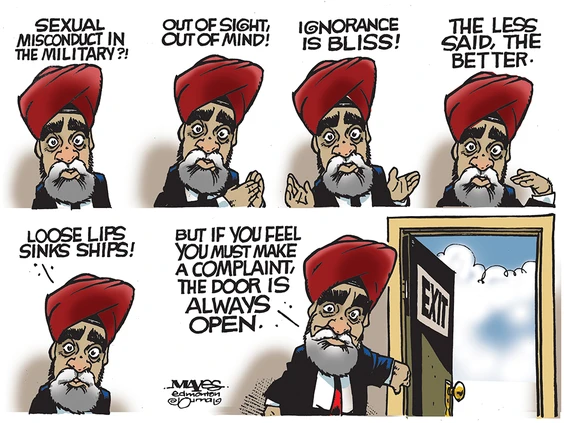 Sajjan says he had 'a number of conversations' with former chief of staff on Vance allegation
The probe was launched in the wake of exclusive reporting by Global News of allegations against Vance. The now-retired general is accused of having a relationship with a woman he significantly outranked, and allegedly making a sexual comment to another soldier much younger than him in 2012, before he was appointed to his top role. Vance has denied all wrongdoing.
Prime Minister Justin Trudeau and his government have come under fire over the handling of the country's military sexual misconduct crisis. On March 30, he told reporters he was not personally aware of any allegation against Vance, despite one allegation being shared with his office in 2018.
"My office knew there was allegations that were brought forward," he said. "We did not know the substance of those allegations until the Global News reporting."
The allegations against Vance have shone a light on the hostile, sexualized culture that has permeated the Canadian Armed Forces. For some, the allegations are not surprising.
Retired Supreme Court Justice Marie Deschamps even detailed "endemic" military misconduct in a landmark report dating back to 2015 that found survivors of sexual assault and harassment in the army were left to fend for themselves.
In addition to Vance, the Canadian Forces National Investigation Service (CFNIS) is also investigating his replacement, Chief of Defence Staff Adm. Art McDonald.
McDonald, who voluntarily stepped down in late February, is facing what multiple sources have told Global News is a sexual assault allegation.
Who knew what and when has been at the centre of the probe into the allegations against Vance and sexual misconduct in the military since it began on Feb. 9.
In testimony delivered before the House of Commons on March 12, Defence Minister Harjit Sajjan confirmed then-military ombudsman Gary Walbourne brought the allegations against Vance to him in 2018 but said he refused to hear details because he wanted to avoid "political interference."
Sajjan also said he told Zita Astravas — his then-chief of staff — about the allegation. He said the allegation was then shared with Marques and the Privy Council Office, but he never followed up on any investigation into the allegation that may have taken place.
The defence minister added that he never specifically directed Walbourne, but instead told him that he could either do the investigation or take the complaint to the judge advocate general, the provost marshal, or the Military Police Complaints Commission.
Federal officials have been told multiple times since 2014 that ombudsmen are not the proper outlet for sexual misconduct probes, giving Walbourne a limited scope to handle the allegations. Story continues below advertisement
Even in 2015, Deschamps concluded that "the Office of the Ombudsman is not a resource that is designed to help victims with either legal or emotional support, and should not be referred to as a resource for victims who need help before, during, or after a complaint of sexual harassment or assault."

Refer also to:
2021 03 18: Caveman Canada hits a sexual assault victim again, to protect our perverted legal system. Sara Casselman: "This is our justice system folks. A survivor in our community was fined yesterday for sharing a transcript of the judge's ruling *in her favour* with her friends and family."
How many companies, regulators, police, lawyers and judges enable harm to women and bully and harm women directly?
2021 03 23: The big picture of violence against women by Ann Telnaes, Editorial cartoonist, Washington Post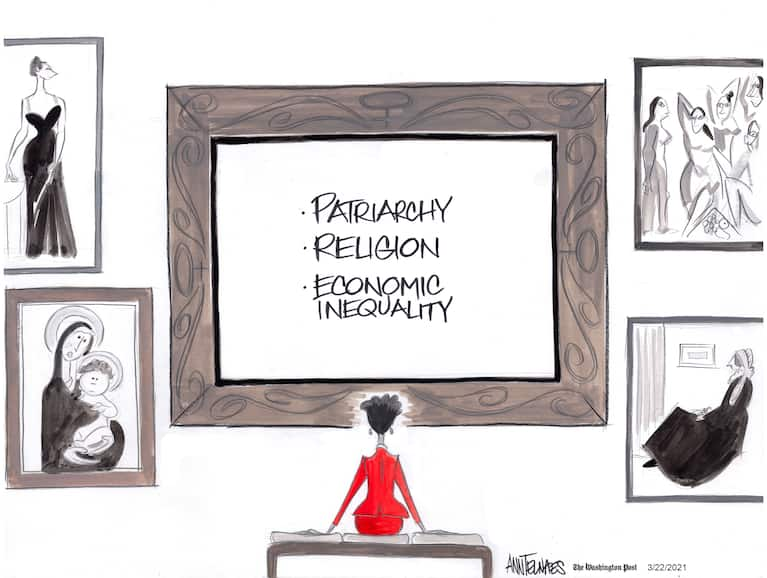 Is society willing to acknowledge the factors that contribute to the pandemic of violence against women?
2019: "It's the judges!" enabling rape and murder of women. No kidding. In Canada too.
"Unf*ck the system." Alberta's Neanderthal "Justice" system assaults sexual assault victims. "The judge in this troubling case was none other than former Deputy Justice Minister Ray Bodnarek, a PC loyalist appointed as a judge by former PC Justice Minister Jonathan Denis who himself resigned under troubling allegations of domestic violence." Commenter: "So who exactly is the crown protecting by blocking the publication of the victim's name?" Another commenter: "My guess…..the 'system'. It stinks and it's all because of the judges & lawyers." I believe the only way to start unravelling patriarchy and cleaning up Canada's corrupt politicians, is to make it illegal for a lawyer (past, current, future) to be an MLA or MP in our provincial or federal gov'ts. Let lawyers practice/teach law, let politicians make laws, don't mix the two – that includes no judges in politics either.