2017 02 17: BNN interviews Alberta Oil Patch Consultant Brent Nimeck: "This problem is 30 years in the making. … I would call it a Ponzi Scheme…. This is an orchestrated fraud from multiple angles: Industry, CAPP and the Alberta Energy Regulator have enabled this to happen. … Through our independent analysis and we've confirmed this at multiple sources within the energy regulator, the liabilities are over $300 billion. That's what's on the hook for Alberta taxpayers right now – $300 billion."
Alberta expects 18,600 new cancer cases this year as Canada grapples with aging population by Jonny Wakefield, June 20, 2017, Edmonton Journal in Calgary Herald
Alberta needs to redouble its efforts to prevent cancer as the province sees steady growth in the number of new cases, the Canadian Cancer Society says.
A new study released Tuesday estimated that 18,600 Albertans will be diagnosed with cancer this year — part of a cross-Canada rise in new cases as the country grapples with an aging population.
The report found one in two Canadians are expected to contract cancer at some point in their lives, while the country is seeing more new cancer cases overall.
In Alberta, cancer is expected to claim the lives of 6,800 people this year, said Kristyn Berry, the society's Edmonton-based health promotion coordinator.
The province should do more to combat the growth in new cancer cases, she said. [With Ex Encana VP Gerard Protti chairing the AER, Canada's nastiest, no duty of care, legally immune oil industry pollution enabler?]
"If you think of the stat that nearly one in two Canadians will be diagnosed with cancer, mixed with the growing and aging population and the increase of new cancer cases, we need to do more work in prevention, in research and in supporting people living with cancer," Berry said.
She said the province should take additional steps to combat secondhand smoke and tobacco exposure, including enacting its own Tobacco and Smoking Reduction Act. The province can also adopt policies encouraging healthy eating and sun safety, she said. She added that the government has "stalled" on legislation regulating artificial tanning beds.
"Alberta is a falling behind on measures to prevent cancer," she said. [A given, with how efficiently and nastily Alberta is enabling increasing harm and pollution by oil and gas companies]
Alberta Air Pollution Insert: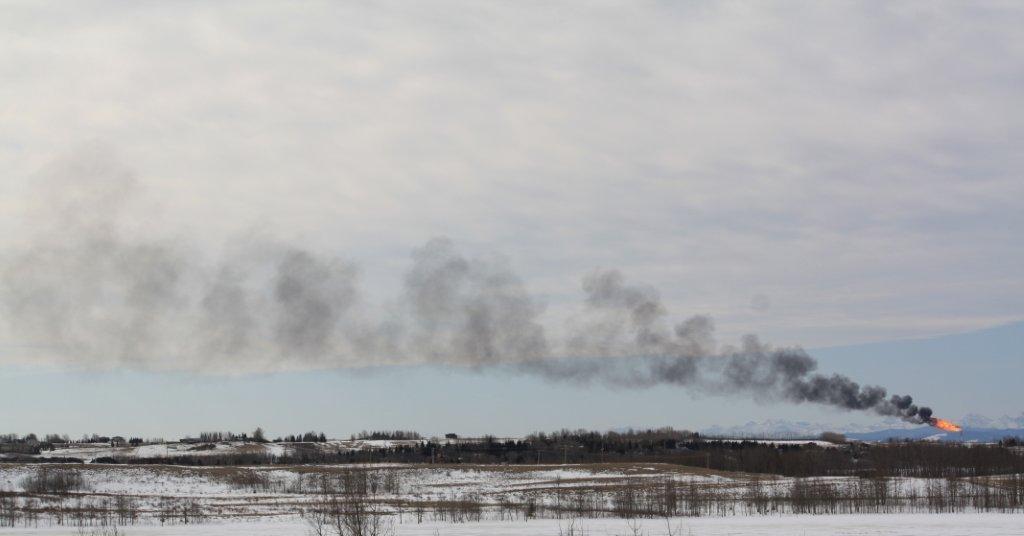 2014 03 12: Cochrane Interpipeline Gas Plant NW of Calgary, Alberta
2016: Elevated Cancer risks surround oil & gas drilling. Fracking is bad for your health says Israel Health Ministry official; Frac flowback stage causes greatest air pollution; WORLD-WIDE STUDY: One in three strokes caused by air pollution
2014 04 15: Excerpts below from AER Bulletin 2014 13 on changes to Directive 60:
Revised requirements in the 2014 edition of Directive 060 become
effective June 16, 2014. This edition replaces the previous edition
issued on November 3, 2011.
…
Notification must include information about duration and volume
from flowback operations. Reported volumes must distinguish
volumes from flared hydrocarbon gas to surface and volumes from
vented nitrogen or carbon dioxide used in fracturing fluid.
…
Both section 8.1 and the footnote in table 2 that states that Temporary venting is not permitted within 500 m of a residence unless consented to by the resident and approved by the AER field Centre have been removed. … Notification is required instead of consent. [AER deregulated after Daunheimers pointed out to the AER the temporary emissions by Angle Energy (now Bellatrix) and that the family had never given consent. AER refused to issue non-compliances. Angle Energy didn't even notify Daunheimers, never mind get their consent.]
…
Page 6: Venting and/or fugitive emissions must not result in any offensive
hydrocarbon odours outside the lease boundary that, in the opinion
of the AER [Why not in the opinion of the families forced to breath the undisclosed chemicals being flowed back, vented and or flared?], are unreasonable either because of their frequency, their proximity to surface improvements and surface development
(as defined in Directive 056), their duration, or their strength [Emphasis added]
2014 06 14: AER's inhumane changes to Directive 60 (after Ex-VP Gerard Protti was appointed chair) – to legalize industry's endless on and off lease toxic air pollution, including known carcinogen, benzene?
2014 06 14: Letter by Diana Daunheimer: Alberta Energy Regulator should be ashamed, AER Directive 60 Deregulation as the frac poisons ramp up
Of greatest concern is that off-lease odours are
now permitted from energy sites. The previous document
was clear; no off-lease odours were allowed.
Reasonably so, NO contamination should be leaving
these sites. To point out the obvious, these are not
odours; cooking fish in the house causes odours. [Emphasis added]
From Diana Daunheimer 2014 06 14 Letter to the Editor
End Alberta Air Pollution Insert (more below)
***
Overall, lung cancer continues to be the most prevalent cancer in Canada, accounting for 14 per cent of all new diagnoses.
For Alberta men, prostate cancer continues to be most prevalent, with 2,400 new cases expected this year, followed by colorectal cancer (1,250 diagnoses) and lung cancer (1,100).
Breast cancer is expected to be the most common cancer among Alberta women, with 2,600 new cases this year, followed by lung (1,100) and colorectal (970).
Cancer death rates peaked in 1988, according to the study. Since then, improvements in prevention and treatment have prevented an estimated 179,000 deaths.
According to the cancer society, five-year survival rates have climbed from 25 per cent of cases in the 1940s to 60 per cent of cases today.
"The number of people diagnosed continues to increase with the growing and aging population, but the risk is consistent with 2016," Berry said.
More than 206,200 Canadians will be diagnosed with cancer this year, 90 per cent of them 50 years or older, the study found.
Cancer continues to be the leading cause of death in Canada. The society says one in four will die from the disease, including an estimated 80,800 people nationwide in 2017. [Emphasis added]
[Refer also to:
2017 02 16: New peer-reviewed, published study by Lisa McKenzie et al, U Colorado School of Public Health: Childhood cancer linked to nearby oil and gas activity; People ages 5-24 diagnosed with acute lymphocytic leukemia more likely to live in areas with a high concentration of oil and gas activity
2016 01 05: New Study Confirms Fracking Wastewater Is Cancer-Causing. "Barium and Strontium were elevated in frac flowback water exposed cells." Encana and Alberta government testing showed barium & strontium doubled in Ernst's water after Encana's illegal aquifer fracing
2016 12 13: Environmental causes of childhood cancers 'grossly underestimated.' In Canada, toxic chemicals used by oil and gas industry are exempt under CEPA (1999)
2016 10 25: Yale School of Public Health: Fracking Linked to Cancer-Causing Chemicals
2016 12 28: 75% of Drinking Water in America is Contaminated With Cancer-causing Chromium-6; In Canada too?
2016 08 16: Two new peer-reviewed studies published after Florida significantly increases toxic chemicals allowed dumped in waterways: 1) Chemicals used in fracking, other gas, oil operations increase risk of miscarriages, reduced male fertility, prostate cancer, birth defects, preterm birth by disrupting hormones; 2) Lit review shows increased risk of negative reproductive effects from exposure to fracking, other oil, gas extraction activities, especially for miscarriages, reduced semen quality, prostate cancer, birth defects, preterm birth
2016 05 25: New Study: Alberta's tar sands leading source of air pollution in North America, Tens of thousands of people living within reach breathing elevated levels of fine particles linked in previous studies to lung cancer, cardiovascular disease, diabetes
2016 08 13: Promised Frac Prosperity for All? Albertans (frac'd more than anywhere else in Canada) face longer wait times for cancer surgery that rank among worst in Canada, report says
2015 03 30: British Medical Journal publishes letter by 20 high profile medical and public health experts calling for ban of "inherently risky" frac industry; Medact's new report concludes: fracking "poses significant risks to public health"
2015 05 01: Fracing's long reach: New Study says Fracking Wells Could Pollute The AirHundreds Of Miles Away
2015 12 18: "What is the acceptable risk for increased risk for childhood cancer? It's zero." 
2015 12 13: Prevent Cancer Now calls out AER's Health Fraud! "The AER has no jurisdiction for human health, and Alberta is famed for a chill against the medical community linking ill health to petrochemicals."
2015 07 27: Pennsylvania Study Links Fracking to Health Hazards in Fetuses, Infants, Young Children: 35.1% more cancer in children ages zero to four in heavily frac'd counties. Compare to AER's belittling, dismissive health study in the Lochend
2015 04 15: "Levels of contaminants higher than in some of the world's most polluted cities have been found downwind of Canada's largest oil, gas and tar sands processing zone…where men suffer elevated rates of cancers linked to such chemicals"
2015 04 08: "It looks like fracking has unearthed an unbargained for and serious cancer risk in peoples' homes." John Hopkins study links radon levels in Pennsylvania homes to fracking: "These findings worry us"
2014 10 30: Study: Toxic Chemicals, Carcinogens at Levels Far Exceeding Federal Limits Near Frac Sites, Will almost certainly lead to cancer increase in surrounding areas
2014 03 11: Santos CBM in NSW Australia contaminates aquifer with uranium at 20 times the safe drinking water levels; Regulator does not test for thorium, radon and radium! Thorium and radon are known to cause lung cancer
2014 02 04: New Study: Emissions may be two to three times higher, some pose cancer risk; Environmental health risks of Alberta tarsands probably underestimated
2013 12 19: Fort Chipewyan rare cancer cases cry out for study; Fort Chipewyan councillor latest resident diagnosed with rare cancer, 'How can this keep happening?'
2013 12 18: Hormone-disrupting chemicals found in ground and surface water at fracking sites, Peer reviewed study of fracking sites in Garfield County Colorado finds chemicals linked to infertility, birth defects and cancer
2013 11 29: Several families taking Baytex (Alberta oilsands company) to court over toxic emissions; Buyout packages allegedly silence Albertans struck with industry-related cancer
2013 10 24: Air Pollution and Cancer Spikes linked in Alberta; Alberta's Oil Legacy: Bad Air and Rare Cancers, Sickening carcinogens now saturate Industrial Heartland, study finds
And what's Alberta Health doing about the increasing cancer causing pollutants?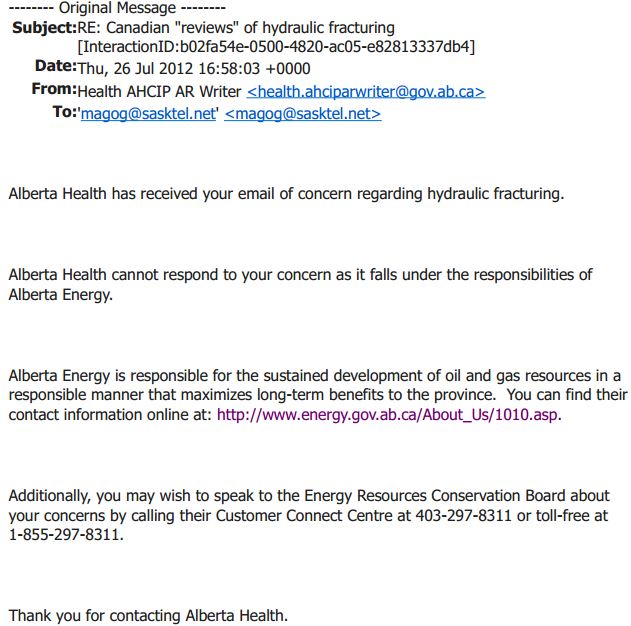 2012 list of health concerns raised by Ernst to the Council of Canadian Acadamies, Health Cananda, Alberta Health and more
Compare to Health Canada:
Why was a 2012 Health Canada Report, admitting significant health hazards and risks to groundwater and air from hydraulic fracturing, kept from the public?
Mother of three, Kimberley Mildenstein, attends frac impacts presentation by Councilor Paddy Munro to Mountain View County Council, March 2012
For more information: FrackingCanada No Duty of Care
Thank you Kimberly Mildenstein for your courageous stand
in heavily abused, censored and silenced Alberta
2011 05 22: Frack and Ruin: the rise of Hydraulic Fracturing; Inflammable tap water, cancer threats and earthquakes: probably coming soon, near you ]
***
Lead, oil, salt: Calgary's push for control over potentially hundreds of contaminated sites Part of negotiations for new powers enshrined in a charter, city wants more say over land within its borders by Drew Anderson, June 19, 2017, CBC News
Related:
It was March 1987 when the news first broke: Cucumbers were supposedly dying in a southeast Calgary greenhouse thanks to land left contaminated by an old oil refinery. Sheila Nichols can still remember hearing the reports on TV as she looked out her kitchen window at the glowing lights of the greenhouse and thought:
"What about my infant daughter?"
Nichols lived in Lynnview Ridge, a then new development that became one of the best-known contaminated sites in Calgary, and one that's still being cleaned up all these years later. It's certainly not the only one.
The City of Calgary is currently managing 34 contaminated sites within its borders with $2.8 million set aside to fulfil its cleanup or monitoring obligations, according to documents obtained by CBC News. Additional funds help deal with landfills, and millions more have been set aside for Old Refinery Park, just below Lynnview Ridge.
There are potentially hundreds more sites within the city that, at least theoretically, are monitored and catalogued by the province. Many are in private hands, while the federal government is responsible for 13.
"We only know ones we've found. It goes back to the known unknowns and the unknown unknowns," said Trent Parks, the leader of environmental risk and liability at the city's environmental safety management department.
"There may be more out there, we haven't come across them yet."
Parks points to the number of gas stations in the city and says there's at least that many contaminated sites waiting to be discovered thanks to the near-inevitability of leaking underground storage tanks.
One big challenge: Currently, the city has no control and no authority to inspect or clean up the contamination at sites it doesn't own and needs provincial approval for cleanup at sites it does.
But that's something officials insist needs to change as part of ongoing negotiations with the province for a new city charter for Calgary.
'Hollowed out department'
It turned out the cucumbers Nichols could see growing from her window likely weren't killed by the lead and oil liberally spread across the old Imperial Oil refinery on the edge of Ogden. But there was no doubt the land where she lived was contaminated.
The greenhouse scare started a long saga in Calgary that ended with an entire neighbourhood wiped off the map and a $27 million plan to clean up, or at least manage, the site in partnership with Imperial Oil. That work continues to this day.
That chunk of land was one of the first issues that Ward 9 Coun. Gian-Carlo Carra had to deal with when he was first elected in 2010, as two city departments argued over the future of the property. One year later, Lynnview Ridge tested his diplomatic skills when a negotiated cleanup plan between the city and Imperial Oil almost died after coming up against the provincial bureaucracy.
Carra said he presented the complex risk management plan — including treating groundwater, capping the soil and erecting a barrier to protect the Bow River — along with three eminently qualified staff from the city's environmental safety department to the "last man standing in a hollowed-out department" at Alberta Environment.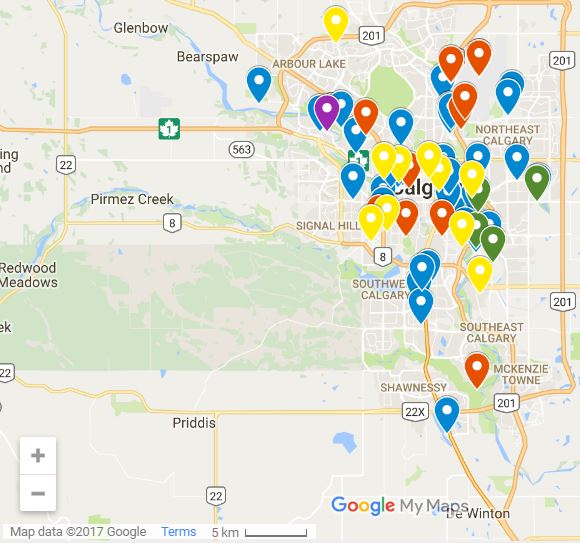 Calgary's contaminated sites. Imagine what the mess looks like in Edmonton and across Alberta!
"He was like 65 years old. He was about to retire. He had a B.Sc. behind his name. And he looked at this report and was like, 'I don't have the ability to decide whether this is the right way to go or not and I don't have the dollars to hire someone to tell me whether it's a good idea or not for a couple of years, so you're going to have to wait.'"
With an impatient multinational corporation waiting in the wings, delay wasn't an option. [While how many children get cancer?]
That experience and Carra's resulting advocacy for the plan to a "revolving door of ministers" at the time is just one example of why Calgary wants a city charter to include powers over contaminated sites, he said.
"If we've got an administration that's full of super-competent professionals, why we would be waiting on another order of government who doesn't have the professional capacity to sign off on something? Doesn't make sense."
9,000 litres of fuel, years of waiting
Mayor Naheed Nenshi couldn't agree more. He says the former Gas Plus station in Bowness, which is under the control of the province, is the prime example of why cities need more authority over contaminated sites.
That station leaked an estimated 9,000 litres of fuel from its underground storage tank and cleanup is just getting underway after seven years of waiting.
The site sat in limbo for years as the owners stalled on cleanup, according to the province. Changes to the Environmental Protection Enhancement Act in 2014 finally allowed the government to move in and clean up the site itself.
The province is footing the bill but still says it will try to make the owners pay. [But hasn't started trying yet?]
"You know, we have the expertise, we understand urban environmental issues and we have the ability to clean it up. We did not have the authority to clean it up. We didn't even have the authority to enter the land," he said of Gas Plus. [Just the way the oil and gas industry likes it!]
Nenshi says

Alberta Environment lacks the ability, but holds all the authority -— something he says "doesn't serve citizens well."
"The point of the city charter discussions is to recognize that the two cities, Calgary and Edmonton, have very sophisticated city governments, we have a lot of expertise, we know what we're doing, but oftentimes the authority is not aligned with the ability."
Creosote, lead, salt and more
Parks says there are a number of ways the city discovers contaminated sites, including screening properties the city has owned for a long time and testing land when something like an interchange is built or when land is being bought or sold.
Likewise, the province relies on property owners to notify it of contamination and to remediate the problem.
The city sites include a portion of Lynnview Ridge, the Manchester works yard — where a large city fuel spill occurred — and a former illegal battery disposal operation in the northeast. There are also less problematic properties including city road depots with salt contamination.
In the West Village, where the creosote in the soil made headlines after the owners of the Calgary Flames pitched their CalgaryNext project, the city earmarked a mere $50,000 for the site pending decisions from city council and stressed the province should ultimately be responsible for a cleanup that's estimated will cost as much as $300 million.
An additional 11 sites remain on the books with no dollar figures attached for various reasons. For some, the monitoring has simply ended and no further action is required. Others, including Eau Claire, are in a holding pattern depending on what the landowners intend to do.
The city's five closed and three current landfills, which are handled differently, cost the city approximately $4.2 million each year for environmental-related monitoring and maintenance.
Province unable or unwilling to provide information
[Oil and gas industry ordering authorities to keep the contamination secret?]
Alberta Environment and Parks, the ministry ultimately responsible for tracking all contaminated sites and enforcing cleanup in the province, was either unwilling or unable to provide clarity on how many sites it's aware of

in the city of Calgary.
After several months and repeated requests for information, the ministry said there were

1,766 sites.
But CBC News had to inform a spokesperson that figure only applied to locations that had undergone an environmental site assessment. Information regarding how many of those areas are actually contaminated was either not known or not shared.
Approximately 200 sites are "examined and evaluated each year" in Calgary, according to spokesperson Brent Wittmeier.
In 2009, the province introduced "remediation certificates" to formally mark completion of a contamination cleanup, according to Alberta Environment. Since then, 10 sites in Calgary have received certificates while others have been remediated but not yet certified.
Several requests to speak with someone at the ministry with knowledge of contaminated sites went unanswered.
A municipal affairs spokesperson said proposals in the city charter negotiations include enforcement abilities for the city when it comes to contaminated sites, as well as establishing bylaws relating to environmental issues, including contamination, climate change, mature trees and biodiversity.
New powers would be rare
It might seem strange that a city or province is unaware of environmental and health liabilities lurking within its borders, or that a municipality lacks the power to do anything about them, but that's pretty standard, says Christopher De Sousa, the director of the School of Urban and Regional Planning at Ryerson University in Toronto. [Shows us how demented and greedy capitalism is]
He said a lot of municipalities and government agencies are just starting to inventory industrial and contaminated sites, "but if they don't own it, they're not including it in that inventory."
"I would say a lot of jurisdictions are hesitant, historically, to inventory brownfields," he said of industrial sites when asked if it's normally difficult to come up with hard numbers.
"The reason being, if a government identifies a site as potentially contaminated and they don't own it, have they affected the value of that site?"
De Sousa is only aware of one city in North America — New York — that has the authority to approve cleanup of contaminated sites.
[And the State of New York banned fracking, because of the known health impacts and contamination risks!]
He said it can benefit a city to have more authority over the sites if they're willing to look at it intelligently and strategically.
"If there's a will, there's a way. If there's a market, there's a way. If a landfill's been closed a long time, I mean, some of the best parks that I've been on are old landfills," he said.
"There are ways to manage risk, and if done strategically and well, anything is possible."
'Petrochemical taint' versus sprawl
It's that question of risk that intrigues Carra. He distinguishes between the risk of doing something on land that may contain contamination versus the risk of essentially not building on urban soil.
He cites not developing near the rail corridor for fear of an explosion and letting sprawl continue unimpeded as examples of what can happen when "old-school risk" carries the day.
"Think about the environmental costs of not developing our inner city. If your job is to be a protector of the environment, taking this old-school approach to risk is ridiculous. It's especially ridiculous when you consider … the actual health impacts, worst-case scenario, of that particular petrochemical taint flowing through the groundwater," he says.
The health impacts of contaminants found within a city can vary — from the learning disabilities in children linked to lead contamination and the cancer-causing effects of prolonged hydrocarbon exposure, to salt or low levels of methane gas exposure.
"Any time there's a risk, we manage it," said Parks. "It could be just a small tank that's leaking and we have to go out and the risk management plan or the remedial action plan takes us a couple days and it's all cleaned up to scratch, or there's… the former refinery. Obviously they're a little more involved."
Fear factor
For those who have had to fight over contaminated land, it's hard to trust that the right steps will be taken, no matter who's in charge. And that those particular petrochemical taints Carra referred to are taken seriously enough.
Nichols is understandably skeptical, the result of her own experience trying to get to the truth of what happened on the land surrounding her home all those years ago.
When she bought the house — developed by a company called New West — she said she was told the area had just been for storage.

What she didn't know: that storage included oil tanks that held leaded gasoline and often leaked.
The city just wanted to reassure her everything was fine, she said. And Imperial just wanted everything to go away.
"They didn't want to hear about it again, they didn't want their name tied to it. New West went bankrupt so they got out from under it,"

she said.
Nichols isn't sure, all these years later, whether everything was blown out of proportion or not. Alberta Health tested her home three times and found nothing of concern based on their guidelines. [Which are intentionally written to protect only the polluters. Would any one trust any authority to test their drinking water or home for oilfield pollution in Canada? Alberta Health is not trustworthy!] There are no confirmed cases of anyone dying or falling ill from the contamination. But there was legitimate fear.
"When you're the one living there and you've lost faith and trust in what you're being told, how do you know the fact that,

if your child has ADD, that it wasn't caused by that?"

she said.
"How do you know the fact that, if somebody develops cancer, that they wouldn't have developed it if they lived somewhere else? There's no knowing. [And that's why industry, AER, Alberta Health, Health Canada, the courts, including Supreme Court of Encanada et al, are not looking and do not want to allow pollution lawsuits to proceed in court, except to Settle & Gag!]
AER's outside counsel, Glenn Solomon on how Settle & Gag is done: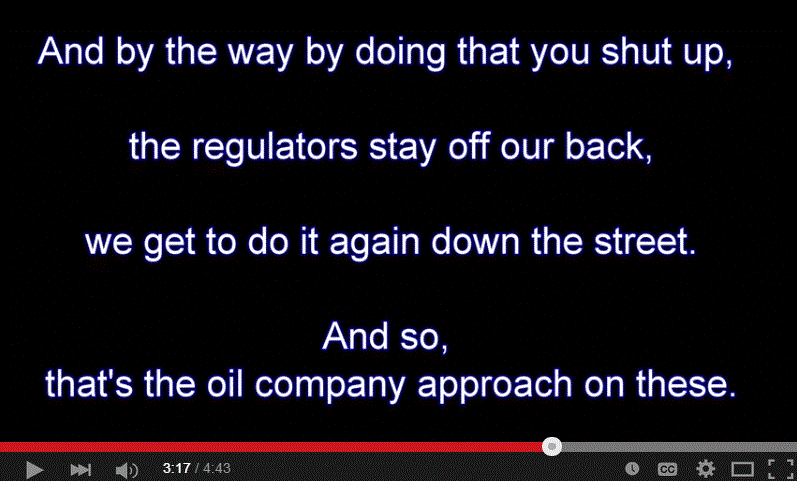 "I mean, there is a fear component to these things, but that I think is the greatest challenge for all of this heavy industry: when you start redeveloping land can you actually say it's safe for people to live on?"
The city charters
The city is banking on the fact that it has the expertise to answer those questions and to build the city it wants without having to go cap in hand to the province. It's also hoping it can do so without the delays that have long plagued some of the sites located within its borders.
The city charters for Calgary and Edmonton are expected to be released in July, outlining expanded powers for the two centres on everything from contaminated sites to affordable housing to municipal tribunals for bylaw offences.
Parks, for one, is confident in the city's abilities, at least at its current level of responsibility.
"I'm comfortable with the way the city is managing their contaminated sites. I mean, I've got to say that that's kind of my responsibility," he said.
"We've got a really good handle on what we do." [Emphasis added]
Some of the comments:
Dave Lane
@George Biggs – Shocking? Calgary is built on a contaminated dump. The ptro-chemical slurry mixed with groundwater causes huge problem, including mental issue for the population. You're mocking the mentally while fellow Albertan's are being poisoned by the industry you worship. Irony here has no bounds.
Dave Lane
There is a reason why our responsible brothers and sisters in Montreal shut the abysmal Kangaroo panel at the NEB down and and sent them packing right back to Alberta. That travelling propaganda circus was beyond the pale, much like the idea of Enemy East.
John Gallant
It is quite funny to read the posts from the Alberta defenders frantically deflecting (as best they can) away from the subject of the article: pollution in Calgary caused by the oil industry.
So far they have screamed about how polluted Ontario is, sewage in BC, nitrates in the Maritimes, industry in Quebec, and much more.
Spinning so fast and thrashing around in all directions will not stop Alberta from being polluted. Trying to ignore it and pretend elsewhere is worse will not clean up your province either.
The only thing that will save you is the hundreds of billions of dollars Canada will have to spend to clean you up once the oil companies have abandoned you.
That day is rapidly approaching too.
Dave Lane
@John Gallant This is a slowly unraveling sh..-show of unprecedented proportions. A gigantic scam by O&G to rob Canadians. The billions we will have to spend is the profit they have long stashed offshore. This is nothing less than corporate gangsterism, and our governments are too stupid to put an end to it.
Dave Lane
Here's how it works in Alberta.
Rip it up
Export zero value add
Stash cash offshore
Go bankrupt
Leave toxic pigsty for taxpayers to clean up
John Gallant
@Wade Paterson
The only reason anyone goes to Alberta is to get a high paying job. They aren't capable of getting one where they live (competition is fierce) since only the best get hired. Alberta used to hire anyone and had to pay high wages, otherwise no one would go there.
Now the Alberta economy has crashed and burned, the seriousness of the pollution issue is becoming known, and the workers who went home unemployed are letting others know what Alberta is like.
But don't worry. When you need help the other provinces will assist, regardless of Alberta's attitude.
Robert Loblaw

Let me get this straight. The government can't gain access to the site of a fuel spill for years, but can gain access to your property, repaint your home and send you the bill and if you don't pay they can seize your house?
Hello?
Joe O'Blenis
@Robert Loblaw Pretty disgusting isn't it?
Dave Lane
@Awistoyus Nahasthay Wrong, the people with these families need a reality check, and quick. Get the heck out of there and find proper employment in a stable non-destructive industry. My advice. Get out of Alberta.
Dave Lane
This just in.
Calgary built on a giant contaminated dump. That must be the AB advantage they keep talking about. No accountability necessary. Just tear it up, pollute it and go bankrupt. Make sure you siphoned the cash into offshore accounts first. This is greed fueled by corrupt provincial governments turning a blind eye to reckless environmental hooliganism.

Might be time to relocate Calgary off the toxic pile it is currently sitting on.

Dan LaRiviere
@Wesley Geoman

It means the liability is limited for those that own the corporation. Contrast that to the taxpayers who will bear liability beyond the limit. This is especially significant with major oil spills and other very costly mistakes. A sweet deal for the few who also avoid taxes by any means.

Dave Lane
This is even better than horror stories from FMAC! Calgary, and entire city built on a contaminated dumping ground. Bravo Alberta. This news is just in time to celebrate 150 years of reckless pillage, plunder and environmental hooliganism.

John Gallant @Dave Lane I suspect Fort Mac is far worse than Calgary. There are even researchers from Ontario there studying the pollution levels after the fire. It will be interesting to see what other types of pollution they will find, if they are ever allowed to make it public. 

Gloria Fraser

Big Oil pollution/contamination in Alberta AKA business as usual.

http://calgaryherald.com/business/energy/oilfield-services-group-asks-ottawa-to-fund-500-million-oil-and-gas-well-cleanup

They think they can pass this off like their long weekend increases at the pump.

Dave Lane
@Gloria Fraser This article is unbelievable. Alberta truly thinks it can destroy its environment to rake it in and then have other Canadians pay for what these slobs abandon. This province is outrageous!

The slant in this Calgary rag says it all. These people live in a bubble. Hard working Canadians need to rise up and say scru you. Hard working Canadians do not want to pay for your reckless slobbery while 35,000 are sitting on the dole in Alberta. Make these O&G mafioses hire them to clean up their filthy mess. I do not want to pay them a penny!

stephen blunston
such sillness gov paying for cleaning up a mess left by a company , these company owners shouls be in jail until they clean up their mess.. wish I had gov paying for me sheesh

Al Millar
Again the Tax payers are expected to clean-up after the petroleum industry . Do government not realize that the taxes that the citizens pay are to go towards the needs of the tax payers not to subsidize the oil companies ?
Dave Lane
Alberta Dept of Environment. Now there's a corrupted bunch that has been sabotaging proper management for decades. A number of these folks should be thrown in to the slammer. Canadians have had enough of this environmental criminality in Alberta. Clean up your act. I do not want my taxes going to these crooks to clean up their toxic piles.
Al Millar
@Dave Lane ; Agree with your Alberta Dept.of Environment , but can I add the BC Dept. of Environment , the Federal Ministry of Environment and the N.E.Board . All these depts. are running roughshod over the hard earned regulations by changing the regulations as needed.
Al Millar
@Dave Lane ; I agree with your first post , jail and fine the CEO"s or executive until clean up is complete .
No end in sight: New public meetings to discuss Faro mine cleanup, Project abandoned in 1998 is 'the largest contaminated site in Canada,' says Yukon Conservation Society by Philippe Morin, June 18, 2017, CBC News
Related Stories
A new round of public consultations begins today in Yukon to discuss one of Canada's top-four most contaminated sites.
The effort to clean up — or at least contain — toxins at the abandoned Faro mine site has already taken nearly 20 years and cost more than $350 million.
A federally funded group called the Faro Mine Remediation Project Team says it's looking to write a new remediation plan to be submitted to the Yukon Environmental and Socio-economic Assessment Board.
Cleanup has not been easy since taxpayers inherited the burden from bankrupt owners. New challenges, such as increasing concerns over water contamination, have required old plans to be changed.
Meanwhile, the estimates for the total cleanup cost keep rising.
The abandoned mine is on traditional Kaska territory, which is shared by the Ross River Dena Council and the Liard First Nation. The two First Nations do not have negotiated land claims.
Indigenous and Northern Affairs Canada (INAC) is leading the remediation effort.
The Government of Yukon's Department of Energy, Mines and Resources is in charge of ongoing care and maintenance with funding provided through the Federal Contaminated Sites Action Plan.
Community meetings scheduled
Meetings are set for:
Ross River: Monday, June 19 from 5 to 8 p.m. at the Ross River School
Town of Faro: Tuesday, June 20 from 5 to 8 p.m. at the recreation centre
Watson Lake: Thursday, June 22 from 5 to 8 p.m. at the recreation centre
Whitehorse: Wednesday, June 28 from 6 to 8 p.m. at the Coast High Country Inn
Dates and locations are yet to be announced for meetings in Carmacks and Pelly Crossing.
Advertisements from the Faro Mine Remediation Project Team say the entire process of consultation could take six months.
Creek the colour of 'Coca-Cola'
Lewis Rifkind of the Yukon Conservation Society says true reclamation may not be possible.
"I would easily say it's the largest contaminated site in Canada," he says. "It's one of those legacy projects. Realistically it will never be done. We're going to be treating water on that site forever. And we're going to be treating it using taxpayers' dollars."
However, Rifkind says the site couldn't simply be fenced off and written off as a lost cause.
He points to a picture of Rose Creek downstream of the Cross Valley Pond taken in June. It shows the river flowing with the colour he calls "Coca-Cola."
(Correspondence provided by YCS shows the federal government attributes the discolouration to excess iron content and pledges more investigation.)
"There's water treatment on site at the moment, but we have concerns with what's coming off the site," Rifkind says."We're eagerly awaiting water-test results."
The Faro Mine Remediation Project Team has not provided comment other than its public advertisements for the meeting.
It says the entire process of consultation could take six months.
The Ross River Dena Council could not be reached for comment.
Dave Lane
Seems no one is reading this article. How telling. No wonder this country is going to the dogs!
On a global scale on a per capita basis, Canada is the biggest environmental pig on the planet.
[And many in the world know it, they aren't fooled by the lies of Canadian politicians and regulators anymore]
Far and wide, no one stands on guard for Canada. [Well, Ernst tried hard for more than 10 years, but the Supreme Court of Encanada killed her valid charter claim against the most criminal Canadian regulator in the country – the AER] It's a corporate criminal free for all. [With the regulators worse criminals than the corporations]
Just rip it up, export it raw, cash in and stash it in foreign accounts, then go bankrupt and shaft taxpayers as you abandon the mess like true criminals would. It's the blueprint for Alberta.

Now they are finding out that Calgary is basically a toxic dump with a petrochemical soup mixing with the groundwater.

Face it, Canada is an environmental pig.
This is huge and disgusting negligence by our government. These corporate criminals should be behind bars, bankrupt or not. Sadly, this is a small disastercompared to the ultimate disaster near FMAC Alberta. That's where criminals are in the midst of creating another monstrous toxic dump. About 8 Billion barrels of toxic carcinogenic waste dumped on the ground in Alberta each year. These are criminals.
Another disgusting Made in Canada legacy project. Canadian governments [AND COURTS!!!!] should be ashamed of themselves. Just look at this dump. Environmental criminals continue to gleefully create more such dumps, as the tarsands in Alberta. Canada's governments are useless in protecting this country. It is a territory good enough to be raped for its resources, abandoned, then the eco criminals go bankrupt and scru the taxpayers with a giant toxic dump. This is how mining companies operate and make money in Canada. [Emphasis added]