A British oil and gas company is suing the Slovenian government for making them do an environmental impact study before fracking near a water source.
In a letter to the Slovenian government, the company's lawyers described the government's actions as "arbitrary and unreasonable". Environmentalists said it was the company whose behaviour was "outrageous".
Friends of the Earth Slovenia accused Ascent of endangering the country's drinking water supply and urged the new Slovenian government not to bow to pressure.
Paul de Clerck, economic justice coordinator for Friends of the Earth Europe, said:
"It's a scandal that, amid a climate and environmental emergency, a country like Slovenia can be sued for doing the right thing, protecting its water and environment from destructive fracking."
London-based Ascent Resources is taking legal action using the UK-Slovenia bilateral investment treaty and the controversial multilateral Energy Charter Treaty (ECT), which the UK and Slovenia have both signed up to.
The ECT has previously been used by a German energy company to fight the Dutch government over coal phaseout plans and by a Swedish company to sue the German state over its policies against nuclear and coal power.
In 2007, Ascent entered a joint venture with a state-owned Slovenian company called Geonergo to extract gas from Petišovci in eastern Slovenia and sell it to Croatian company INA. It says it has since invested €50m (US$59m) in the project.
In 2017, the company decided it needed to inject water underground to stimulate gas flow, known as fracking, and applied for government permission. Ascent's lawyers say that they did not need to apply for this but Geonergo did so anyway "in an abundance of caution".
In March 2019, the Slovenian Environment Agency (ARSO) ruled that the company must conduct an environmental impact assesment because the site is close to water sources.
Ascent's lawyers said this decision went against expert opinions from several other government bodies and was "manifestly arbitrary and unreasonable". They add that the Minister of the Environment and Spatial Planning's public criticism of the company and leaks from ARSO to the press show that ARSO was "biased" and its decision was "politically motivated".
Geonergo challenged ARSO's decision but, in May 2020, the Slovenian court ruled against the firms. In July, Ascent's London lawyers told Slovenia they were taking legal action.
Lidija Živčič, from Friends of the Earth Slovenia, told Climate Home News she feared the Slovenian government elected in March 2020 would reverse the previous government's opposition to fracking.
The previous government, led by Marjan Šarec, had been preparing a law which would ban fracking. It was voted out before the law could pass and, Živčič said, Janez Janša's new government seems much more in favour of fracking.
If fracking went ahead in Petišovci, Živčič said, the nearby sources of drinking water and thermal waters could be affected by the fracking chemicals. In other countries, poorly-built shallow fracking wells have injected gas into underground freshwater aquifers.

And in Alberta Canada, Encana/Ovintiv's own data on file with the regulators shows shallow frac'd vertical gas wells intentionally frac'd community fresh water aquifers, intentionally injecting directly into them 18 Million litres of frac fluid on one well alone, and releasing dangerous levels of frac'd gases into the water supply with the community's water tower later exploding, seriously injuring the water manager and costing the community nearly $700,000.00 to build a new reservoir. The frac contamination was even formally admited to by the US EPA in their final frac report while Canadian judges lie in rulings, Alberta regulators engage in fraud to enable the corporate crimes and break the law violating the rights of the harmed trying to scare us quiet, and my fully paid "public interest" lawyers Murray Klippenstein and Cory Wanless lie, abruptly quit my lawsuit, and refuse to send to me my case files – contrary to law society rules. Historic water well records in the community (including mine) on file with the regulator state: "Gas Present: No."

Fracking could also damage nearby ecosystems and would contribute to global climate change, Živčič said. The site is near the borders of Hungary and Croatia.
Friends of the Earth has brought attention to the case at the same time as members of the ECT are negotiating 'modernisation' of the treaty, which dates from the early 1990s.
The European Union wants to improve governments' 'right to regulate' on climate change without facing legal action under ECT but nations like Japan and Kazakhstan are resisting reform.
Luxembourg's energy minister has said his nation and others could leave the ECT if its environmental protections are not improved. Russia and Italy have already left the treaty after it was used to sue them.
An Australian mining company called Prairie Mining also announced ECT legal action this week. It says the Polish government has unfairly damaged its coal mining prospects by not renewing one of its concessions and granting part of another to a rival firm.

Refer also to:
2018: The Guardian in UK reports on Ristigouche Sud-Est's legal win against Gastem: Tiny Canada town defeats oil firm in court fight over drinking water, Company sued Quebec village of 157 people after it created bylaw to protect its water
2018: Unbelievable! A Canadian judge with courage & integrity! Justice Nicole Tremblay ruled a municipality has right to protect its territory based on precautionary principle, but orders only half of tiny Quebec village's legal fees reimbursed. Is that justice? After 4.5 years of legal stresses & waiting, Ristigouche Sud-Est wins! Gastem sued the community $1.5 Million for trying to protect drinking water
2017: Fascist Canada: Tiny Quebec village faces $1.5M lawsuit by "terrorist" oil company Gastem for trying to protect its water, Ristigouche Sud-Est, Gaspé region, sued for passing bylaw protecting water sources from drilling
2016: US EPA Releases Final Frac Report: Rosebud Alberta drinking water aquifers frac'd, water wells contaminated with gas. EPA's late edits to 2015 draft frac report downplayed the risks, contradicted the evidence, called "bizarre" & "irresponsible." Like Alberta regulator official, Steve Wallace, secretly editing "independent" drinking water contamination reports to protect illegal aquifer frac'er Encana?
2016: Excellent Article by Andrew Nikiforuk on Yet Another Study and the EPA's Final Frac Report, Both Highlighting Fracking's Harms to Groundwater. The Big Lie by industry, regulators, politicians unravels
2014: Governments across Canada failing to protect drinking water; Government betrays Ristigouche and 70 other Quebec municipalities that put bylaws into place to protect drinking water; Gastem attacks Ristigouche with $1.5 Million Lawsuit
2014: Quebec's Premier Declares Province-wide Shale Gas Ban after Environmental Review Board (BAPE) says Fracking Not Worth The Risk, "Too many negative consequences to the environment and society…risks to air and water quality…noise and light pollution"
2014: Germany EPA Frac Report Released: Risks Associated with Fracing are Too High; "So far, no company has been able to present a sustainable waste management concept"
2013: La CRÉ dénonce Gastem, calls lawsuit against the small community terrorism, case to be argued on November 18, 2013
2013: CEO of Gastem says ecology activists are fascists and states that 'nobody' in Alberta complains about drilling wells, Le pdg de Gastem qualifie les militants écologistes de "fascistes"
2011: Tilley, M. and Muehlenbachs,K. Fingerprinting of Gas Contaminating Groundwater and Soil in a Petroliferous Region, Alberta, Canada, Proceedings from International Network of Environmental Forensics Conference, Cambridge, UK, July 25-27, 2011
2006, Ernst's drinking water after it was illegally frac'd by Encana/Ovintiv: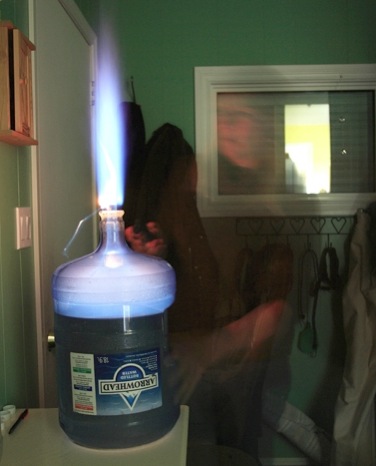 2005: Investigators say an accumulation of gases appears to have caused the exply losion that destroyed the Rosebud water tower and sent a Wheatland County employee to hospital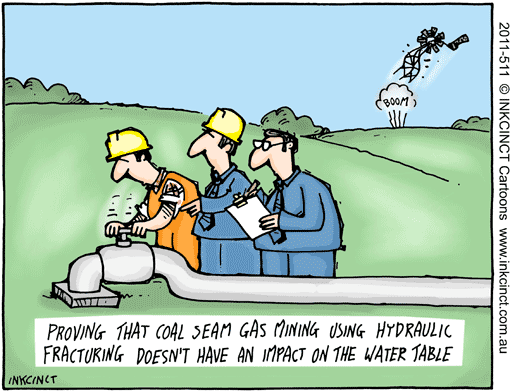 2005: From Encana's Hydrogeological investigation report, admitting the company illegally frac'd multiple Rosebud drinking water aquifers and illegally diverted fresh water: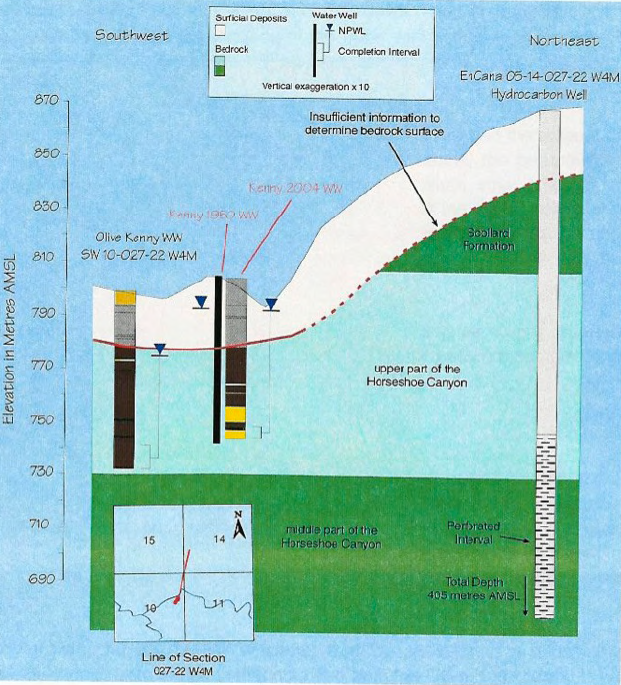 2003: Encana's plan to illegally frac Rosebud's drinking water aquifers on file with the water regulator: