Rob Schwartz (previous director of Alberta Surface Rights Group):
There are 3 things that nobody, including the CBC wants to talk about that might put this news in proper context.
# 1 . Enbridge has been ignoring Michiganan's pipeline safety orders on line 5 for years and it has a dismal ongoing track record of clean up on it's Kalamazoo River spill of dilbit of 10 years ago.
#2 The Collonial pipeline system has recently had a huge 1.2 million + gallon gasoline leak from it's line near huntersville Georgia which went undetected until 2 kids on quads found the gasoline in a field. And
#3 . If the Alberta oil industry would not have opposed the 1983 NEP proposal so [vigorously] we would actually have an all Canadian route for Western oil to reach Eastern Canada.
Enbridge Inc. will continue to operate the Line 5 pipeline in defiance of Michigan Governor Gretchen Whitmer's May 12 deadline to shut it down, but the state's Attorney-General says it remains intent on obtaining a court order that would enforce her notice to cease operations.
A U.S. business group, meanwhile, accused Ms. Whitmer of practising political brinkmanship for ignoring Enbridge's proposal to build a US$500-million tunnel that would have resolved fears over the risk of oil spills in a valuable Great Lakes waterway.
The petroleum pipeline is a vital energy source for Ontario and Quebec, carrying up to 540,000 barrels a day from Alberta and Saskatchewan through two Great Lakes states before re-entering Canada at Sarnia, Ont. The Canadian government has warned a shutdown would represent a threat to this country's energy security.

Polluter-enabling tarshit.

Enbridge's executive vice-president, Vern Yu, says the Calgary company will only cease operations on Line 5 if a judge orders it.

Pfffft! I expect enbridge won't heed an order by a judge either, they'll appeal and appeal and appeal and appeal.

The company has challenged the State of Michigan in U.S. federal court and both sides remain in court-ordered mediation.
Ms. Whitmer this week threatened to sue Enbridge for "all profits it derives from wrongful use" of the Straits of Mackinac crossing after May 12.
But on Wednesday, Mr. Yu, citing estimates of the impact of the shutdown to Michigan and surrounding states, signalled there would be no backing down.
"Enbridge has a responsibility to the people of Michigan and the Great Lakes region, and will continue to operate Line 5 safely, reliably and affordably to fuel to the region's economies," the company executive said.
A spokeswoman for Michigan Attorney-General Dana Nessel, however, said the state remains determined to obtain a court order that would enforce Ms. Whitmer's decree.
"We need a court order that requires Enbridge to shut down in compliance with the notice. We will continue to work to get that as soon as possible," Lynsey Mukomel said in a statement.
She acknowledged this could take some time.
Last November, Ms. Whitmer revoked a permit that allows Line 5 to cross the Straits of Mackinac, a waterway that divides Michigan's upper and lower peninsulas. She cited the risk of oil spills to justify her decision, a measure she had promised during her 2018 gubernatorial election campaign, and had set May 12 as the deadline to comply.
The state had filed a lawsuit to obtain a court order after Ms. Whitmer's announcement last fall but Enbridge's legal challenge in a U.S. federal court – arguing that only Washington has the power to make decisions about pipeline safety – has delayed that action.
"We are fighting to get the case back to the state court that does have jurisdiction. The jurisdictional issue will not be decided until sometime after today, May 12," Ms. Mukomel said.
The Canadian government argues Line 5 is a crucial energy link for Central Canada, saying in a legal filing this week the the pipeline "supplies approximately 66 per cent of Quebec's crude oil needs and about 50 per cent of the [petroleum] used by Ontario's refineries to make gasoline and other fuels."
Separately, on Wednesday, Canadian and U.S. business groups filed an amicus brief in the Michigan-Enbridge case in support of keeping Line 5 open. They noted that Enbridge has proposed to build an underground tunnel to cross the straits that would remove the threat of damage to the pipeline from passing vessels or anchors.
"The tunnel solution essentially eliminates the risk of an oil spill at the Straits of Mackinac," their brief said.

Humans, notably in the oil and gas industry, are notorious failures at preventing spills. The tunnel solution will not eliminate the risk of a spill, not if the oil and gas industry is involved, which it is.

The Canadian Chamber of Commerce, the Chamber of Commerce of the United States of America, the Michigan Chamber of Commerce, the Ohio Chamber of Commerce and the Wisconsin Manufacturers and Commerce said a Line 5 shutdown would jeopardize energy supply to the region and drive up the price of products such as propane and gasoline.
Christopher Guith, with the U.S. Chamber of Commerce's Global Energy Institute, pointed to the fact that Canadian imports comprise about two-thirds of the U.S. Midwest's oil supply, and Line 5 plays a crucial role in getting it there.
"By pandering to the most extreme activists, Governor Whitmer is not only pursuing a terrible policy that will harm Michiganders and both countries as a whole, but her legal standing lacks merit as well," he said.
"This brinksmanship is political theatre, and unfortunately millions of Americans and Canadians are likely to pay the price for it."
Richard Studley, chief executive officer of the Michigan chamber, said Ms. Whitmer's actions to try to shut down an operational pipeline are "unprecedented" and a "slap in the face" to Canadians and Michiganders.
Part of the problem for Michigan is the lack of practical alternatives to get much-needed natural gas to a region where three-quarters of the population need it to heat their homes, he said.
Then there's the question of how to transport oil to the region – on trucks, via rail, or "the insanely bad idea of returning to oil barges on the Great Lakes," Mr. Studley said.
"How ironic that would be, if that's the result of a threat, an ultimatum, issued by a governor who says that her concern is to protect the environment?"
Some voices in Canada have backed Ms. Whitmer's plan. A prominent group of Ontario First Nations, the Anishinabek Nation, has said the Canadian government should not be fighting the shutdown. Green Party Leader Annamie Paul also said she backs the closing for environmental reasons.
The Canadian government has previously warned it is prepared to invoke the 1977 treaty, which calls for binding arbitration to settle disputes.

Bad, bad, bad, bad. Shame on Canada, shame on Trudeau et al. What a dirty bunch.


Refer also to:
Bully Big Oil, in this case Enbridge, above the law as usual, defying Michigan Governor Whitmer's order, suing instead even though the company "failed for decades" to heed regulatory requirements, putting more than 700 miles of Great Lakes shoreline at risk if Line 5 spills.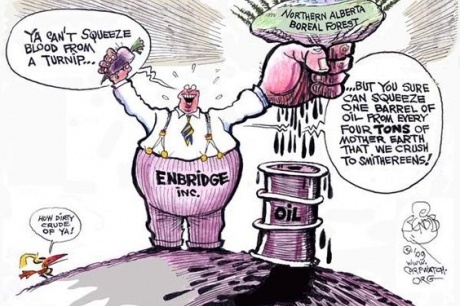 "Rule of law" is a fart when it comes to oil & gas. Calgary-based dilbit polluter Enbridge tells Michigan Gov. Gretchen Whitmer to stuff her attempt to protect water and the public interest.